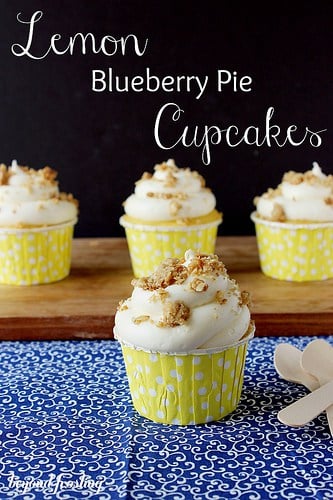 Ah, vacation. Yes, I am on vacation for a whole week. This summer has been a busy one with lots of traveling but not really for vacation purposes; I don't count weddings as vacation. So yeah. I am at the lake for a week trying to bronze my embarrassingly white legs, wakeboarding and eating of course. Speaking of eating, how about some cupcakes?
Perhaps one of the best summer treats is a slice of pie with a big ol scoop of ice cream. Today I combined two of my favorite desserts: pie and cupcakes. These are Lemon Blueberry Pie Cupcakes with a oatmeal crust crumble. I mean, the best part of the pie is the crust for me so I couldn't forget that.
The lemon cupcakes contain an extra bag of lemon pudding mix for added flavor. Once cooled, the blueberry pie filling is added to the middle and topped with a lemon infused cream cheese frosting. I sprinkled it with the oatmeal crumble. Lemon and blueberry is such a great combination. The sweetness of the blueberry and tartness on the lemon balance each other out. For this recipe, I chose to use canned  Lucky Leaf blueberry pie filling.
There are a few steps involved in making these cupcakes, so I recommend giving this a quick read through before you begin. You can do the oatmeal crumble immediately after the cupcakes come out of the oven since your oven is already hot.
I don't normally use canned pie filling; I did for this recipe for convenience. I cooked the pie filling on the stovetop.  While the cupcakes are baking you can prepare the pie filling.
Are you still with me? I know that's a lot of steps but really it isn't TOO difficult, right? It's time to assemble the cupcakes.
First, hollow out the center of your cooled cupcakes. I usually don't go all the way to the bottom of the cupcake because you need the bottom to hold up the pie filling. Spoon pie filling into the center of your cupcake; fill completely. Top with cream cheese frosting and oatmeal crumble.
Since its summer and all, you will want to keep your cupcakes refrigerated after you frost them to prevent the cream cheese from going bad. I would not recommend serving these at an outdoor party where the cupcakes are going to be sitting in the heat for any length of time.
Ok, I'm off the play at the lake. I hope you all have a great week! Check out some of my other favorite summer recipes below.
Cinnamon Blueberry Muffins