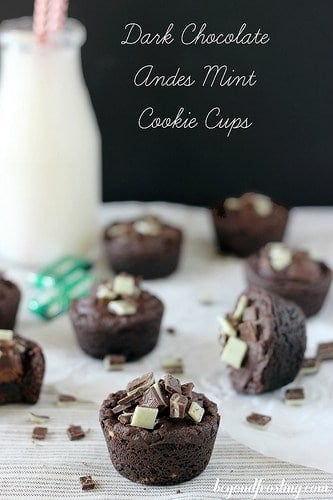 Welcome to #cookieweek! I am so excited to be participating! Cookie week is hosted by  Susan of The Girl In The Little Red Kitchen and Kim of Cravings of a Lunatic . They have joined together this week with 23 of their blog friends to present to you a week of cookie treats! We have every type of cookie you can think of listed this week, including something for our furry friends! Now is the time to bookmark these recipes for the upcoming holidays and cookie swaps or simply visit our Pinterest board!  Make sure you enter the giveaway in the end of this post with some fabulous prizes from KitchenAid, King Arthur Flour, OXO, Silpat and Zulka Pure Cane Sugar to help with your cookie making needs!
This week, I am sharing a cookie a day everyday from Monday-Friday. I have actually been baking up a storm! It's great for me and for you, because I only have a few cookie recipes on my blog and I really wanted to offer you guys some amazing recipes to help you get through the upcoming holiday craze! All of the recipes I am sharing with you this week are very easy and of coarse delicious.  I am kicking it off with these Dark Chocolate Andes Mini Cookie Cups. This recipe combines my two favorite flavors, dark chocolate and mint. Although I enjoy this combination year round, it's particularly hits home during Christmas.
Every year, my Dad would give me a box of Andes Mints in my stocking and it trumped all other Christmas candy I received. My love for mint chocolate is very deep and I never wanted to share. I have been dreaming about these Andes Cookie Cups for weeks now. The base of the cookie is a soft, deep dark chocolate pudding cookie mixed with crushed Andes Mints. I baked these in a mini muffin pan and then pressed down the middle. The middle is filled with a dark chocolate ganache and topped with more Andes Mints. It's double the chocolate and double the mint! This is seriously one of the best cookies I have ever made. The outside is crispy and the middle is soft and chewy. The recipe for the cookie is slightly adapted from my friend Ashton at Something Swanky.
Print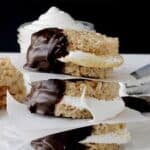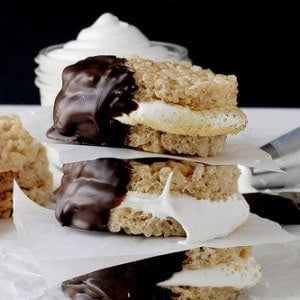 Dark Chocolate Andes Cookie Cups
---
Prep Time:

20 minutes

Cook Time:

15 minutes

Total Time:

35 minutes

Yield:

24 Cookies
Ingredients
1 C (2 sticks) Unsalted butter
1 C Light brown sugar
3/4 C Granulated sugar
2 Large eggs
3 tsp Pure vanilla extract
1/2 tsp Peppermint extract
1 pk (3.4oz) Dark chocolate pudding mix
1/4 C Hershey's Dark chocolate cocoa powder
2 1/4 C All-purpose flour
1 tsp Baking soda
1/2 tsp Salt
2 tbsp Milk
2 C Andes mints, crushed
For the Ganache
15 oz Dark chocolate chips
1/2 C Heavy whipping cream
10 Andres Mints for topping
---
Instructions
Preheat oven to 350° F. If you are not using a non-stick pan, it's best to grease the mini muffin pan.
Beat butter on medium speed until soft. For this recipe, you can use cold butter, it does not need to be at room temperature. You may have to stop the mixer and scrape it down a couple times.
Add light brown sugar and sugar to butter and beat until light and fluffy. Add eggs and vanilla and peppermint extracts and continue to beat on medium speed until eggs are dissolved into sugar.
Pour pudding mix and cocoa powder into eggs and sugar. Beat on low until all ingredients are incorporated.
In a separate bowl, combine flour, baking soda and salt. Slowly add flour to batter and continue to beat on low speed. Dough will start to form and become very thick.
Once all the flour has been added, pour in milk and increase to medium speed until milk is dissolved in the batter.
Unwrap Andes mints. Cut with a sharp knife into small pieces. Add crushed Andes into dough.
Spoon approximately two tablespoons of dough into a mini muffin pan. Bake at 350° F for 14-16 minutes.
Remove from oven and allow to set for 5-10 minutes. Use a tart shaper, wrap the end in wax paper and gently press into the center of the cookie to form a cup.
Allow cookies to set for another 10 minutes before removing from muffin tin. Allow to cool completely.
For the ganache
Combine dark chocolate chips and heavy cream in a heatproof bowl. Fill a pot with about 1 inch of water, and heat on medium heat. Place heatproof bowl on top of simmering water.
Allow chocolate to melt slightly and begin to whisk until heavy cream and melted chocolate are well mixed. Remove from heat and allow to cool slightly.
Spoon ganache into cooled cookie cups.
Unwrap Andes mints. Cut with a sharp knife into small pieces and sprinkle on top of ganache.
Allow the ganache to set for an hour or more.
Notes
The longer you let the ganache settle, the better. The ganache will never harden completely, but it will set to the consistently of the inside of a truffle.
We have an amazing  giveaway lined up this week thanks to our fabulous sponsors, KitchenAid, OXO, King Arthur Flour, Silpat and Zulka Pure Cane Sugar.
Four lucky winners will win one of the following:
Prize #1: 1 (one) KitchenAid 9-Speed Hand Mixer plus 1 (one) 4lb bag of  Zulka Pure Cane Sugar
Prize #2: 1 (one) OXO gift set including the following:  1 (one) 3-in-1 Egg Separator, 1(one) Cookie Press, 1(one) Autumn Cookie Disk Set, 1(one) 3 piece Cookie Cutter Set, 1(one) Bowl Scraper, 1(one) 2 Cup Adjustable Measuring Cups
Prize #3: 1 (one) King Arthur Flour gift set including the following: 1(one) King Arthur Unbleached All Purpose Flour -5lb bag, 1(one) Snowflake Cookie Cutter Set, 1(one) King Arthur Flour Pure Vanilla Extract, 1(one) Sparkling Sugar Collection, 1(one) Semi-Sweet Chocolate Wafers – 16oz and 1(one) 4lb bag of Zulka Pure Cane Sugar
Prize #4: 1 (one) Silpat Halfsize Mat and 1(one) 4lb bag Zulka Pure Cane Sugar
This giveaway is open to US residents and will be picked from random draw.  The winners will be notified via email and have 72 hours to respond, if not their prize is forfeited and another winner will be chosen.


See what all my friends are making!
A little about our sponsors:
The iconic Kitchenaid stand mixer was born in 1919, from there stemmed an entire kitchen of  high-performance appliances -all created with the same attention to detail and quality.OXO's mission is dedicated to providing innovative consumer products that make everyday living easier.King Arthur Flour was founded in 1790, as America's oldest flour company they provided pure, high-quality flour to residents of the newly formed U.S., still going strong, they are the nation's premier baking resource.Silpat was founded in 1965 by M Guy Demarle in Northern France.  He was an experience baker seeing a better way to bake bread with forms using non-stick silicone coatings.  He invented the first non-stick baguete baking trays and a few  years later invented  and created the original Silpat.Zulka Pure Cane Sugar is a Non GMO Project Verified "Morena" sugar – a term used to described granulated sugars that do not undergo conventional refining processes.  Zulka is perfect for baking, it tastes better, is less processed and is a cup for cup replacement.
Disclaimer: KitchenAid, OXO, King Arthur Flour, Silpat and Zulka Pure Cane are providing the prizes free of charge.  All opinions stated are my own.
(Visited 5,002 times, 1 visits today)