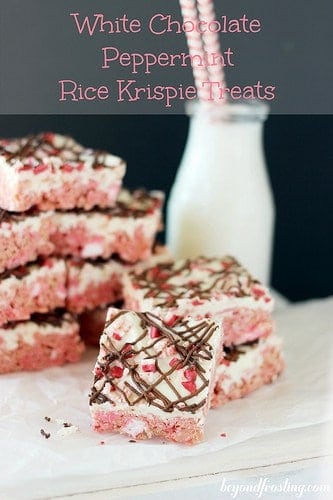 Three more days till vacation! Woohoo! I've got more peppermint for you this week! If you have ever been skiing and browsed the cafeteria section, you will find giant Rice Krispie Treats. It's kind of our go-to quick snack when we are riding and my boyfriend loves them. I may have mentioned this before, but every time I make a Rice Krispie Treat for my blog, I make him his own tray because he can't wait for me to finishing shooting them so he can eat the whole batch.
These White Chocolate Peppermint Rice Krispie Treats are the perfect quick holiday treat to enjoy. It's full of white chocolate and plenty of peppermint. I am sharing the recipe today over at My Cooking Spot. Head over there and check out the recipe!
Do you like peppermint? Check these out!
Peppermint Cream Thumbprint Cookies