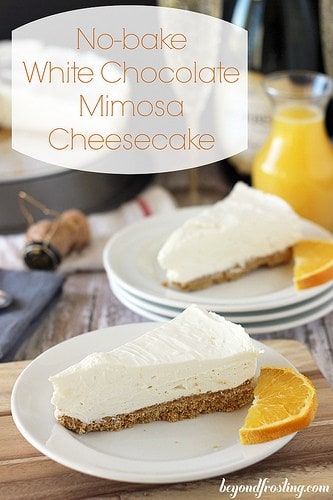 Well this is officially the last post of 2013! I wanted to wish you all the most safe, healthy and happiest of New Years. I keep saying how thankful I am for all of your support this year- and it's because I truly mean it! I am very fortunate to have the support of my family, friends, and most importantly my boyfriend. He has sat through countless hours of me messing up the kitchen; and even more hours of dishwashing, editing my posts, taste testing, photographing and lots of "just a few more minutes and I will be done". And when I do things like chip my front tooth the day before Christmas eve, he does whatever he can to make me feel more comfortable. I am so blessed to have such amazing people in my life.
I don't make resolutions because I don't want to set myself up for failure. Instead, I write down a few goals I want to accomplish in the upcoming year. I am still working on my list, and always adding to it! What about you? Do you make resolutions? Leave me a comet below and let me know what your resolutions are.
Now let's talk dessert. The past week, I have gotten a creative spark in myself and I am super excited about the champagne desserts I created: Mimosa French Toast and Skinny Champagne Parfaits. This last champagne themed recipe is a No-Bake White Chocolate Mimosa Cheesecake. This is one of those desserts that I had to throw the whole thing away, because it was too good for me to stare at in the fridge. There is a subtle taste of orange in this cake, but also I love the lightness of this dessert created by adding the whipped cream. Cheesecake is my all time favorite dessert, and tough to resist, but it's so high in calories that I try and avoid it whenever possible. This cake, however, makes me feel like I am not over indulging.
This cheesecake actually started out as a truffle, and then as a dip and I ended on a no-bake cheesecake. I think I made the right decision. The only catch to it is this cheesecake needs a little bit of time. First you have to make the chocolate, and allow it to cool completely. Then you need to mix it with the cream cheese and cool whip and finally, it has to set in the fridge for a couple of hours. So perhaps this will be perfect for your LEFTOVER champagne tomorrow morning; if you have any that is! I bought some mini bottles of champagne and I have been enjoying mimosas periodically throughout the last week. I think I prefer my champagne with orange juice.
Print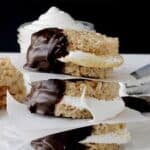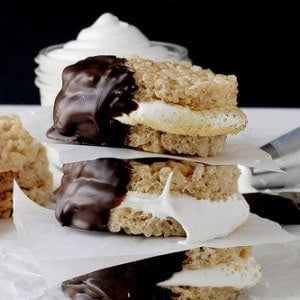 No-Bake White Chocolate Mimosa Cheesecake
---
Prep Time:

15 minutes

Total Time:

15 minutes

Yield:

8 Servings
Ingredients
12 oz White chocolate chips
1/2 C Heavy whipping cream
Zest of one large orange
1/2 C Champagne
1 pk (8oz) Cream cheese
1 Container (8oz) Cool Whip
2 C Graham cracker crumbs
1/4 C Unsalted butter, melted
---
Instructions
In a heatproof bowl, combine white chocolate chips, heavy whipping cream and orange zest. Heat on medium over a pot of simmering water, about 1" deep until chocolate starts to melt. Whisk until smooth. Add champagne and whisk into melted chocolate
Allow mixture to cool completely. I cooled in the fridge for about an hour.
In a mixing bowl, combine melted chocolate with cream cheese. Beat until mixture is smooth. Add Cool Whip and continue to beat until well incorporated.
Use a food processor to grind up graham cracker crumbs (about 2 packages) into a fine crumb.
In a microwave-safe bowl, melt butter for about 30 seconds.
Combine melted butter with graham cracker crumbs and mix thoroughly. If the mixture still feels too dry, add an additional tablespoon of butter and pop back in the microwave for 15 seconds.
Use a spring form pan, line the bottom with parchment paper. Press graham cracker mixture into the bottom of the pan. Pour cream cheese mixture over the top of graham crackers and spread evenly. Cover the top of the cheesecake with plastic wrap and refrigerate for at least 2 hours. Serve chilled.
H A P P Y   N E W  Y E A R !!
Classic Pound Cake with Champagne Glaze