Yesterday was mother's day and I hope that all the mothers out there were pampered the way they should be. But I have to say, I am of the belief that mothers need to be celebrated more than just once a year.
Besides giving birth, which I have never experienced myself (but the more I hear about it, the more I fear it), they spend the next 18 years trying to raise their babies to be respectful and responsible human beings. They then spend the next 10 years worrying about their child graduating from college, getting a job and finding a suitable mate. Being a mother never  ends. It took me well into my young adulthood to truly understand and appreciate the roll my mother played in my life. I could not have more respect for her. Squeeze your mother a little tighter the next time you see her.
Cookie dough makes everything better. Sprinkles make it more pretty. These Circus Animal Cookie Dough Truffle Bars are pure awesomeness. This year happens to be the 100th anniversary of Circus Animal Cookies. ONE HUNDRED YEARS of fabulous, frosting covered shortbread cookies dotted with colored sprinkles.
This is one snack that I can't keep in the house, as I will for sure eat the whole bag. So if I do buy a bag of cookies, I need to bake something with them immediately. The last time I bought them, I made Circus Animal Fudge. I love taking a bite into these bars and getting a surprise cookie bite! If you like chocolate, you will love the white chocolate truffle layer on top of these bars.
These no-bake bars are perfect for summer time, and they come together pretty quickly! I have a healthy obsession with cookie dough. Remember my Funfetti Cookie Dough bars a couple weeks ago? Yeah. You're welcome.
Keep up with all the happenings. Follow Beyond Frosting:
Facebook | Twitter | Pinterest | Instagram | Bloglovin | Google+
 Don't forget to save your favorite recipes to your recipe box with the 

   button! You can create a meal plan and a shopping list all in the same place!
Print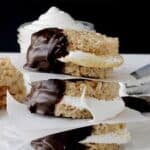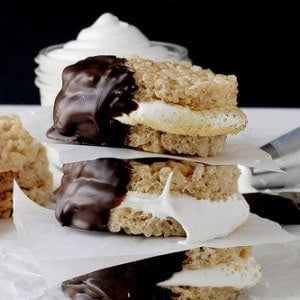 Circus Animal Cookie Dough Truffle Bars
---
Ingredients
For the cookie dough
1 1/2 C Circus Animal cookies
1 C Unsalted butter (2 sticks), softened
1 C Granulated sugar
3/4 C Light brown sugar
2 1/4 C All-purpose flour
1/2 tsp Salt
3 tbsp Milk
1 tbsp Pure vanilla extract
1/4 C Sprinkles
For the truffle
12 oz White chocolate chips
1/4 C Heavy Cream
1/4 C Sprinkles
---
Instructions
For the cookie dough:
Empty Circus Animal cookies into a large Ziploc bag. Use a rolling pin to gently crush cookies into small pieces. You want a mix of crumbs and large chunks of cookies.
Allow butter to come to room temperature.
Combine butter and both sugars in a medium-sized bowl. Mix with a handheld mixer until smooth. All chunks of sugar and butter should be broken up.
Add flour and salt. Mix just until combined. Mixture will be crumbly.
Add vanilla extract and milk. Mix until dough is soft. Add crushed cookies and sprinkles last.
Line a 9×9" pan with parchment paper or tin foil, and wrap over the top edge. Empty the cookie dough into the pan and gently press dough into the pan with your fingers.
For the truffle
In a microwave safe bowl, combine chocolate chips with heavy cream. Microwave on high for 90 seconds. Remove bowl from microwave (careful, it's hot!). Whisk together until chocolate starts to melt.
Pour melted chocolate over top of cookie dough. Top with additional sprinkles.
Leave on the counter for at least 30 minutes to allow the chocolate to cool then refrigerate until firm.
Remove from refrigerator 20 minutes before serving. Lift parchment paper out of pan and cut bars into squares.
Recipes from my friends:
Ice Cream Cake with Circus Animal Crust from Food, Faith Fitness
Circus Animal Truffles from Cake Spy
Frosted Animal Chunk Sugar Cookies from Wishes and Dishes
Other recipes from Beyond Frosting:
Cake Batter Cookie Dough Truffles
Deep Fried Cake Batter Cookie Dough