I bet you thought I didn't have anything else to say about frosting this week. Think again! I couldn't forget about my other bff, The Best Chocolate Frosting.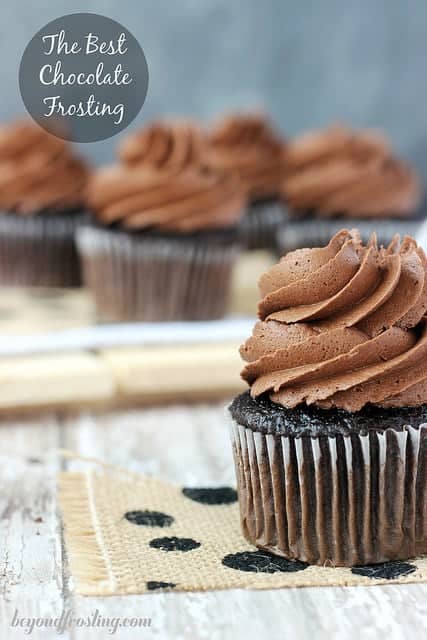 After the Perfect Vanilla Frosting and How to Frost the Perfect Cupcake, it is only fitting that I share with you my favorite classic chocolate frosting. I am a firm believer that a chocolate frosting can never be too chocolaty. I think that's why my boyfriend fell in love with me.
When we first met, we made a chocolate cake together. I helped him bake it and make the frosting. He wanted the classic Hershey cake with Hershey frosting. When we were making the frosting, he kept telling me to put more and more cocoa powder. I kept saying MORE? Really? His reply was always yes.
Just like my vanilla frosting, this frosting also starts with cold butter. You whip the butter until it softens. When I make chocolate frostings, I always add the cocoa power right after the butter. I want it to be well incorporated into the frosting. I also ALWAYS sift my cocoa powder. Because of the packaging, most cocoa powder is somewhat clumpy right from the container. I like to make sure it broken up and the frosting is smooth. When you add the cocoa powder, be sure your mixer is on slow or you will have a huge mess on your hands!
I use an unsweetened cocoa powder. I combine it with powdered sugar and vanilla extract. Of course, this recipe also uses heavy whipping cream. You can see the whipped amazingness in this frosting. The heavy whipping cream makes this frosting smooth and extra creamy. Just my style.
Now this chocolate frosting can also be a great base for you to add your favorite candy bars or cookies! This would make a great frosting for a chocolate cake or a filling for a cookie sandwich! Don't forget, you can always add more cocoa powder!
Keep up with all the happenings. Follow Beyond Frosting:
Facebook | Twitter | Pinterest | Instagram | Bloglovin | Google+
 Don't forget to save your favorite recipes to your recipe box with the 

   button! You can create a meal plan and a shopping list all in the same place!
Print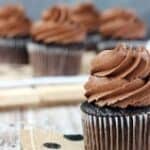 The Best Chocolate Frosting
---
Prep Time:

20 minutes

Total Time:

20 minutes

Yield:

4 1/2 Cups enough for 24 cupcakes
Description
A creamy whipped chocolate frosting that is so smooth you will want to eat it with a spoon!
---
Ingredients
1 1/2 C (3 sticks) Unsalted butter
1 C Cocoa Powder
5 C Powdered sugar
1 tbsp Vanilla extract
1/4 C Heavy Cream
---
Instructions
Cut butter into pieces. Using the paddle attachment, whip butter for 5-7 minutes, scraping down the bowl occasionally. Beat until butter looks light in color.
Sift cocoa powder into mixing bowl. Turn mixer on slow speed and beat until cocoa power is mixed into butter.
Add 2 C powdered sugar and mix on low speed until incorporated into butter.
Add vanilla extract and 2 tbsp of heavy whipping cream and mix to combine.
Add additional 2 C powdered sugar and beat on low speed until sugar is incorporated. Increase speed to medium-high and beat for 3 minutes.
Add last 1 C powdered sugar along with 2 tbsp heavy whipping cream. Beat on low until ingredients start to mix together. Increase speed to medium-high and beat for another 3-5 minutes to whip additional air into the frosting.
You might also like:
How to Frost the Perfect Cupcake
Reese's Peanut Butter Cup Frosting
Whipped Chocolate Peanut Butter Frosting