I love gift giving. Seriously, I am always looking for things to share with my friends. Since I started blogging, I started sending more baked goods instead of gifts. I find that my friends love a tin of fresh cookies too! Do you have friends or family that loves to bake? Are you looking for a few small stocking stuffers for Christmas? I've got you covered. Below you will find 25 gifts for baker under $25 and I will tell you why I love each one! It's true, each item I list below is something that I own in my kitchen!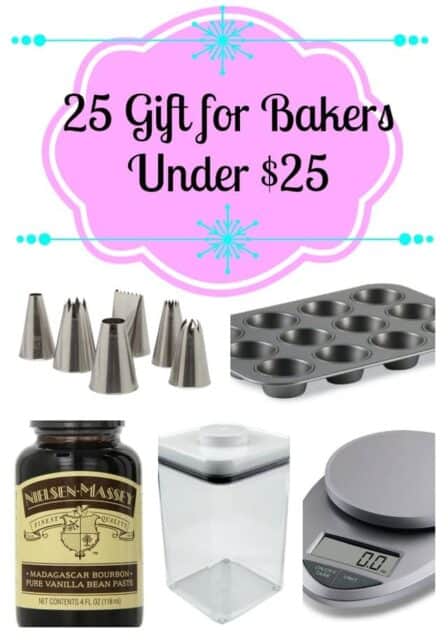 I can't live without my Silpat Non-Stick Silicone Baking Mat
. At first I wasn't really a believer until I purchased some myself. Now, I wouldn't ever bake without them. They are non stick, and easy to clean. The added layer between your baking sheet and whatever you are baking, helps prevent them from burning. This can be used for more than just cookies! I always use these when I am dealing with caramel or melting chocolate since it is so easy to get it off of there!
I always use my OXO Good Grips Medium Cookie Scoop when baking cookies. I also love the large cookie scoop for cupcakes. Using a cookie scoop helps ensure even dough, which means consistent baking time. Since these are dishwasher safe, it is that much easier to clean up! 

Once I started using my EatSmart Digital Kitchen Scale to measure my flour and sugar, I found the results were much more consistent. I use the tare function so I just put my mixing bowl on top and measure right into the bowl. It's thin and about the size of my hand, so it's really easy to store. It has several setting to measure with as well. 

Surprising, my Candy Thermometer comes in handy more than I would have thought. It is essential for making Swiss Meringue Buttercream or homemade donuts. It's also great for homemade caramel and melted chocolate. I didn't even realize how inexpensive they are!  

If you like making streusels or homemade crust, the OXO Good Grips Dough Blender
 is essential. It makes cutting the butter into the flour that much easier. Then pop it in the dishwasher. Easy peasy.
When I started making homemade bread and scones, I started using my OXO Good Grips Scraper & Chopper. It cuts through dough with ease, and can also help clean your work space. This is also referred to as a bench knife. Side note, I all use this to help smooth out the edges of my cakes! 
I find the  Chef's Torch with Fuel Gauge is not a common kitchen utensil unless you like making creme burlee. I will tell you that I love my torch because I am always making marshmallow desserts that I want to add a little toast too.
For awhile I was buying vanilla beans at World Market, because they were cheap (under $3 for 2 beans!) but then I got tired of scraping them. Once I discovered Madagascar Bourbon Vanilla Paste 4 oz, I never looked back.

Once I find a product I love, I have to share it with my readers. We have tried multiple gluten-free flours, but my favorite by far is King Arthur Flour Gluten Free Multipurpose Flour. I think it produces the best texture and have used it for cupcakes, cakes, breads and pie crusts! 
You know how much I love cupcakes, so I had to be sure to include some of my favorite things for your favorite cupcake and cake baker:
I hardly ever use regular food coloring anymore, especially when it comes to frosting. A friend told me about AmeriColor Gels, which are much thicker than traditional food coloring, which means it won't thin out your frosting. These can be difficult to find if you don't have a cake store near by, but I have found that you can buy them from Sur La Table as well.  This is the perfect starter set. AmeriColor Soft Gel Paste Food Color, Junior Kit-8 assorted colors,0.75 oz bottles
I am very excursive about the piping bags I used. People always ask me how I frost cupcake so well. You can read a tutorial here. I insist that have large piping bags is essential. Filling a large bags means that you can proper position your hands when piping.  They need to also be durable. I hate refilling bags, so I use large ones. I also refuse to clean them, so they have to be disposable. My favorite brand are these:  18″ Disposable Pastry Bags
Sometime you aren' t ready to pipe right away, so these  Wilton Icing Bag Ties are tiny rubber bands that will help secure your bag closed. This is especially important for royal icing. 

If you are using small tips, you will need Wilton Coupler Set, Set of 4. This allows you to easily change out the piping tips you are using without changing the piping bags. 
Another secret to beautiful cupcake is to use large piping tips. This Ateco 6-Piece Pastry Tube and Tips Set is a great starter set. I also have specific ones I list in my tutorial. 
I have several sizes of offset spatulas. I use the Wilton Angled Icing Spatula, 9-Inch the most. It's helpful for frosting cookies, cakes and cupcakes. It helps to keep your hand from dragging in the frosting!
Anytime I make a cupcake with a filling, I use my Norpro Cupcake Corer, Red. There are two sizes of corers so you can choose how much of the cupcake you want to remove. The ejection button on the top helps clear out the corer quickly.
 I never decorate a cake with my Wilton Trim 'n Turn Plus Cake Turntable
. It helps make frosting a cake SO much easier!

Sure you can level your cakes with a knife, but unless you are a pro, I doubt they are ever truly straight. The Wilton Decorate Smart Small Cake Leveler is inexpensive and effective! There are several different heights you can set this to depending on how tall or short you want to level your cake. 
When I make cakes, I also reach for my Wilton 2103-307 Cake Lifter, 8-inch. It helps the cake from breaking apart and makes transporting the layers really easy!
The key to good baking is good bakeware. I have tried a lot of different brands, and lot of different types of baking pans, but I have a few that I just love. 
I use my Calphalon 9-Inch RoundSpringform Pan way more that I ever thought I would. It is perfect for all my no-bake cheesecakes and dessert lasagnas! 
This is my go-to sheet pan for cookies. My Silpat fits perfectly inside the Calphalon 12-by-17-Inch Nonstick Jelly Roll Pan. I have a couple of these on my Christmas list too! 

I reach for my Calphalon Nonstick Cake Pan- 9 by 13-Inch first. I think this pan in particular because the sides are straight, whereas most 9×13″ pans are rounded on the bottom corners and tend to be angled.  

You guys know I make a lot of cupcakes. I did a test to see how different pans produced different results and I found that darker, nonstick pans tend to help produce a taller cupcake. Check out my cupcake research post.  Calphalon 12-Cup Nonstick Muffin Pan

Once I found my Calphalon 24-Cup Nonstick Mini Muffin Pan, I never looked back. I discarded all my other mini muffins pans. These are taller than most mini muffin pans, which are perfect for all my cookie cups! Mini cupcakes are totally cute, but I find the bottoms usually aren't even because the bottom of the pan is curved. Well this Calphalon pan is straight on the bottom which helps make the perfect mini cupcake too!
Last but not least, I can't tell you how much I love my OXO Good Grips POP 4-Quart Storage Container
. I recently overhauled my pantry and replaced my large glass canisters of flour and sugar with these OXO POP Storage Containers.  They hold a good amount of flour or sugar and since the opening is wide, I can dip my measuring cup right in! Plus I know it's sealed when I pop to the top down!

Well that's what I got for you folks today! I am sure you favorite baker would love any one of these items!
Please note this is not a sponsored post. I own and use each and every one of these items. This post does contain affiliate links. That means if you purchase something from this post, I earn a small commission. The money earned from affiliate links helps support the cost of running this blog. Thanks for your support! 
Images provided by Amazon.