A skinny, low fat, chocolate cake soaked in a sugar-free, fat-free pudding and topped with fat-free Cool Whip. It's a poke cake cupcake!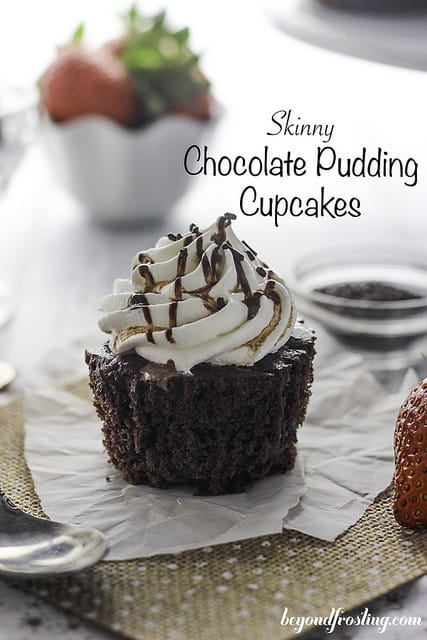 I am so excited to be sharing my first skinny recipe of the season and I am even more glad that it's chocolate! Throughout January and February, I hope to share a variety of healthier recipes mix in with my every day, over the top desserts. Why? Because I am determined to shed the 15 pounds I put on in 2014. I wrote all about my weight loss journey last week, but I am happy to say that since December 26th, I have changed my eat habits and added in a workout routine!
These Skinny Chocolate Pudding Cupcakes are worth every bite. They are basically a skinny poke cake. I don't know about you, but controlling portions is always a problem for me, especially when it comes to cakes. So instead of making a cake and estimating the portion sizes, I made this into cupcakes instead. These cupcakes in particular are low in fat! The only fat in this recipe is from the actual cake mix itself!
The cupcakes are prepared with a cake mix and a diet Coke. Yes, diet Coke. It's totally a thing and it's freaking delicious! My jaw nearly hit the floor during my first few Weight Watcher meetings when I learned that you could add a can of diet soda to a cake mix, and that it would actually turn out good! Now I am not saying that cake mix and diet soda is good for you, but it can be a good alternative for you to enjoy some dessert!
I immediately went home and made a diet 7-up and vanilla cake and I was blown away at how good it was. I brought it into my office and my coworkers didn't believe me- it was that good. One day my boss came in and said he made a chocolate cake with root beer soda and it was out of this world. He was hooked. Since then, I have been making these diet soda cakes every once in awhile. I am not sure who is the originator of idea, but I first heard about it at my meetings.
Anyhow, I was also skeptical of the "poke cake" effect in these cupcakes and if the liners could withstand the pudding, and it totally worked! Now I would recommend using an oversized cupcake liner to allow for more room for the pudding. The jumbo cupcake liners will work in a standard cupcake pan, you just have to give it a little love and push it down into the bottom.
I also used a large cookie scoop to help control the portion of the batter, this is something I do when I make any cupcake. It is a 3 tbsp scoop. For me, this recipe made 20 cupcakes, but it can be stretched to 24. Who needs 24 cupcakes right? Well these can be frozen and thawed as needed, or you can share with a friend! I am sure they would appreciate a pudding drenched cupcake and you don't even have to tell them that is "healthy" or low in fat.
When you are preparing the pudding layer, mix the sugar-free, fat-free pudding with some skim milk (or almond milk). I reduced the amount of milk by ¼ C just to make the pudding mix a little thicker. After you poke the holes in the cupcakes, you should use a measuring cup, or something with a spout to pour the pudding mix over the cupcakes. You want to do this BEFORE the pudding sets! Then refrigerate the cupcakes.
Now these wouldn't be a poke cake without a Cool Whip topping! I poured my thawed Cool Whip into a piping bag to top the cupcakes, but you can certainly spread it on with a knife too! Then I drizzled on some sugar-free hot fudge, which is optional as well! There is a 5 point difference between a container of Cool Whip Free (9 points) and Cool Whip Lite (16 points). It is worth finding the Fat-free Cool Whip.
I hope you guys will try this out! I sure could not wait to share them with you!
Be sure to follow my Skinny Desserts Pinterest board!
Keep up with all the happenings. Subscribe at the end of this post.
Follow Beyond Frosting:
Facebook | Twitter | Pinterest | Instagram | Bloglovin | Google+
Weight Watcher Points: Total Weight Watcher Point Plus equals 73 points. To find the individual serving, divide by the total number of cupcakes. For this recipe, I got 20 cupcakes, but it can be stretched to 24 cupcakes. For 20 servings, it is 4 points. For 24 servings, it is 3 points.
Print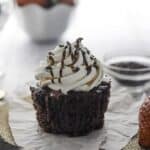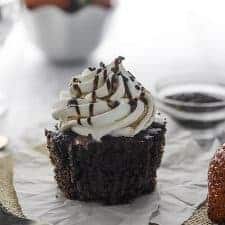 Skinny Chocolate Pudding Cupcakes
---
Author:

Prep Time:

15 mins

Cook Time:

14 mins

Total Time:

29 minutes

Yield:

20 cup

cakes

1

x
Ingredients
1

Box Betty Crocker Chocolate Fudge Cake Mix

1

Can Diet Coke

1

pkg (3.4oz) Sugar-free, fat-free chocolate pudding mix

1 ¾

C Skim milk

1

pkg Cool Whip Free (or Lite) 8oz
Sugar-free hot fudge sauce (optional)
---
Instructions
Preheat oven to 350°F.
Prepare cupcakes by combining your chocolate cake mix and diet coke, whisking until cake mix is dissolved and well mixed. Divide batter between lined cupcake pan.
Bake at 350°F for 14-16 minutes. Check the cupcakes for doneness by inserting a toothpick into the center of the cupcake. If the toothpick comes out clean, the cupcakes are done.
Allow the cupcakes to cool completely. Use the end of wooden spoon to poke 3-4 holes in the top of the cupcakes.
In a separate bowl, combine chocolate pudding mix and skim milk. Whisk until pudding mix is dissolved. Immediately (before the pudding has set) put prepared pudding mix in a measuring cup. Gently pour the pudding mix over each cupcake, dividing as evenly as possible. Pudding mix will absorb into the cupcakes.
Refrigerate for at least 10 minutes until the pudding is set.
Top cupcakes with whipped cream, dividing evenly between cupcakes. Drizzle with sugar-free chocolate fudge sauce if desired.
Keep refrigerated or freeze leftovers.
Notes
Total Weight Water Point Plus= 73 points. To find the individual serving, divide by the total number of cupcakes. For this recipe, I got 20 cupcakes, but it can be stretched to 24 cupcakes. For 20 servings, it is 4 points. For 24 servings, it is 3 points. Points are calculated based on Fat-Free Cool Whip. If you are using Cool Whip Lite, you will need to add 5 points to the overall total.
I specified Betty Crocker Cake Mix because the flavor is my favorite. You can substitute any cake mix you want.
Be sure to check out these skinny desserts from my friends:
Skinny BTS Cake from Something Swanky
Skinny Red Velvet Cake from The Domestic Rebel
Skinny Cherry Poke Cake from Yummy Healthy Easy
More from Beyond Frosting:
Gluten-Free Lemon Raspberry Muffins
Bailey's Cheesecake Shooters