This decadent Chocolate Stout Cake is a dark chocolate cake spiked with chocolate stout beer. It's topped with a spiked dark chocolate frosting. This rich chocolate cake is best accompanied by a big glass of milk.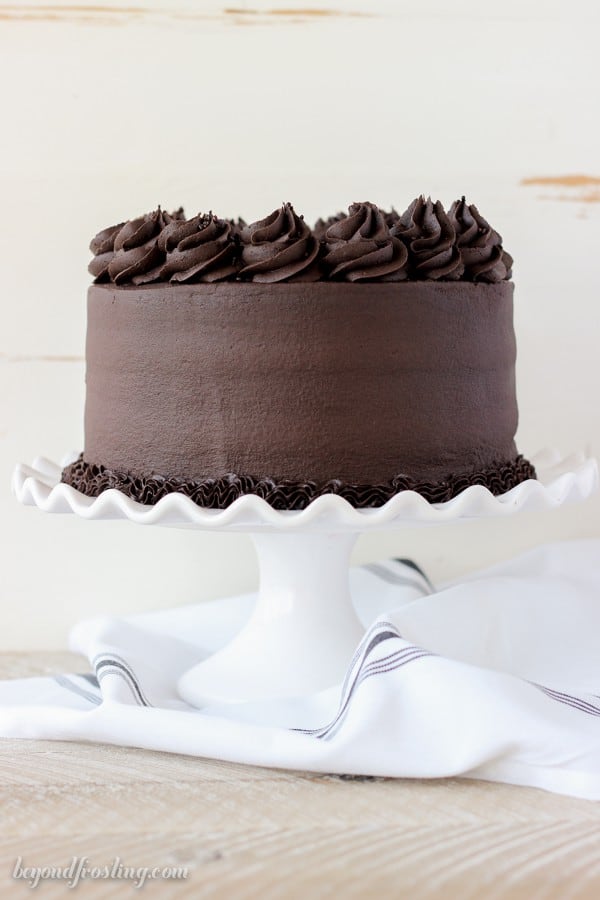 Something amazing happened a couple of weekends ago. I made another cake. That's two cakes in a row guys. I posted a photo on Instagram and it's been one of my most popular post so far this year. I didn't even tell you what type of cake I made, all I said was chocolate cake. Clearly you all love chocolate cake.
I have to tell you this Chocolate Stout Cake may be my most favorite chocolate cakes I've ever made. It's is a dark chocolate cake, will a big glass of chocolate stout beer and frosted with a dark chocolate frosting. The frosting is also spiked with a little bit of beer.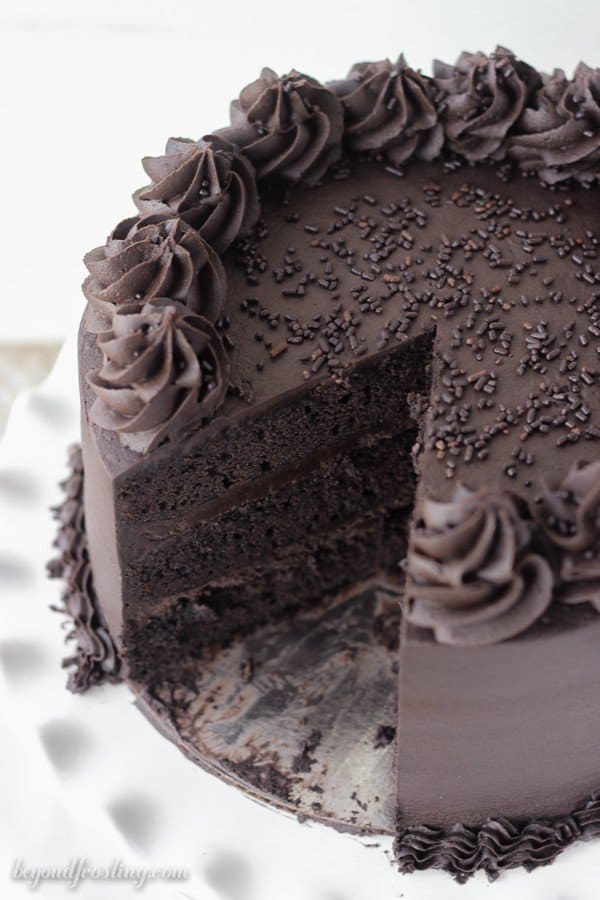 I wanted to eat every last bite of this cake and then lick the plate clean. This is the type of cake that you just have to order after dinner, and feel guilty with every bite. But, you HAVE to finish it because it's THAT good. I have been told it's very rich. So I guess I would be okay with sharing the slice.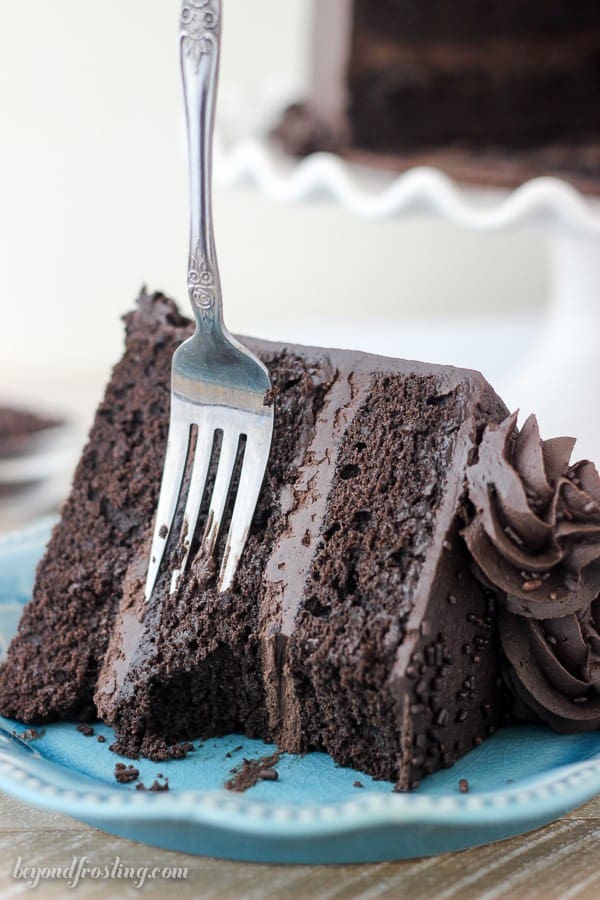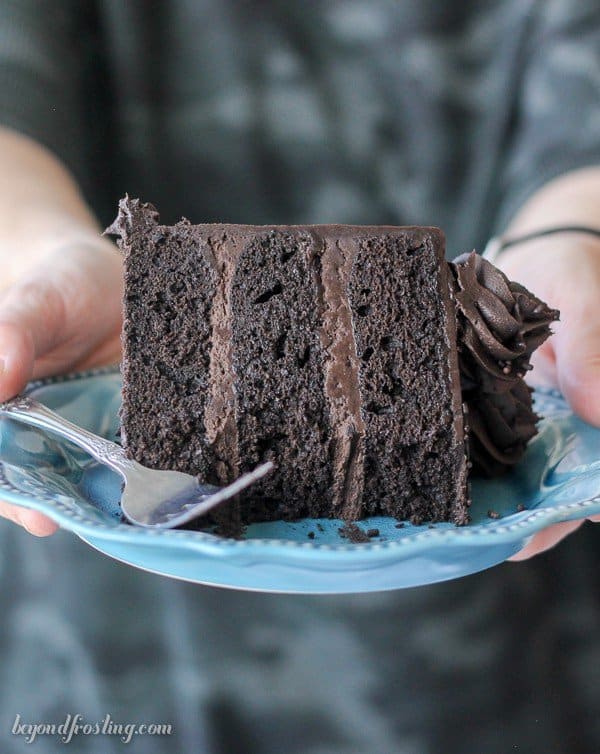 I adapted this recipe from my Raspberry Cabernet Cake (which is also perfect for Valentine's day). You'll notice that recipe was adapted from a BHG recipe I pulled from their magazine. The one important change I made for this recipe was adding an extra ½ teaspoon of baking powder to help the cake rise a bit more.
I split this between three 8-inch cake pans. If you don't have three pans, you could certainly use two pans but you would need to adjust the baking times.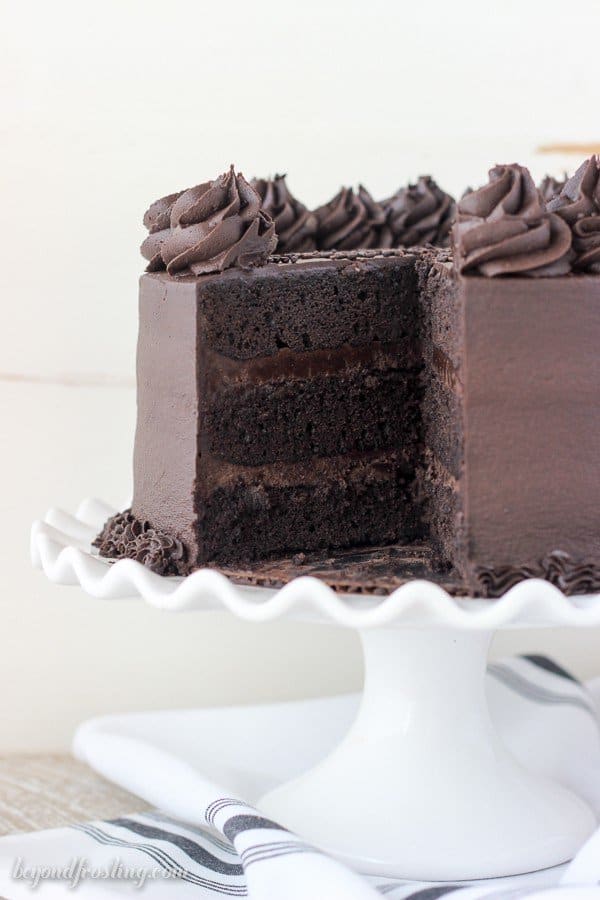 When you read through the ingredients, you might think, MAN that's a lot of butter. And it is. But stick with me here. You've got 2 layers of frosting in the cake, plus the outside and then the decorative frosting on top. The one thing I hate the most is having to remake frosting because I ran out. So even if I end up with leftover frosting, it's not the end of the world.
Everyone has been asking me how I got my frosting so dark. It is due to the Hershey's Special Dark Chocolate Cocoa Powder. You can find it alongside the other cocoa powder, or you can purchase online. If you can't find it, it's not a big deal. I also used it in the cake.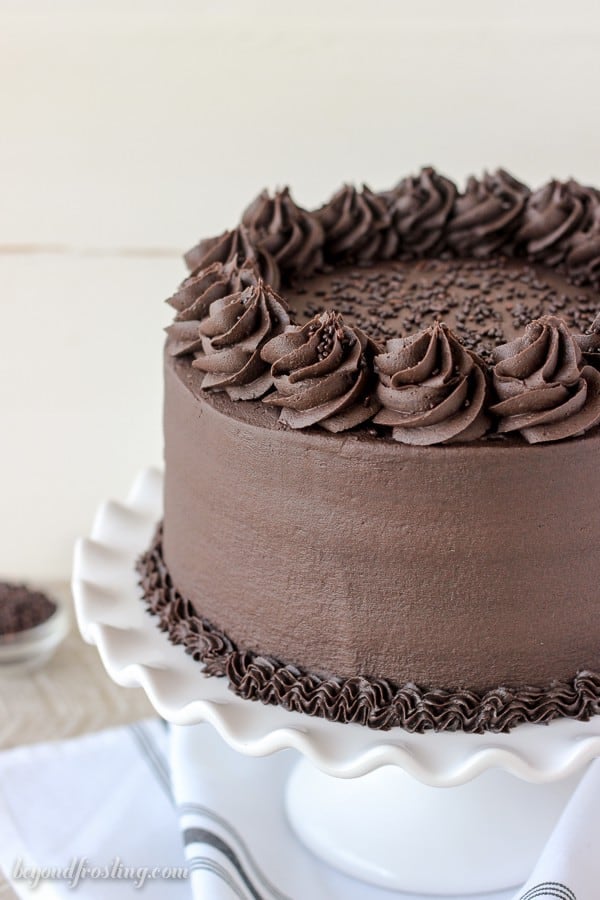 When it comes time to frost the cake, there are a few tricks and tools I've picked up that help to get those finishing touches.
I use large, 18-inch piping bags to I can fill it will all my frosting
To add the frosting between the layers, I use a piping bag fitting with a large open round tip, or I just snap off the end, about 1/2″ up. I work from the outside in, and then use an angled spatula to smooth it out and fill in the gaps.
Add a crumb coat to the outside and then refrigerate until it is slightly firm. This will help you when you add the final layering of frosting on top. Just don't mix the crumb coat frosting back into the bowl. Sometimes it has cake crumbs in it. Hence the term, crumb coat.
I use Viva paper towels and a fondant smoother to get those nice smooth edges. You can read more about it by reading my Valentine's Day Cake and also this post from my bestie Lindsay
To add the frosting on the outside, I use a large piping bag fitted with a Wilton #789 icing tip. Make sure the flat edge is facing out. Start at the bottom and work your way up.
For the decorative piping on top, I used an Ateco 846 closed star tip
If it's one thing I know about cake, is that it is absolutely necessary to have this in your life. So step our of your comfort zone, put on your fat pants and get to work.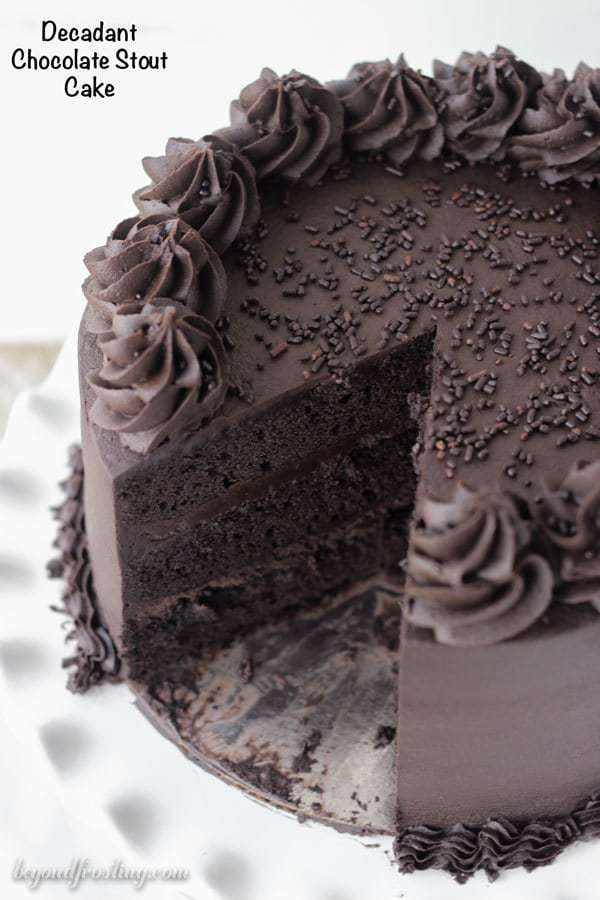 Keep up with all the happenings. Follow Beyond Frosting:
Facebook | Twitter | Pinterest | Instagram | Bloglovin | Google+
Don't miss a thing, subscribe to get recipes delivered to your inbox!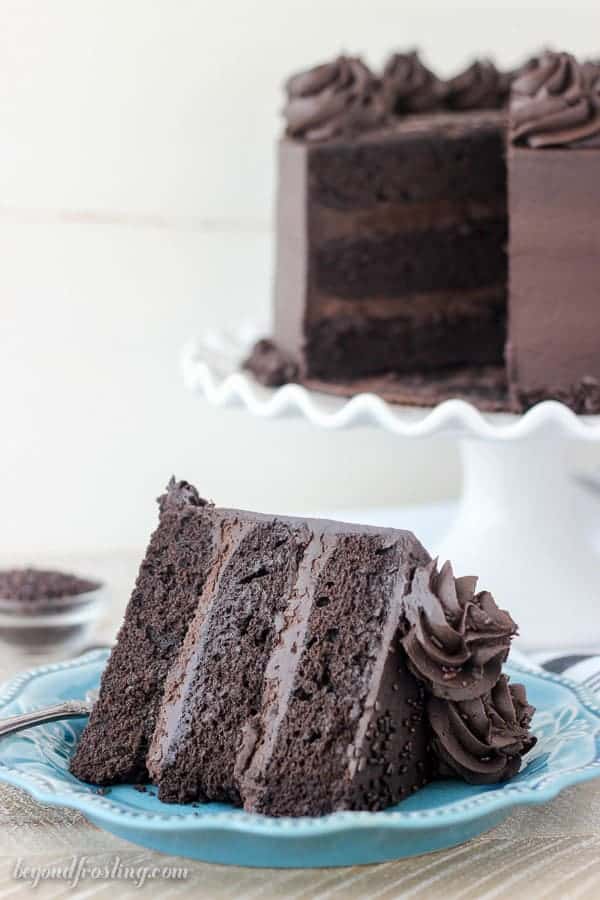 Print
Decadant Chocolate Stout Cake
---
Author:

Prep Time:

35 mins

Cook Time:

25 mins

Total Time:

1 hour

Yield:

10

-

12

slices

1

x
Ingredients
For the cake

1 cup

chocolate stout

4 tablespoon

s light sour cream

2½ cup

s all-purpose flour, sifted

¾ cup

Hershey's Special dark chocolate cocoa powder, sifted

1 1/2 teaspoon

baking powder

¼ teaspoon

salt

¾ cup

unsalted butter, melted

¼ cup

vegetable oil

2 cup

s granulated sugar

5

large eggs

1 tablespoon

pure vanilla extract
For the frosting

2 cup

(4 sticks) unsalted butter, softened

1 cup

Hershey's Special dark chocolate cocoa powder, sifted

7

–

8

cups powdered sugar

3 teaspoon

s vanilla extract

3 tablespoon

s chocolate stout
Pinch of salt
---
Instructions
Preheat oven to 350° F. Grease three 8-inch cake pans with Crisco and dust with cocoa powder to help easily release the cake after it is baked.
Combine chocolate stout and sour cream in a cup, stir until sour cream is mixed into beer. Set aside.
In a medium sized bowl, sift flour and cocoa powder. I usually sift my cocoa powder with a sieve instead of my actual sifter. Add baking powder and salt and set aside.
In a microwave safe bowl, melt butter. Combine melted butter in a large mixing bowl with oil and sugar. Beat on medium speed for 3 minutes until light and fluffy.
Add eggs, one at a time, ensure that each egg is well beaten before adding the next one. Add the vanilla extract together with the last egg.
Alternate adding the flour mixture and the stout mixture. First, pour in half of the dry ingredients and beat for 30 seconds before adding half of the stout mixture. Repeat with remaining flour mixture and remaining stout mix. Use a spatula to ensure the batter at the bottom of the bowl is well mixed.
Pour batter in the greased & coated pans, dividing as evenly as possible. Bake at 350°F for 25-30 minutes. Check for doneness by inserting a toothpick into the center of the cake. If the toothpick comes out clean, your cake is done.
Transfer to a wire rack to cool completely. Once cooled, gently run a knife around the edge of the pan to help release the cake from the pans.
Tort the top of the cake but using a serrated knife to cut the dome off the cake. You want a nice flat surface on top.
For the frosting: Please note this is a large batch and requires a large bowl. You might consider making this in two batches
Cut butter into pieces. Using the paddle attachment, whip butter for 3-4 minutes, scraping down the bowl occasionally. Beat until butter looks light in color.
Sift cocoa powder into mixing bowl. Turn mixer on slow speed and beat until cocoa power is mixed into butter, scraping down the bowl as needed.
Add 2 cups powdered sugar and mix on low speed until incorporated into butter. Add 1 teaspoon vanilla extract and mix to combine.
Continuing adding powdered sugar, one to two cups at a time, followed by 1 teaspoon of vanilla extract and beat on low speed until sugar is incorporated. Increase speed to medium-high and beat for 3 minutes.
Add last cup powdered sugar along with a pinch of salt 2 tablespoons chocolate stout. Beat on low until ingredients start to mix together. Increase speed to medium-high and beat for another 3-5 minutes to whip additional air into the frosting. If you prefer a strong beer taste, add an additional tablespoon of stout.
You will need to judge the consistency of your frosting. You want it light and fluffy and not too stiff. Reserve the last cup of powdered sugar only if needed.
To assemble the cake:
Place a dollop of frosting on the bottom of the cake plate and place the bottom layer of cake on top. The frosting will help prevent the cake from sliding.
In order to create even layers, I use a piping bag fitted with an open round tip, or simply cut off the end of the piping bag. I also highly suggest to use a lazy susan to rotate the cake as you work.
Fill the first layer of frosting by using your piping bag and pipe from the outside edge into the center. Gently spread the frosting with an offset spatula to fill in the gaps.
Place the next layer of cake on top and repeat the above instructions to fill the layer of frosting. For the top layer of cake, place it inverted, so the bottom of the cake is actually the top, creating a nice and smooth top edge.
Proceed to add your crumb coat by adding a cup of frosting to the top of the cake and gently spread out to the edges and down the sides. Use the leftover frosting in your piping bags to fill in the cracks between the layers.
Using an offset spatula or icing smoother, the wipe away excess frosting, leaving you just enough to coat the outside of the cake. Do not mix your crumb coating frosting back into your icing if it has cake debris in it. Refrigerate the cake for 15-20 minutes to allow the crumb coat the harden.
First, add about ½ cup of frosting to the top of the cake and create a nice, smooth top. Use your Viva paper towel and fondant smoother to create a flat even surface.
Put remaining frosting in a 18-inch piping bag fitted with a Wilton #789 icing tip. Pipe the outside edge of the cake working from the bottom to the top. Use your icing smoother or large offset spatula to smooth edges and remove excess frosting.
Once the cake is completely smooth, put remaining frosting into a large piping bag fitted with an Ateco Tip 846 (closed star tip). Pipe the boarders on the edges of the cake and garnish with sprinkled.
You can add a decorative boarder around the bottom edge. I used a tip #21 star tip.
Serve with a big glass of milk
Notes
Be sure to read through the tips and tricks!
 Visit Beyond Frosting's profile on Pinterest.
More helpful tools:
Icing Smoother
Fondant Smoother

Cake Icer

Wilton Color Right

Ateco Tip #846 – Closed Star Tip

Wilton Tip #12 Round

12-inch Piping Bags

18-inch piping bags

Cake Turntable

Angled Icing Spatula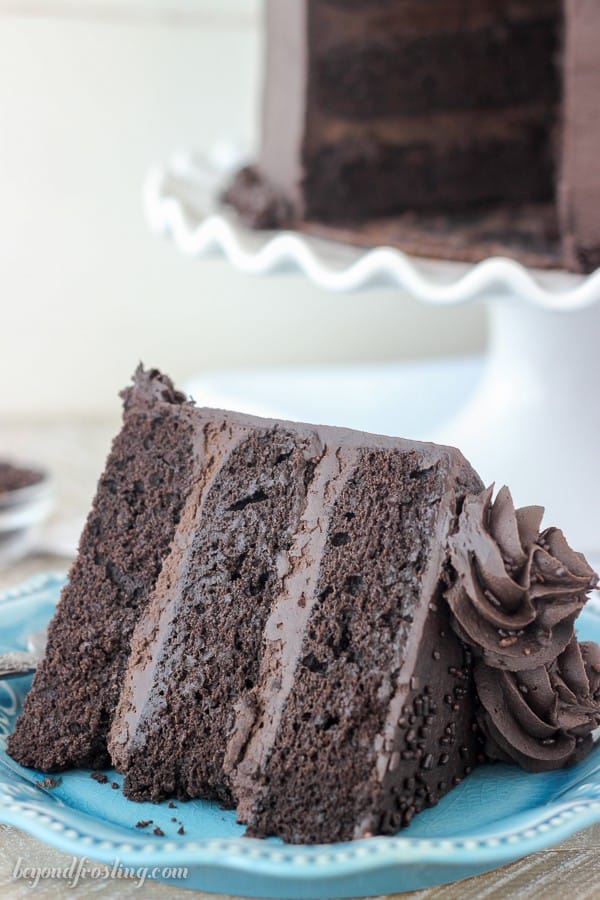 Other recipes you might like: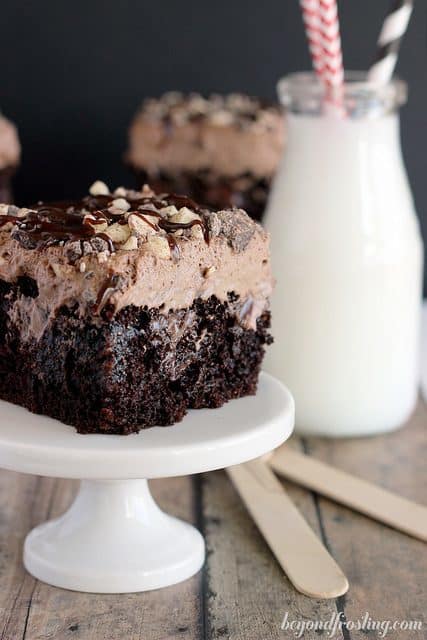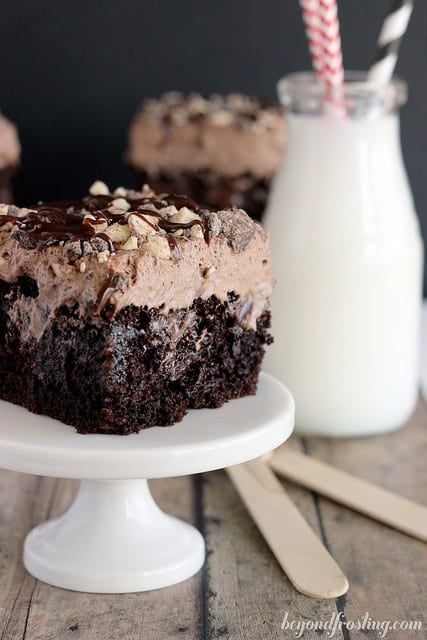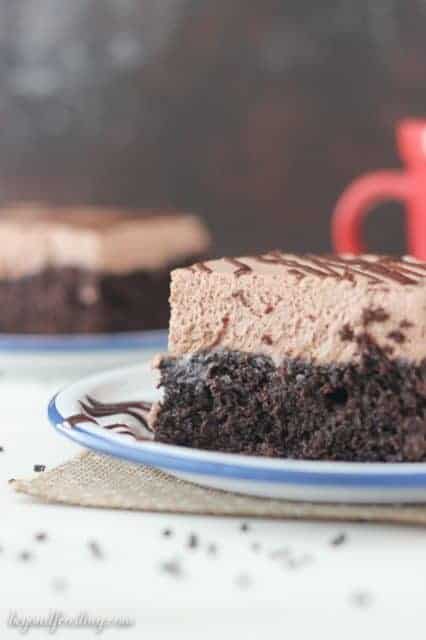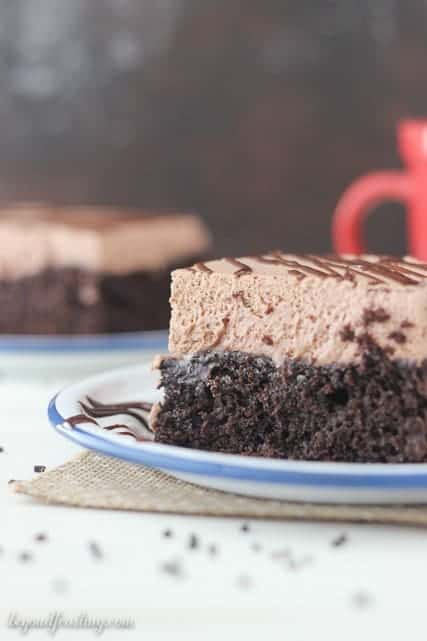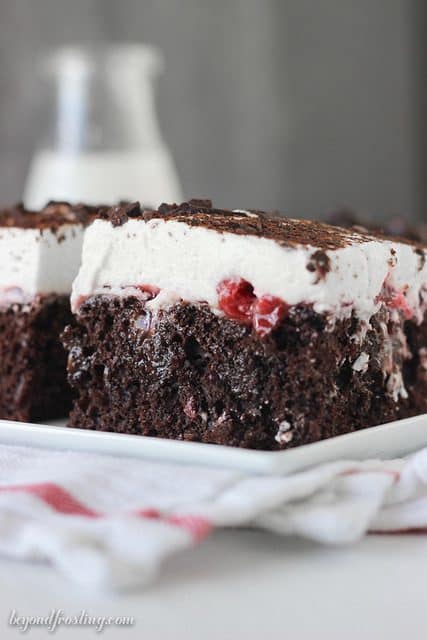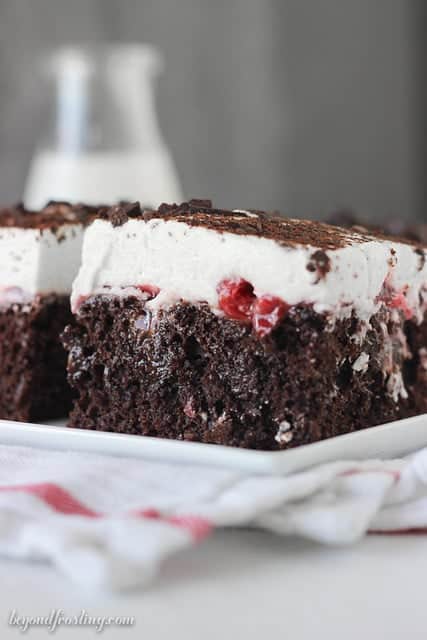 Valentine's Day Ombre Heart Cake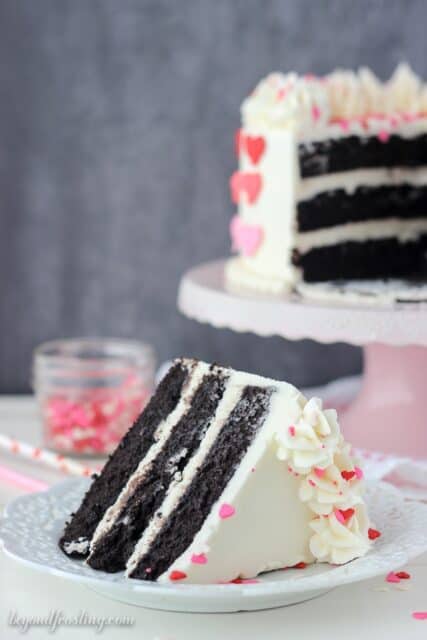 Recipes from my friends:
Best Chocolate Cake– Seriously. The best.
Coconut Chocolate Cake – So pretty and the marshmallow frosting
Peanut Butter Cake – those layers tho!