You can't go wrong with Triple Irish Cream Cupcakes. The marbled Irish cream cupcake is filled with a spiked ganache and an Irish cream infused chocolate frosting. These cupcakes original appeared on Delish Dish.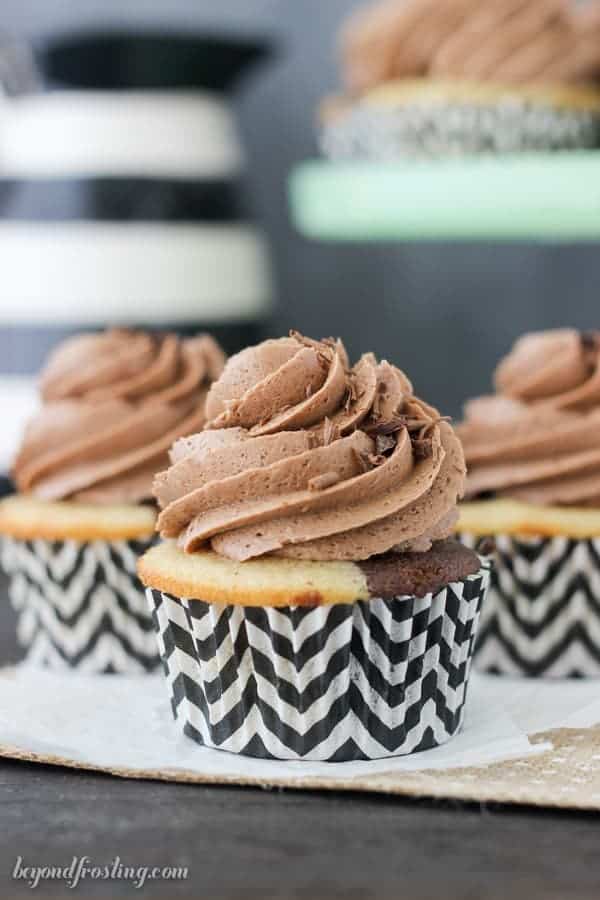 These Triple Irish Cream Cupcakes are just what you need to start a long weekend. I am particularly excited because we don't normally have Presidents day off, and this year we do. Plus it overlaps with Valentine's day and my boyfriend's birthday (shh, don't tell him I told you), so I am looking forward to the next few days! I've got big plans to bake and sleep and maybe eat some pizza. We're so fancy. What are you all doing this weekend?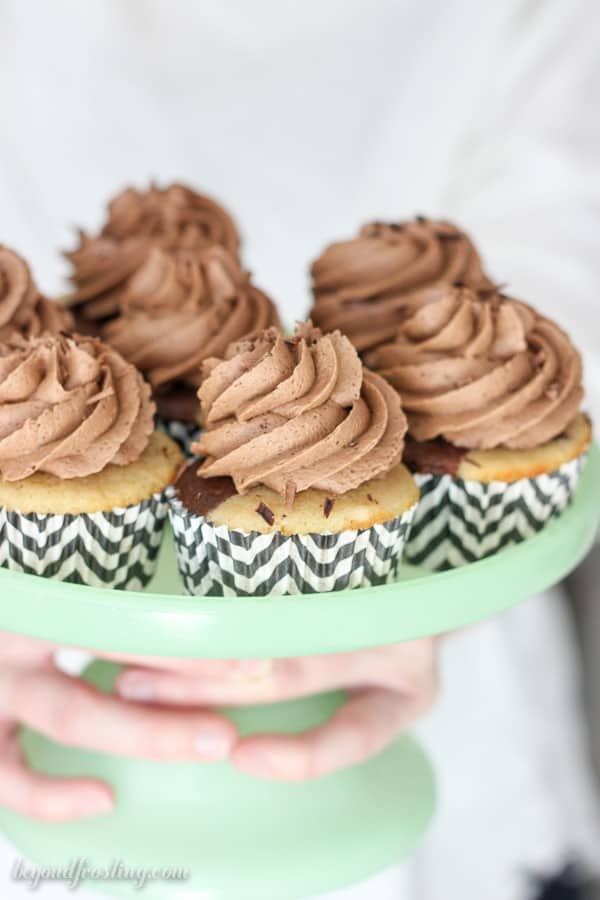 Was anyone else glued to their TV last night. FINALLY my shows are back on. Without spoiling anything, I will just tell you that I cried through almost the entire episode of Grey's (typical) and Scandal was boring. Please don't lose me now Scandal!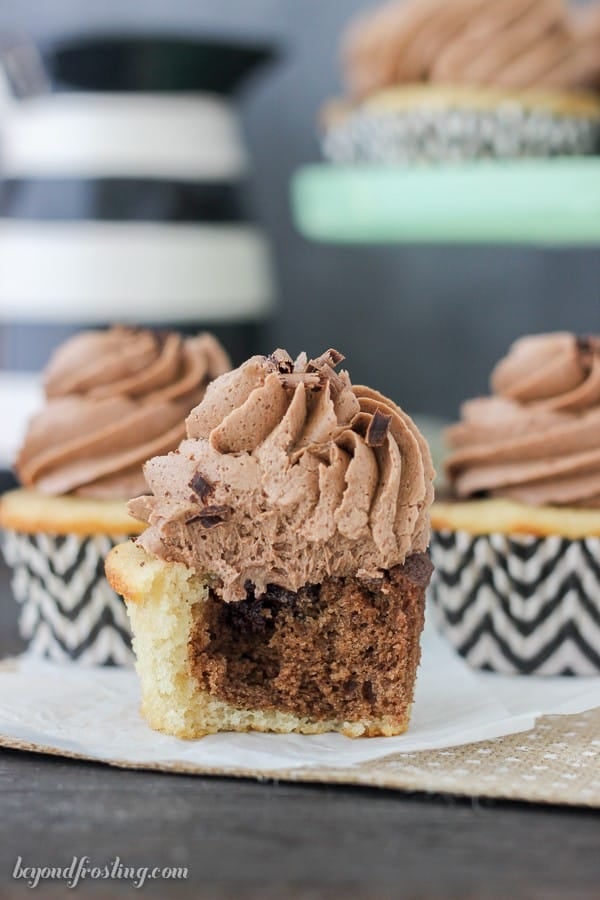 So back to these cupcakes. Yes, I did say Triple. It starts with a homemade marbled Irish cream cupcake. It's one batter, divided in half. The chocolate batter is made by adding a touch of melted chocolate to the vanilla batter.
I've always wanted to make a nice marbled cupcake, but anytime I have tried, it doesn't turn out right. The chocolate batter is too thick and doesn't bake the same as the vanilla. I was so happy with the results for this cupcake. The texture and flavors are just right. It's a bit for dense and buttery, but it's just the way I like it.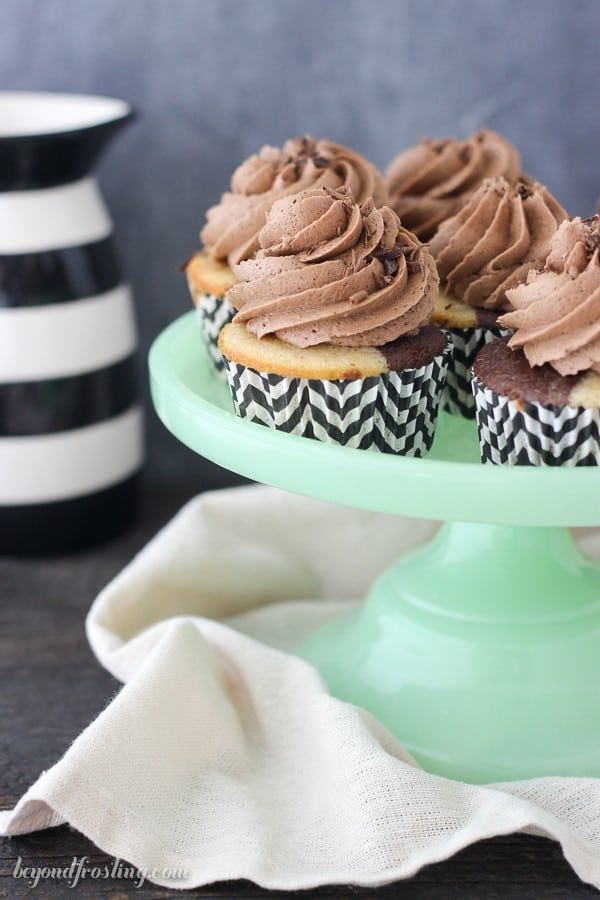 Then there's the filling. It's a chocolate ganache spiked with Irish cream. It's pretty simple to make, just a few minutes in the microwave. After the cupcakes are cooled, I use a knife to gently hollow out the center of the cupcake about 2/3 of the way down. Then I fill the centers with ganache. I like to use a piping bag or small Ziploc bag, it just makes it easier.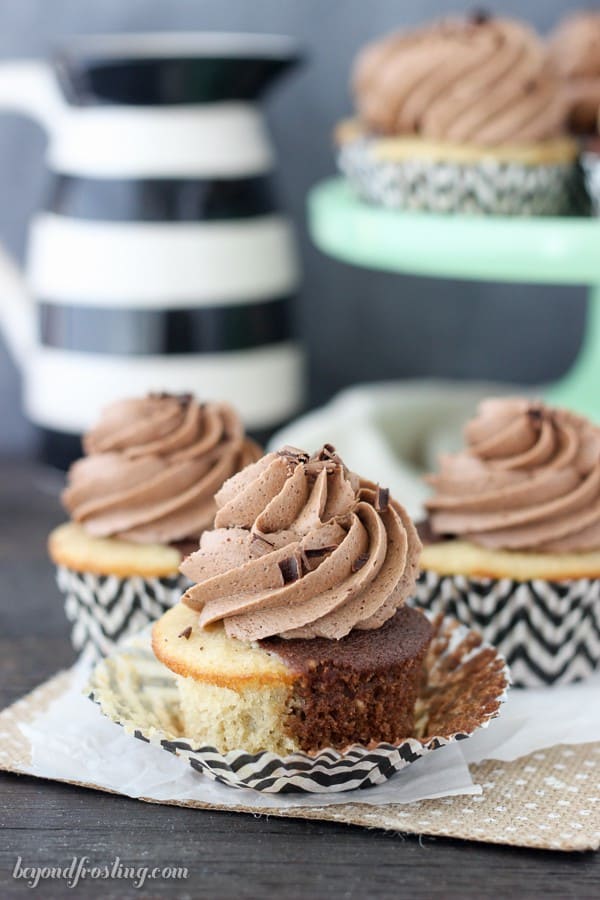 For the frosting, I've alerted my recipe for the Best Chocolate Frosting. Just follow the same basic steps but instead of using just heavy cream, I added in some Irish cream. Best decision ever.
So you want to know more about these cupcakes? You can learn more about them over the Delish Dish or you can skip right to the original recipe for Black and White Irish Cream Cupcakes. You'll notice my version is a little different then theirs because I added a batch of my Best Chocolate Frosting.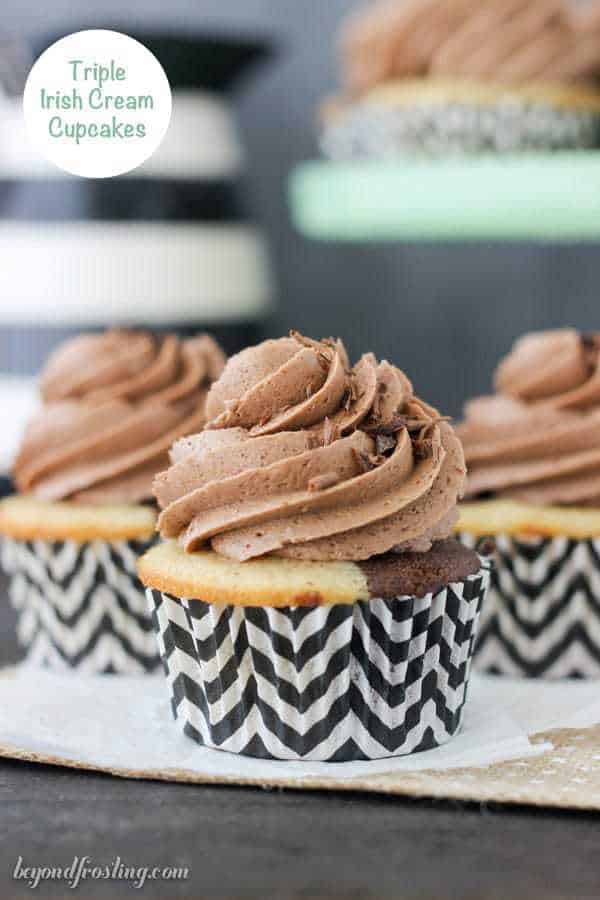 Follow Beyond Frosting:
Facebook | Twitter | Pinterest | Instagram
If you love no-bake recipes, be sure to check out my cookbook, No-Bake Treats!