This Bailey's Chocolate Cheesecake only requires a few simple ingredients, but the best is the melted chocolate in the cheesecake! To make it even better, it's top off with a Bailey's Whipped Cream!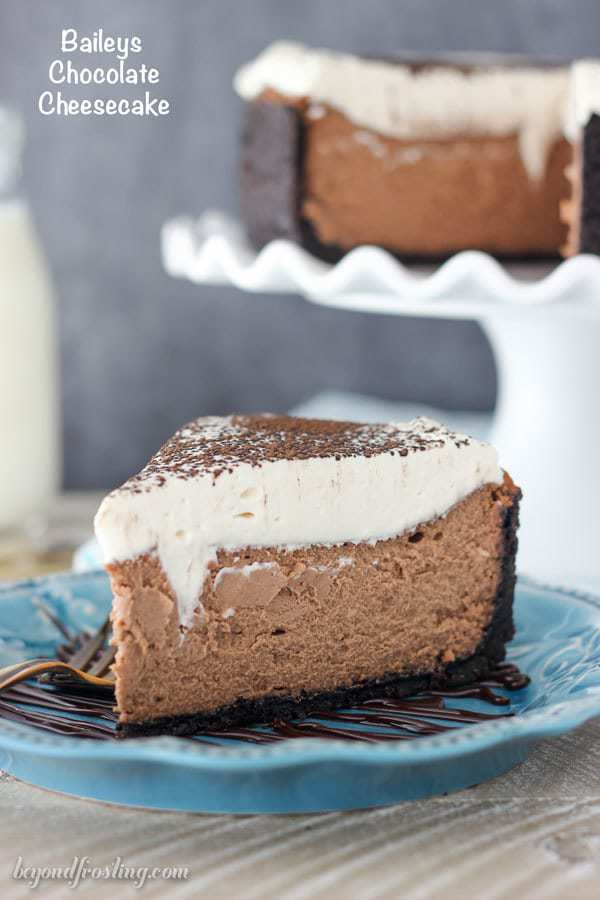 Guys, it's a big day for me. I BAKED a cheesecake! Can you believe it? As you may know, cheesecakes are my favorite dessert, but the whole baking of the cheesecake seems labor intensive and intimidating. BUT in all actuality, it's total not. Before you head over to Delish Dish to grab the recipe, be sure to read through a few of my tips below.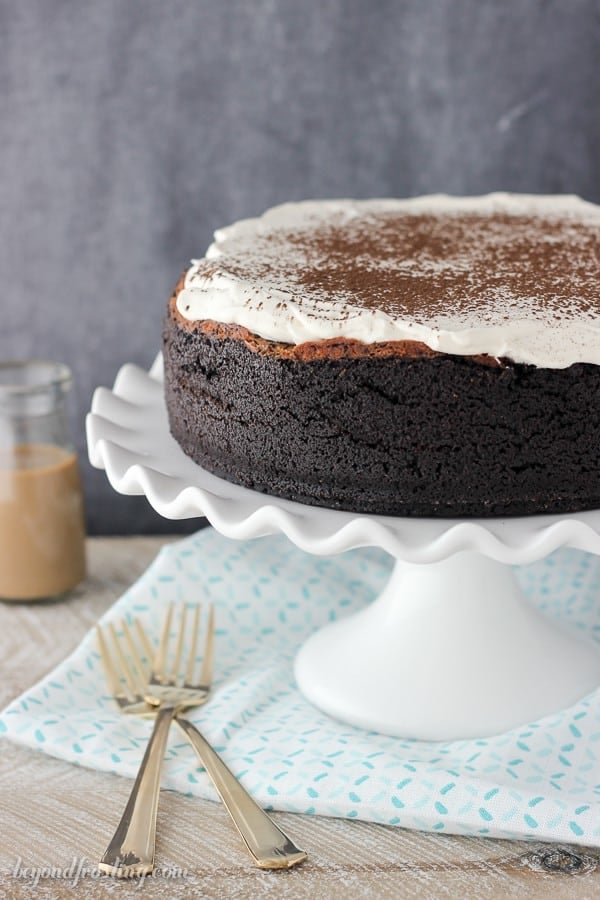 Some of the common fears for baking cheesecakes include: the cracking in the middle (after all the work, my word!), not knowing if the cheesecake is actually baked all the way through (please tell me I am not the only one!), and the water bath, lord don't make me do it. Let me break this down a little bit for you.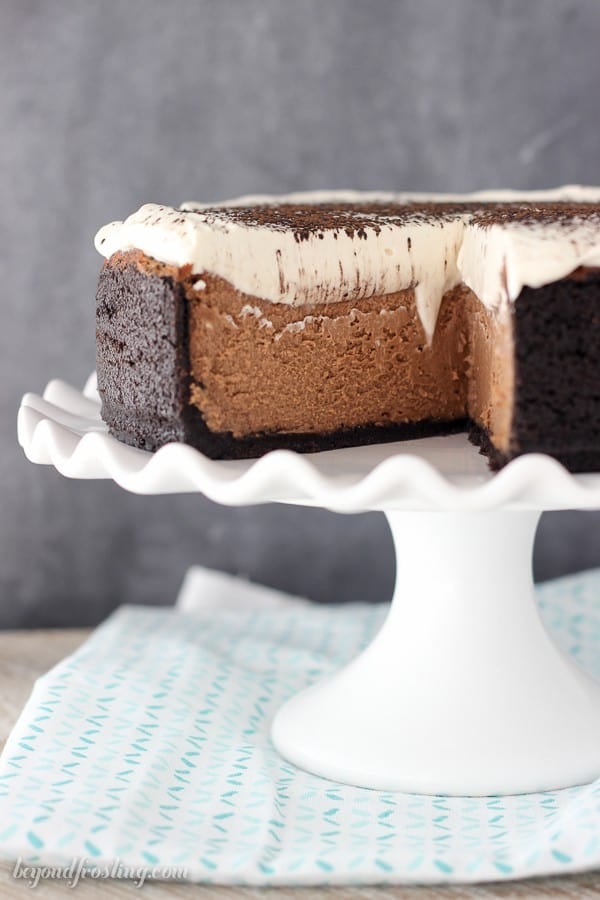 From all I've learned about baked cheesecake, I know that one of the key steps to a silky smooth cheesecake is that all ingredients should be at room temperature. Don't rush it either! Take them out an hour or so before you're ready to bake. This includes the cream cheese, the eggs and any liquid.
You've spent all that time preparing and baking your masterpiece, you take it out of the oven and as it cools, you helplessly watch the top of the cheesecake crack apart. You know what I say? Who cares! Cover that baby up with some topping. Can you even tell that this cheesecake has a big crack in it? Nope!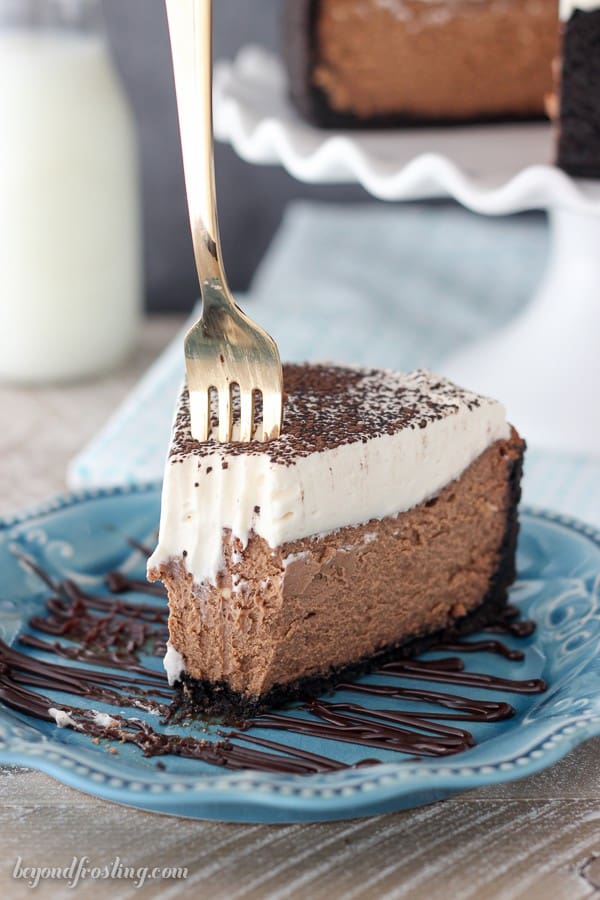 This cheesecake did not call for it to be baked in a water bath, and so I didn't do it. That may have been the cause for the actual cracking of the cheesecake, but that's okay. I am not as familiar with how the baking time would be adjusted with a water bath vs without one. So I do what I do best, and ask my baking BFF Lindsay. She's the cheesecake queen!
Last month Lindsay came up with this pure G-E-N-I-U-S idea to wrap her cheesecake in a slow cooker liner in order to prevent the water from getting into her cheesecake. I know that no matter how much foil I wrap around the bottom of my springform pan, water will get in. However, the slow cookers liners are meant to withstand heat and not leak. It's a life changing idea for cheesecake lovers.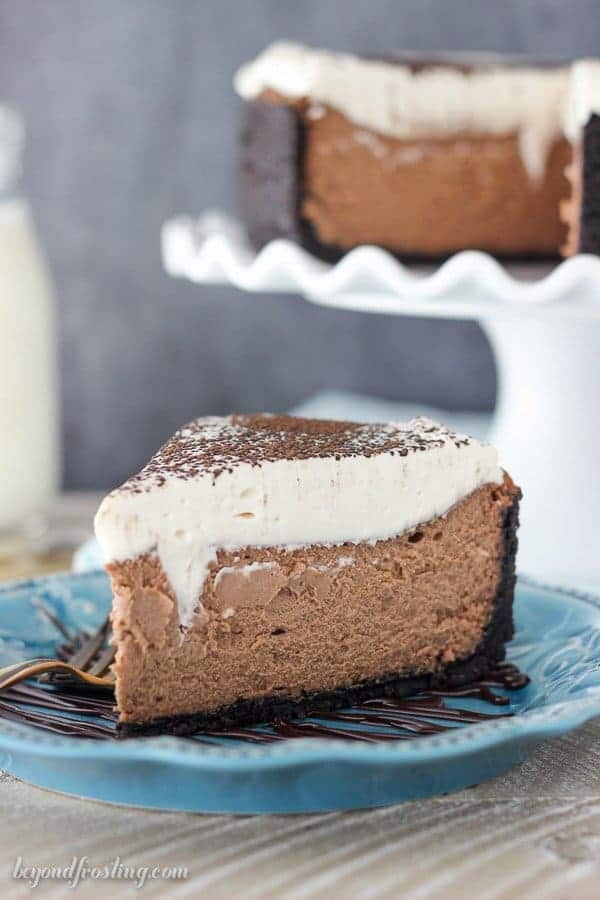 So anyway, I tried Lindsay's tip and wrapped this cheesecake with a slow cooker liner and then baked it on a sheet pan so that the plastic was not directly on the wire racks in my oven. I am very glad I did have the liner on the pan because my cheesecake actually leaked quite a bit of butter and let me tell you why.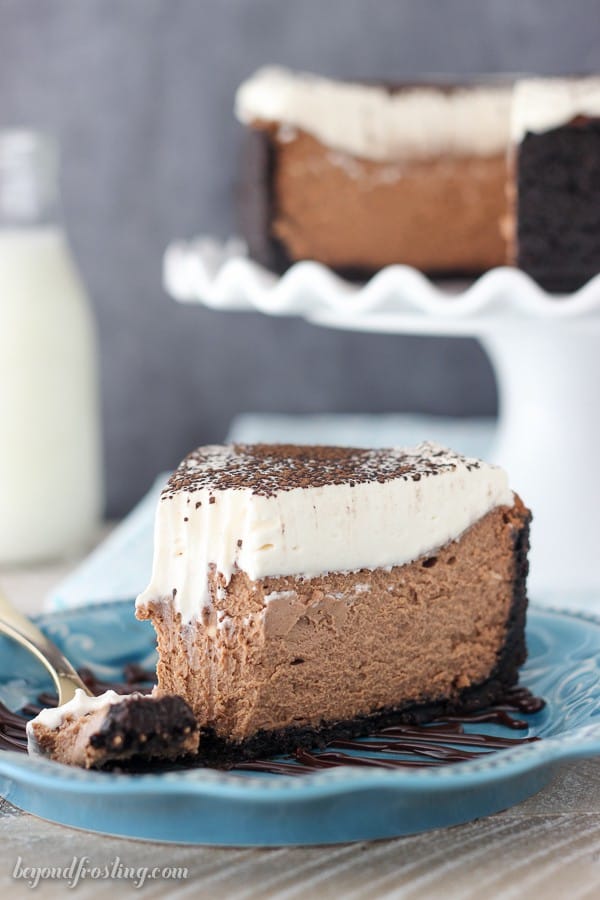 The original recipe I made from Better Homes and Gardens called for only 1 ½ cups of Oreo crumbs and 8 tablespoons of butter. After the process of writing my cookbook (in which I made dozens of no-bake cheesecake), I have a pretty good idea how I like my crust -> I like a lot of it. So I used a whole package of Oreos and a stick (8 tablespoons) of butter. It might have been a little too much butter for a baked cheesecake because the crusts makes into the filling. It's not a big deal that my pan leaked excess butter, it just means that if I didn't have that liner and the sheet pan, it would be been a total mess. So the moral of the story is use a sheet pan!
Other than the crust, I really didn't make any alterations to the original recipe from BHG. I decided on a Bailey's whipped cream, because more Baileys is more betta! Then I sprinkled the top with a little bit of cocoa powder.
So, are you ready to get baking this cheesecake? Head over the BHG blog, or you can skip right to the recipe. 
Follow Beyond Frosting:
Facebook | Twitter | Pinterest | Instagram | Bloglovin | Google+
If you love no-bake recipes, be sure to check out my cookbook, No-Bake Treats!
Print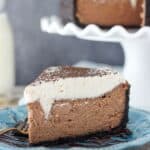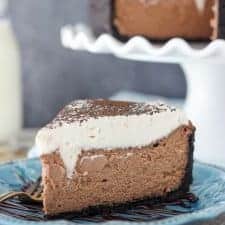 Baileys Chocolate Cheesecake
---
Scale
Ingredients
For the crust:

1

package Oreos

8 tablespoon

s unsalted butter

1/2 teaspoon

cinnamon
For the filling

3

–

8

ounce packages cream cheese, at room temperature

8 ounce

s sour cream, at room temperature

3

large eggs, at room temperature

8 ounce

s semi sweet chocolate, melted and cooled

1 cup

granulated sugar

1/2 cup

Irish Cream such as Baileys

2 teaspoon

s vanilla extract
For the topping:

1 1/4 cup

s heavy whipping cream

2

–

3

tablespoons Irish Cream

1/2 cup

+

1 tablespoon

s powdered sugar
Cocoa powder for dusting
---
Instructions
This recipe was adapted from Better Homes and Garden's Chocolate-Irish Cream Cheesecake.
All wet ingredients are best at room temperature. I melted and cooled the chocolate while the other ingredients were cooling to room temperature.
I added the topping to the original recipe. The cheesecake must be completely cooled. Put the bowl and whisk attachment in the freezer for 5-10 minutes to get them really cold (this step is optional, but is a common practice I use).
In the cold mixing bowl, beat the heavy whipping cream and Irish Cream on medium speed until soft peaks form.
Add the powdered sugar and increase the speed to medium high. Beat until stiff peaks form.
Spread whipped cream over the top of cake. This cheesecake must stay refrigerated.
---
Notes
The whipped cream will not be as stiff as a normal cream due to the addition of the alcohol.
This was baked in a 9-inch springform pan. I highly suggest using a baking sheet underneath your springform pan or you will have a messy oven!
 Visit Beyond Frosting's profile on Pinterest.
You might also like: