These Toffee Caramel Cupcakes with Bourbon Caramel Buttercream are homemade caramel based cupcakes with toffee pieces and it's covered with a Bourbon Caramel frosting.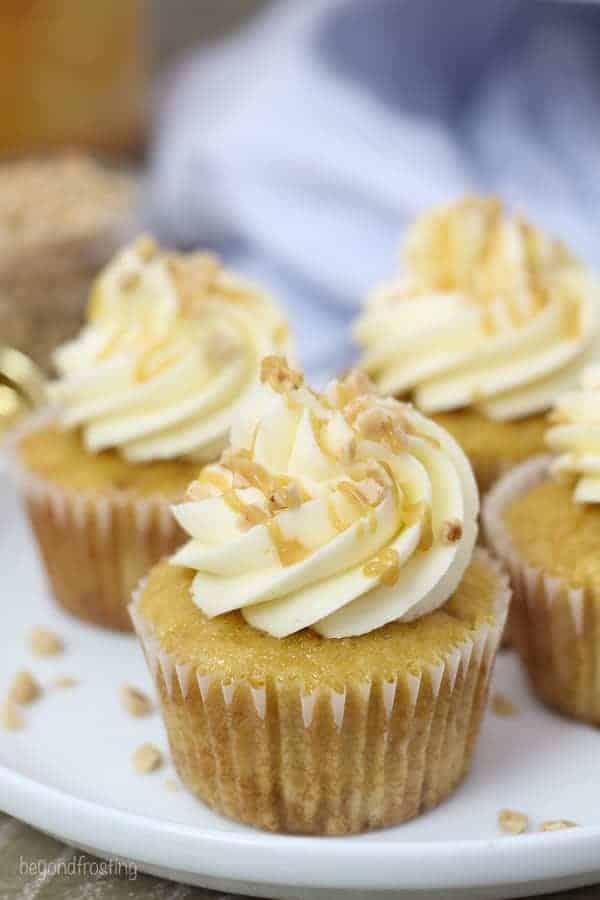 Today is a very special day because we're sending all of our love to my dear friend Jocelyn. Jocelyn is just a couple months away from welcoming her first baby girl aka babycakes. Jocelyn is one of those people that I feel extremely fortunate enough to have been through this crazy blogging world.
If you've ever met Jocelyn you know she has the most infectious smile, the brightest personality and a love for good food.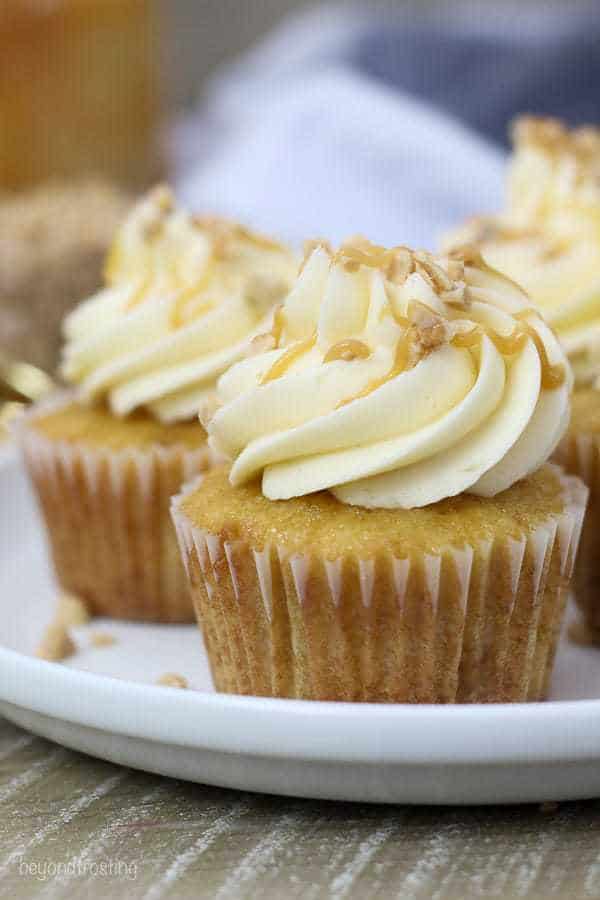 I am SO excited for Jocelyn, because I know for her that getting pregnant was not an easy journey, and she was able to conceive on her first IVF transfer. During the late spring, I had the opportunity to join both Jocelyn and Lindsay in Utah for a conference and they were both well into their IVF process. Both of them are now pregnant and I have so much love for them.
A couple weeks after that trip I saw Jocelyn again in California and it was just a short time after her transfer, and although Jocelyn was just days away from confirming her pregnancy, she already knew she was pregnant. She could feel it and it I could see the happiness in her eyes.
So today we're throwing a virtual baby shower for her to celebrate her baby girl. What else would I bring a baby shower besides cupcakes? Plus, these cupcakes have all the best things: bourbon, toffee and caramel.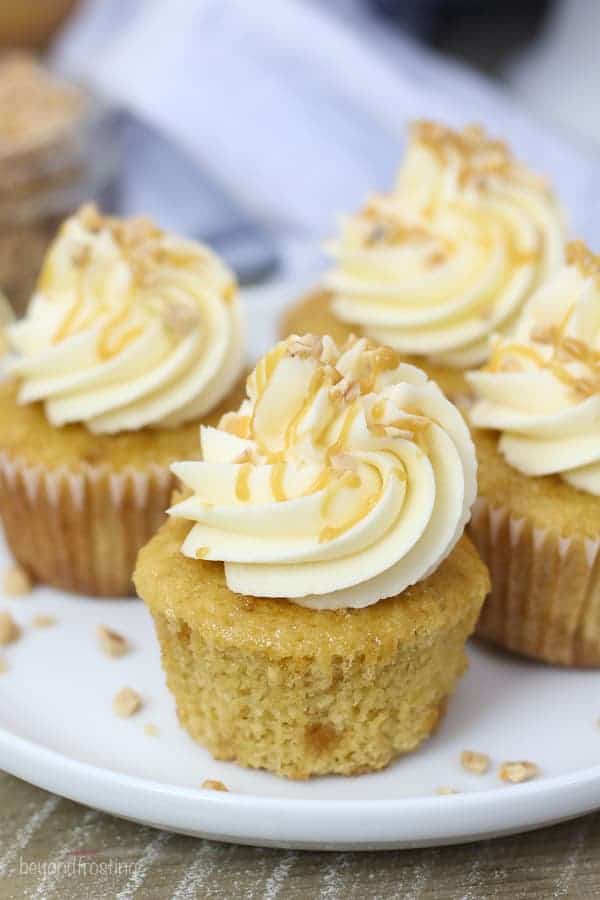 These homemade Toffee Caramel Cupcakes are topped with the most amazing bourbon caramel buttercream and I don't think I ever need to make another buttercream in my entire life.
These cupcakes themselves are a variation of my moist vanilla cupcakes. I swapped our some of the granulated sugar with brown sugar. I also added a half cup of salted caramel sauce and plenty of toffee for everyone. The toffee softens when baked and it is like little pieces of heaven.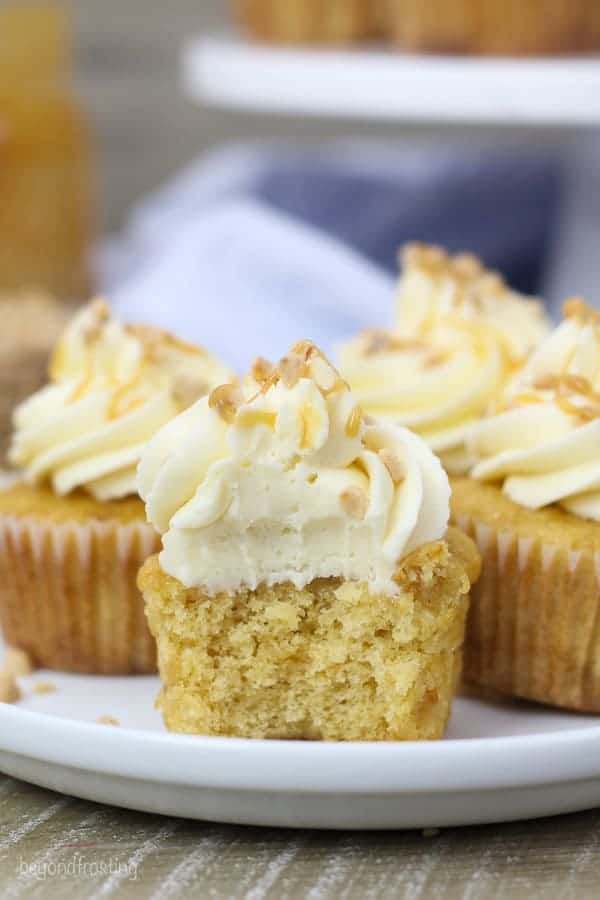 Make sure that when you're mixing this batter that you take the time to scrap down the sides of the bowl and use a spatula to mix the batter from the bottom of the bowl to the top. If you batter is not evenly mixed, it will cause the cupcakes to bake unevenly or even sink in the middle.
I mentioned that these Toffee Caramel Cupcakes are topped with that bourbon whiskey buttercream. Yeah. Let's talk about that.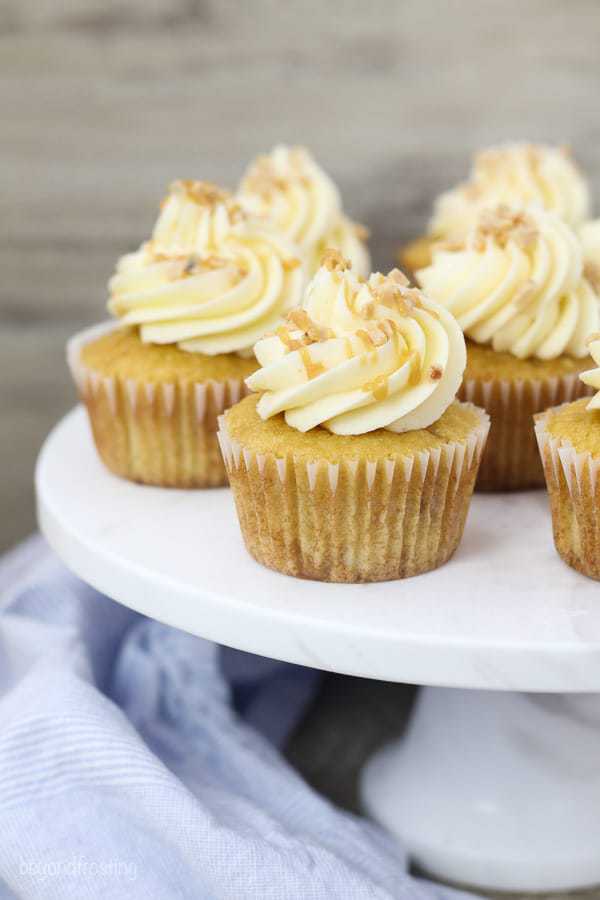 The buttercream has your basic butter and powdered sugar and I've added bourbon, heavy cream and the salted caramel sauce. This combination is not overly sweet, it's a touch on the strong side and it's whipped and silky. I used my favorite large open star tip and then drizzled on a little bit of caramel and some more toffee pieces for a little bit of crunch.
It's not often I eat a whole cupcake but in this case, there was no denying it, these Toffee Caramel Cupcakes are just too good to pass up.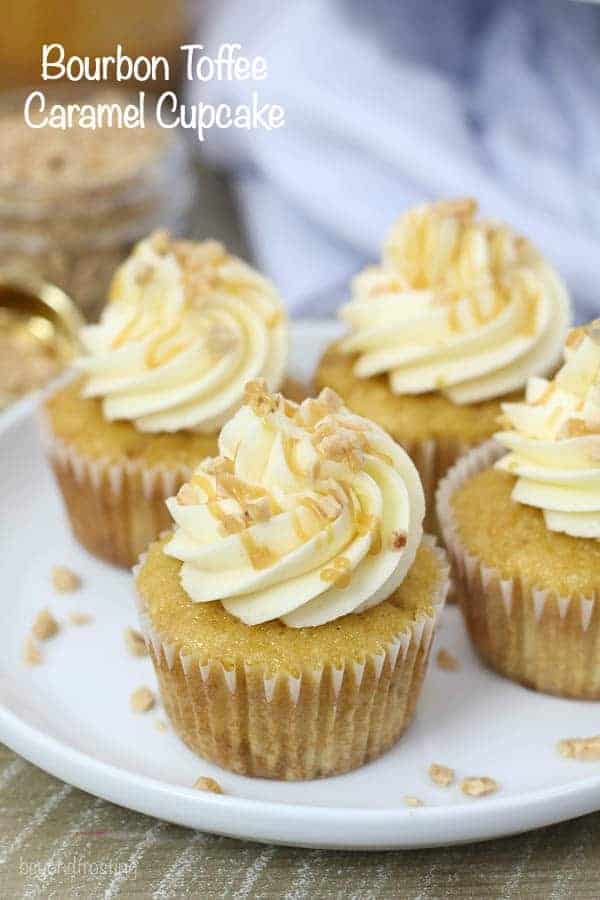 Follow Beyond Frosting:
Facebook | Twitter | Pinterest | Instagram | Bloglovin | Google+
If you love no-bake recipes, be sure to check out my cookbook, No-Bake Treats!
Don't miss a thing, subscribe to get recipes delivered to your inbox!
Print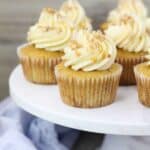 Toffee Caramel Cupcakes with Bourbon Caramel Buttercream
---
Author:

Prep Time:

10 minutes

Cook Time:

15 min

Total Time:

25 minutes

Yield:

14-16 cupcakes

Category:

dessert
Description
These Toffee Caramel Cupcakes with Bourbon Caramel Buttercream are homemade caramel based cupcakes with toffee pieces and it's covered with a Bourbon Caramel frosting.
---
Ingredients
For the cupcake:
¾ cup granulated sugar
¼ cup light brown sugar, packed
¼ cup vegetable oil
2 large eggs
2 teaspoons caramel extract (or vanilla)
½ cup salted caramel sauce
1 ¼ cups all-purpose flour
1 ½ teaspoons baking powder
½ teaspoon salt
½ cup milk
½ cup toffee pieces
For the frosting:
1 cup (2 sticks) unsalted butter
3 ½ cups powdered sugar
2 tablespoons heavy whipping cream
2 tablespoons salted caramel sauce
1 tablespoon bourbon
pinch of salt (optional)
toffee pieces for garnish
---
Instructions
Preheat the oven to 350° F and line a cupcake pan with liners.
In a large mixing bowl, combine both sugars, vegetable oil, eggs and caramel extract. Beat on medium speed until the eggs and oil are well incorporated and the batter is lighter in color, about 2 minutes. Scrape down the bowl as needed.
Next mix in the salted caramel and beat until well combined.
Add the flour followed by the baking powder and salt, and beat on low speed while pouring in the milk and mix just until the flour is incorporated. Then add the toffee pieces and mix until all ingredients are combined.
Use a spatula to scrape down the sides of the bowl and stir the batter from the bottom to the top to ensure it's well mixed.
Use a large cookie scoop to divide the batter evenly between the cupcakes liners, filling about 2/3 full. You may need to stir the cupcake batter occasionally, especially as you reach the bottom of the bowl.
Bake at 350°F for 15 to 18 minutes until the cupcakes are set. Test for doneness by inserting a toothpick into the center of the cupcake, if the toothpick comes out clean, the cupcakes are done. Allow the cupcakes to cool completely.
For the frosting: Cut the butter into pieces. Using the paddle attachment, whip the butter for 3-4 minutes, scraping down the bowl occasionally. Beat the butter until it looks lighter in color.
Add 2 cups of powdered sugar mixing on low speed until it's incorporated into the butter. The frosting will start to thicken. Add 1 tablespoon of heavy whipping cream and continue beating until it's thoroughly combined.
Next add the remaining 1 ½ cup of powdered sugar along with 1 tablespoon of bourbon and 1 tablespoon of heavy whipping cream. Beat on medium speed until the frosting is smooth.
Finally add 2 tablespoons of caramel and a pinch of salt. Beat the frosting at a high speed for 2 minutes to whip some additional air into the frosting. Pipe onto the cool cupcakes using a large open star tip. Top with additional caramel sauce and toffee pieces. Store in an airtight container.
Be sure to check out all the #babycake4babycakes posts:
Mini Pumpkin Cheesecake | Twix Cupcakes | Chocolate Hot Fudge Mini Cakes |
Mini Pink Velvet Cupcakes | Butternut Squash Cake | Chocolate Mousse Cake |
Chocolate Peanut Butter Brownie Cupcake | Mini Armaretto Cherry Cheesecakes |
Candid Pecan & Caramel Mini Cake | Mini Lemon Bundt Cake
You might also like:
Salted Caramel Butterscotch Cake