This recipe is sponsored by © The J.M. Smucker Company, all opinions are my own.
Dunkin' Donuts® Peppermint Mocha Poke Cake is a moist, coffee infused cake with a peppermint white chocolate pudding and topped with whipped cream. This easy, homemade poke cake will satisfy all your peppermint mocha cravings!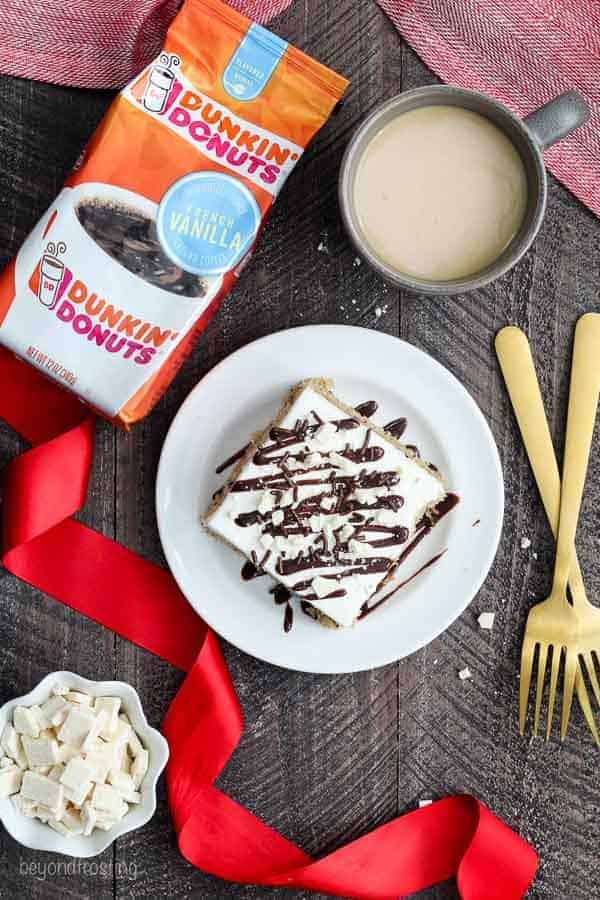 Can you believe the holidays are HERE!? It's easy to let the days get away from you with all the added responsibilities this time of year.
That's why it's so important to make sure that we put time aside to enjoy the holidays with family and friends. It doesn't have to be a meal, sometimes grabbing cocktails or sharing a cup of coffee is the perfect way to connect.
Personally, my favorite thing about the holidays is baking for others. I make it a point every year to send out packages of Christmas cookies, or send a small personal gift to those important people in my life.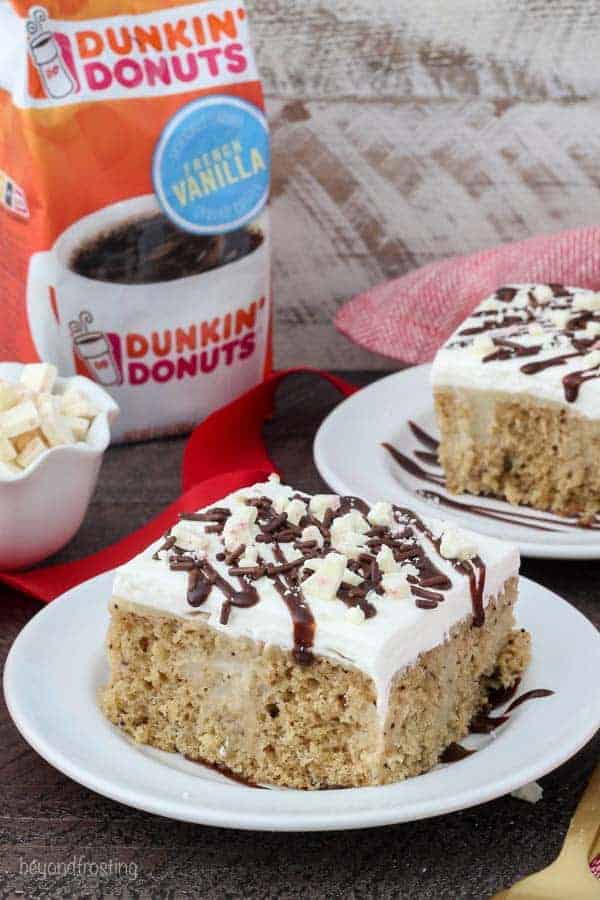 I also love hosting my girlfriends for an evening with food and drinks. It's my excuse to cook favorite comfort foods. This year was the first one in our new home and it was so fun!
It goes without saying that I am expected to also make some pretty amazing desserts to share like this Peppermint Mocha Poke Cake.
This cake is a moist, coffee infused cake with a peppermint white chocolate pudding and topped with whipped cream. It's pure peppermint mocha bliss and if that doesn't make your mouth water, I don't know what will!
The balance between the coffee and peppermint flavor is just right in this cake. The peppermint doesn't overpower the cake at all since it's blended into the white chocolate pudding.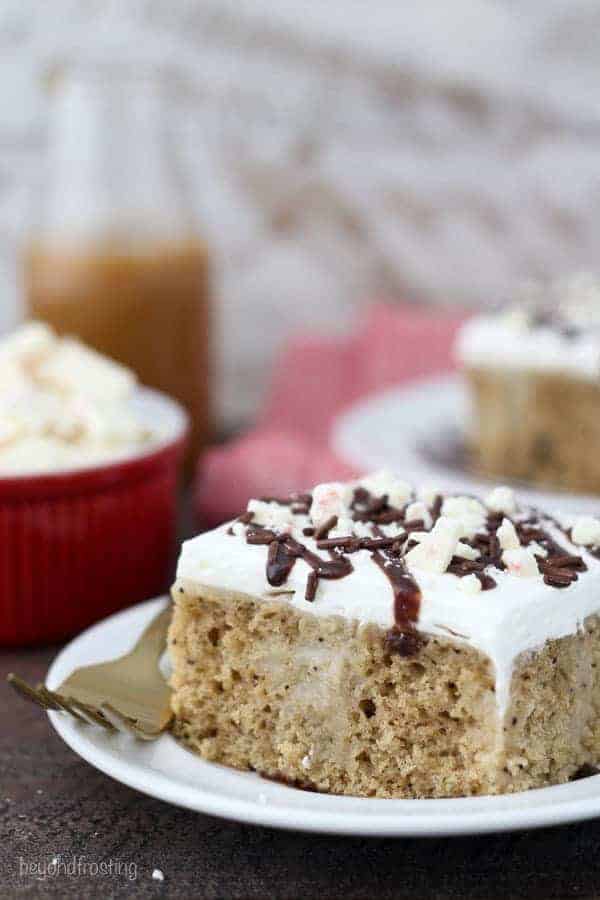 It's all about the coffee with the cake. It should be bold, strong brewed and flavorful because in addition to the brewed coffee in this cake, we're also using the ground coffee in the cake.
To make this cake, I am reaching for Dunkin' Donuts French Vanilla Flavored Coffee. The rich, bold vanilla flavor really brings out the coffee to life in this cake.
The French Vanilla Flavored Coffee is already ground which makes it not only quick but convenient for me to make at home. Plus, this coffee smelled amazing as it was brewing in my French press. During my recipe testing, I made a few extra cups of coffee for myself.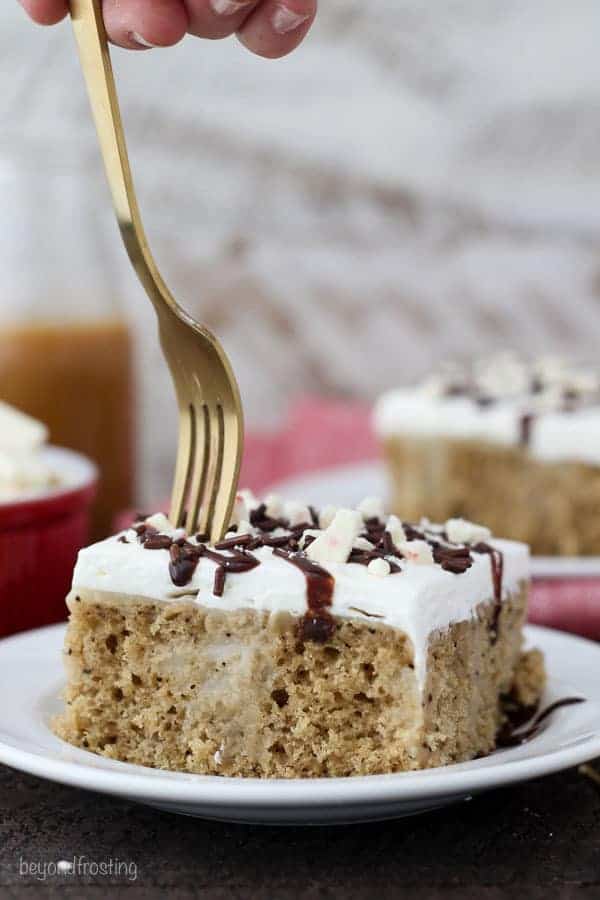 For this Peppermint Mocha Poke Cake, you'll need 1 ¼ cups of brewed Dunkin' Donuts coffee. To make coffee for this cake, then I suggest using 2 heaping tablespoons of ground coffee with 1 ½ cups of boiling water.
Some of the water will get absorbed into the coffee grounds, so you'll end up with about 1 ¼ cups after it's brewed. Set your coffee aside while you prepare the rest of the ingredients.
This mocha cake is super easy to prepare. The sugar, oil, eggs and vanilla extract are combined with some light sour cream (for moistness) and ground coffee. Once these are combined, you add the dry ingredients and the brewed coffee and it's off to the oven.
You'll notice the ground coffee does not dissolve in this cake, but that's perfect because it helped topped off the punch of coffee flavor.
For the filling, you simply combine the instant pudding with milk and a touch of peppermint extract. If you prefer a strong peppermint flavor, you can always add additional extract either in the pudding or the homemade whipped cream topping which finishes off this Peppermint Mocha Poke Cake.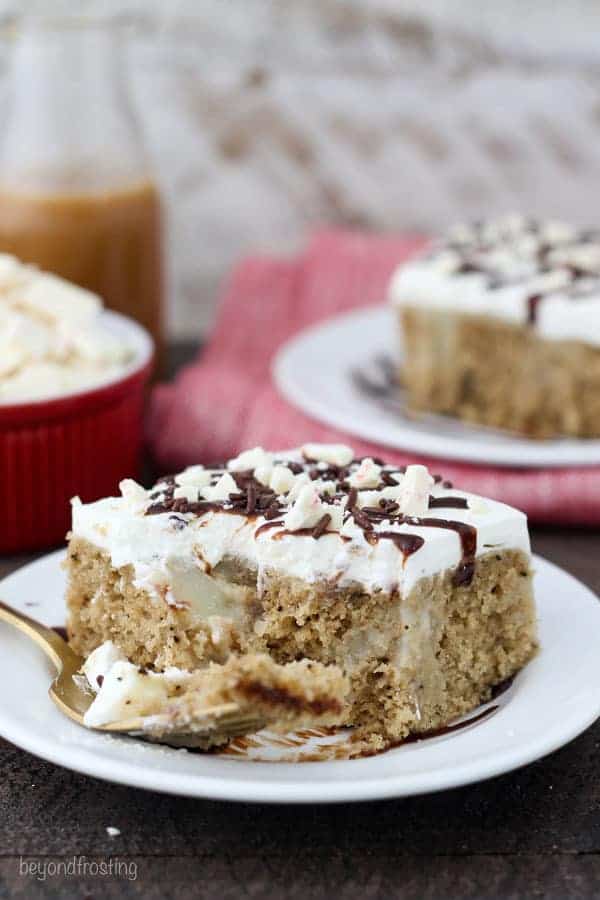 Please tell me I am not the only one that needs to start my mornings out with more than one cup of fresh brewed coffee. Even when I get up for my 8:30am gym class on Saturday mornings, I have to pour myself a cup.  Now you can have a cup of Dunkin' Donuts coffee with your Peppermint Mocha Poke Cake.
Follow Beyond Frosting:
Facebook | Twitter | Pinterest | Instagram | Bloglovin | Google+
If you love no-bake recipes, be sure to check out my cookbook, No-Bake Treats!
Don't miss a thing, subscribe to get recipes delivered to your inbox!
Print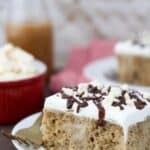 Peppermint Mocha Poke Cake
---
Author:

Prep Time:

45 minutes

Cook Time:

27 minutes

Total Time:

1 hour 12 minutes

Yield:

12-15 slices
Description
Peppermint Mocha Poke Cake is a moist, coffee infused cake with a peppermint white chocolate pudding and topped with whipped cream.
---
Ingredients
For the cake:
3 heaping tablespoons Dunkin' Donuts French Vanilla Flavored Coffee (divided)
1 ½ cups boiling water
1 ¾ cups granulated sugar
½ cup vegetable oil
3 large eggs
1 tablespoon vanilla extract
¼ cup light sour cream
2 ½ cups all-purpose flour
3 teaspoons baking powder
1 teaspoon salt
For the filling:
1 package (3.4oz) white chocolate instant pudding
1 ¾ cups milk
1/8-1/4 teaspoon peppermint extract
For the topping:
1 ½ cups heavy whipping cream
1/3 cup powdered sugar
Hot fudge sauce for garnish (optional)
Crushed peppermint candies for garnish (optional)
---
Instructions
For the cake: Preheat the oven to 350°F.
Prepare the coffee by combing 2 tablespoons of ground coffee with boiling water and brew in your coffee pot. Measure out 1 ¼ cups of brewed coffee. Set aside.
In a large mixing bowl, combine the sugar, vegetable oil, eggs. vanilla extract, sour cream and 1 tablespoon of ground coffee. Beat on medium speed until the eggs and oil are well incorporated and the batter is lighter in color, about 2 minutes. Scrape down the bowl as needed.
Combine the dry ingredients in a separate bowl. Add half the dry ingredients and half of the brewed coffee and beat on low speed. Mix just until the flour starts to incorporate.
Finally add the remaining dry ingredients and the remaining coffee and beat until all of the ingredients are well combined.
Use a spatula to scrape down the sides of the bowl and stir the batter from the bottom to the top to ensure it's well mixed.
Pour the batter into a 9×13-inch pan and bake at 350°F for 26-28 minutes. Test the cake for doneness by inserting a toothpick into the center of the cake. If the toothpick comes out clean, your cake is done. Remove from the oven and allow to cool completely.
Take a wooden spoon or another round object and poke holes over the top of the cake.
For the filling: In a small mixing bowl, combine the pudding mix with the milk and peppermint extract, whisk together until the powdered mix is dissolved.
Pour the liquid pudding over top of the cake, try to fill the holes with the pudding mix.
Refrigerate the cake until the pudding is firm, about 10 minutes or so.
For the topping: Place the mixing bowl and whisk attachment in the freezer for 5 to 10 minutes to chill.
Pour the heavy whipping cream into the chilled bowl and use an electric mixer to beat the heavy cream on medium-high speed until the cream thickens.
Slowly add the powdered sugar and continue beating on high speed until stiff peaks start to form. Spread the whipped cream over the top of the cake. Keep refrigerated. Serve with hot fudge sauce and chopped peppermint candies.
Notes
Start with 1/8 teaspoon of peppermint extract and add additional to taste.
For a quick shortcut, use an already prepared whipped topping instead of homemade whipped cream.