This post may contain affiliate sales links. Please see my full disclosure policy for details
Disclaimer: Lucky Leaf® sent me product for a sponsored review and recipe creation. All opinions contained in this post are my own.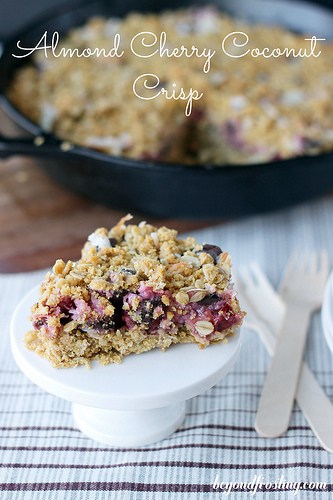 With Thanksgiving week quickly approaching, I am sure some of you are planning your meals, and well let's face it, a lot of you probably haven't started yet either. Well that's okay, because I am here to help! I have partnered with Lucky Leaf to help make your holiday baking a little easier. Lucky Leaf offers a wide array of awesome pie fillings that you can use for pies, tarts, crisps, breads or other creative desserts. In fact, the last time I tried a Lucky Leaf product, I made my Deep Fried Apple Pie Bites. I entered them into a Lucky Leaf baking contest and came in second place! That was super exciting for me!
Lucky Leaf was generous enough to provide me with four varieties of pie fillings to try out. I received apple, cherry and a limited edition cranberry apple. Since there are a zillion varieties of apple pie, I decided to try something out of my comfort zone. This is what I love about pie fillings. I can use them to create desserts that I otherwise might not try in fear of having to deal with all of the additional ingredients (ie cherries). Today I am sharing Almond Cherry Coconut Crisp. This is a great alternative to your typical Thanksgiving dessert. Or you can do what I do, make two desserts!
My Almond Cherry Coconut Crisp is made with a crumble that includes graham crackers, cooking oats and a little bit of flour. This dessert can be gluten-free as well! If you were to find a gluten-free cracker similar to graham crackers, you can grind them into crumbs and replace the graham cracker. I actually did use gluten-free cooking oats for my dessert because that's what I had in my cupboard, but it is not required for this recipe. Also, I used a box of graham cracker crumbs, but you can totally grind up whole graham crackers in a food processor.
In addition to almonds and coconut, I added dark chocolate chips and some sweetened condensed milk! I know these are not your typical ingredients in a crisp, but I just love the level of flavor they added. Plus it reminds me of a seven-layer bar, and I am pretty in to seven-layer bars. Now I like a nice thick crust to balance the sweetness of the filling, so this recipe calls for quite a bit of crust ingredients. Plus I baked it in a skillet; because I love the rustic look it gives the dessert. However, if you don't have a skillet, you can absolutely bake this in a 9×13" pan.
Print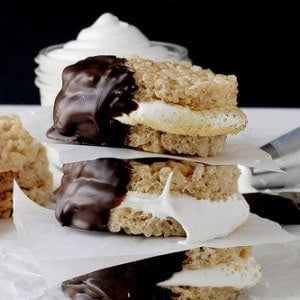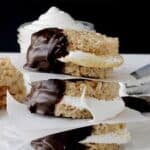 Almond Cherry Coconut Crisp
Prep Time:

15 minutes

Cook Time:

20 minutes

Total Time:

35 minutes
Ingredients
For the crust
2

C Cooking oats

2

C Graham cracker crumbs

2 tbsp

All-purpose flour

1

C (2 sticks) Unsalted butter, melted
For the filling
1

Can Lucky Leaf Cherry Pie Filling

3/4

C Dark chocolate chips

3/4

C Sliced almonds

1

C Shredded coconut

6 tbsp

Sweetened condensed milk
Instructions
Preheat oven to 350°.
Combine oats, graham cracker and flour in a medium-sized bowl. Note that if you are using whole graham crackers, you will need to use a food processor to grind them up into a fine crumb.
In a microwave safe bowl, melt butter in 30-second increments. Pour melted butter over the dry oat and graham cracker mix.
Use a fork or spatula and combine butter with dry ingredients until all butter has been absorbed into the dry ingredients.
Set aside 1 ½ C of the crust mix for the topping. Pack the remaining mixture into the bottom of the skillet and pat it down with your hands. Set aside.
Open the can of pie filling and use a fork or spoon to remove the whole cherries. I tried to remove the excess juice from my filling so that my crisp filling would not be too wet once all the ingredients were mixed together.
In a medium-sized bowl, combine cherry pie filling with remaining ingredients: chocolate chips, almonds, coconut and condensed milk. Stir to combine all ingredients together. Pour filling over top of the crust that's already in the skillet and spread evenly.
Sprinkle remaining crust ingredients over top of cherry filling.
Bake at 350° for 20-25 minutes. The top of the crisp will turn golden brown. Remove from oven and allow to cool before serving.
Notes
Note: I let mine sit overnight at room temperature and I was able to slice it like a pie. Serve with ice cream or whipped cream.
Recipe Card powered by
I am pretty pleased with this Almond Cherry Coconut Crisp. Cherry isn't my usual go-to flavor, but this dessert was very tasty. I love the bitterness of the dark chocolate chips in contrast with the sweetness of the cherries.