This post may contain affiliate sales links. Please see my full disclosure policy for details
Almond Joy Cupcakes are a chocolate cupcake with a sweetened coconut filling and a fluffy coconut and almond frosting.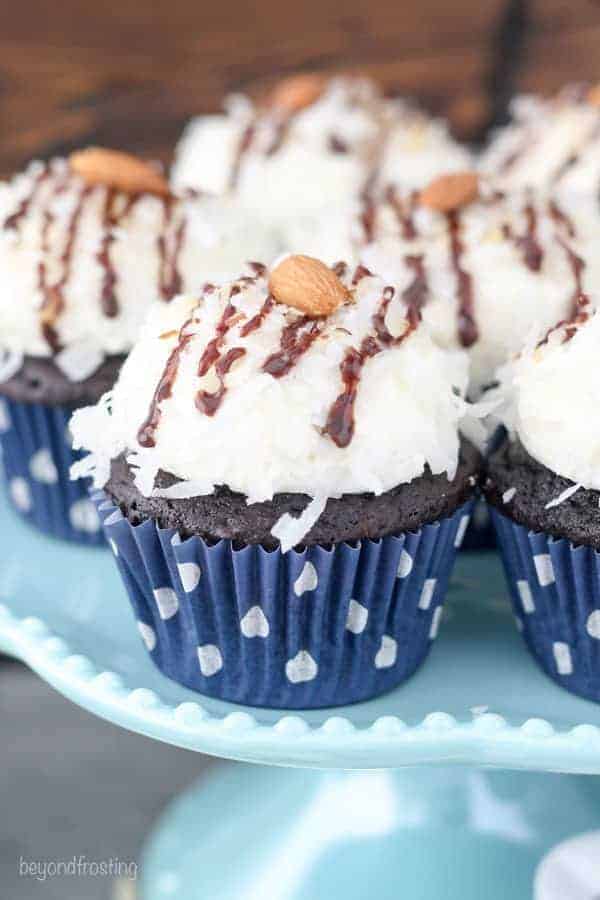 I love to celebrate birthdays, unless they're my own, but other's people birthdays? The best! There is nothing better than surprising someone on their birthday with a homemade treat.
Well, Valentine's day happens to fall the same week as my fiancé's birthday, so there's a whole lot of celebrating going on during that week. However, he's not eating any sugar right now so I can't even make him his favorite chocolate cake for this birthday. What's a birthday without cake?
I guess I will be eating these Almond Joy Cupcakes by myself. He probably wouldn't eat these anyway because he wants just basic chocolate cupcakes and tells me that I stuff too many things in my desserts sometimes. He's probably right but that's what makes them awesome!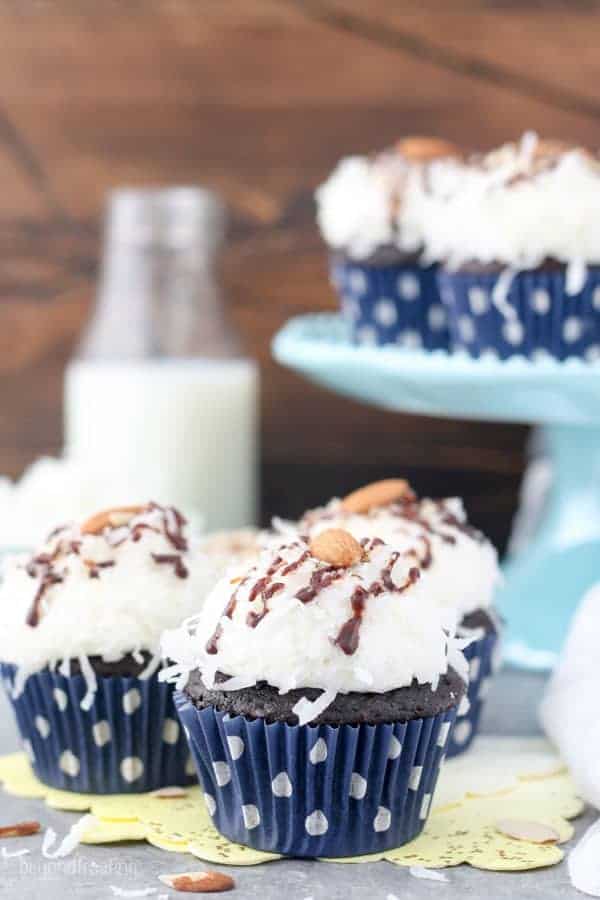 Take these cupcakes for example. These are chocolate cupcakes with a sweetened coconut filling, topped with an airy coconut frosting, rolled in sweetened coconut and garnished with chocolate and almonds. Wow, that is mouthful, but it's so worth it.
Make it easy on yourself, and grab a box of chocolate cake mix. I doctored up the cake mix a bit, adding some cocoa powder to intensify the chocolate flavor and used milk instead of water. I also added a touch of vanilla extract.
Once these are cooled, you need to cut out the center of the cupcake because we're filling these cupcakes with a rich coconut filling. It's pretty much like the center of an Almond Joy bar. It consists of just sweetened coconut and sweetened condensed milk. The sweetened condensed milk coats the coconut and makes a nice thick filling.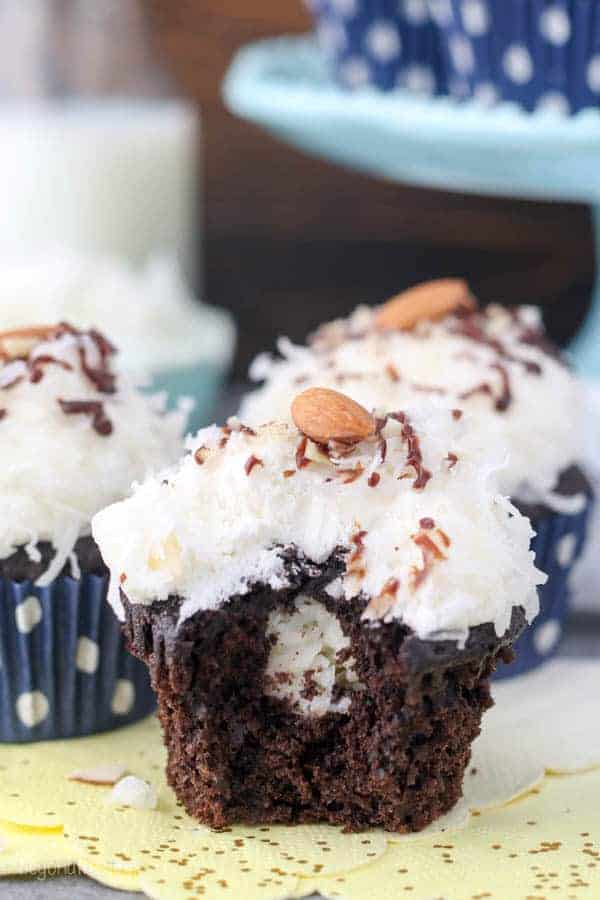 To fill the cupcakes, you need to cut a hole in the center of your cupcake using a knife or spoon. One of my favorite kitchen tools is my cupcake corer. It's a quick and easy tool to remove the centers of the cupcake. Then we will fill them using a heaping teaspoon of filling for each cupcake. Then seal the cupcake back up using the piece you previously removed to plug the hole.
Then we're topping these cupcakes with the most light and airy coconut frosting ever. Seriously, it's so whipped, it's almost like whipped cream. I started with room temperature butter and beat it for several minutes until it was almost white. This helps add volume to the butter, which in turn adds air bubbles to the frosting.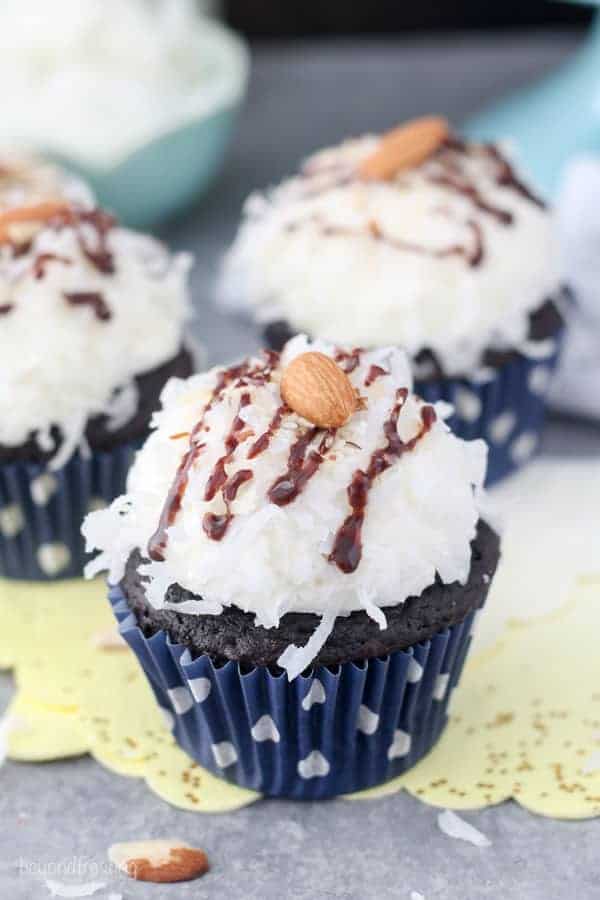 I slowly mixed in the powdered sugar, continuing to beat the frosting each time and once all the ingredients had been added to the frosting, I again, whipped it for a few minutes. Lots of beating of the frosting here, my friends.
I used a large cookie scoop to frost the cupcakes. Then I rolled the frosting in more shredded coconut. To garnish these cupcakes, I drizzled some hot fudge sauce and sprinkled some crushed almonds on top.
If you love coconut, these Almond Joy Cupcakes are the perfect cupcakes for you.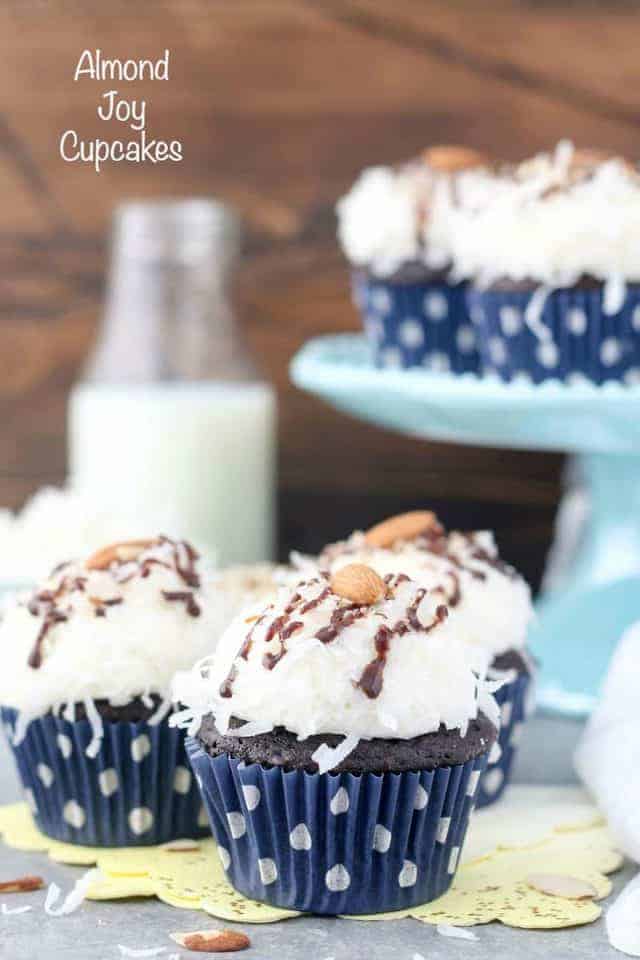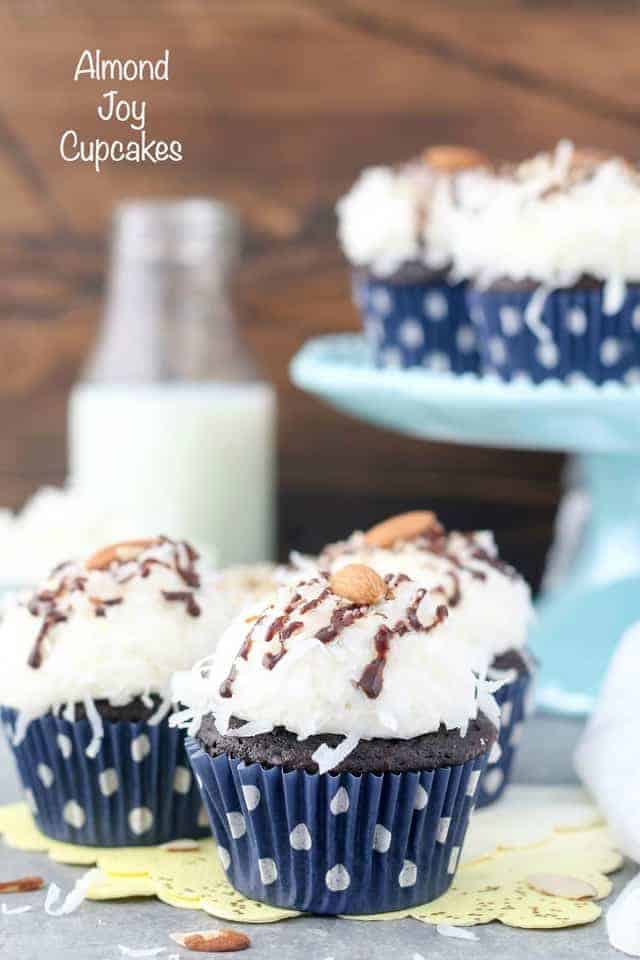 Follow Beyond Frosting:
Facebook | Twitter | Pinterest | Instagram
If you love no-bake recipes, be sure to check out my cookbook, No-Bake Treats!
Print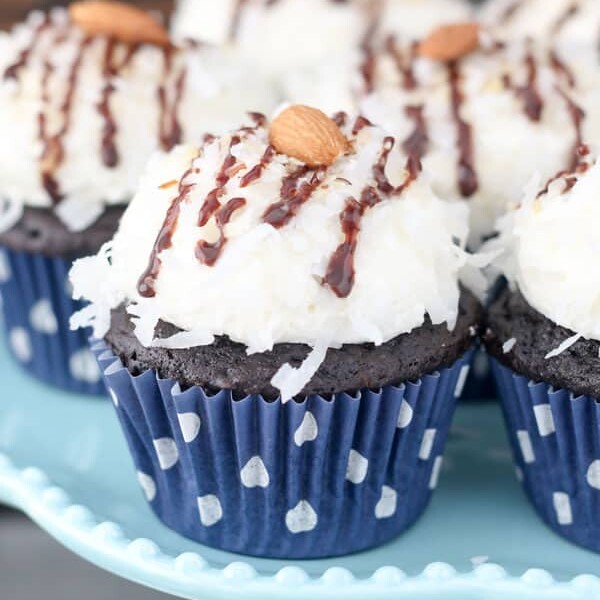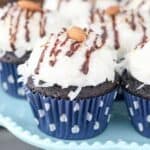 Almond Joy Cupcakes
Author:

Prep Time:

20 minutes

Cook Time:

15 minutes

Total Time:

35 minutes

Yield:

22 cupcakes
Description
Almond Joy Cupcakes are a chocolate cupcake with a sweetened coconut filling and a fluffy coconut and almond frosting.
Ingredients
For the Cake:
1

box Chocolate Cake Mix, 15.4 ounces

1/4 cup

Unsweetened Cocoa Powder

1 cup

Milk

1/2 cup

Vegetable Oil

3

large Eggs

1 teaspoon

Pure Vanilla Extract
For the Filling:
2 cups

Sweetened Shredded Coconut

1/2 cup

Sweetened Condensed Milk
For the Frosting:
3

sticks Unsalted Butter, at room temperature

6 cups

Powdered Sugar

1 tablespoon

Milk

1 teaspoon

Coconut Extract

1/4 teaspoon

Pure Almond Extract

3 cups

Sweetened Shredded Coconut
For Garnish:
Instructions
For the Cake:
Preheat the oven to 350° F. Line cupcake pans with 24 cupcake liners.
In a medium-sized bowl, combine cake mix, cocoa powder, water, vegetable oil, eggs, and vanilla extract. Beat on medium-high speed until all ingredients are well blended.
Divide the batter evenly, filling each liner about 2/3 full, and bake for 14 to 16 minutes until the cupcakes are set.
Test the cupcakes for doneness by inserting a toothpick into the center. If the toothpick comes out clean, the cupcakes are done. Allow the cupcakes to cool completely after removing them from the oven.
For the Filling:
In a medium-sized bowl, combine the sweetened condensed milk and the shredded coconut and stir until well combined. The texture should be thick.
Hollow out the center of each cupcake using a knife or teaspoon. Do not discard the tops.
Fill the center of the cupcakes with about 2 teaspoons of the coconut mixture, pressing down into the center of the cupcake. Then reinsert the top of each cupcake back into the center and press gently.
For the Frosting:
Using an electric mixer, beat the butter at a medium-high speed for approximately 5 minutes until the butter is almost white. Scrape down the sides of the bowl occasionally.
Next, add the powdered sugar, 2 cups at a time, continuing beating the frosting until the powdered sugar is incorporated. After 4 cups of sugar have been added, add the extracts and the milk.
Add the 2 final cups of powdered sugar and once incorporated, beat the frosting on medium-high speed for another 3-5 minutes. The frosting should be very whipped and airy in texture.
Using a large (3-tablespoon size) cookie scoop, scoop the frosting onto each cupcake. Then gently tap each cupcake on the counter to make sure the frosting sticks.
Invert each cupcake into a bowl of shredded coconut to cover the frosting with the shredded coconut.
To Garnish:
Drizzle with hot fudge sauce and top with crushed or whole almonds.
Category:

Dessert

Method:

Baked

Cuisine:

American
Keywords: cupcakes, coconut frosting
This recipe originally appeared on Food Fanatic.
You might also like: