This post may contain affiliate sales links. Please see my full disclosure policy for details
These Apple Pie Biscuit Shortcakes are made with an easy to create sweet shortcake biscuit topped with mascarpone whipped cream and apple pie filling.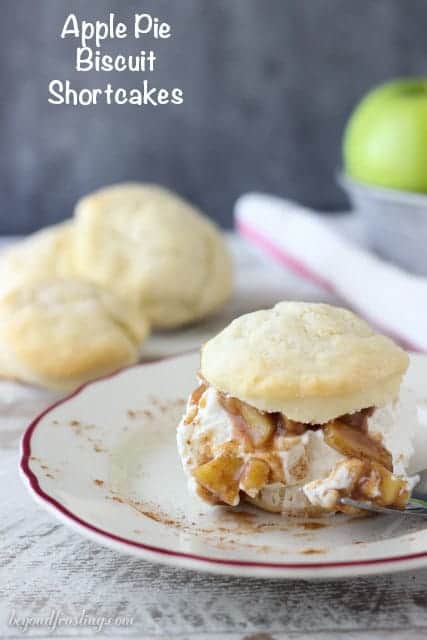 Disclosure:I have partnered with King Arthur Flour for the #betterbiscuit challenge to create this recipe. I choose to work with brands that I love, and I do really love berries! All opinions are my own.
I have exactly two weeks until I head back East again for one of my best friend's weddings. Right after the wedding I am jetting off to Vermont for about 36 hours. In that short amount of time, I am also traveling to see some of my extend family. I tend to want to do #allthethings whenever I go back to Vermont, since my trips are few and far between these days. The top of my to do list includes stuffing my face with Macintosh apples, Wilcox Pumpkin Ice Cream, Cider donuts and maple soft serve ice cream. It's true, my plans usually revolve around what I plan to eat.
While this past weekend, I was prepping for my "fall" filled weekend in Vermont by preparing approximately 5-8 pounds of apple pie filling. I intended to bake all my apple desserts in one weekend, which only partially worked out. I made 4 recipes, but I was left with a TON of left over apple pie filling; which is now sitting in my freezer. I don't necessarily think that is a bad thing though. Right?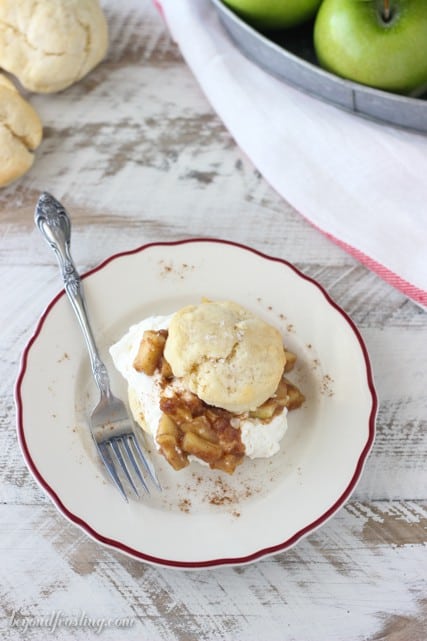 One of the desserts I made were these Apple Pie Biscuit Shortcakes. Although, the star of this recipe is the sweet shortcake biscuits. I will admit that I am a bit "biscuit" shy if you will. The thought of making the perfect tendy, flaky biscuit is intimating to me.
Recently, King Arthur Flour (KAF) asked me if I was interested in trying their Unbleached Self-Rising Flour. If you are a reader of my blog, you know that I am a huge fan of King Arthur. First of all, they are a Vermont company, so duh. Last year I attended their Bake For Good event in LA where I got to meet some of the good folk from KAF who shared their baking knowledge, and passion to give back to the community. I have always enjoyed using their products, so why not give this biscuit thing a try?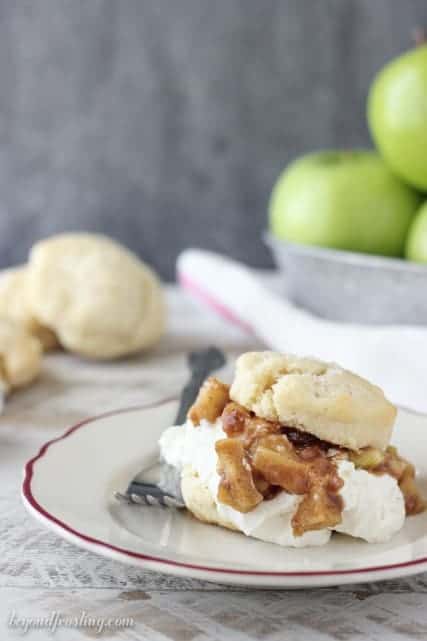 The self-rising flour is a blend of "soft wheat flour and baking powder, with a touch of salt" and is said to produce a creamy taste and lighter texture. In fact, to make these biscuits, I used only a few main ingredients besides the flour. Also, it doesn't require a rolling pin! You simply pat it out with your hands a few times. Easy peasy!
After one batch, I seriously felt like a biscuit BOSS.
I will admit that I made these 3 times. The first time was the best. The 2nd time, I forgot the sugar, and guess what, they still tasted just fine, but a little less sweet. The third time, I tried to add maple syrup, and ended up adding too much. It left me with a more wet and sticky dough that did not rise as high. I am planning to continue to tweak the recipe until I find one that I like.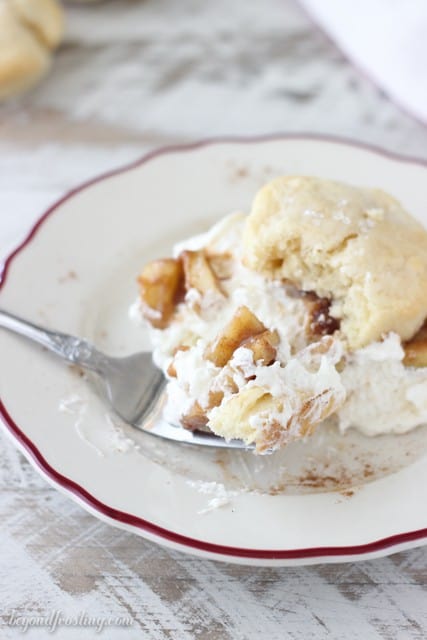 I also tried something else. One of the tips from KAF to make the best biscuits is to pre-freeze the dough before baking to improve texture and rise. I tried this on my first recipe but not my second. I did not think it made a huge difference for me, but it is not difficult to pop these in the freezer while your oven is pre-heating.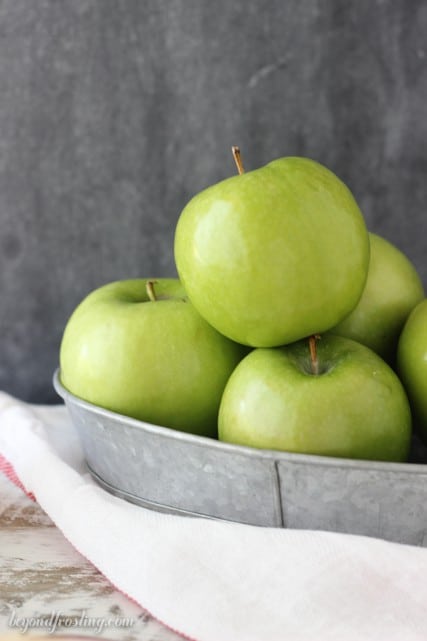 Once I had my biscuits prepared, I made a simple apple pie filling on the stovetop. It's quite easy. You just have to peel the apples, blend in some lemon juice and spices and cook until apples are fork tender.
Can we also talk about that wonderful and amazing cloud of white filling in the middle of these biscuits. This is a quick mascarpone whipped cream, also known as the best thing EVER. Mascarpone is not cheap, I know that, but I happen to have some in my refrigerator and it makes the most wonderful filling. There are two other options though. You could make a plain whipped cream or even a cream cheese whipped cream. I served my cold, but I really feel that the biscuits are best when they are fresh.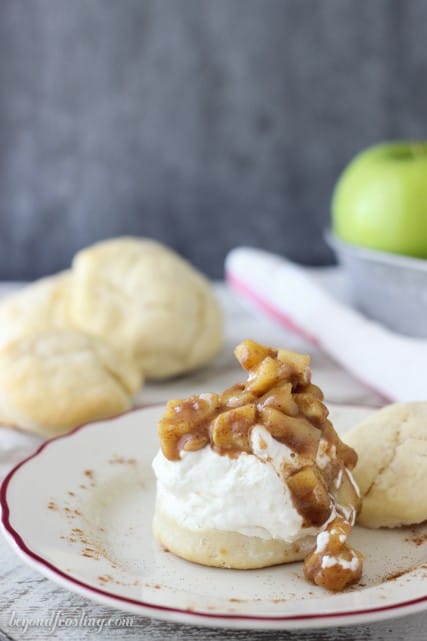 Anytime I can enjoy the taste of apple pie without having to deal with a crust is fine by me. Now that I have baked a successful biscuit, I feel like I can conquer the world. Just saying.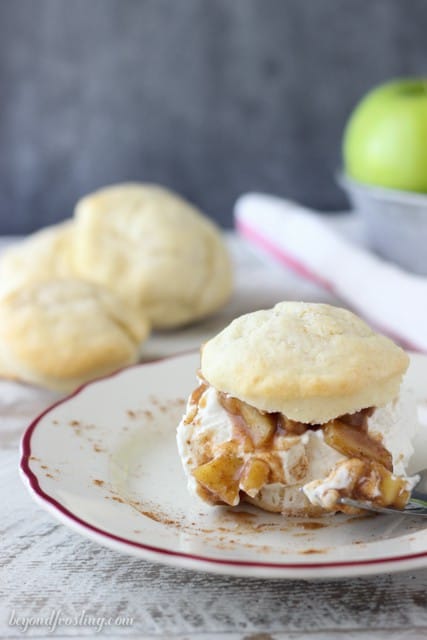 Keep up with all the happenings. Follow Beyond Frosting:
Facebook | Twitter | Pinterest | Instagram
Print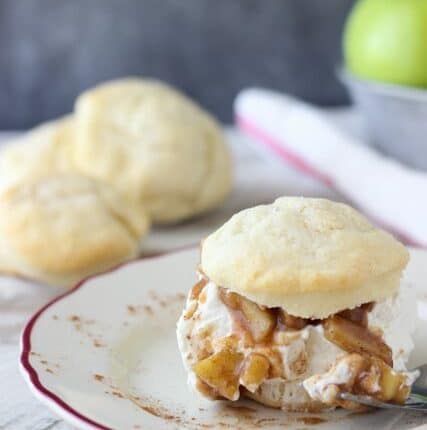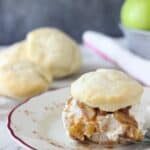 Apple Pie Biscuit Shortcakes
Author:

Prep Time:

30 minutes

Cook Time:

12 minutes

Total Time:

42 minutes

Yield:

7-9 biscuits
Description
These Apple Pie Biscuit Shortcakes are made with an easy to create sweet shortcake biscuit topped with mascarpone whipped cream and apple pie filling.
Ingredients
For the biscuits
2

C (8oz) King Arthur Flour Unbleached Self-Rising Flour

2 tablespoons

(

7/8 oz

) Sugar

1

C (8oz) Heavy cream

1 tsp

Vanilla extract

1

to

2

tbsp (

1/2

to

1

oz) Milk (optional)

1

to

2

tbsp (

1.2

to

1

oz) Butter, melted
Course white sparkling sugar or cinnamon sugar
For the Apple Pie Filling
5

Medium apples, sliced

1

Lemon, juiced

2 tbsp

Light brown sugar

2 tbsp

All-purpose flour

2 tbsp

Maple syrup

2 tsp

Cinnamon
For the Mascarpone Whipped Cream
4 oz

Mascarpone cheese (or substitute regular cream cheese)

1

C Heavy whipping cream

¾

C Powdered sugar

2 tbsp

Maple syrup
Instructions
For the biscuits: Pre-heat oven to 425°F and move a rack to the top third of the oven.
In a medium-sized bowl, blend together flour and sugar.
Using a measuring cup, measure out 1 cup of heavy and add 1 teaspoon vanilla. Mix together to blend the vanilla into the heavy cream.
Create a well in the center of your flour, filling with heavy cream. Gently start turning the flour over until a dough starts to form. Continuing turning until a ball of dough is formed. If you have a lot of leftover flour in the bottom of the bowl, you can add 1 tablespoons of milk at a time. (Note that I did not need to do this).
Empty the dough onto a well-floured surface, patting the top with additional flour.
Fold the dough over several times to blend in additional flour until the dough is no longer sticky. Pat dough into a 7" disc about ½" thick.
Use a biscuit cutter or small round cookie cutter, about 2 ¼" in width to cut dough into rounds. I reknead the dough and cut a couple additional biscuits.
Place on a baking sheet lined with parchment paper or a silicone baking mat.
Melt butter and brush the tops of the biscuits with butter. Sprinkle the top of biscuits with course white sparkling sugar.
Bake for 12 to 16 minutes until they are golden brown. Remove from oven and allow them to cool for a couple minute before transferring them to a wire rack. These are best served warm.
For the pie filling: peel and slice apples into small pieces and squeeze a lemon over top and stir to combine.
Add brown sugar, flour, maple syrup and cinnamon over top of apples. Stir to mix ingredients.
Heat apples on the stove over medium heat for 15-20 minutes until soft. Stir occasionally. You want the apples to be soft. Set aside and allow to cool, refrigerate if necessary.
For the whipped cream Beat cream cheese on medium-high speed for 1-2 minutes until cream cheese is smooth and free of lumps. Scrape down the sides of the bowl occasionally.
Add 3 tablespoons of heavy whipping cream. Beat into cream cheese until cream cheese resembles a liquid mixture.
Add remaining heavy whipping cream and beat on medium-high speed. Slowly added remaining powdered sugar and beat until still peaks form.
To assemble the shortcakes, cut in half and top with a big scoop of whipped cream and apple pie filling.
Notes
Biscuit recipe provided by King Arthur Flour
Category:

Dessert

Method:

Baked

Cuisine:

American
Other recipes you might like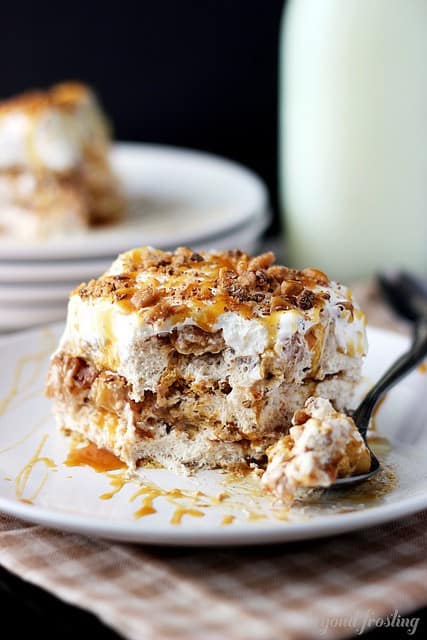 Bakery Style Brown Butter Apple Pie Muffin