This post may contain affiliate sales links. Please see my full disclosure policy for details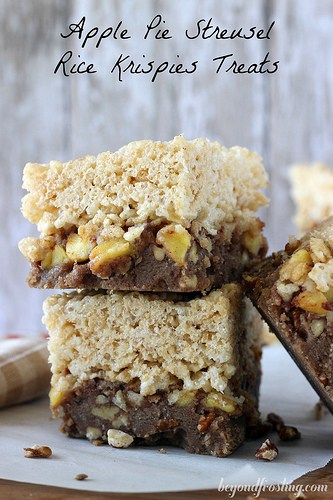 So my local Target has Christmas stuff out. Yes, I said CHRISTMAS! What the heck people, it's not even the middle of October yet. Can we please at least get through Halloween first? Speaking of, last week I suggested that we hand out some 100 calorie pack cookies for Halloween. I have a lot of extra bags because I buy them at Costco and I don't really like all the flavors. My boyfriend looked at me like I was a crazy person and said "We don't have a lot of rules, but one of them is we only hand out candy here". Excuse me, but no child is going to see a bag of cookies and think, hey, I don't want 100 calories worth of cookies. I think its genius, but it won't be happening. Rules are rules.
I remember this sweet old lady down the street from my childhood home used to ask us, "trick or treat" and we had to tell her a joke or do a trick and we could pick from her wide variety of options. She always made the best bags of popcorn, candy apples, candy bars and cookies. It was kind of the jackpot house. That kind of thing would never fly anymore. I couldn't bake cookies and give them out to strangers, nor would I let me future child eat anything that wasn't wrapped. Times have changed my friend, but I will always remember that house we couldn't wait to visit on Halloween.
Well I think these Apple Streusel Rice Krispie Treats would be perfect for any fall party. You see, I LOVE apple pie filling, so it should come as no surprise that I try and add it to just about any dessert. These took me a couple of tries to get right, but they started out as a total mistake. I added way too much butter to one of my steusals, and I was not wanting to waste it, I had to come up with a way to bake it as a base for something, but I had no idea what to put on top. Well I have been baking tons of Rice Krispie treats lately so I gave it a shot and turns out, it's pretty good. The next batch, I added apples and reduced the butter but I wasn't happy with the ratio of streusel to Krispie treat. The third batch was just perfect.
To prepare these, you just need to make the streusel first and while that is baking, you can prepare the apple filling. The Rice Krispie treats go on last. I baked these in a deep dish because I love the look of the added height on the bars. These are best when you allow them to set for a coupe of hours and they will keep for three days in an airtight container.
Print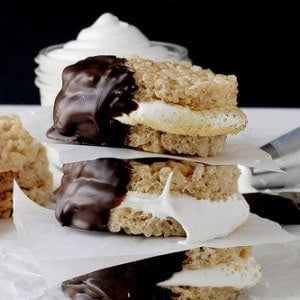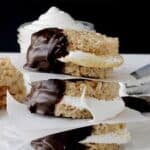 Apple Streusel Rice Krispie Treat
Prep Time:

20 minutes

Cook Time:

20 minutes

Total Time:

40 minutes
Ingredients
For the Streusel
3/4

C All-purpose Flour

1

C Light brown sugar

1 tsp

Cinnamon

1 tsp

Apple Pie Spice

1

C Pecans, chopped

1/2

C +

2 tbsp

Unsalted butter, melted
For the Apple filling
3

Large apples, sliced

1

Lemon, juiced

1 tsp

Cinnamon

1/2 tsp

Apple Pie Spice

2 tbsp

Brown sugar

2 tbsp

Flour
For the Rice Krispies
2 tbsp

Unsalted butter, browned

3

C Mini Marshmallow

4

C Rice Krispies cereal
Instructions
To prepare the streusel
Preheat oven to 350°
Combine all dry ingredients in a medium sized bowl.
Melt butter in microwave for 30 seconds.
Pour melted butter over dry ingredients and use a pastry cutter or fork to combine dry ingredients into butter. Mixture will be clumpy.
Line a 9×9" pan with tin foil. Press into the bottom of a 9×9" pan. Bake streusel for 20 minutes at 350°. Remove from oven and set aside to cool.
To Prepare the Apple Pie Filling
Slice apples into small pieces and squeeze a lemon over top to coat it in juice.
Add cinnamon, apple pie spice, brown sugar and flour over top of apples. Stir to mix ingredients.
Heat apples on the stove over medium heat for 10-15 minutes until soft. Stir occasionally. Set aside and allow to cool.
Pour apples over streusel and cool for at least 30 minutes.
To Prepare the Rice Krispie Treats
Melt butter in a saucepan over medium heat until butter starts to turn brown and let of a slight aroma.
Pour marshmallows in saucepan and stir until melted.
Add Rice Krispie cereal to saucepan and stir to combine.
Pour Rice Krispie mixture over apples and streusel. Use a piece of wax paper to spread and firmly pack down the Rice Krispie treats.
It is best to allow this to set for a couple of hours, but it can be served immediately.
Notes
I used a 9×9″ Pan. Lining the pan with tin foil will help to remove them easily and slice apart.
Make sure to firmly pack the Rice Krispies Treats onto the streusel mixture.
Store in a airtight container for up to 3 days.
Recipe Card powered by
Similar Recipes you might like:
Apple Pie Coffe Cake with Brown Butter Maple Glaze