This post may contain affiliate sales links. Please see my full disclosure policy for details
These Bakery Style Cinnamon Pecan Muffins are incredibly moist, full of cinnamon and crunchy pecans.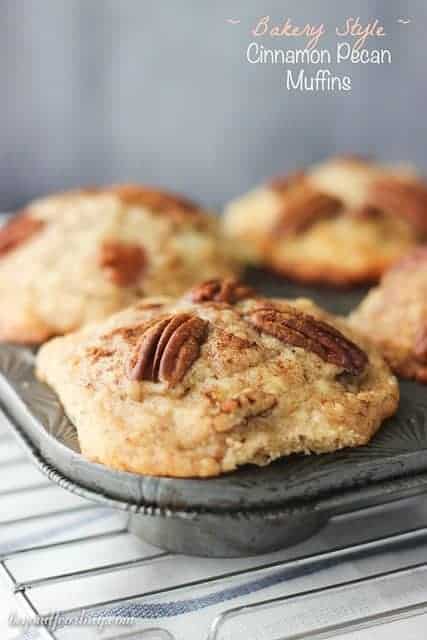 Whoever decided that I should be doing a cleanse during Cinco De Mayo clearly wasn't thinking. Oh wait, that was me. It's true, I've decided to do my cleanse again, you know the one where I eat NOTHING. I eat fruits, vegetables, nuts and some salmon or chicken. I don't eat gluten or grains, starches, sugars, red meat, eggs, peanuts, no sodas and juices or any processed foods.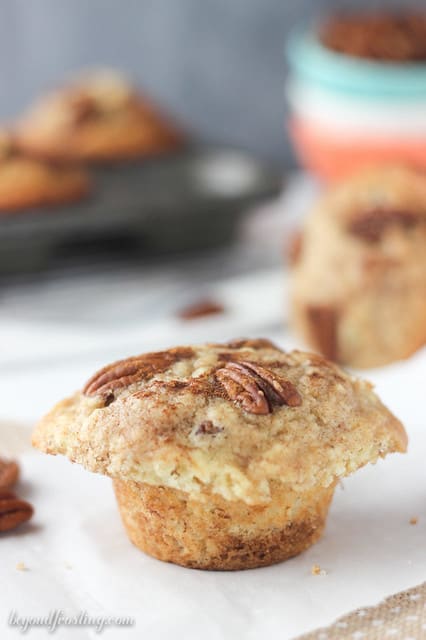 I tried this cleanse back in January and it was pretty difficult for me. This time around it is a bit easier, except that I reeeeeally wanted a margarita yesterday. Instagram pretty much makes you crave all types of foods that are not within your reach. Screw you Instagram!
You know what else I can't eat on my cleanse? Muffins. These glorious Bakery Style Cinnamon Pecan Muffins are kinda full of things like gluten and some sugar. I don't apologize for that because these muffins are glooorious. They are packed with cinnamon flavor and stuffed with pecans.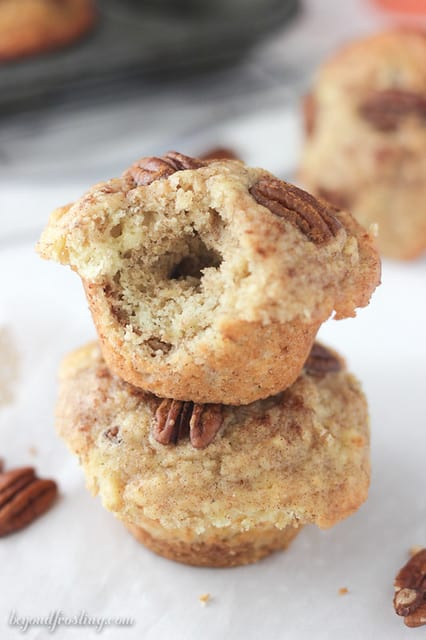 These muffins are based on my master muffin mix, which is very adaptable. I have quite a few variations including: pumpkin, coconut blueberry, cinnamon blueberry, lemon raspberry and peach macadamia nut. The cinnamon pecan version reminds me of the ultimate bakery muffin.
You know when you walk into a bakery and get that instant smell of fresh baked cinnamon? You might ask, "what is that smell (in a good way!)?" That is what inspired these muffins. I recently stopped into a local bakery and I got that feeling like I had to get something. I got this incredible cinnamon muffin that was topped with pecans. So naturally, I went home and tried to make them myself.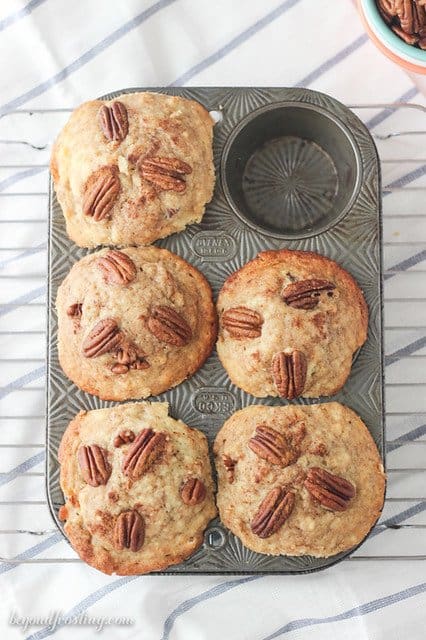 I told you guys before that I have a muffin addiction. If I make a batch of muffins, I am guaranteed to eat at least three, which is a problem for me, because these are giant muffins. I have to try my best to get them out of the house as quickly as possible.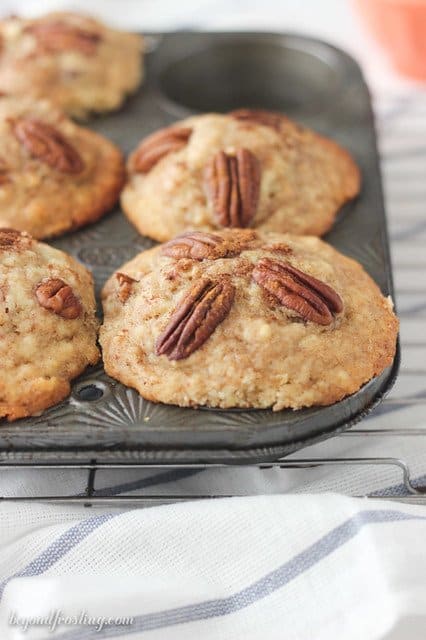 The trick with my muffin recipe is that there is extra baking powder to help them rise extra high. I also bake it at a higher temperature for the first few minutes. After five minutes, turn the oven down to 350°F and bake for the remaining time. Try not to open the oven until the timer goes off so as not to let out the heat.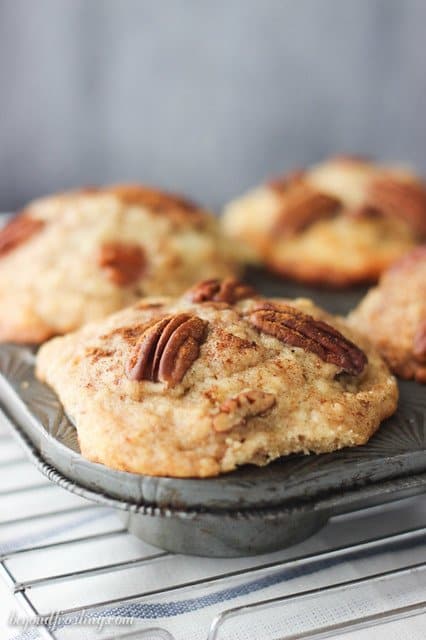 Homemade muffins are a real treat in my mind! I loved when I was a kid and my mom would make muffins for breakfast! These can be prepared in 15 minutes or less and they bake for about 20 minutes. So you can have fresh muffins for breakfast too!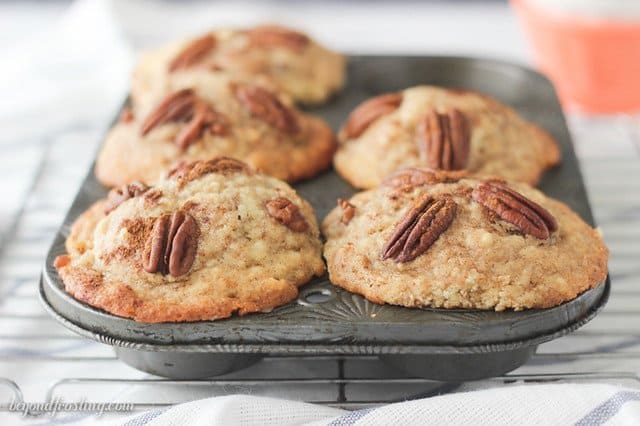 Print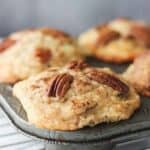 Cinnamon Pecan Muffins
Author:

Prep Time:

15 mins

Cook Time:

20 mins

Total Time:

35 minutes

Yield:

12 muffins
Description
These Bakery Style Cinnamon Pecan Muffins are incredibly moist, full of cinnamon and crunchy pecans.
Ingredients
2¼

C Flour

1

C Granulated sugar

4 tsp

Baking powder

2 tsp

Cinnamon

½ tsp

Salt

½

C Unsalted butter

1

Large egg

1

C Milk or buttermilk

¼

C Sour cream

1 1/2

C Pecans
Instructions
Preheat oven to 425°. Grease a muffin pan with Crisco or baking spray.
In a medium sized bowl, mix flour, sugar, baking powder, cinnamon and salt. Then set this mixture aside.
In a separate bowl, beat the egg using a whisk until light and fluffy. Add melted butter and whisk together with the egg. Continue to add milk and sour cream and whisk everything together until smooth.
Slowly pour wet ingredients into the dry ingredients and use a wooden spoon to mix just until combined. Fold in the pecans (reserve a handful to top the muffins)
Fill your muffin tin all the way to the top with batter. Sprinkle pecans on top. Bake for 5 minutes at 425° and then reduce heat to 350° and bake for another 16-20 minutes. Do not open the oven for at least 15 minutes, you will see how nicely the muffins rise. Baking times will vary by oven.
Check your muffins for doneness by inserting a toothpick into the center of the muffin. If your toothpick comes out clean, your muffin is done. Allow muffins to cool completely in the pan. You can also cool on a wire rack, but you want to allow them to cool enough to remove and transport them out of the pan.
Recipes you might like from my friends:
Monster Cookie Muffins from Something Swanky
New York Style Blueberry Muffins from Heather's French Press
Funfetti Banana Bread from The Recipe Critic
Other recipes from Beyond Frosting you might like: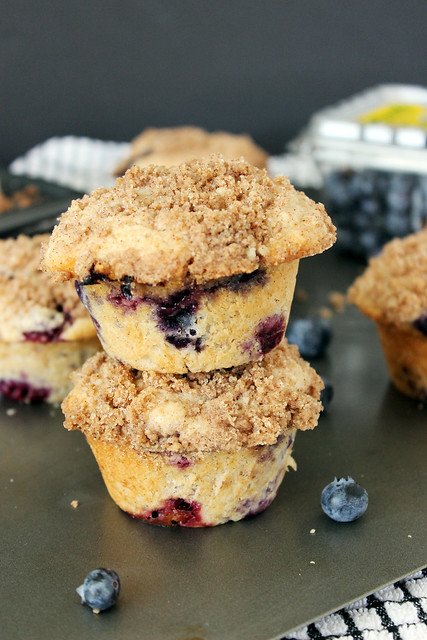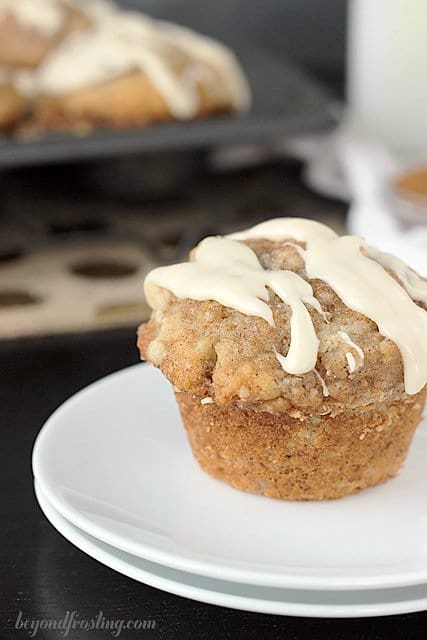 Lemon Raspberry Almond Muffins