This post may contain affiliate sales links. Please see my full disclosure policy for details
One year! This has been so amazing! As I mentioned yesterday, I started my blog off with a post about Foodie Pen Pals. This was an easy way for me to get my feet wet, meet some new bloggers and it gave me something to write about (even if it wasn't the best editorial). I started off with a "how it began" post in November and then followed it with a couple of recipes through December. It wasn't until February that I started to see any "real traffic" and it grew naturally from there. Looking at where I am now compared to the past six month is like night and day for me. These past couple months have been incredible!
I purchased a DSLR camera in March and my photos immediately started to be accepted on website like Foodgawker and Tastespotting. My first photo to ever be accepted on Tastespotting was my Hot Chocolate Whipped Cream, I was so incredibly happy! However, it was several months of rejects until I finally got accepted on Food Gawker with my White Chocolate Coconut Cupcake. I did a little dance around my office when I got the notification!
Since investing in a new camera, my photography is like night and day. The old photos make me CRINGE, but everyone has to start somewhere! I have been enjoying getting to know my new camera, but I still have so much to learn. I am not currently shooting in RAW format, but I am mostly using Aperture priority. I am learning a little bit about food styling, although I don't pretend to understand much about it all.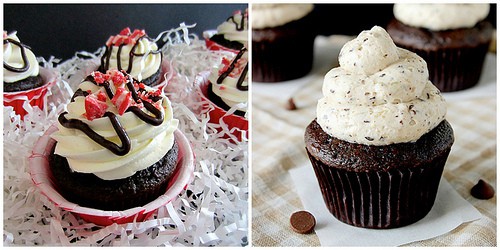 I rely on the advice and resources from bigger bloggers. I have really found so much value in building a community. I have found that most bloggers are super helpful when it comes to asking questions and sharing information. First of all, I depend on my Pinterest page to store all the information about Tips and Tricks for blogging.
I have found so many new blogs through interacting on Instagram and Twitter. I will be the first to admit that I had no idea how to use Twitter when I started my account several months ago. It's completely different than any other social media, but I have come to really like it. I still don't use Twitter to it's full potential, and often times, I sleep through the busiest interacting time in the morning. Twitter is great for interacting with brands as well.
I dished out the money to attend BlogHer Food in June. At that point, I had only been blogging for six months and I really had no idea what it meant to be a serious blogger. The information I took home and even some of the relationships I made have proved to pay off. Plus, seeing some my blogging idols in person, like Ree (you know Pioneer Woman- she's adorable!). I am hoping to attend next year in Miami.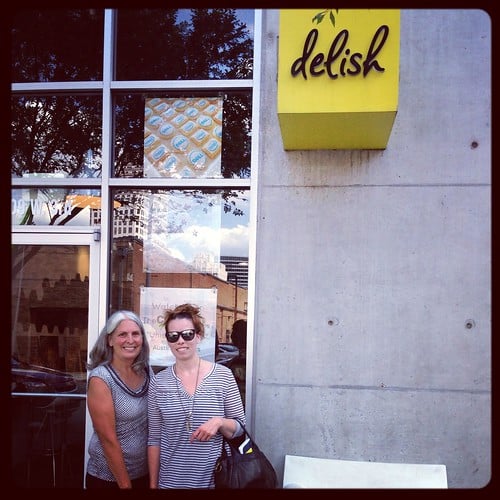 I am really looking forward to attending my next conference in February, the Build Your Blog Conference in Utah. Tickets are only $100, but the price goes up tomorrow, November 1st, so if you want to attend a conference, jump on it! The conference is run by the Six Sisters.
Back in June (at BHF), I also found the Online BlogCon group which is an online conference I participated in. When you pay for the conference (it's super affordable, something like $20-$30), you have access to the private Facebook group, which is invalueable. You can pop on there anytime and ask questions and see what everyone else is talking about. Generally speaking, you will benefit from the questions other bloggers are asking as well. I couldn't think of a better resource. I have also met so many new people on there.
I switched to a self-hosted blog in September, which is a whole different ball game. I admit that I don't know a whole lot about the techy side of blogging and have replied on outside help to do some things for me. I put a lot of pressure on myself to keep up. This is like a second job for me, and I take it pretty seriously. I post at least 2 recipes a week, sometime 3 and I try to do a filler post as well. It's absolutely difficult at times. Sometime I just want to sleep in on Saturday instead of getting up at the right time to catch the perfect morning sunlight for a photo shoot. Sometimes I lack baking creativity, but there is always cupcakes. I do an awful lot of cupcake, cupcakes are my favorite!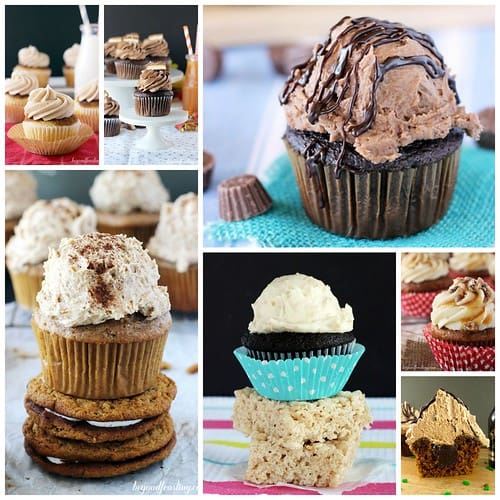 I admit that when I started blogging, I had no idea what I was getting myself into. Everyone has a different reason for blogging. For me, blogging has become a creative outlet. I absolutely love to bake and play around in the kitchen. However, it takes more than being a good baker to make a blog happen. There are many nights where I feel like I can't get through a post and I have serious writers block. On top of that, I spend all of my free time roaming the internet. I read tons of other blogs and spend hours thumbing through Pinterest. My weekends are totally consumed with baking and photographing which proves to be challenging in the winter when I am snowboarding every weekend.
In the end, I wouldn't change a thing. I absolutely love the little space that I carved out to call my own. I love and appreciate all my followers who leave comments, tweet my recipes, PIN them or share my posts on Facebook. Ultimately, I am here for you guys! There are probably half a million (or more) dessert bloggers on the internet, and the fact that you guys come back every week to see what I am up to, is amazing. I hope that I can continue to keep you entertained.
Lastly, thank you, thank you, thank you for supporting me! Thank you to my amazing boyfriend (cc editor, taste tester, photography stand in, sous chef), he supports me day in and day out and listens to all of my blog talk. Thanks to my parents who were obviously my first followers, and my mom, who emails me corrections that I miss during editing. Thanks to all my friends who eat my leftovers and tell me how good they are (you guys are way to kind). Thank you to each and every one of YOU (the readers) for coming back!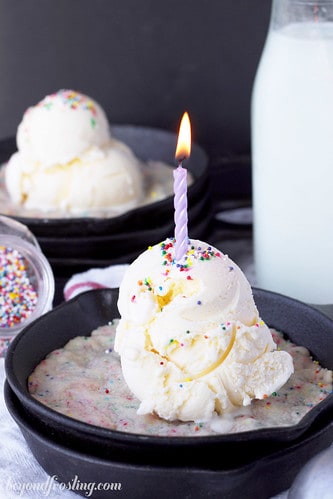 Here are some other highlights from the past year!
My first "big traffic day" was when Michelle from the Brown Eyed Baker shared my Mudslide Poke Cake on her Weekend Dish.
My Deep Fried Cookie Dough was featured on the Huffington Post.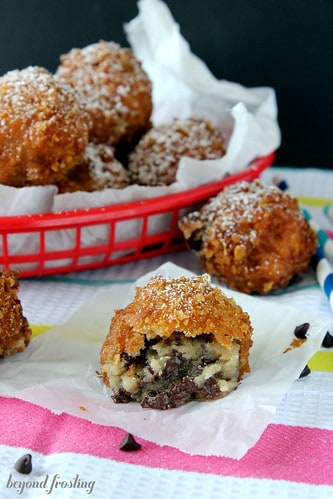 Oh and then the day that Ree re-tweeted my Apple Pie Lasagna (recipe below)! I am still getting traffic from it! Yes, I totally took a screen shot of it! The traffic I received from Twitter that day was insane and I still get tweets from it.
This spring, I signed on for my first blog ambassador program with Walkers Shortbread, which I just finished up with this week. My final recipe was Toasted Pecan Shortbread bars. Who knew you could do so many awesome desserts with shortbread cookies!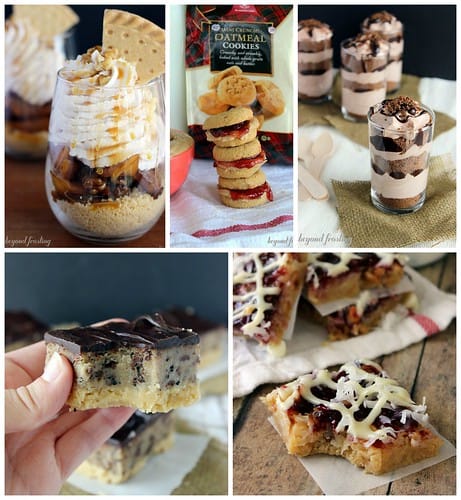 My Deep Fried Apple Pie Bites won second place in the Lucky Leaf Baking Contest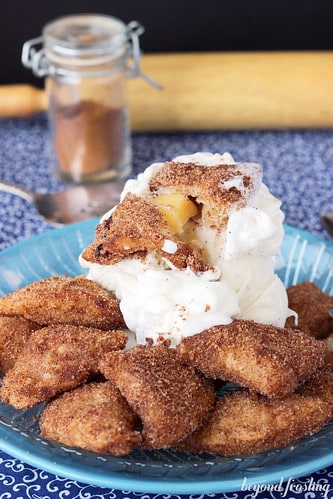 Here are the top three posts on Beyond Frosting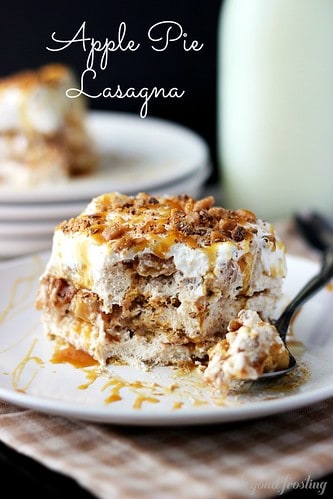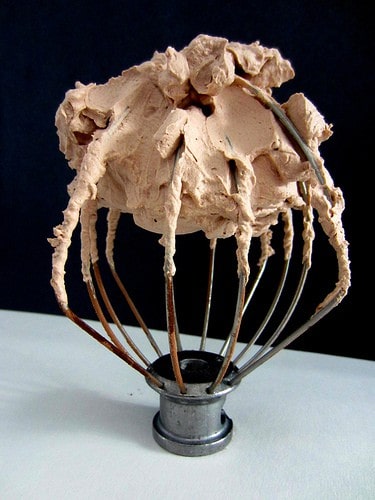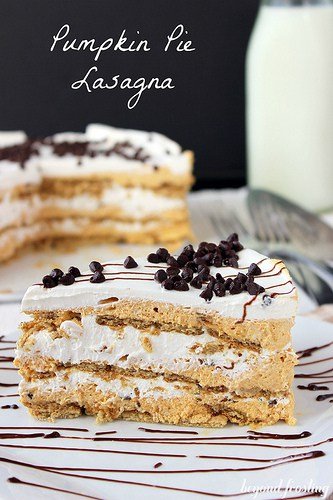 And here's to another year!