This post may contain affiliate sales links. Please see my full disclosure policy for details
You will want to sink your teeth into these Biscoff Cheesecake Cupcakes. A chocolate cupcake with a layer of cheesecake baked in and topped with a Biscoff cream cheese frosting.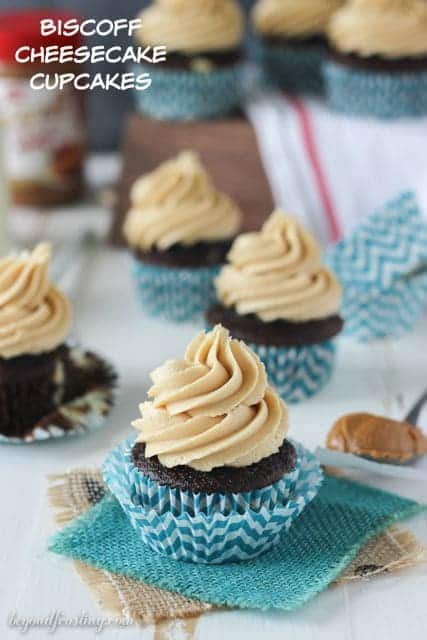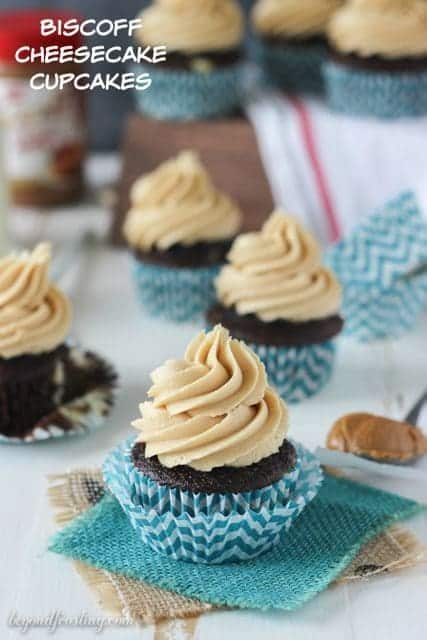 Is it just me, or is summer flying by? I've had all these things planned for months and now they are just coming at me so fast! This weekend, my dad is visiting! It has been just under 4 years since he has come to California. Now that my brother has moved to San Diego, all three of us kids live in California. It's crazy to think! We have not lived in the same state since my older sister left for college in 2000. Anyway, I am looking forward to having him here for a couple days and maybe putting him to work doing some dishes (only kind of kidding).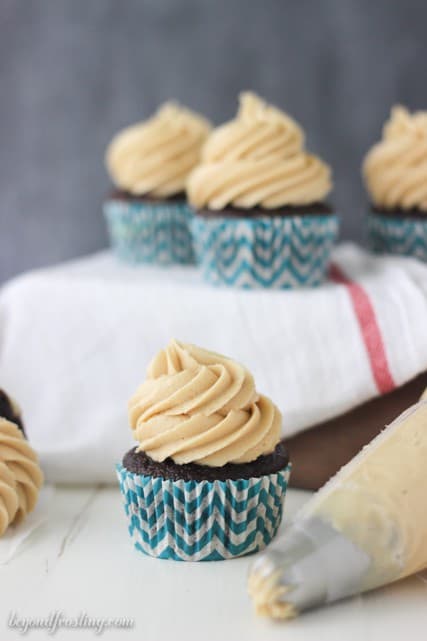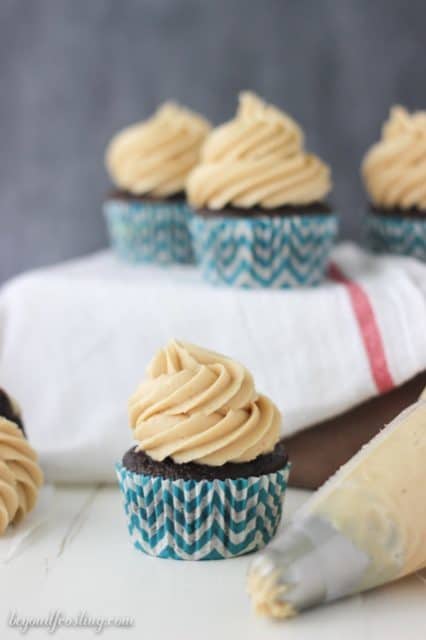 One thing is for certain: I need to make him a few of my desserts to try! He definitely has a sweet tooth like me! I am sure he would enjoy these Biscoff Cheesecake Cupcakes. It's been an eternity since I made a recipe with Biscoff, otherwise known as cookie butter. It is this glorious spread (like peanut butter) but taste kinda like a gingersnap mixed with a snickerdoodle.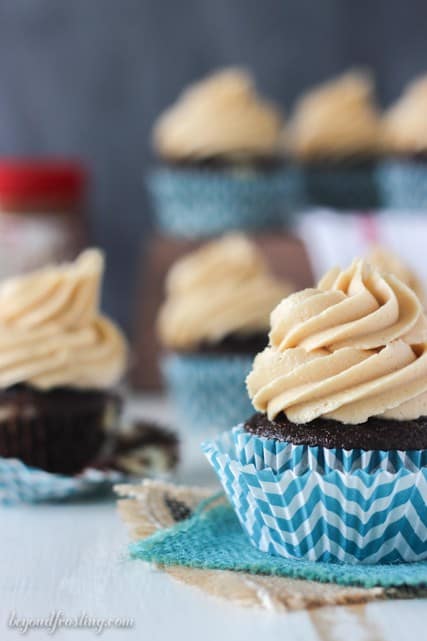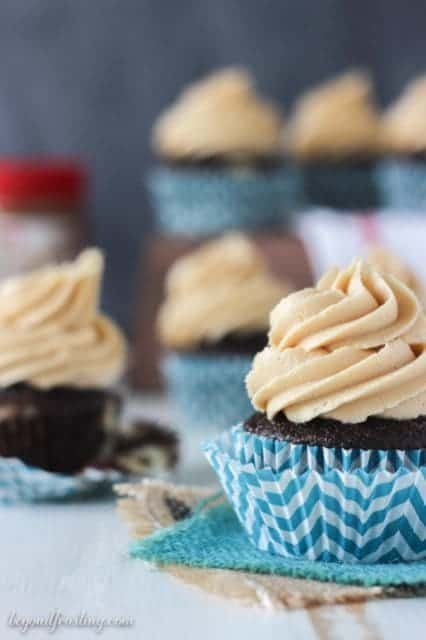 Before I make a dessert, I usually know if boyfriend will eat it or not. If it's chocolate, most cookies (especially snickerdoodles) or plain Rice Krispie Treats, it's a given. More times then not, I beg him to try my creations, but his desire for adventurous desserts is pretty limited. I made his favorite chocolate cream cheese cupcakes for this recipe, and as soon as I told him I was adding a Biscoff frosting, he was less than excited. So he just ate a plain cupcake instead. This is what I call a food blogger problem.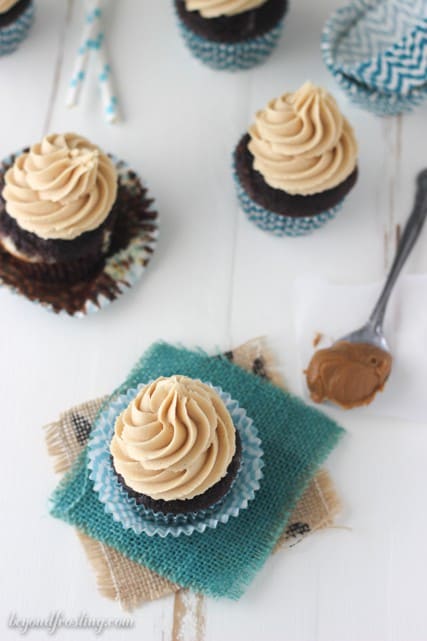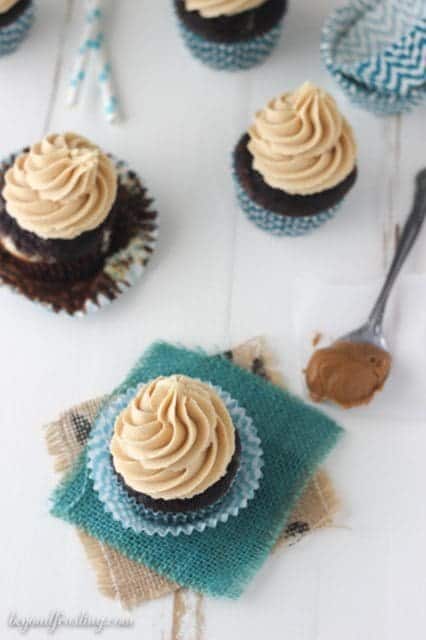 The cupcake itself is pretty easy. You can use a boxed cake mix, or you can use your favorite from-scratch recipe. I have only ever made they with a boxed mix, because that is how my boyfriend's family enjoys it.
To make the cream cheese filling, you just need to soften the cream cheese and combine it with an egg and some mini chocolate chips. Then I just spoon a little bit of the cream cheese filling onto the top of the chocolate cupcakes prior to baking. The cream cheese is a bit thicker than the batter, so it will sink into the cupcake and bake.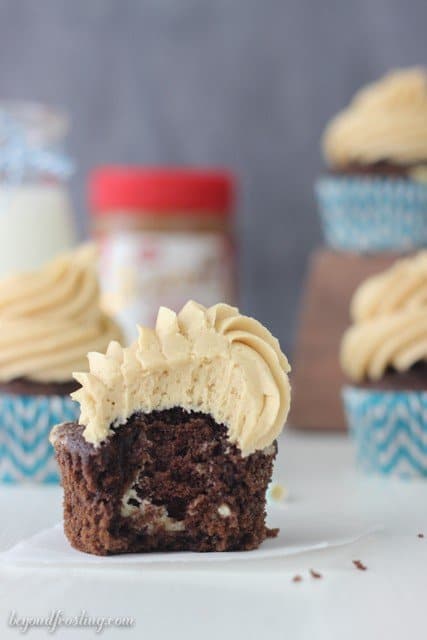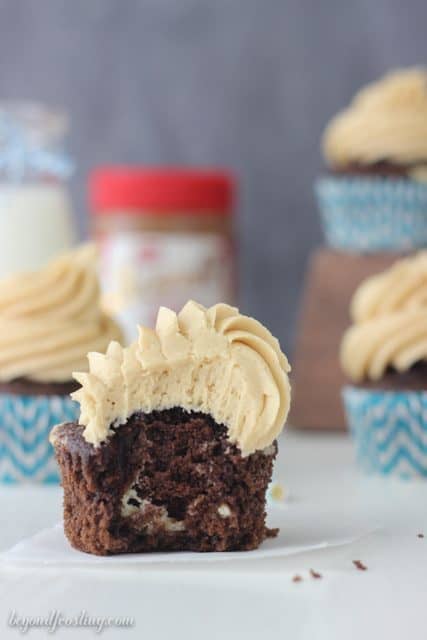 How could you possible deny a spoonful of this frosting?? It's got a mixture of cream cheese and Biscoff spread and it is whipped to perfection. The longer you beat this frosting, the better it becomes. I prefer to start with cold cream cheese and butter. I think it helps add stability to the frosting. Once the cream cheese is smooth, I add the Biscoff spread and beat it until it is creamy.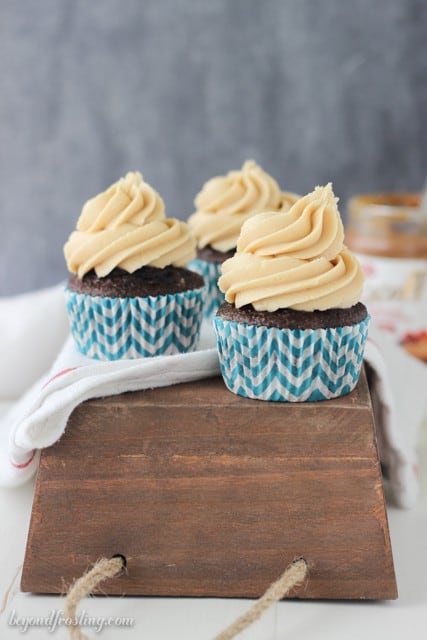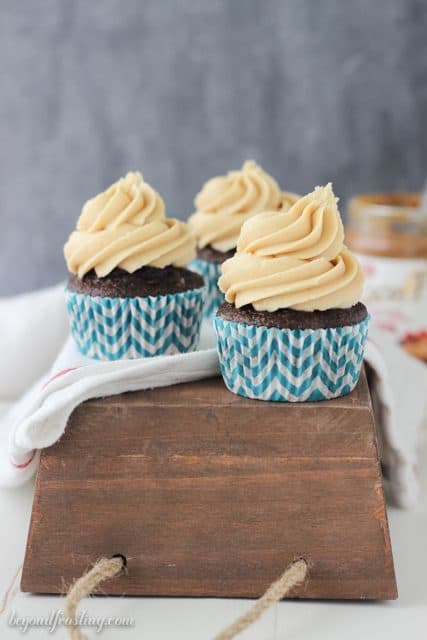 I always recommend adding the powdered sugar slowly until you reach your desired consistency. This means that if you prefer a very stiff frosting, you will probably add extra powdered sugar, but the frosting will get a bit sweet. To counter act this, I will add a pinch of salt or even some additional heavy whipping cream. I usually always have heavy cream in my refrigerator, but when I don't, I use milk.
I know that it's the middle of summer and all, but I've always got cupcakes on my mind, so I just had to share these with you guys!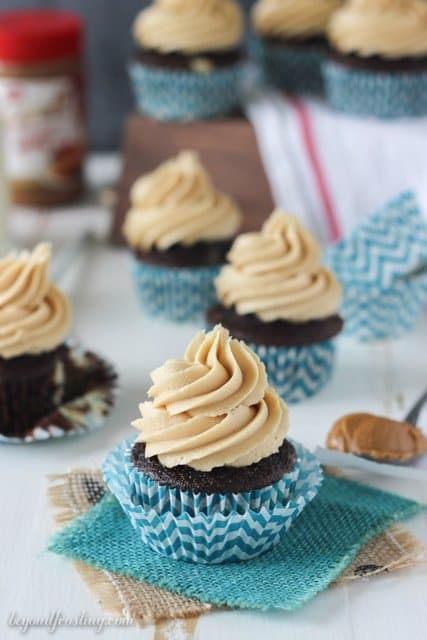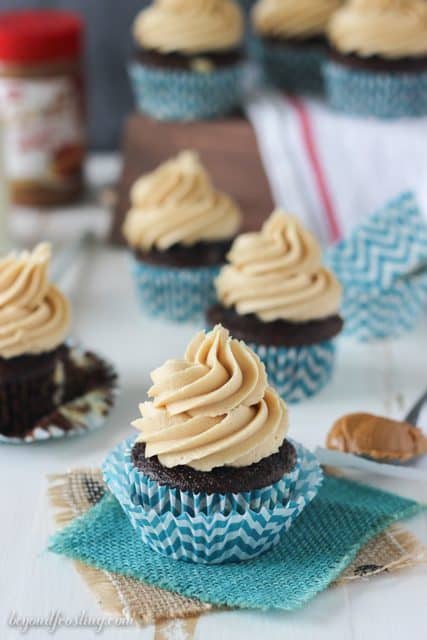 Keep up with all the happenings. Follow Beyond Frosting:
Facebook | Twitter | Pinterest | Instagram
Print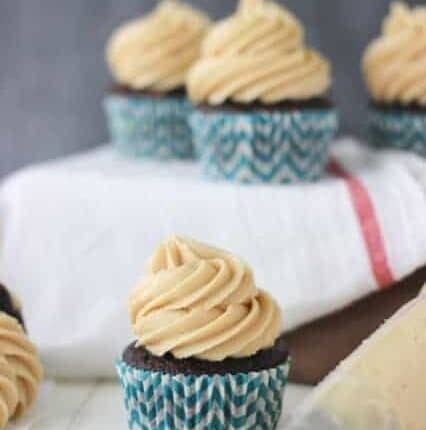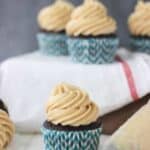 Biscoff Cheesecake Cupcakes
Author:

Prep Time:

15 mins

Cook Time:

18 mins

Total Time:

33 minutes

Yield:

22-24 cupcakes
Description
You will want to sink your teeth into these Biscoff Cheesecake Cupcakes. A chocolate cupcake with a layer of cheesecake baked in and topped with a Biscoff cream cheese frosting.
Ingredients
For the cupcakes

1

Box Chocolate cake mix plus ingredients listed on the box: water, oil, eggs

1

pkg (8oz) Cream cheese- softened

1

Large egg

1/3

C Sugar

6 oz

Mini chocolate chips
For the frosting:

3/4

C (2 sticks) Unsalted butter (cold)

8oz

Cream cheese (cold)

3/4

C Biscoff spread

4

–

5

C Powdered sugar

2

–

3

tbsp Heavy whipping cream

1 tsp

Vanilla extract
Pinch of salt
Instructions
Pre-heat oven to 350°.
Combine cake mix with eggs, oil and water as instructed on the box. Line a cupcake pan with liners and fill each cup 2/3 full (about 3 tbsp of batter).
In a separate bowl, mix together softened cream cheese, sugar and egg and beat until smooth. Fold in chocolate chips.
To add the cream cheese mixture to the cupcakes, use a spoon to drop into each cup. The original recipe calls for 1 tsp of the cream cheese mix, but I did about 2 tsp per cupcake and it worked out great. Liners will be very full.
Bake for 18-20 minutes. Use a toothpick to check the doneness. Insert the toothpick and if it comes out clean, your cupcakes are done. Allow cupcakes to cool for a couple minutes before transferring to a wire rack. Cool completely.
For the frosting
Combine unsalted butter and cream cheese in your mixing bowl. Beat on medium-high speed until well combined. Scrape down the sides of the bowl and add Biscoff spread. Beat until all ingredients are completely smooth.
Slowly add powdered sugar one cup at a time. I suggest reducing the mixing speed when you add the powdered sugar, or you will have quite a mess on your hands. Alternate adding powdered sugar with heavy whipping cream.
Once all powdered sugar has been added, increase mixing speed to medium high and add a pinch of salt. Whip until frosting is light and fluffy. Pipe on cooled cupcakes.
Visit Beyond Frosting's profile on Pinterest.
Other recipes you might like from Beyond Frosting:
White Chocolate Cookie Butter Cookie Dough Cupcakes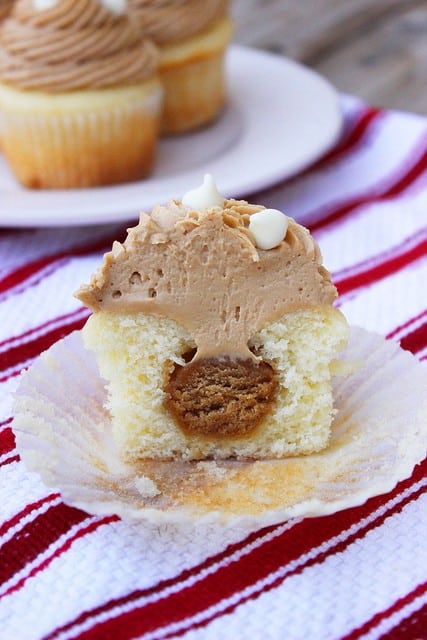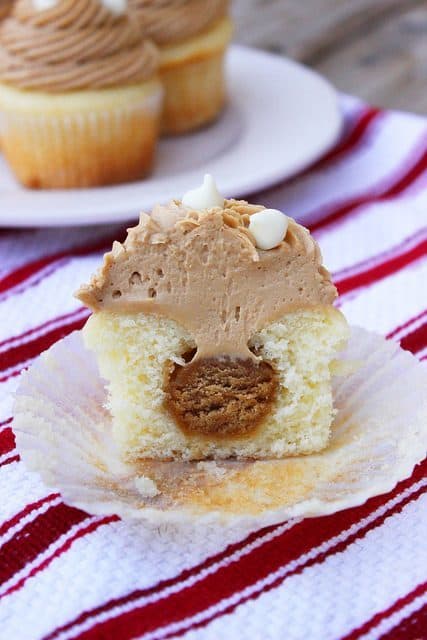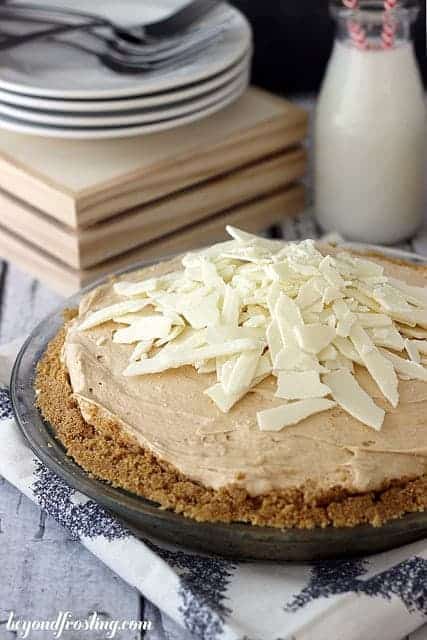 Ultimate Cookie Dough Cupcakes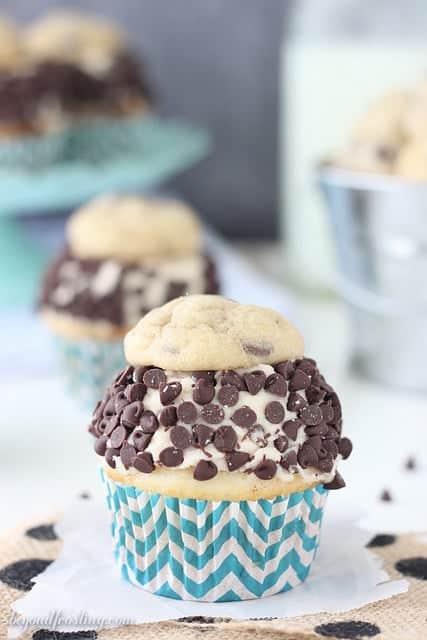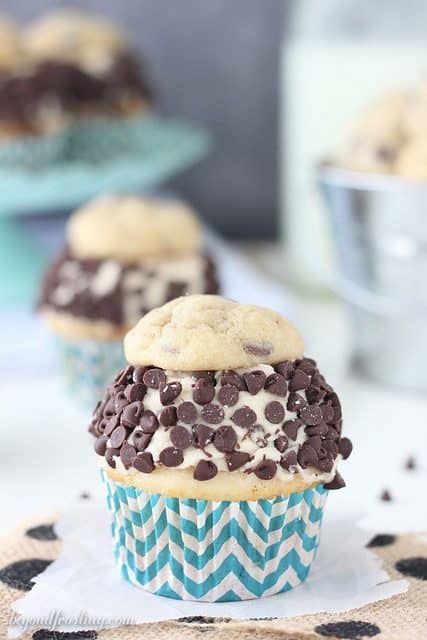 Fun recipes from my friends:
Biscoff Cheesecake Ice Cream from Something Swanky
Chocolate Chip Biscoff Cheesecake Bites from Roxana's Home Baking
Biscoff Buckeye Cake from I Am Baker