This post may contain affiliate sales links. Please see my full disclosure policy for details
You're going to hear a lot of about my crew for the weekend. So let me take a quick minute and introduce you to them. I feel entirely way too close to these women, considering all 11 of us squeezed into a GMC Acadia. Not lying. From left to right in the photo below, they are: Lindsay from Life Love and Sugar, Tanya from Lemons for Lulu, Carrie from Bakeaholic Mama, Julie from Julie's Eats and Treats, Krista from Joyful Health Eats, Angie from Big Bear's Wife, Ashley from Spoonful of Flavor, Jess (brand rep), Jen from Yummy Healthy Easy and Cathy from Noble Pig. Not pictured: Dorothy from Crazy for Crust, Shawn from I Wash you Dry, Jocelyn from Grandbaby Cakes, Hayley from The Domestic Rebel and Sarah from Canidquik. We had such a blast!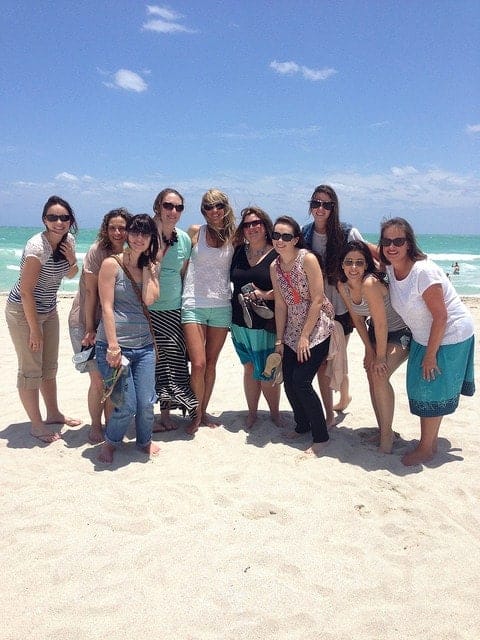 Miami was a much needed break for me. I unplugged from work for 98% of the time, kicked back, enjoyed some beverages and a lot of laughs. My trip to Miami started off with a red eye flight from LAX through Houston. I was so SUPER excited that I hardly slept. I fully understand the term "red eye" now. I was pretty much a walking zombie for 36 hours straight. Right about the time we were supposed to be landing in Miami, I noticed our plane was going back up, instead of descending. The pilot announced that we couldn't land due to thunderstorms, and we didn't have enough fuel to circle the airport. GREAT. So we had to detour to Fort Myers to get more fuel, and were grounded while the storms cleared in Miami. Although my story is relatively minor compared to the travel troubles some of my friends has to deal with, it was still kind of a rough start to the trip.
It wasn't until we landed 3 hours late that I realized Krista was on my flight. We met up in baggage claim and immediately bonded over the too-old-to-be-on-spring-break group that was sitting in the rows between us. We caught a cab to the hotel to meet up with our friends to do some shopping before the evening's event. Our afternoon was cut short with thunderstorms and tornado warnings. This was not the weather I was anticipating when I packed my bags.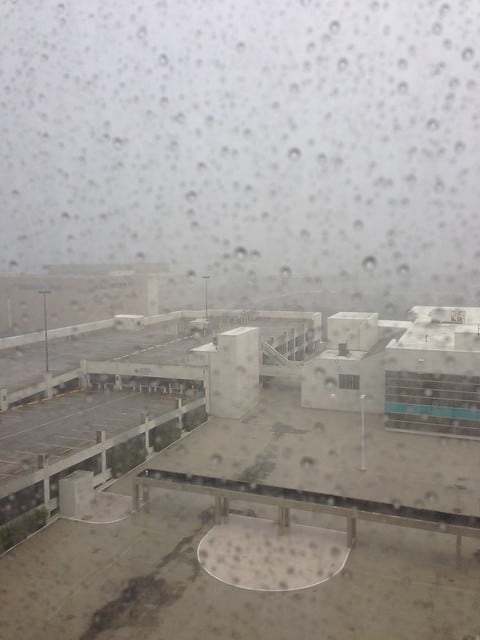 Thursday evening was packed. Our bus navigated the flooded streets of Miami to our first party hosted by Stonyfield, Applegate and Organic Valley. After having not eaten since breakfast, I pretty much devoured everything in sight to counteract my refills of champagne. We learned about organic and family farming from a panel of experts representing each brand. They served fancy cucumber cocktails and blood marys with bacon alongside dinner.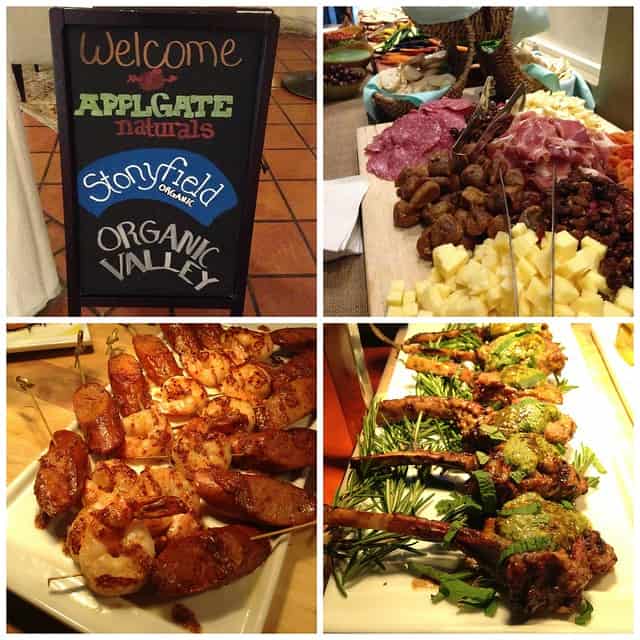 After the Stonyfield party, we headed over the CliqueMe party hosted by Jenny and Amanda. We found ourselves on the fifty-somethingth story of a high-rise apartment building overlooking all of downtown Miami. Being that Jenny and Amanda love desserts, they had the perfect after-dinner snack; an ice cream bar. Woohoo! I knew I saved room for dessert. By the end of the evening, I was wiped out and ready for bed.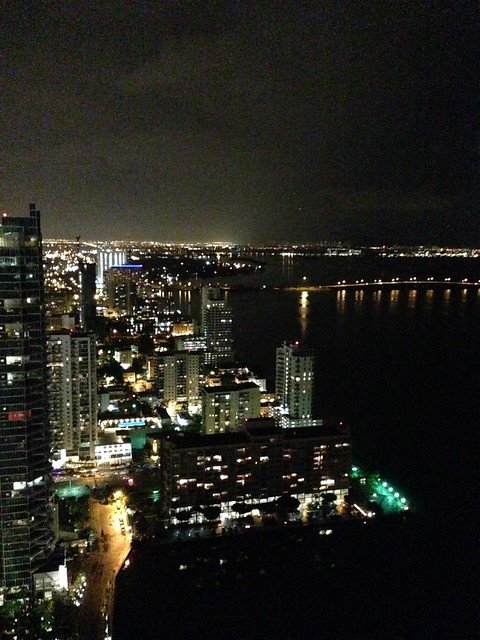 The thing about blogging conferences is that no matter how tired you are, sleep is rare. It's pretty much one giant girls' weekend that you never want to end. Friday came bright and early. I survived on refills of Bailey's Coffee Creamers. It was hard to focus because there were so many people I wanted to talk to. Truth be told, I spent very little time in the conference sessions. After having attended a few conferences now, I find myself getting choosier about which sessions I attend.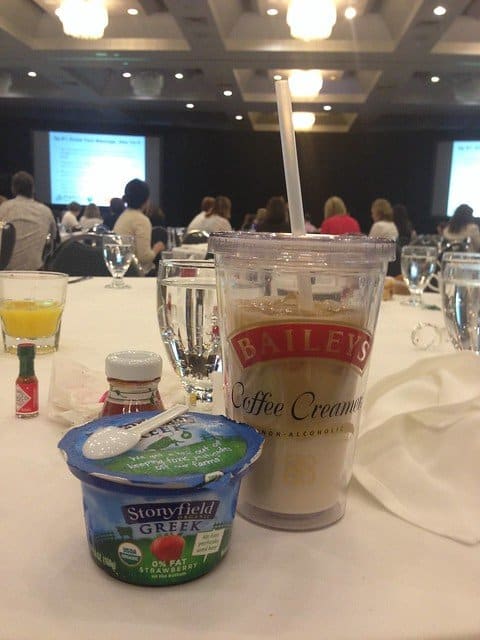 So why spend all that money to attend a conference that I am only partially attending? Well, I will tell you this is the most valuable weekend that you can imagine. More important than the parties, the food and free stuff, the best part of these conferences is getting to meet your fellow bloggers. You see, blogging is this special world where you feel like you know everything about your virtual friends, as you pretty much stalk them on their blog, Instagram, Facebook and Twitter. You share a passion for food (sweet or savory), you share a love for this little section of the internet you call you own, and a passion to succeed; whatever that means to you. So being that you only see these talented women once a year, you can imagine the laughter, stories (and even tears) that might be shared. Be sure to check out my friends: Lindsay (my roommate), Hayley, Jocelyn, Dorothy and Carrie.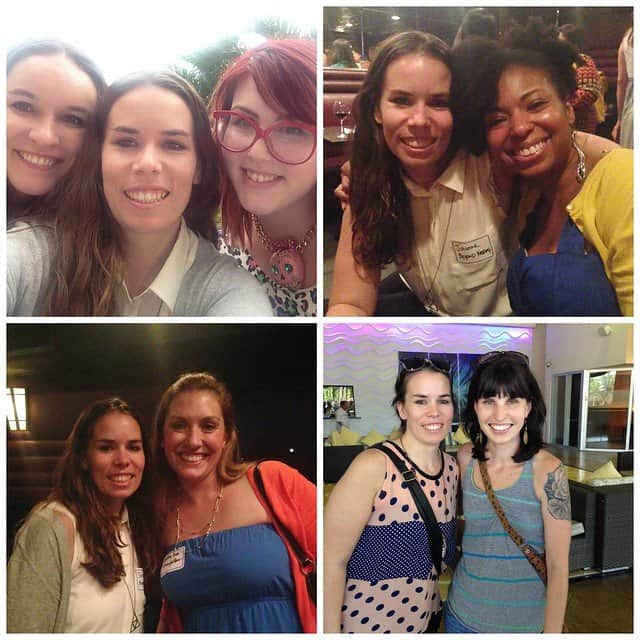 Eager to try the local food, I was super excited when Cathy invited us to go to lunch with her. I knew that Cathy knows good food. Her restaurant of choice for our Friday lunch: Swine Southern Food. HELLO! We were the first group to arrive, right when they opened, and quickly let them know we were a group of food bloggers, and lots of pictures would be taken before we ate. I immediately fell in love with the decor. Lots of wood, vintage metal accents and a southern twist.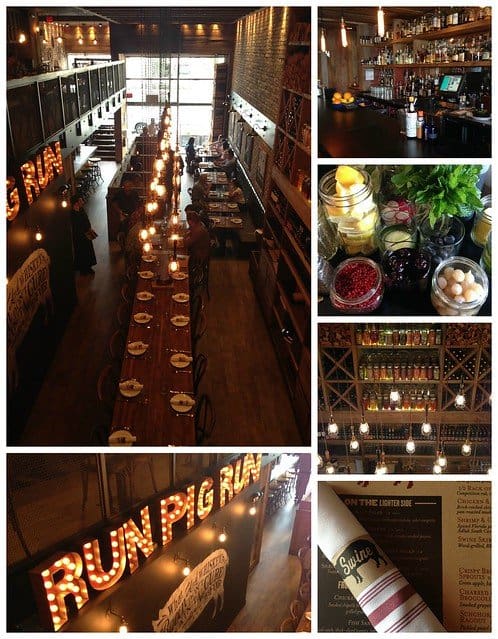 The great thing about going to eat with a group of bloggers, is that everyone wants to try everything, and everyone is willing to share. Appetizers started off with black angus burnt ends and fried green tomatoes. I was totally won over after the first course. For my lunch, I had a Swine burger, which consisted of a short rib, brisket and smoked pork blended patty with thick slabs of bacon and the best special sauce I have ever had. I was also able to nibble on the most wonderful bacon mac and cheese, and crispy pork Caesar salad. I even had my first bite of shrimp and grits.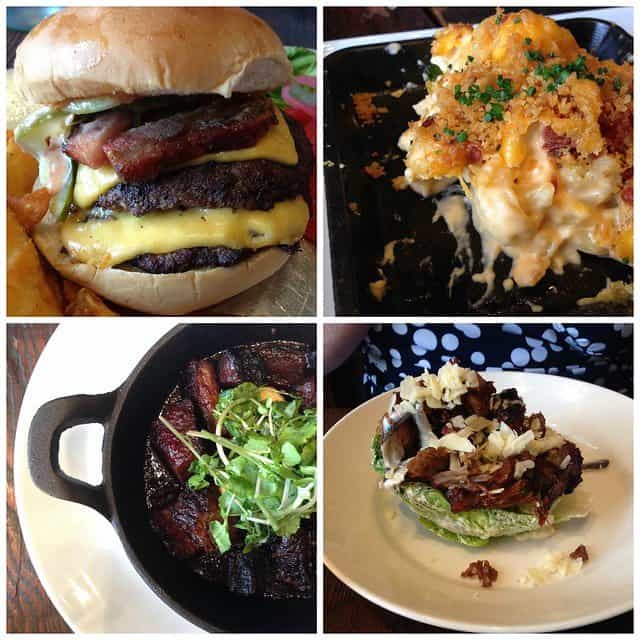 The second best thing about going to eat with food bloggers, is that no one mind thats you spend 10 minutes taking photos of your food before you eat it. Thanks to Angie, Ashley, Lindsay and Cathy for sharing your lunch with me!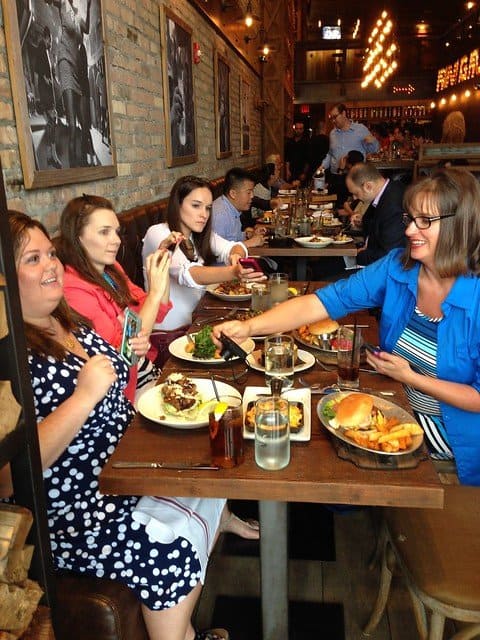 You would think after a meal like that, we wouldn't have had room for dessert. Think again! The dessert options were just too good to pass up. I knew I could count on these girls to splurge a little bit. We had homemade white chocolate Oreos with bourbon milk, a "swine shake" (which was salted caramel ice cream, milk stout and candied bacon), and a warm sticky bun with pecan cream cheese and a side of sweet potato ice cream. This was by far my favorite of the three. Seriously, amazing. I will recreate that sweet potato ice cream if it's the last thing I do!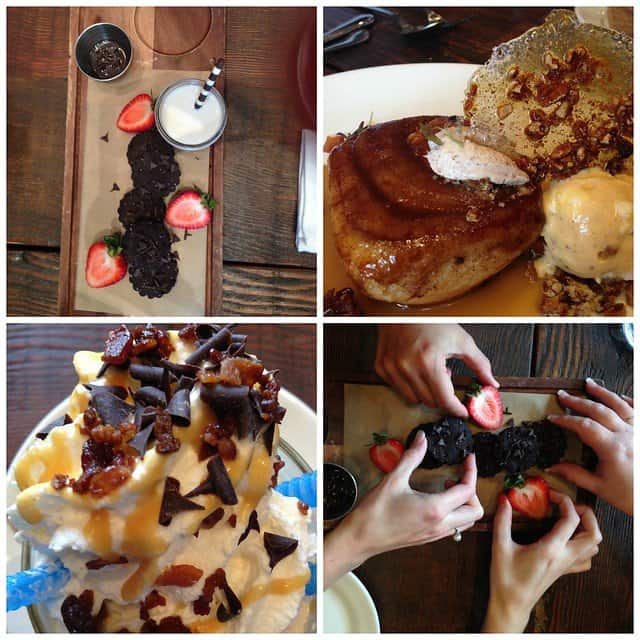 Soooooo I pretty much couldn't eat for the rest of the day. Except that we also stopped at Versailles Bakery for some cuban pastries on the way back to the hotel. We returned to the conference for an afternoon video session before the evening started. I met up with Hayley and Sarah who had ran into some trouble getting in the day before. We chatted over a round of cocktails before we headed out for the evening. Miami has the most colorful drinks.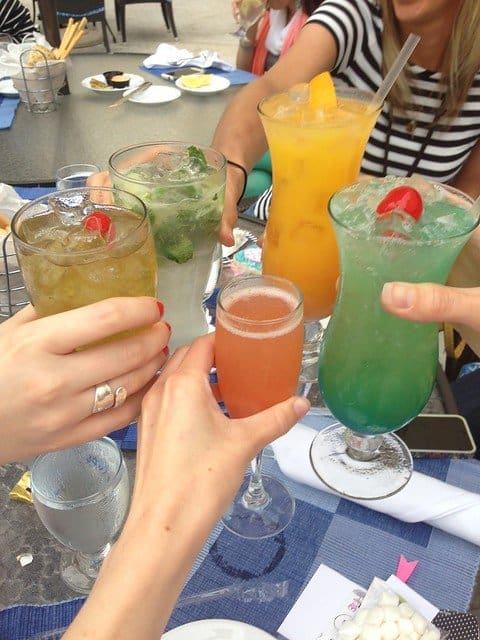 The weather had finally cleared up! A group of us headed to the CrunchPak / Duda Foods party hosted by Aimee and Julie. It was at the Epic hotel. Let me tell you, I was not cool enough to be here. Everywhere I looked were expensive cars, high heels and short dresses. The setting for the party was absolutely gorgeous. It was on one of the waterfronts surrounded by high rises and yachts that reminded me of the show Below Deck. I was tuckered out and ready for bed. Lindsay and I retreated to the hotel for the evening, which again, didn't mean sleep, but hours and hours of chatting. One of my favorite parts of the trip was hanging out with Lindsay. We only met in person in February at the Build your Blog Conference, but we were instantly friends. It's pretty much like I have known her forever.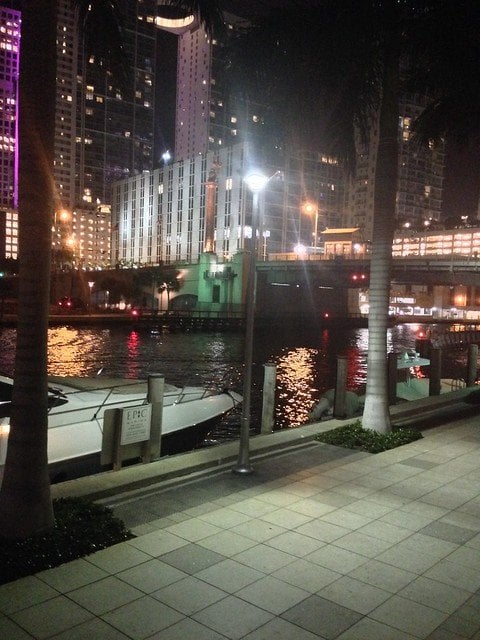 We finally woke up to sunshine and a break in humidity! I was so excited to see the sun. It meant that exploring South Beach was for sure a part of the day ahead.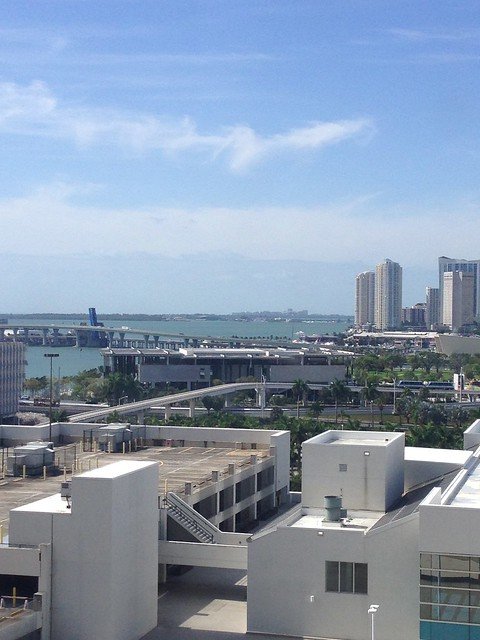 Day 2 of the conference began with a keynote about Pinterest led by Amanda, Julie and Christy. This was one of the few sessions I attended and really enjoyed. These ladies kick ass. I finally got to meet Amanda from I Am Baker. She is awesome! As I'm sure you guessed, I didn't stick around for too long. We has business to attend to. More food. I headed out with Carrie, Angie, Cathy, Ashley and Lindsay. We dined at Morgan's Restaurant in our own private room.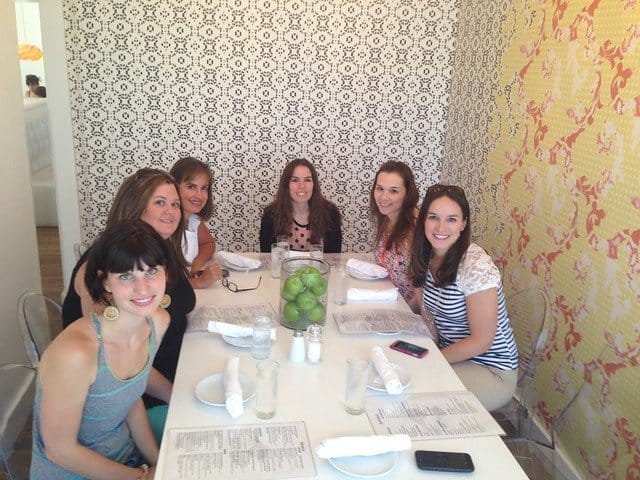 We started off with pitchers of Mimosas (naturally) and again, more food than humanly possible to consume. Amanda raved about the French Toast, so Lindsay and I split an order of Raspberry and Marscapone stuffed French Toast. It was the perfect compliment to my "Voluptuous Grilled Cheese" with a side of amazing potatoes (which I will also recreate at home). Carrie also ordered the grilled cheese. Seeing as how she is from New Hampshire and I am from Vermont, we know good cheese. This sandwich was killer. It was a blend of brie, swiss and a third cheese I can't remember. Lindsay dined on a chicken salad sandwich and Angie had a chocolate covered waffle with fresh whipped cream. If you are ever in Miami, you HAVE to go to Morgan's!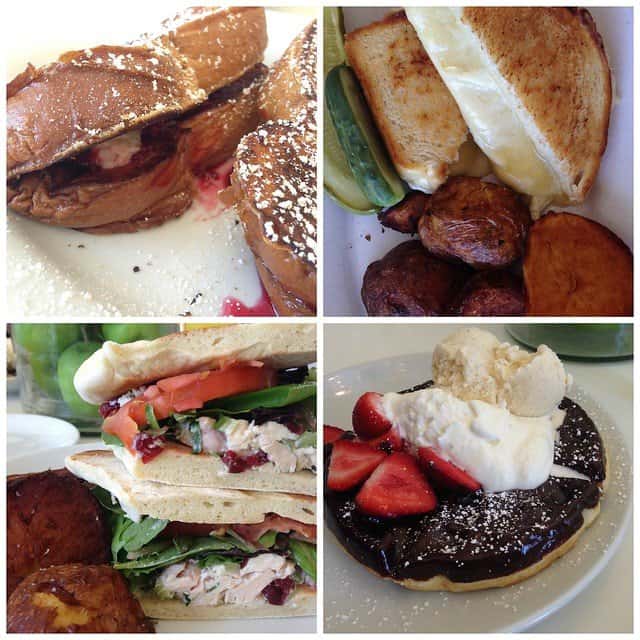 Brunch wouldn't be complete without an order of Beignets. HOLY FREAKING COW! I have never actually ordered these in a restaurant. They weren't the typical pillow beignets I was used to seeing, but dang, they were good.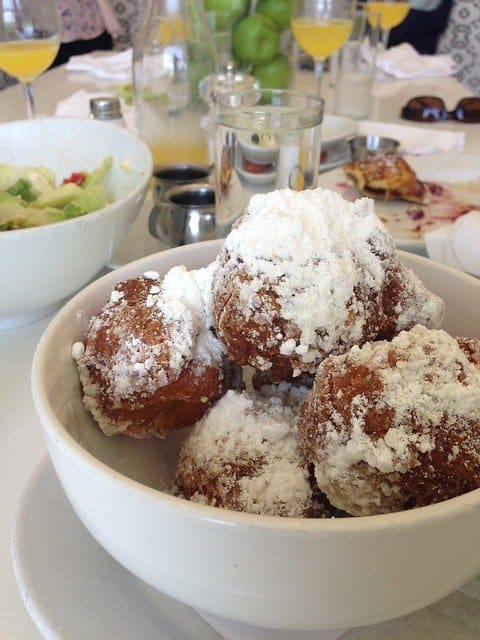 We spent a little time mingling around the conference halls making afternoon plans and chatting with sponsors. There was no shortage of food options at this conference. Each booth offered snacks throughout the day. A few of my favorites included Brownie Brittle, Babybel, American Dairy Association, Jamba Juice, Stonyfield, King's Hawaiian, Kerry Gold and Bailey's Coffee Creamers. An important part of this conference is connecting with the supporting brands. They make this conference possible!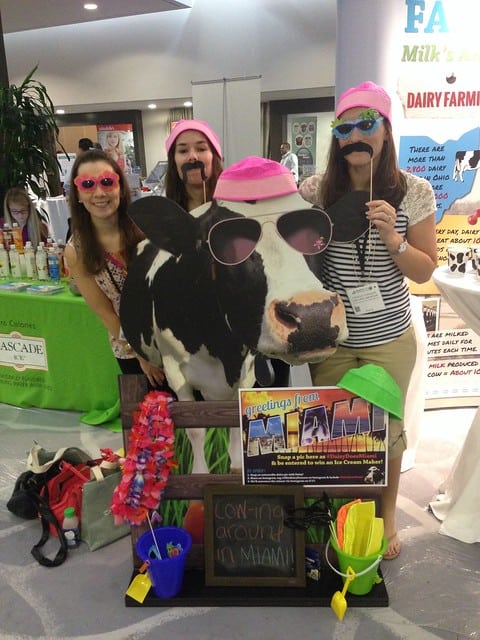 It was about time we start heading toward the beach! All eleven of us pictured above packed into Lindsay's car (exceeding maximum safe occupancy) and headed to South Beach. We needed to put our toes in the sand. The wind was howling, which was pretty much causing the waves to blow sideways. The water was unbelievable crystal green. It was gorgeous!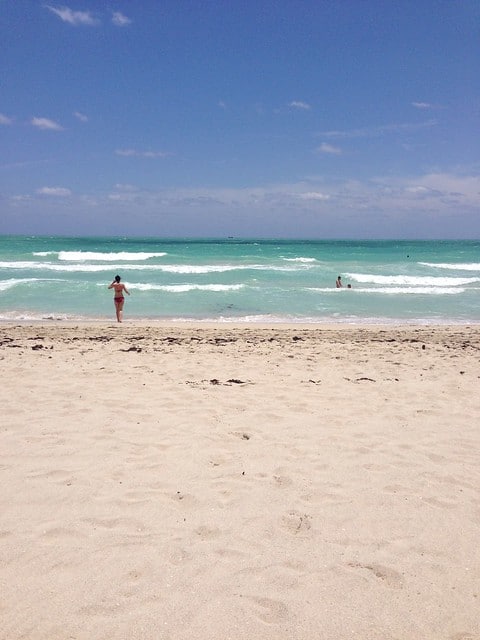 The second part of our mission to South Beach was to find some Key Lime Pie. We had heard about this place called Joe's Stone Crab. Stone Crab is only harvested for a few months out of the year (October through May), Their claws have black tips! I couldn't stomach a whole plate of crab, but Cathy was kind enough to share one of her claws with me and it was amazing! Joe's has a formal, sit down restaurant and a grab-and-go market. We stopped at the grab and go for a slice of their Key Lime Pie. I have never had Key Lime Pie, but boy it was good! It was similar to a creamy cheesecake infused with lime. It was worth a trip! We were soon joined by Jocelyn and Dorothy who also sought out a slice of pie!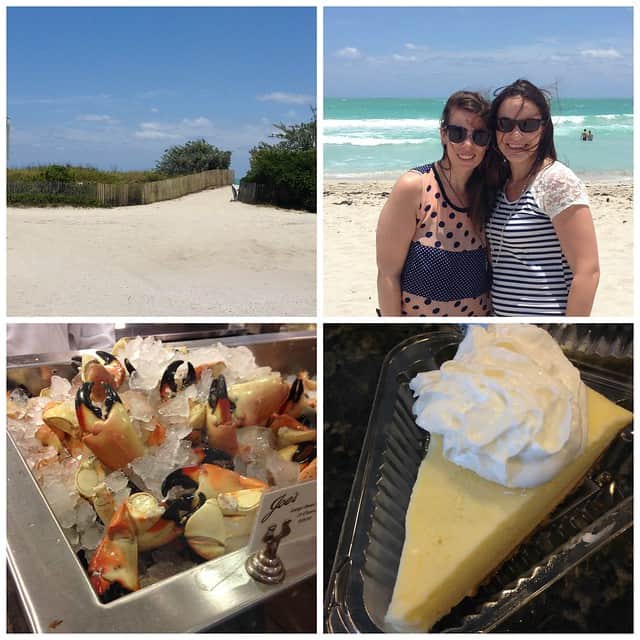 We left Joe's and headed back to the hotel for some much needed down time. I hung out by the pool with Tanya and Cathy. We were waiting to attend the final session to hear our friend Jocelyn(2) speak in the closing keynote about working with brands. She did a great job. After the closing session, it was time to get ready for the closing party. I had high hopes for the party, but it didn't really live up to hype. Which was fine, because we decided to head off for a final feast in Miami.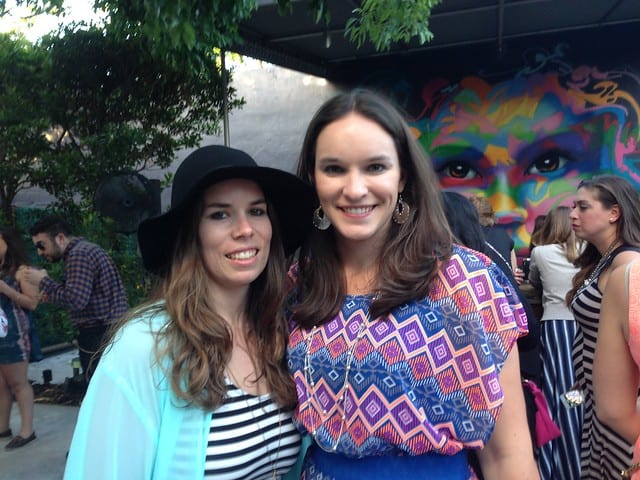 Of course, I didn't leave before sipping down on a margarita!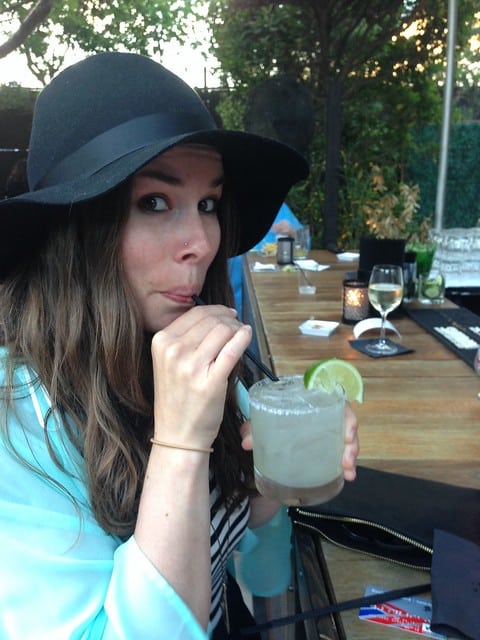 About thirty of us decided to head to a restaurant down the street from out hotel called City Hall. Lindsay and I couldn't decide what to eat, so we got a few things. Maple Bacon Mac and Cheese (I died, so good), Truffle Fries and Bourbon spiked mashed sweet potatoes. The final meal was a great success.
There is seriously nothing better than sitting around a table of bloggers. Have I said that yet? I learned so much during my time in Miami. Despite the fact that the conference agenda was a bit of a let down, I learned more from these ladies in a couple of short days than I could sitting in a classroom. Attending these conferences is about so much more than simply attending the classes. Last year in Austin, I learned a TON of valuable information. I had only been blogging for 6 months and I attended every class I could. This year was different for me. It was valuable in so many other ways. Thanks to the wonderful and talented ladies for sharing laughs, conversations and a few cocktails.