This post may contain affiliate sales links. Please see my full disclosure policy for details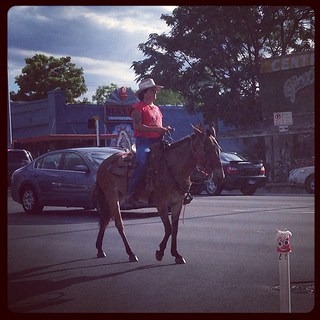 I've been reflecting on my trip for the past few days, trying to figure out how to sum it up. I don't even know where to start, so I am just going throw it all at you at one time, ok?
I met so many fantastic bloggers, ate some amazing food and learned so much from my fellow food blogging community. I attended sessions ranging from social media to food photography and partnering with brands, and left with a better grasp of the food blogging world and knowledge that will hopefully make my blog better!
I found it effective to decide what I wanted to get out of the conference ahead of time – that helped me narrow my focus on which sessions to attend. The great thing was that I could change my mind at the last minute, which definitely happened more than one time.
Of course the conference was filled with awesome sponsors like Stonyfields Organic, Hamilton Beach, Dole, Bailey's, Kitchen Aid, Ninja, Udis Gluten-free and Brew Over Ice by Keurig, just to name a few. They kept our stomachs full of snacks all day long (including cotton candy)! I loved the Wisconsin cheese booth. Of course, there were desserts; lots of desserts. I didn't snap a photo, but Recipe Girl's Bailey's Vanilla Brown Sugar Bars are too die for. I am totally obsessed and I ate at least three a day (don't tell anyone). Also, the Dole Chocolate Covered Bananas, I would have packed a suitcase full of them if I could.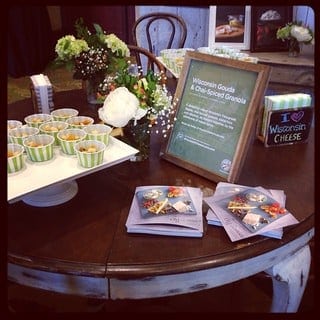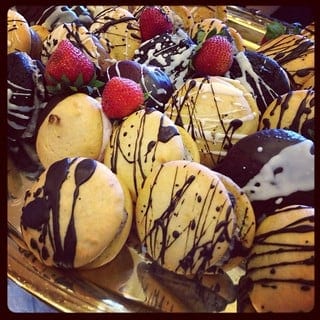 The first day I followed the social media track. My favorite session was lead by Lori from Recipe Girl and Kristen from Dine and Dish. I learned more about building a community through Facebook, Twitter and Google Plus. In a another session, Irvin from Eat the Love talked to us about owning our authority and establishing yourself as leader in your community. Be true to yourself, everyone has something different to offer.
The second day, I started out the morning at the local farmers market where I had the best breakfast taco and blueberry scone ever. The scone was the size of both of my hands put together. Thanks to Stefani from The Cupcake Project and Cheryl from Tidy Mom for tagging along! It was great to meet you both!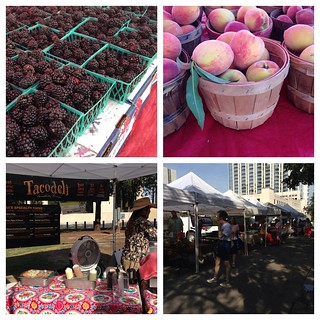 That day, I learned more about food photography and editing. I still am very much learning my way around the camera and re-learning how to use Photoshop…I guess I should have paid more attention in college. The photography sessions were so helpful, especially the live demonstration!
The final session I attended was the brand and blogger relations. This session proved to be an the most valuable experience. Each panelist had some unique perspective to offer. Leading the perspective from the bloggers side was Julie from The Little Kitchen. I adore Julie's blog and I am so glad to have met her in person! I learned a lot about interacting with brands and tips on how to communicate with them. Ultimately, with most thing, it's about finding what works for you. There is no "secret" method. The final note I took in that session was " Take Action". Sure, you can wait for something to magically happen to yourself, but why not put yourself in the drivers seat and follow your own path.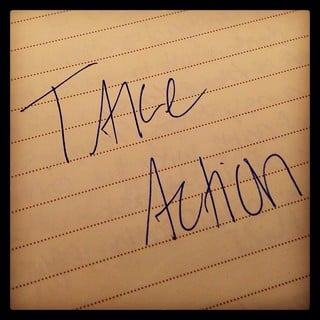 A large part of the trip involved exploring the city of Austin! I feel like I needed a whole month to eat my way through the city. Instead, I tried to pack as much food into 3 days as possible, which left me so full, I barley ate the next two days.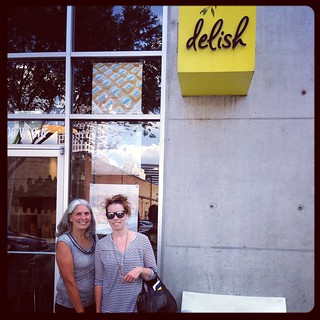 I invited my mom to come on this trip to pal around the city with me and thank god I did. She is a great travel buddy because she is down for anything. This is a Raspberry Champagne Cupcake from the Delish Bakery. It was SO good.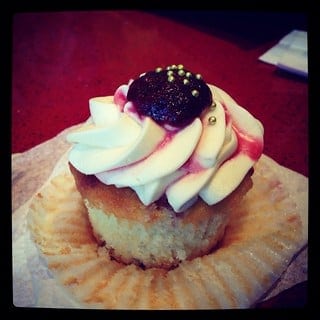 We cabbed it all around the city, because it was too dang hot to walk very far! South Congress was probably my favorite area – I wish I had more time there. There were tons of places to eat, lots of vintage and antique stores. I found this adorable kitchen store called Serve. They had a bunch of cute stuff and I definitely picked up a few things for myself.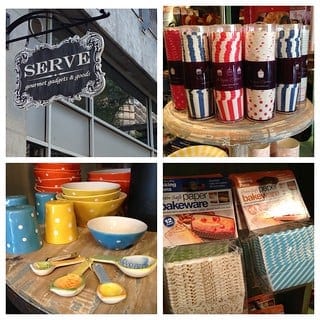 As you probably have heard, Austin rocks the food truck scene. However, in Austin, they are called trailors. All over the city were parking lots with food trailers. Oh my gosh, where do I start? Doughnuts, crepes, ice cream, tacos, cupcakes, chicken and more. I can't even pick a favorite. I will let the photos tell the story.
Amy's Ice Cream has over 300 flavors, which they change out daily. I was shocked and amazed. Amy's also has a location in the Austin airport, but I was way to full to get a scoop on my way home. Its worth a visit for sure! I got "The Dude".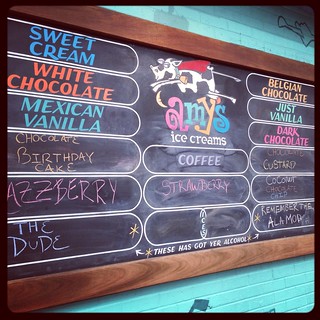 Hey Cupcake is located on South Congress. Their set-up was so adorable.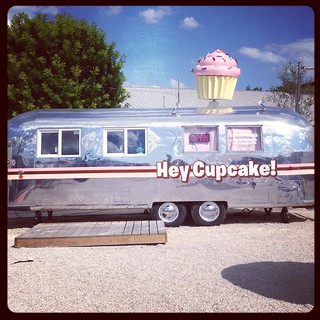 Oh my gosh, the crepes! Normally I would go for Nutella and banana, but I switched it up and got French Toast! There was a fried egg in the middle- I need to work on my crepe game at home.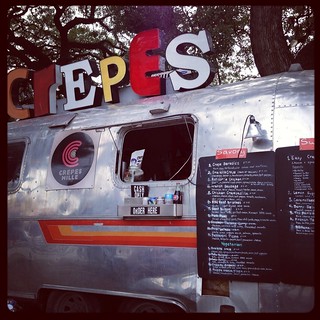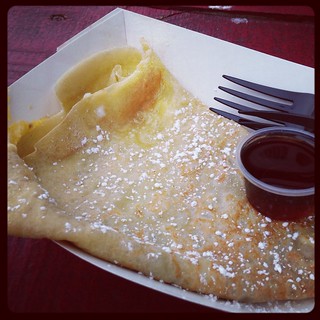 By now, I am sure you have seen or heard about Gourdoughs on Twitter, Instagram or on someone else's blog you follow. The place is straight up amazing, baked fresh doughnuts with the most unique flavors. I would go back to Austin just to eat more doughnuts. I enlarged the menu so you could take a peek.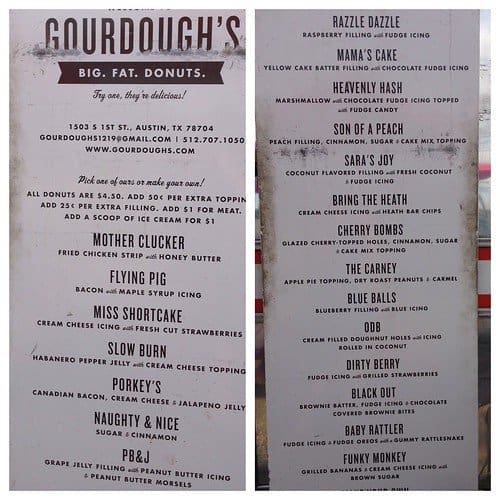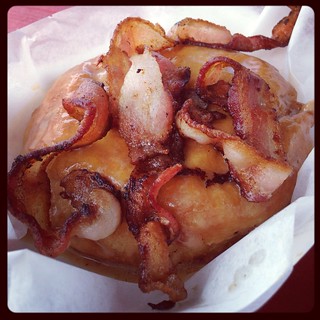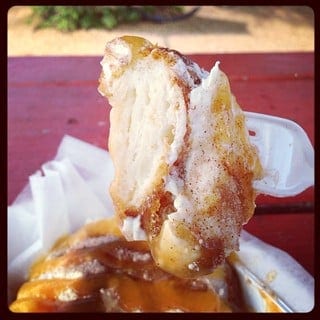 I attended a party at the Whole Foods Flagship location. The flagship location is so beautiful, you could get just about any type of cuisine you wanted. And their dessert section..OMG! . I wanted to spend the whole day in the beer room (because it was so HOT), which was this big refrigerated room in the middle of the store.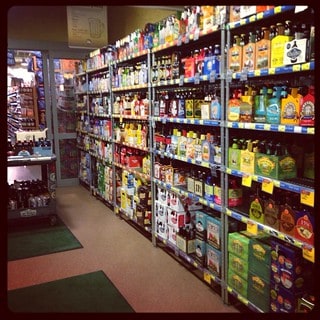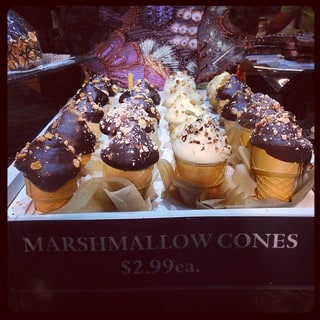 Hayley and Sarah took me to Torchy's tacos, which is a taco lover's dream. I actually went back a second time with my mom. The fried avocado was so insane. They even had deep fried cookie dough- yes, you heard me. DEEP FRIED COOKIE DOUGH. Note to self- purchase a deep fryer immediately.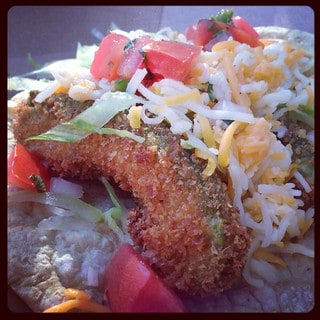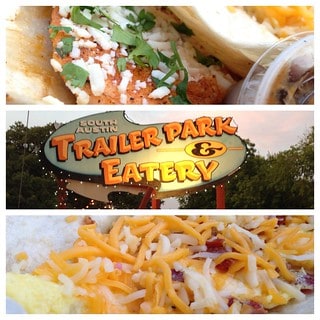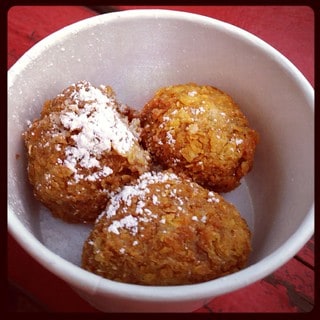 I also attend a PJ party at the hotel hosted by Pic Monkey and Ashton from Something Swanky. They sure know how to party! Not only did they have loads of Groudoughs donuts, but they had several candy bar stations and cupcakes from Hey Cupcake. Thanks for the sugar rush guys!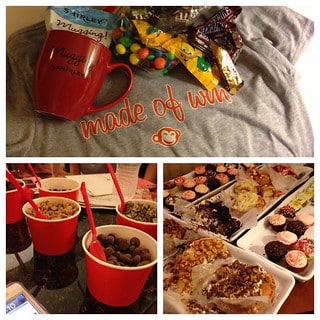 The closing party was held at Stubb's BBQ. I saved my Texas BBQ experience for the closing party and it was so worth it. Of coarse I "fanned" out when I met some of my blogging idols including Ree! I also got to meet Glory from Glorious Treats. She was so sweet and very funny!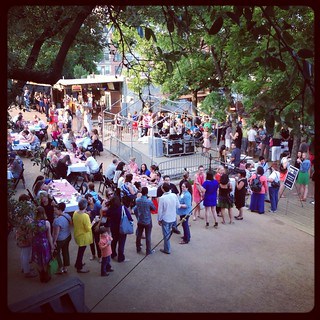 Prepare for MAJOR DORK face in this photo. Sorry Ree! Can you tell I was excited?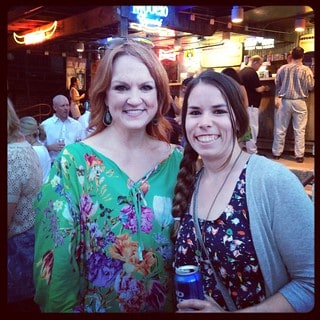 So all in all, if you have the opportunity I would highly recommend attending a conference, big or small. I have a feeling that smaller conferences might be a little easier to conquer. This was my very first one and I was a super nervous nelly. I hope I wasn't too much of a freak. The most important thing is not to be afraid to put yourself out there, you have to break out of your comfort zone and make new friends! Thanks to all the wonderful women I met and spent even 5 minutes talking to me! Can't wait for next year!