This post may contain affiliate sales links. Please see my full disclosure policy for details
Let me start by saying sorry, I am not sorry for posting this over the top chocolate, maple and bacon goodness- as this is simply the best combination there is. Did I mention there was bourbon too?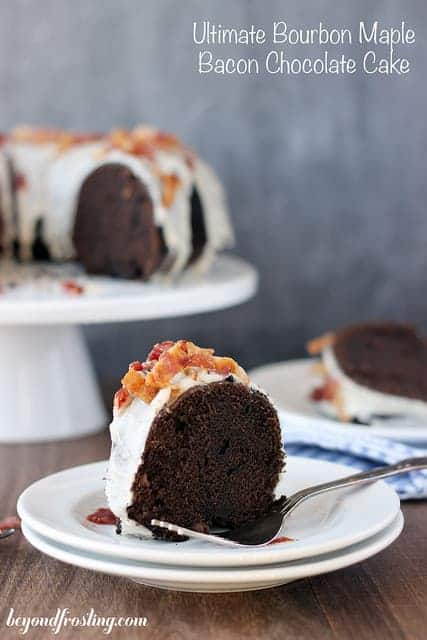 This Ultimate Bourbon Maple Bacon Chocolate Cake combines the sweetness of a maple glaze with the salty bacon topping. The dense chocolate cake is infused with a noticeable amount of bourbon. This is not your average spiked cake. The bourbon flavor is pretty strong in this recipe, but in my opinion, that is what makes it worth it!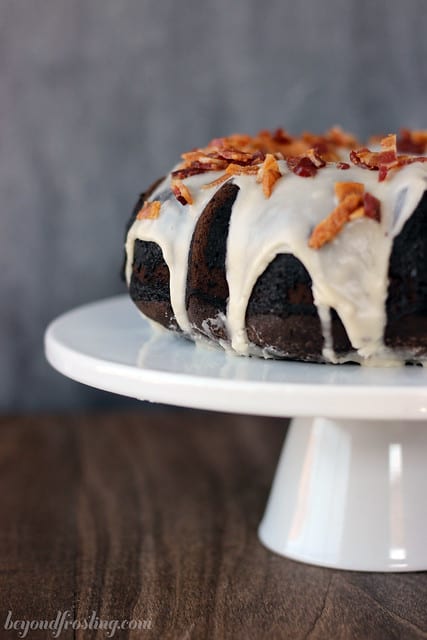 I've been dreaming of the right way to combine a few of my favorite flavors. Whenever maple and bacon are used in a dessert, it's always a win. This cake has a thick brown butter maple glaze and there is more than enough to go around!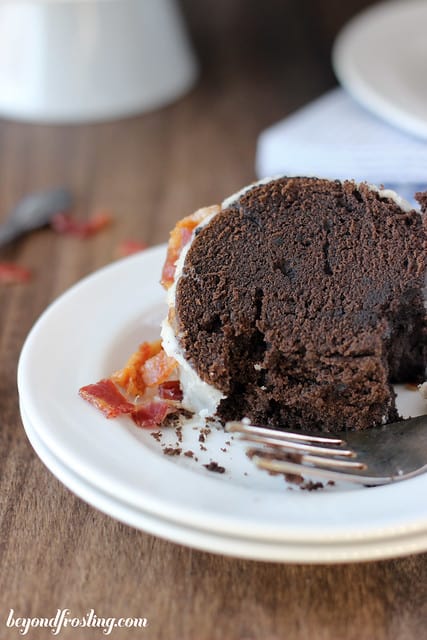 The chocolate cake was adapted from my Cabernet Raspberry Chocolate Cake, which originated as a Better Homes and Gardens recipe. I replaced the red wine with bourbon. The cake itself is a bit more dense than your average cake and it's quite rich. This is because I used a dark chocolate cocoa powder. I prefer the slightly more bitter taste of dark chocolate and I think it compliments the bourbon nicely. I love that the rich cake is offset with the sweet glaze.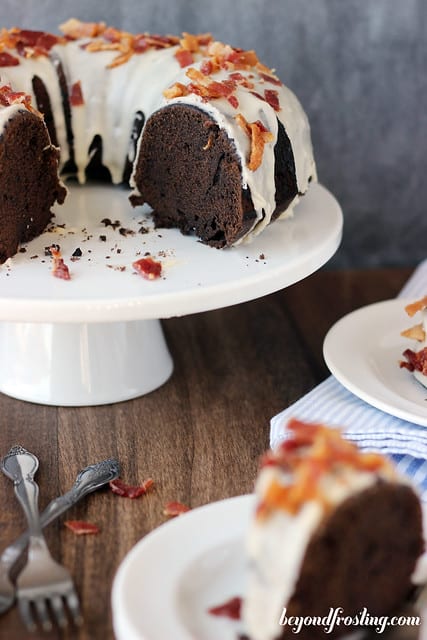 For the bacon, you just need to prepare it ahead of time and allow it to cool. I prefer to cook my bacon in the oven. It is far less messy than cooking it on the stove top. I like to use a thick cut maple bacon, because you know, maple makes everything better. Cut the bacon into small pieces and sprinkle it over the glaze. Then eat the leftover bacon. #justsaying.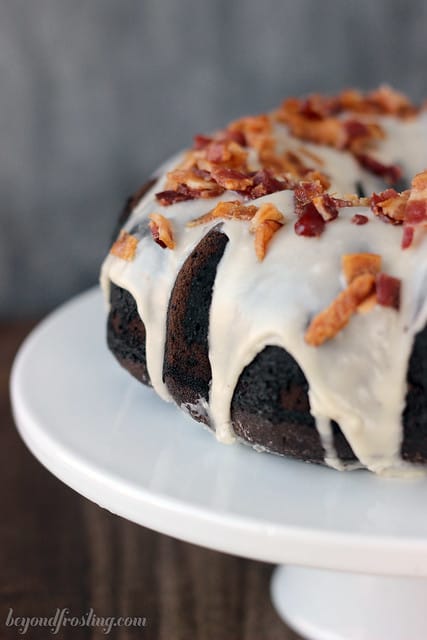 I know it's really hard to stay on a diet with a cake like this floating around, but this cake is for a special occasion. Perhaps the Superbowl maybe? I don't follow football, but I would say that if I had to sit through a football game, this cake would definitely make it better. Don't you agree?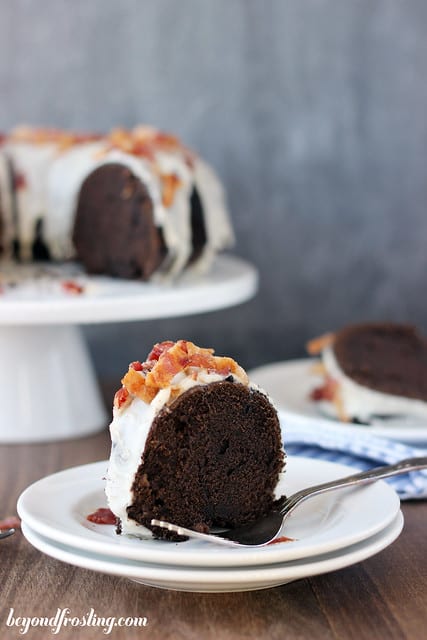 Print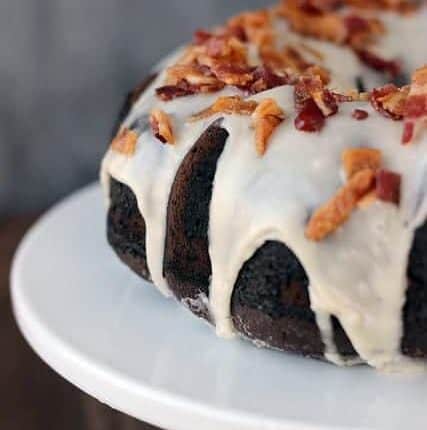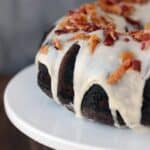 Ultimate Bourbon Maple Bacon Chocolate Cake
Author:

Prep Time:

45 mins

Cook Time:

45 mins

Total Time:

1 hour 30 minutes
Ingredients
1

–

1 ½

C Bacon, cooked and chopped

2½

C Flour, sifted

¾

C Dark chocolate cocoa powdered, sifted

1 tsp

Baking powder

¼ tsp

Salt

¾

C Unsalted butter, melted

¼

C Vegetable oil

2

C Sugar

5

Large eggs

2 tbsp

Vanilla extract

¼

C Light sour cream

1

C Bourbon
For the glaze:

1½

C Powdered sugar, sifted

½

C Unsalted butter (

1

stick), browned

2 tbsp

Pure maple syrup

2 tbsp

Milk
Instructions
Cook bacon according to package instructions. Allow to cool and chop cooked bacon into small pieces.
Preheat oven to 350° F. Grease a bundt cake pan and coat with cocoa powder instead of flour.
In a medium sized bowl, sift flour and cocoa powder. I usually sift my cocoa powder with a sieve instead of my actual sifter. Add baking powder and salt and set aside.
In a microwave safe bowl, melt butter. Combine melted butter in mixing bowl with oil and sugar. Beat on medium speed for 3 minutes until light and fluffy.
Add eggs, one at a time, ensure that each egg is well beaten before adding the next one. After all eggs have been added, add the vanilla extract and sour cream.
Alternate adding the flour mixture and the bourbon. First, pour in half of the dry ingredients and beat for 30 seconds before adding half of the bourbon. Repeat with remaining flour mixture and remaining bourbon.
Pour batter in the greased coated bundt cake pan. Bake at 350°F for 45-50 minutes. Check for doneness by inserting a toothpick into the center of the cake. If the toothpick comes out clean, your cake is done.
Transfer to a wire rack to cool for 30 minutes. After 30 minutes, place the wire rack on top of the bundt pan and flip it over. Gently tapping the sides to release the cake. You may want to put a piece of parchment paper or a plate over the cake before you flip it so you can easily move it off the wire rack without sticking. If the cake does not release, take a butter knife and gently insert along the edge of the pan to help release.
For the glaze:
Sift powered sugar. The step is necessary to create a smooth glaze.
Melt butter in a saucepan. Once melted, continue to stir until butter turns a golden brown.
Pour melted butter over powdered sugar. Add maple syrup and milk. Whisk until smooth.
For a thicker glaze, add only 1 tablespoon of milk instead of two. Or add additional powered sugar. To make glaze thinner, add additional milk.
This next step is optional and a little tricky. I like my glaze to drip off the sides of the cake and not pool up in the middle. However, it becomes difficult to move the cake once glazed. I happen to own a cake lift, but I suggest using two large knife to move the cake after glaze.
Gently remove/side cake from plate and onto wire rack. Place a sheet of wax paper below wire rack (for easy clean up).
Gently pour glaze over cake. Sprinkle with bacon pieces.
Recipes from my friends:
Maple Bacon Crunch Ice Cream by Crazy for Crust
Chocolate Bacon Poke Cake by Wine and Glue
Bacon Bark by Farmhouse 38
Bacon Fat Chocolate Chip Cookies by Something Swanky
Bacon Beer Potato Chip Cookie Bars by Life Love and Sugar
Other recipes from Beyond Frosting you might like:
Loaded Maple Bacon Donut Fries