This post may contain affiliate sales links. Please see my full disclosure policy for details
You know what's great about s'mores? There are so many ways to enjoy them! There are three key ingredients: something crunchy and sweet, marshmallows of some sort and chocolate or caramel (or both). This my friends, is the makings of a good s'more.
This post is sponsored by Brownie Brittle. However, all opinions are my own.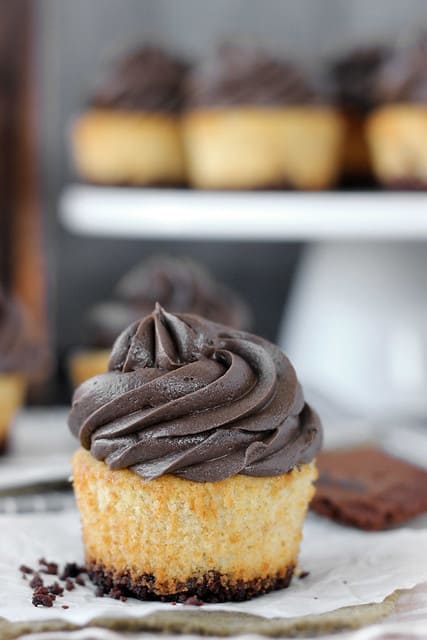 So naturally, when it came time for a Brownie Brittle S'mores Cupcake, I had to turn the classic s'more upside down. You've got a Brownie Brittle™ crust, a graham cracker cupcake and chocolate marshmallow frosting. These three things combined makes for one amazing cupcake.
Let's start with the Brownie Brittle™ crust. Choose a flavor; I used chocolate but Salted Caramel would be a great option too! You need to use a food processor to break it into a fine crumb and then melt some butter over it. The crumbs need to be well coated in butter so that they will hold together during baking.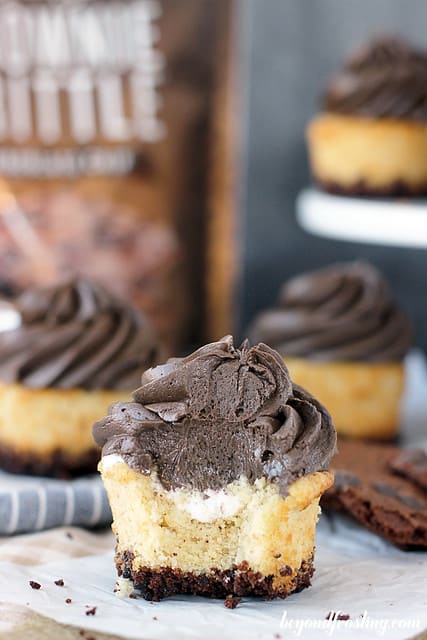 That brings me to another important factor. When you are dividing the Brownie Brittle™ between the cupcake liners, you will need to be sure to use something to press them into the bottom. If they are not well compressed, they will not hold together as well.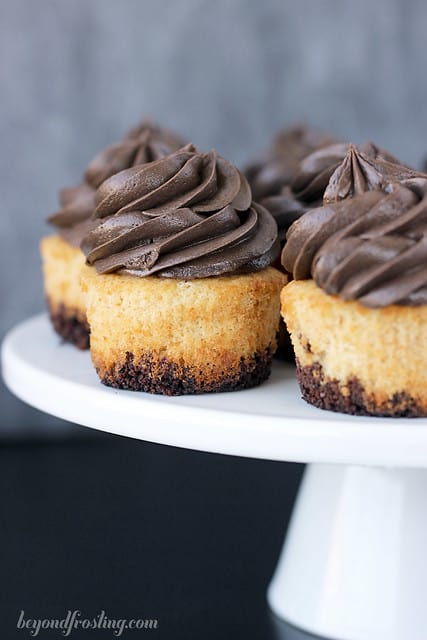 The cupcake recipe is adapted from the new Better Homes and Gardens New Cook Book, Sixteenth Edition. I adapted a recipe for a yellow cake. I cut down the amount of flour and replaced it with graham cracker crumbs. I also added some sour cream for moisture. Since I added the sour cream, I reduced the amount of milk as well. The key to this recipe is to ensure the sour cream is well mixed into the batter.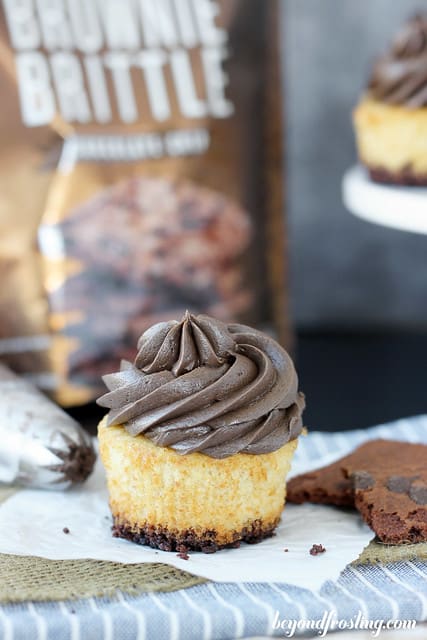 For the frosting, I have double-mallowed you. There is a marshmallow filling inside the cupcake, but then the frosting is a chocolate marshmallow frosting! That's right, chocolate marshmallow frosting.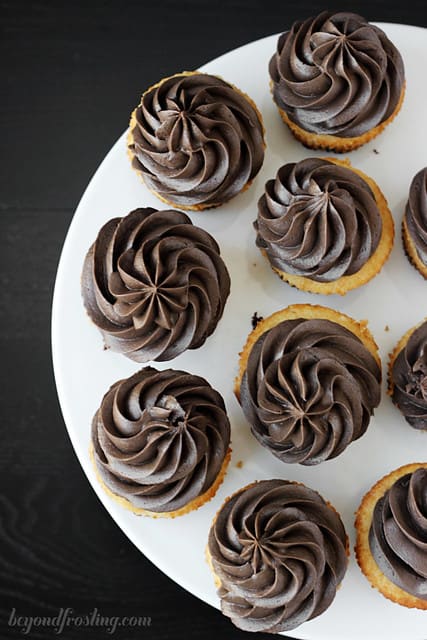 The frosting starts with butter, and once the butter is whipped, you add marshmallow fluff. Next comes the cocoa powder followed by lots of powdered sugar and a little bit of milk. I really like to WHIP my frosting to death, because if I am going to pile up my frosting, I like it to be lighter. Why chocolate? Because chocolate is just better.
If you are looking to up your S'mores game, this is a good place to start!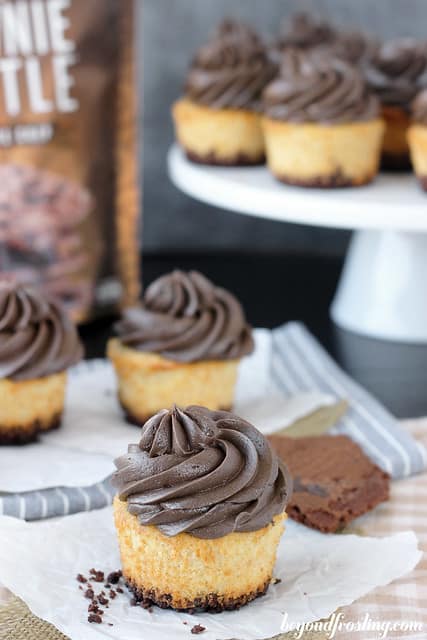 Print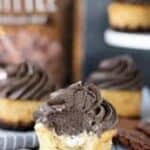 Brownie Brittle S'mores Cupcakes with Chocolate Marshmallow Frosting
Prep Time:

45 minutes

Total Time:

45 minutes

Yield:

24 Cupcakes
Description
These graham cracker cupcakes have a Brownie Brittle™ crust, and chocolate marshmallow frosting
Ingredients
2

Bag of Brownie Brittle™ (

4 oz

bags)

6 tbsp

Unsalted butter

3/4

C Butter at room temperature

3

Large eggs at room temperature

1 3/4

C Sugar

1 1/2 tsp

Vanilla

1 1/2

C Flour

1

C Graham cracker crumbs

2 1/2 tsp

Baking powder

1/2 tsp

Salt

3

/ C Milk

1/2

C Sour Cream
For the frosting
1 1/2

C Unsalted butter

1

C Marshmallow fluff

1/2

C Cocoa powder

5 1/2

C Powdered sugar

2 tbsp

Milk or heavy cream
Instructions
Allow butter and eggs to come to room temperature, about 30 minutes.
Preheat oven to 375° F.
Use a food processor to grind up Brownie Brittle™ into a fine crumb. Pour in a microwave safe container. Place butter on top and microwave until butter is melted, 30-45 seconds. Stir melted butter to coat crumbs. If crumbs are still dry, add another 2 tablespoons of butter.
Beat room temperature butter on medium speed until light and fluffy. Scrape down the sides of the bowl. Add sugar and beat until well creamed.
Add eggs, one at a time, beating each egg well. Add vanilla extract.
In a separate bowl, combine flour, graham cracker crumbs baking powder and salt.
Slowly add half the dry ingredients, followed by half the milk and half the sour cream. Once ingredients are mixed, add remaining dry ingredients followed by remaining milk and sour cream. Beat on medium speed until well combined.
Spoon about one tablespoon of Brownie Brittle™ into each cupcake liner; press into the bottom of the liner. Fill liners 2/3 full with cupcake batter.
Bake at 375°F for 18-22 minutes. Remove from oven and allow to cool completely.
For the frosting
Allow butter to come to room temperature for about 20-30 minutes, or microwave for 15 seconds straight from the refrigerator. In your mixing bowl, whip butter on medium high speed until light and fluffy.
Add marshmallow fluff and beat to combine.
Sift cocoa powder if necessary. Turn down the speed to low and add cocoa powder, beating until well mixed.
Add powdered sugar, two cups at a time. Start on a low speed until powder sugar is incorporated and increase speed as necessary. Add milk when the frosting starts to get clumped together.
Once all the powdered sugar is mixed in, increase speed to medium high and beat for at least 60 seconds.
Before frosting cupcake, cut a divot in the top of the cupcake and use a knife and spoon to put a dollop of marshmallow filling in the middle of the cupcake. Cover the top with chocolate marshmallow frosting.
Notes
Allow butter and eggs to come to room temperature.