This post may contain affiliate sales links. Please see my full disclosure policy for details
I am excited to share these Brownie Brittle™ Toffee Crunch Cookie Cups with you today. It's a Brownie Brittle™ crust, with a toffee pudding cookie and chocolate brownie frosting.
This post is sponsored by Brownie Brittle™ but all thoughts and opinions are my own.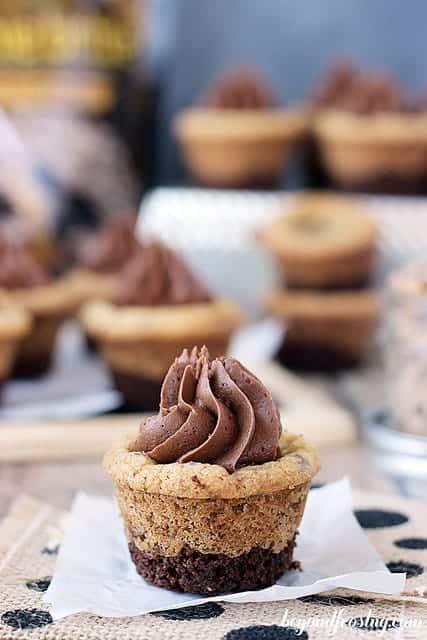 Cupcakes are awesome, but there is something special about a warm cookie fresh from the oven. Lately, I have been making tons and tons of cookie cups. I love cookie cups because they look like mini cupcakes. The cookies are baked in a mini muffin pan and then topped with frosting. Frosting and cookies? Yes please! I have a few more cookie cups coming up later this fall!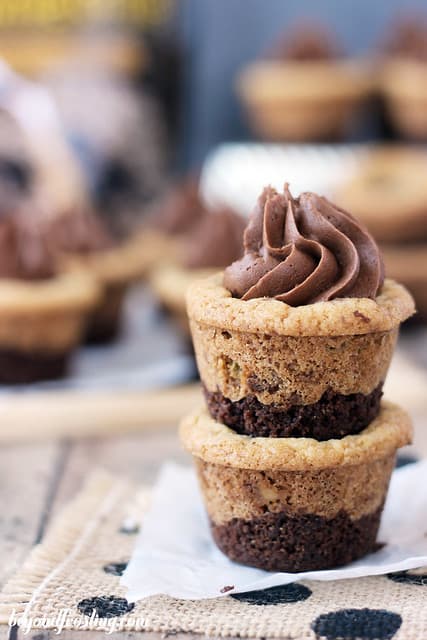 These Brownie Brittle™ Toffee Crunch Cookie Cups are a little extra special. They have a "crust" made out of toffee flavored Brownie Brittle™! I can't get enough Brownie Brittle™ and I love finding ways to use it in my baked goods! Have you seen my Brownie Brittle Strawberry Lasagna or my Brownie Brittle Grasshopper Pie?
The cookie portion of this is a vanilla pudding toffee cookie. Adding a pudding mix to the cookie dough helps keep them really soft and chewy. I prefer to bake my pudding cookies in a mini muffin pan because I find they spread more than normal cookies. So by baking these in the muffin pan, it helps keep them contained.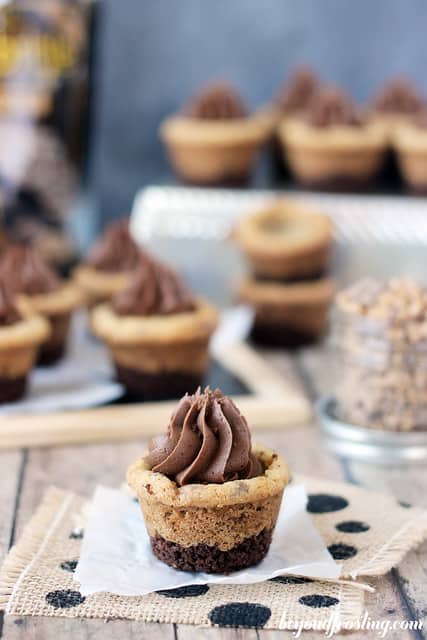 To top these babies off, I made a chocolate brownie frosting. The frosting uses your standard ingredients like butter and powdered sugar, but then I added cocoa powder and DRY brownie mix to the frosting. I use brownie mix to flavor so many things, that I usually have an open box on hand. I am also really tempted to try Dorothy's homemade Brownie mix for times when I run out of boxed brownie mix.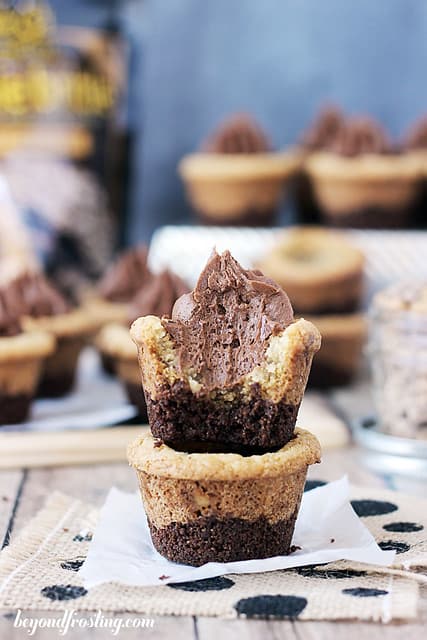 I used my favorite Calphalon Mini Muffin Pan for this recipe. It is a little deeper than your average mini muffin pan. I also love it because the sides are more straight than mini muffin pan, so it holds more and allows the bottom of the dessert to be more flat. This is what helps me produce a nice deep dish cookie cup. If you are using a standard size mini muffin pan, I would reduce the amount of "crust" that you add to the bottom of the pan and try reducing the amount of dough. I always like to do a test batch with a couple of cookies before I bake the whole batch.
Every bite of these cookies surprises you with something different. Whether it's the crisp Brownie Brittle™ crust, the crunchy toffee bits in the cookie or the smooth chocolate frosting. The best part is, you can change of the flavor with all the different Brownie Brittle™ varieties!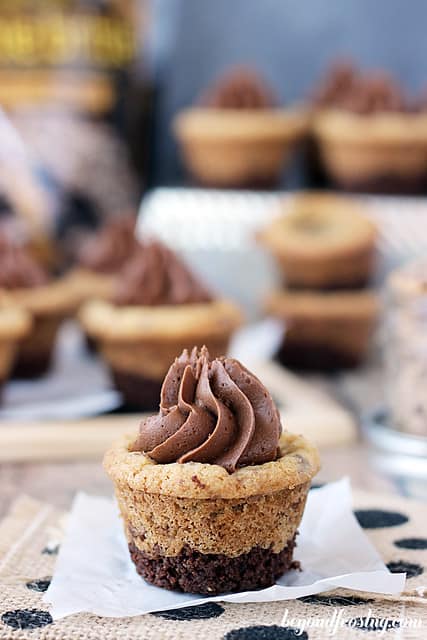 Print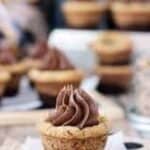 Brownie Brittle Toffee Crunch Cookie Cups
Prep Time:

20 minutes

Cook Time:

15 minutes

Total Time:

35 minutes

Yield:

24-30 cookie cups
Description
It's a Brownie Brittle™ crust, with a toffee pudding cookie and a chocolate brownie frosting.
Ingredients
For the crust
8 oz

Brownie Brittle™ Toffee Crunch (

2

pkgs)

3 tbsp

Unsalted butter

2 tbsp

Sugar
For the Cookie Dough
1

C (2 sticks) Unsalted butter

1

C Sugar

3/4

C Light brown sugar

2

Large eggs

3 tbsp

Pure vanilla extract

2 1/4

C Flour

1

pkg (3.4 oz) Instant vanilla pudding (dry mix)

1 tsp

Baking Soda

1/2 tsp

Salt

1

–

2

tbsp Milk

3/4

C Toffee bits
For the frosting
1

C (2 sticks) Unsalted butter

4 tbsp

Brownie mix (dry mix)

4 tbsp

Cocoa powder

4

C Powdered sugar

3 tbsp

Milk or heavy cream
Instructions
Preheat oven to 350° F. Grease a mini muffin pan with cookie spray or Crisco.
Use a food processor to grind Brownie Brittle™ into a fine crumb.
Melt butter in a microwave-safe bowl. Combine melted butter with Brownie Brittle™ crumbs and sugar and stir until there are no dry crumbs left.
Spoon 1 tablespoon of Brownie Brittle™ into the bottom of the mini muffin pan. Press down with a spoon or tart shaper.
For the cookie dough
Allow butter to come to room temperature for about 20 minutes. Combine butter and sugars in your stand mixer and beat on medium speed until light and fluffy.
Add eggs and vanilla extract. Beat into butter and sugar until thoroughly mixed.
In a medium sized bowl, combine flour, vanilla pudding mix, baking soda and salt. Stir to combine.
Slowly add dry ingredients into batter and beat on a low speed until dough starts to form. If dough is a little dry, add 1-2 tablespoon of milk. Add toffee bits last and mix to combine.
Drop 1-1.5 tablespoons of dough (depending on pan size) into the greased mini muffin pan on top of the Brownie Brittle™ crust. Bake at 350°F for 14-16 minutes.
Remove cookies from oven and allow to cool for at least 5 minutes. Use a tart shaper or the back of a spoon to gently push down the middle of the cookies. Allow to cool for another 30 minutes in the pan. You may need to run a knife around the edge of the cookies to help release them from the pan. Cool completely.
For the frosting
Cut butter into small chunks. Beat on medium speed until light and fluffy. You may have the scrape down the sides of the bowl.
Add cocoa powder and dry brownie mix and beat into butter.
Slowly add powdered sugar one cup at a time. After the first two cups, your frosting becomes thick, so add one tablespoon of milk at a time, followed by remaining two cups of powdered sugar.
Increase speed to medium high and beat for a couple of minutes. Add remaining milk or heavy cream and beat on low until incorporated, then increase speed to medium high. Beat on medium-high for 1-2 minutes. Frost onto cooled cookies.
Notes
Baking times will vary by pan size. Please use your judgement about how much dough to add to your mini muffin pan, if you are unsure, I suggest to do a test patch.