This post may contain affiliate sales links. Please see my full disclosure policy for details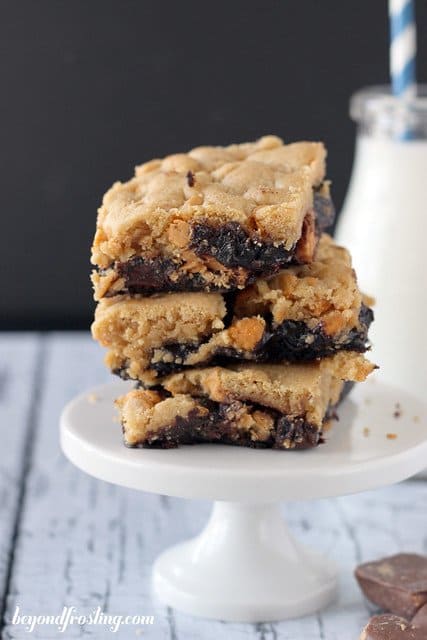 We have this candy machine at work. It looks just like the ones at the grocery store, usually near the checkout stations. You put your quarter in and you get sticky bugs, a handful of candy or a temporary tattoo.
You guys know the ones I am talking about? The red vending-type machines that you bugged your mom for a quarter every time you went to the grocery store? So yea, we have one of those. Lately, the candy bar options have included bite sizes of butterfingers, and I have become totally hooked.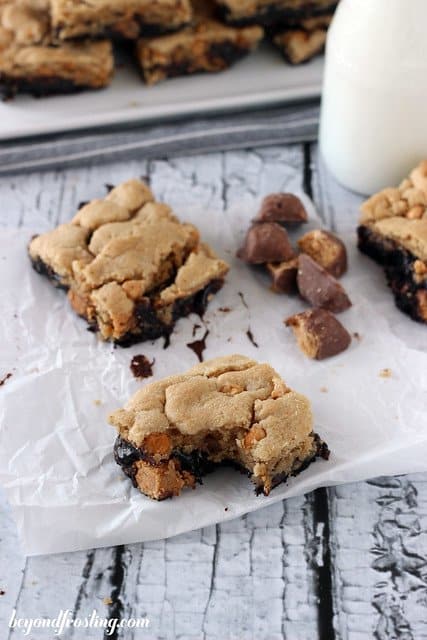 Let's talk about these Butterfinger Brookies, shall we? First of all, I am obsessed with brookies. I know I say I am obsessed with a lot of desserts, but seriously. A brownie on the bottom and a soft baked cookie on top? That's better than peanut butter and jelly. I have a few versions now including a Oreo Marshmallow, a Cadbury version and a Thin Mint version as well. I also have classic brookie recipe!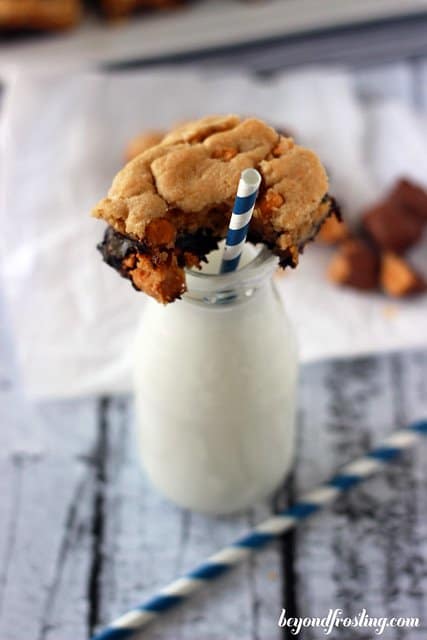 These Butterfinger Brookies really pack in the butterscotch flavor. The layer of cookies uses a butterscotch pudding in the cookie mix and is filled with butterscotch chips. The cookie layer sits on top of a gooey dark chocolate brownie that is lined with bite sized Butterfinger candy bars. There is no skimping on the candy bars either!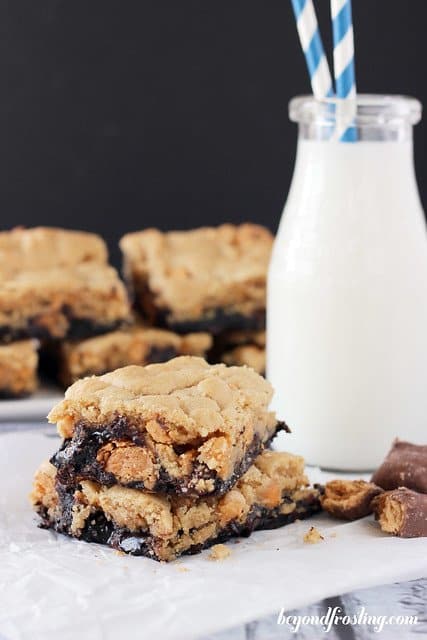 I am a candy hoarder, especially when candy goes on sale. Sometimes, I spend time browsing the candy aisle anticipating what desserts I could be making with all the different varieties of candy. It happens more than I am willing to admit. So recently I saw these "Butterfinger Bites", which are about half the size of a mini candy bar. I thought they would be perfect for this recipe, as they were not too big or small. If you are unable to find this particular variety of Butterfingers, you can also buy the regular sized bars and just crush them up a bit.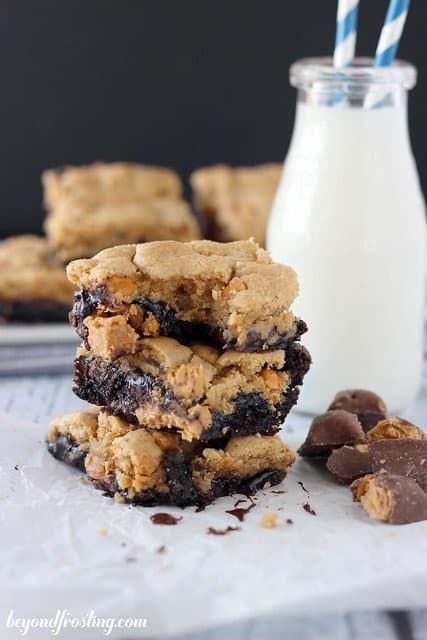 So here is how I suggest to assemble these. Line your baking sheet with parchment paper or a baking mat (I prefer Silpat). Make your brownie batter first and spread evenly on the bottom of the pan. Then take the Butterfinger Bites and line them up in rows, about .5" away from each other. One 10oz bag is more than enough to make this recipe. Then, make your cookie layer. Take the prepared dough and sort of flatten it in your hands before patting into the brownie layer. This helps prevent any one area from being too thick. You have to allow these to cool for a couple hours before you try removing them from the pan. It is a very heavy bar and will easily crack!
Try these Butterfinger Brookies for your next springtime get together with family or friends. They won't disappoint!
Print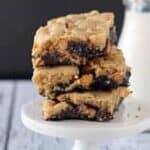 Butterfinger Brookies
Prep Time:

20 minutes

Cook Time:

23 minutes

Total Time:

43 minutes

Yield:

16 bars
Ingredients
1

Box Brownie mix

1

Large egg

1/4

C Milk

1/3

C Oil

1

pk Butterfinger bites (

10oz

)
For the cookie dough
1/2

C (1 stick) Unsalted butter

1/2

C Sugar

1/2

C Brown sugar

1

Large egg

2 tbsp

Pure vanilla extract

1 3/4

C All-purpose flour

1/4

C Butterscotch Instant pudding mix (

3.4 oz

pkg)

1/4 tsp

Salt

1/2 tsp

Baking soda

3/4

C Butterscotch chips
Instructions
Preheat oven to 350° F.
In a medium sized bowl, combine brownie mix, egg, vegetable oil and milk. Beat until thoroughly mixed.
Line a 9×13" pan with parchment paper or a baking mat. Pour brownie mixture over the baking mat and spread evenly.
Line the brownie layer with Butterfinger bites, about .5" away from each other.
Prepare the cookie layer. Soften butter in the microwave 10-15 seconds. Combine butter with both light brown sugar and granulated sugar. Mix until smooth and mixture becomes fluffy.
Add egg and vanilla extract and beat until egg is thoroughly incorporated.
In a separate bowl, combine flour, butterscotch pudding, salt and baking soda. Slowly add flour mixture to dough batter while mixing at a low speed. Once all the flour has been added, increase speed to medium until dough forms. Add butterscotch chips and fold into cookie dough.
Take the cookie dough and drop chunks onto the top of the brownie mixture, gently pressing them down into brownie batter.
Bake for 23-25 minutes at 350°F. Remove from oven and allow to cool completely before cutting. Since I used a baking mat, I was able to completely remove the sheet of brookies from the pan before cutting.