This post may contain affiliate sales links. Please see my full disclosure policy for details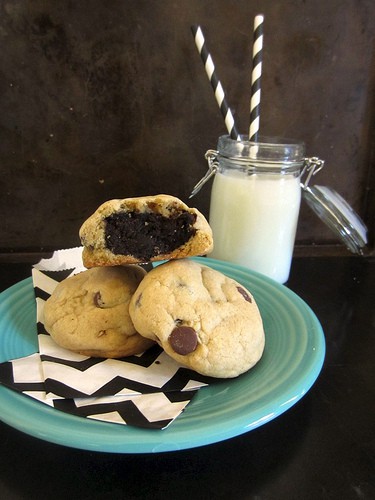 It's been widely popular this past year to find safe ways to eat our favorite girls' night snack: cookie dough! When we were little, my sister and I were babysitting my little brother. We made a batch of cookie dough and made him eat it with us. He got super sick, oops. Ever since, he won't touch raw cookie dough.
There are tons of cookie dough cupcakes, but what happens when you want to stuff a cookie full of cupcake? It's a pretty simple fix really. You make a cake ball and cover it in cookie dough, bake and ta-da, you have a cake ball stuffed cookie!
First you need to make some cake balls. I have told you before, I never waste cake or cupcakes, I always crumble it up and throw it in the freezer for a later date (is that normal?). If you don't already have some cake saved up, you should make a batch of your favorite cake, let it cool and break it into little crumbs. Then add your favorite frosting.
Cake balls:
Yields 2 dozen cake balls
5 C Cake crumbles (baked and broken up)
¾ C Frosting(I used Betty Crocker Dark Fudge frosting)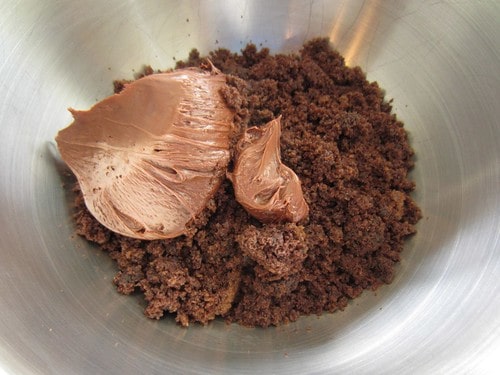 Use your hands to mix very well. Dough will be thicker and sticky.
Use a spoon or your medium (1 tbsp) cookie scoop and make your cake balls.
Put them in the fridge or freezer until your dough is ready, about 20-30 minutes. This prevents the cake from getting too hard in the oven.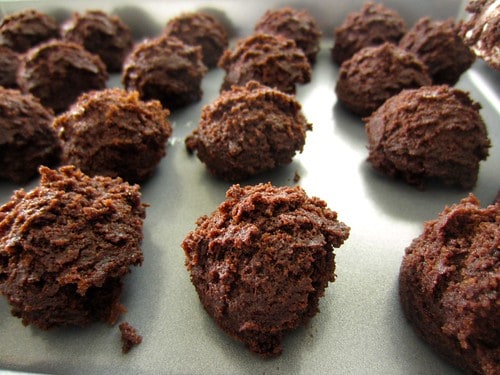 Then you will need your favorite chocolate chip cookies recipe. If is yields a few dozen cookies; that's perfect. If it only yields two dozen or so, you probably want to double it. Since I recently made Oreo Stuffed Chocolate Chip Cookies, I used the same cookie dough base. It's the perfect balance of sugar and chocolate; plus it makes a ton of dough!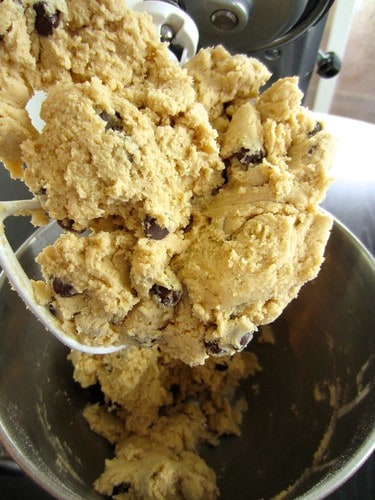 Once your cookie dough is ready, you will need 3 tablespoons of dough per cookie. Flatten it out like a pancake.
Put your cake ball in the middle of your dough and wrap it around the cake ball with your hands. Roll it into a ball.
You can also peel away excess dough if you have too much.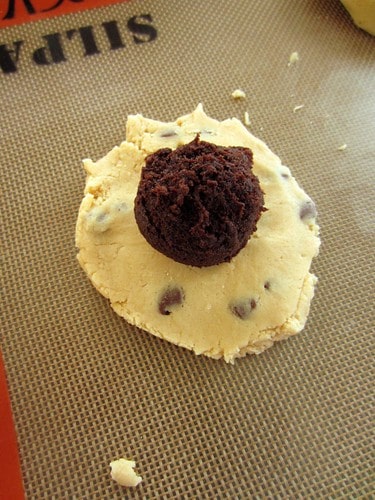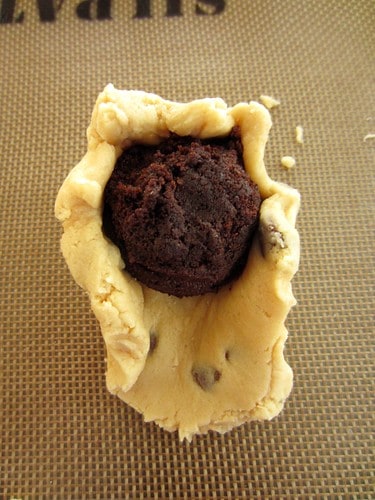 Place it on a lined baking sheet, either parchment paper or a baking mat. They are large cookies so make sure to leave plenty of room.
Bake at 350 degrees for 10-13 minutes or until cookies start to turn a golden color. You may have to bake a littler longer depending on your oven.
You can also flatten your cookies out a little bit, but I don't think they look as good. I love the dome shaped cookie!
The original idea for this came from Cupcakes and Cookies LA . When I saw it, I knew I wanted to try making a homemade version of it. I am so excited to meet Dorothy this weekend. She will be a judge at Cupcake Camp! I am very excited over all the various flavor options I can make, so don't think this is the last of the cake ball stuffed cookie