This post may contain affiliate sales links. Please see my full disclosure policy for details
This East Peppermint Layer Cake was is made up of 5 layers of cake with a buttercream frosting. It is garnished with peppermint candy canes and an ombre red spray.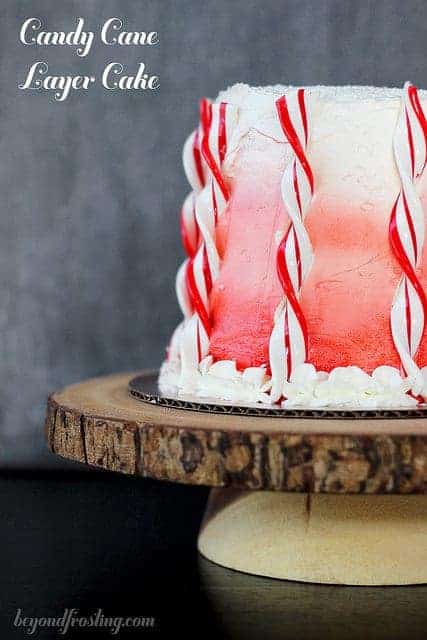 Last week was all about cookies, but this week is all about cakes and cupcakes! I was pleased to meet some of the ladies from Wilton during my trip to the BHG Cooking Experience and I was even more excited when they offered to send me some of their holiday products to use for this blog post!
Let me be the first one to tell you that layer cakes are not my specialty, but I do want you to know that they are not impossible! I made this Candy Cane Layer Cake and it was much easier than you would think!
This cake was made using the Easy Layer Cake Pan from Wilton. All you need for this recipe is one cake mix! After measuring out my cake mix, I found there was just under 5 cups of batter. I knew I wanted 3 layers of white and two layers of red.
To create the red layers, I measured out the batter I would need and I added some super red food coloring until I was happy with the color of the layers. Wilton makes a no-taste red, so you don't have to worry about that all awful food coloring taste. See my list of helpful tools below!
I divided my batter evenly between each of the five layers and baked them on a sheet pan. I sprayed each pan with a little bit of cooking spray so they could be easily released from the pan. I did use my cake leveler to cut off the domes on two of my layers, but you can also used a serrated knife.
If you like to make cakes, you should invest in this Wilton mall Cake Leveler
. It's under $15, and I have had mine for three years already. It has different settings so you can cut your layers evenly!
The frosting for this cake is a peppermint Swiss meringue buttercream (SMB). I choose to use this because I like how light and airy it is. However, there is no reason you can't make a batch of my Perfect Vanilla Frosting either! I wanted my frosting to be bright white, which wasn't a problem with the SMB. You will want to flavor it with a clear extract in order to keep it white. Lucky for me, peppermint extract is clear, but if you wanted to make it with vanilla, you can use a clear vanilla extract. Recipes for both frostings are posted below.
One more thing. Please read my tutorial for Swiss Meringue Buttercream before you start. There are lots of useful tips.
Before adding the frosting, I did freeze each layer for 30 minutes, just to help keep them from falling apart. I used a piping bag to evenly distribute frosting between each layer and then I added a small layer of frosting to the outside of the cake called a "crumb coat". At that time, I put my cake back in the freezer so the frosting can get more firm.
I added my final layers of frosting and now for the fun part! I was curious to see what the color mist would turn out like on my cake. A word of caution with the color mist, make sure you clear a good space and cover it with paper towels. This is an aerosol spray and anything around your cake might also be red (as in, don't wear a white shirt or use an apron just incase).
I used a turn table which I spun as I a gently sprayed the cake. I wanted a more ombre effect, so I went heavier on the bottom than I did on the top. I DID NOT smooth out he frosting after I sprayed it, I left it as is. For the top, I added some white nonpareil sprinkles to look like snow and stuck of those these adorable peppermint swirl sticks into the sides of the cake.
Overall, I am really happy with this cake. It isn't the most gorgeous piece on my blog, but it was a challenge and something I have wanted to try for a while. Heck, it's not every day I make a five layer cake! I hope you will be inspired to give this a try at home as well.
Please note I received product from Wilton that were used in this post. However, all opinions are my own. I happily use Wilton products all the time in my kitchen. This post may contain affiliate links. The small percentage earned from affiliate links goes directly back into running this blog. 
Helpful tools for this:
Wilton 5 Layer Cake Pan Set
Wilton Cake Leveler
Wilton Icing Gel
Wilton Color Mist Food Color Spray
Wilton Cake Turntable
What you need:
1 box White cake mix
Ingredients listed on the box (egg, oil, water)
Wilton No-taste Red gel food coloring
Wilton White nonpareil sprinkles
Wilton Color Mist Food Color Spray (Red)
1 Recipe Perfect Vanilla Buttercream (recipe below)
OR
1 Recipe Peppermint Swiss Meringue Buttercream (recipe below)
Print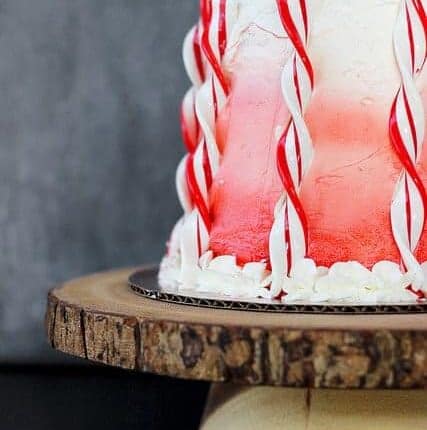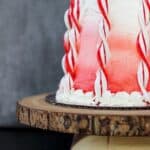 Perfect Vanilla Buttercream
Author:

Prep Time:

15 mins

Total Time:

15 mins

Yield:

4 /12 Cups
Ingredients
1½

C (3 sticks) Unsalted butter, cold.

5

C Powdered sugar

2½ tsp

Vanilla extract

2 tbsp

Heavy whipping cream
Instructions
Cut butter into pieces. Using the paddle attachment, whip butter for 5-7 minutes, scraping down the bowl occasionally. Beat until butter look light in color.
Add 2 C powdered sugar and mix on low speed until incorporated into butter.
Add 2 tsp vanilla extract and mix to combine.
Add additional 2 C powdered sugar and beat on low speed until sugar is incorporated. Increase speed to medium-high and beat for 3 minutes.
Add last 1 C powdered sugar along with 2 tbsp heavy whipping cream and ½ tsp vanilla extract . Beat on low until ingredients start to mix together. Increase speed to medium-high and beat for another 3-5 minutes to whip additional air into the frosting
Notes
To flavor this recipe with peppermint extract, start with 1/2 teaspoon and add 1/4 tsp at a time until you are happy with the flavor. This frosting can be kept at room temperature if serving within 24 hours and it's not too hot. It can be made ahead of time and kept refrigerated for two days. Frosting must come back to room temperature before piping.
Recipe Card powered by
Print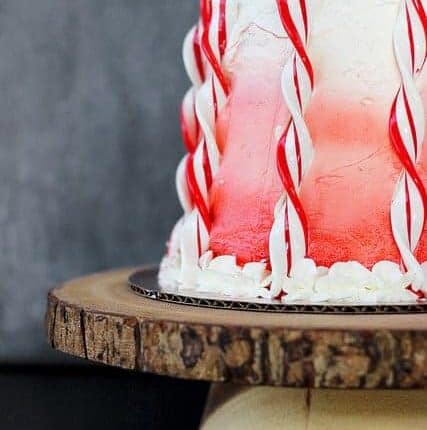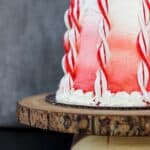 Swiss Meringue Buttercream
Author:

Prep Time:

20 mins

Total Time:

20 mins
Description
Recipe courtesy of Martha Stewart.
Ingredients
5

large egg whites

1

C plus 2 tbsp sugar

1

lb (4 sticks) unsalted butter at room temperature

1/2 tsp

Peppermint extract
Stir constantly until the mixture reaches 140° F. This is the most important part; you do not want to egg whites to cook. I have read that you can have it be anywhere between 120° F – 160° F. When it reaches 140° F, the sugar should be dissolved in the egg whites. You can test this by placing a drop on your finger tips and rubbing them together. The mixture should be completely smooth.
Place the mixing bowl on your stand. Using the wire whisk, beat the eggs. Start on low and increase the speed to medium after 2 minutes.
Instructions
Combine sugar and egg whites in your stainless steel mixer bowl (or any heat proof bowl)
Attached your candy thermometer to the side of the bowl
Set your bowl over top of a pot with water, just enough to cover the bottom of the pot. You do not want the water to boil and touch the bottom of your mixing bowl. Heat on medium.
Beat for another 3 minutes on medium. At this point, your frosting should have turned white as the egg whites are whipped and the body of the meringue starts to form.
After 5 minutes, increase speed to high. You will notice that as you increase the speed, the body of your meringue will also increase. It will start to look glossy as the peaks begin to form. Beat for another 5 minutes.
After you have beat the meringue for a total of about 10 minutes, the bottom of your mixing bowl should be cooled completely. Your SMB should look kind of like whipped cream. Scrape down all sides and bottom of the bowl.
Turn your mixer down to medium-low. Slowly add your butter, about 1 tbsp at a time, ensuring it is mixed well after each addition. Once you have added all your butter, slowly add vanilla extract. Mix for another minute and scrape down the sides of the bowl.
Switch to the paddle attachment and continue beating on medium to allow all the air bubbles to escape. In about 2-3 minutes the frosting is smooth.
Notes
For a stronger peppermint flavor, add additional peppermint extract 1/4 teaspoon at a time. You can keep the SMB at room temperature if you are planning to use the same day. Otherwise, you can keep it in an airtight container in the fridge for up to 3 days (according to Martha's recipe). Before you are ready to use, take it out of the fridge and allow it to come to room temperature. Place back in your mixer (don't forget to wipe down with Vinegar) and beat on medium speed with the paddle attachment for 3-5 minutes.
Recipe Card powered by
Other recipes you might like:
Peppermint Crunch Cookie Dough Truffle Bars
Peppermint Hot Chocolate Cupcakes
Peppermint Cream Thumbprint Cookies
Double Chocolate Peppermint Puppy Chow