This post may contain affiliate sales links. Please see my full disclosure policy for details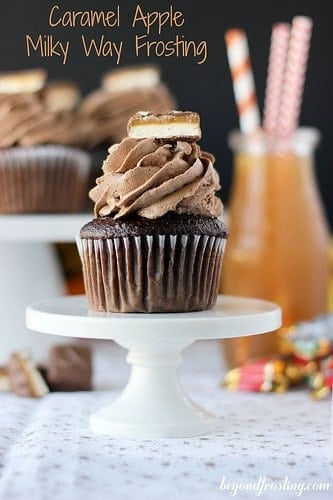 Guys! It's double cupcake week! That's right, two cupcakes in the same week. Do you love me? I hope so! First off, let's talk Cupcake Wars. Did you see last weeks episode? I pretty much freaked out. My favorite childhood band, Hanson was the celebrity client last weekend. First of all, they are still SO cute. Yes, I have seen them perform in the past 5-6 years and it was still just as good as when I was a teenie bopper. My walls were literally plastered with their photos. Can you all relate to me here? I was so just ecstatic to see them on Cupcake Wars and I will not be deleting the episode from my DVR. On top of that, the winners, Dreamy Creations make amazing cupcakes. I have actually had their Crème Brulee Cupcake and it is sinful!
Let's discuss this Caramel Apple Milky Way Frosting. I think it's best with chocolate cupcakes. The frosting a chocolate marshmallow based frosting and then I crushed the Caramel Apple Milky Ways and mixed them into the frosting. Have you seen these limited edition Milky Ways on your grocery store shelves yet? You can find them in the Halloween section.
This frosting is awesome- it's fluffy, it chocolaty with a hint of caramel plus the apple flavor from the candy bars. I absolutely love making these chunky frostings with candy bars in them. I have done a Reese's Peanut Butter Cup Frosting, Peppermint Patty Cupcakes, and this Seven Layer Bar Frosting. I garnished my cupcakes with half of the mini candy bar, but you can also drizzle some additional caramel on top!
Print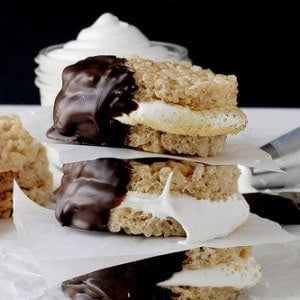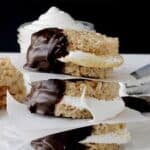 Auto Draft
Ingredients
3

Sticks (1 1/2 C) Unsalted butter- softened

1

Jar (7oz) Marshmallow fluff

1/2

C Cocoa powder

1 tsp

Pure vanilla extract

3

C Powered sugar

1 tbsp

Heavy whipping cream

36

Mini Caramel Apple Milky Way (

1

bag)
Instructions
Allow butter to come to room temperature so it is soft but not melted. Beat butter in mixer on medium speed until smooth and creamy.
Add full jar of marshmallow fluff to butter and mix until well combined.
Sift cocoa powder with a fine sieve to breakup any clumps. Add cocoa powder to butter and marshmallow mix. Beat on medium speed until well combined. Add vanilla extract and beat into mixture.
Slowly add powdered sugar 1 cup at a time while continuing to beat on medium speed.
Add heavy whipping cream last and increase mixer speed to high to whip frosting until smooth and creamy.
Unwrap 24 Mini Caramel Apple Milky Way bars. Use a food processor to grind up candy bars into a thick crumb. Add candy bar crumbs to frosting and mix until incorporated.
Frost cooled cupcake. Take the remaining 12 mini candy bars and cut in half to garnish.
Notes
This makes enough frosting to generously frost 24 cupcakes or a 9" layer cake. I suggest to use a wide, open tip for piping frosting.
Recipe Card powered by
See what these awesome bloggers are making!
Caramel Apple Milky Way Cheesecake Bars
Caramel Apple Milky Way Cupcakes
Caramel Apple Spice Milky Way Cookies
Caramel Apple Milky Way Stuffed Peanut Butter Oatmeal Cookies