This post may contain affiliate sales links. Please see my full disclosure policy for details
8These Chocolate Banana Cream Pie Popsicles are a banana flavored custard pudding pop with a Nilla wafer crust and chocolate swirl.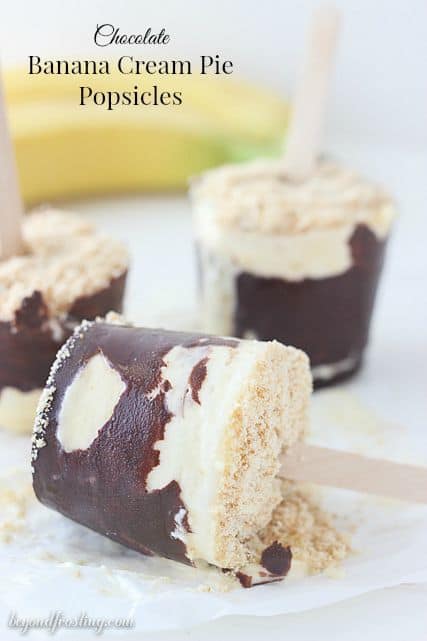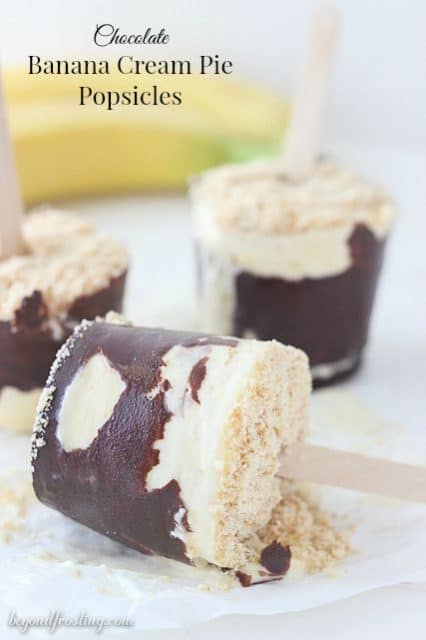 Tonight I'm heading back east on a red eye for one of my best friend's bachelorette celebration and wedding shower. I am a maid of honor along with another best friend of mine and we are road tripping from Boston to NYC for the party. It will be an action packed weekend with both events just a day a part and then I get on a plane to come home Sunday night. If I am completely exhausted next week and not making any sense, at least you will know why. I need your help though. I want to eat all the food in NYC! Leave me your best recommendations!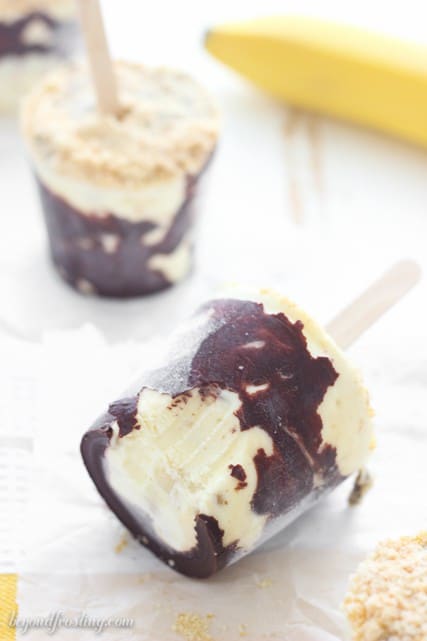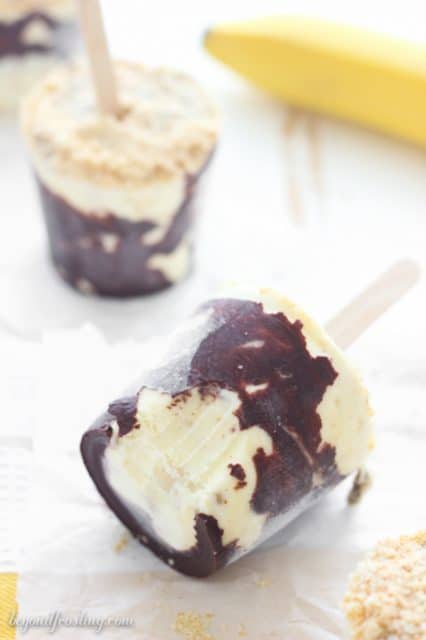 Sometime during this summer a switch flipped in my head. My coworker asked me for Banana Cream Pie cupcakes for his birthday and then all of the sudden I wanted all thing Banana Cream Pie. It's not a dessert I would traditionally see myself ordering, but now I am totally craving it all the time. These Banana Cream Pie Popsicles are just one of the few banana desserts I've made in the past month.
With summer slowly slipping away, I figured it was best to enjoy these while we still could! I made these a couple different times to be sure I had the right ratios. These popsicles combine fresh bananas with vanilla pudding and whipped cream; they are topped with a Nilla Wafer crust and a chocolate swirl.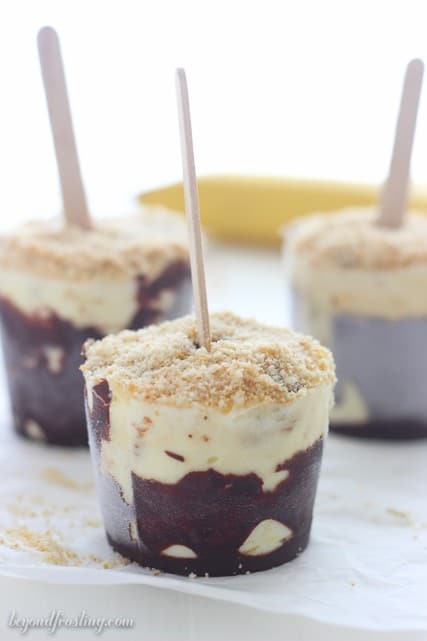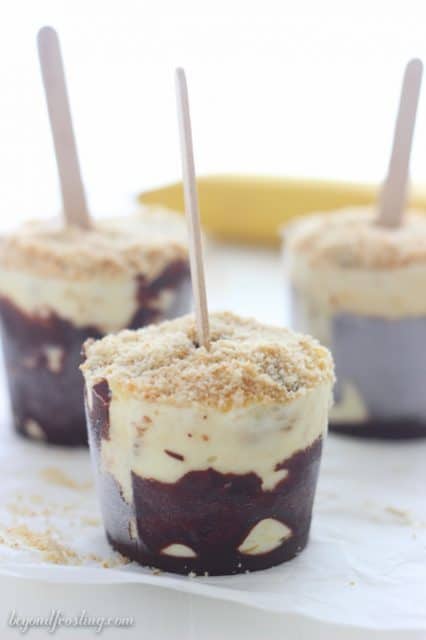 Recently I saw Dorothy's Lemon Pie Popsicles and knew that a banana cream version was in order.
The combination of the pudding with the whipped cream gives these more of a frozen mousse-like consistency instead of a traditional popsicle. They are most definitely creamier and full of banana flavor.
I did try to make these in a traditional popsicle mould, but I have rare success with removing them easily. The bottoms (which are actually the tops) always melt too much. So instead I made these in paper cups, which is super easy to just cut the top of the paper cup and peel it away.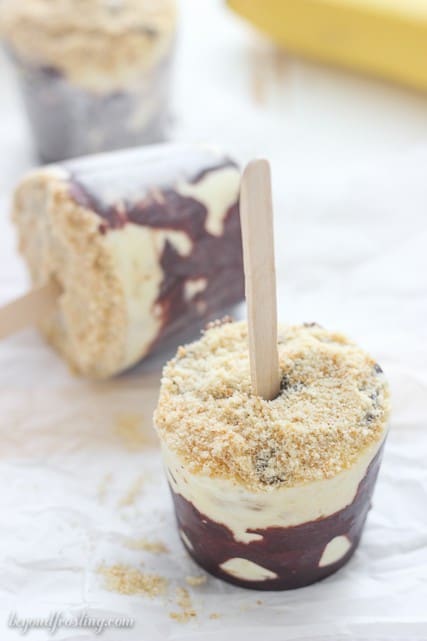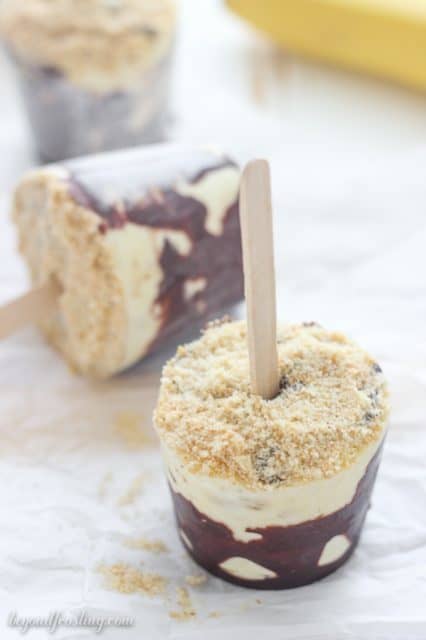 For the crust, it is really best to add some butter with the Nilla Wafer crumbs, otherwise you will start to loose some of the crumbs like you see in these photos! The third time around, I forgot the butter. Oh well. You get the picture.
For this recipe, you are going to prepare an instant vanilla pudding and allow it set before adding the banana and whipped cream. I prefer a homemade whipped cream for this recipe, but if it is too much trouble, feel free to substitute Cool Whip.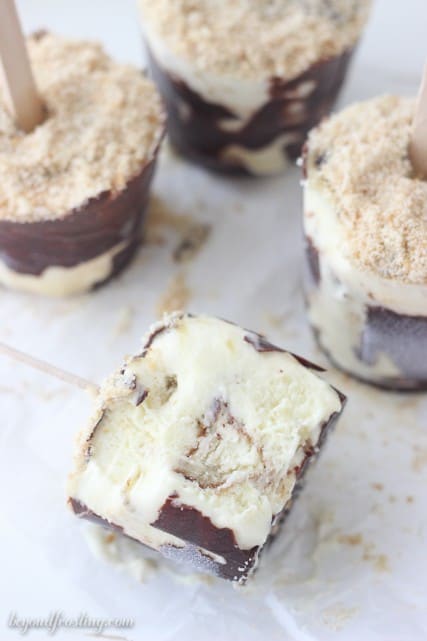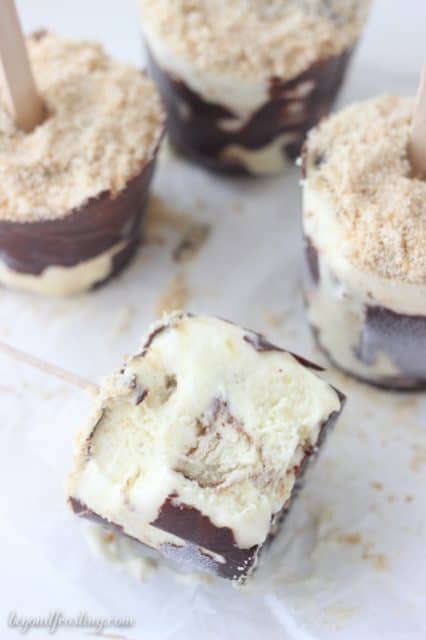 I added some chocolate to these popsicles since chocolate makes everything better. First I swirled it around on the edges of the cups, before I added the filling. I poured in a little bit of filling to the bottom of the cup and added some more chocolate and gave it a quick swirl. I layered some more filling on top and it was perfect!
For these popsicles, you can make as many or as few as you want depending on how full you fill the cups. I also suggest to freeze these for an hour before adding the popsicle sticks, or they might be lopsided, also like you see in these pictures. Contrary to popular belief, third time is not always a charm. I'm so glad you guys can look past that.
Keep up with all the happenings. Follow Beyond Frosting:
Facebook | Twitter | Pinterest | Instagram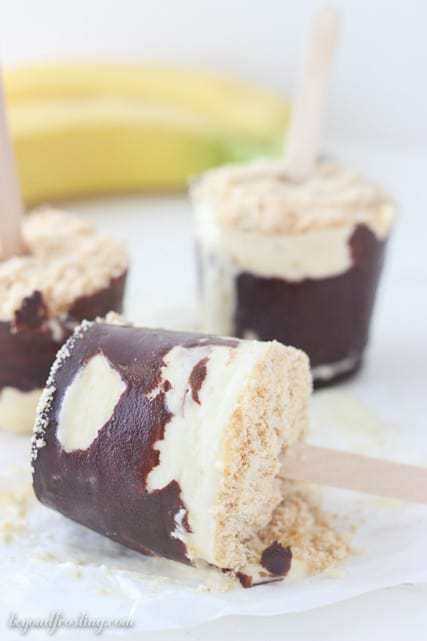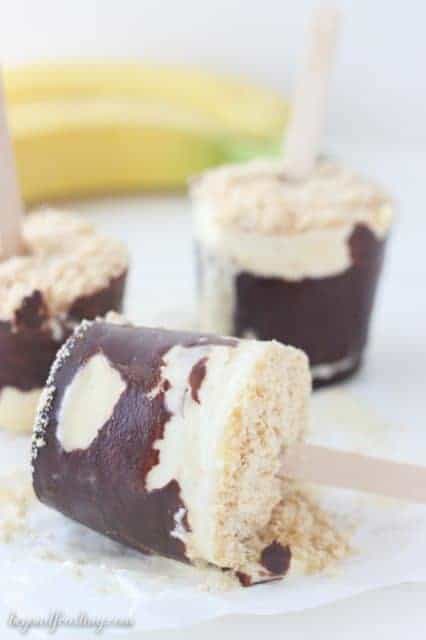 Print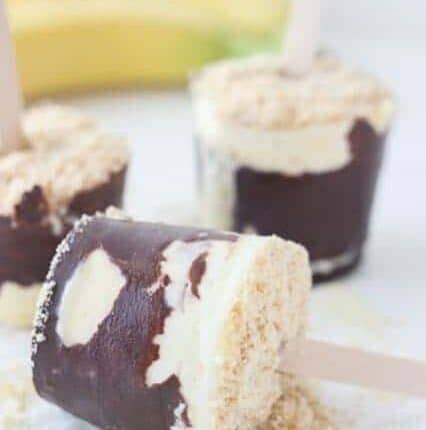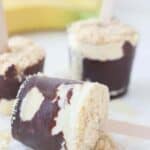 Chocolate Banana Cream Pie Popsicles
Author:

Prep Time:

10 mins

Total Time:

10 minutes

Yield:

8-10 popsicles
Description
These Banana Cream Pie Popsicles are a banana flavored custard pudding pop with a Nilla wafer crust and chocolate swirl.
Ingredients
1

pkg (3.4oz) Vanilla instant pudding

1 ¾

C Cold milk

1

C Heavy whipping cream

½

C Powdered sugar

2

Medium Bananas

3 oz

Chocolate chips

1 tbsp

Vegetable oil

1 ½

C Nilla Wafer crumbs

3

–

4

tbsp Unsalted butter, melted
Instructions
Prepare instant pudding by combining pudding mix with cold milk. Whisk until pudding is dissolved and refrigerate for 10 minutes until pudding is firm.
Make the whipped cream by combining heavy whipping cream with powdered sugar. Start on medium speed and whisk until bubbles form. Increase speed to medium high-to-high and beat until stiff peaks form.
Finely mash bananas in a bowl. Stir mashed bananas into pudding after it has set. Fold in whipped cream.
Melt together chocolate chips and vegetable oil in a microwave-safe bowl. Microwave 30-60 seconds, stirring occasionally. Spoon a little bit on chocolate along the edges of each of the paper cups and turn them in circles to spread the chocolate.
Fill cups 1/3 full, and then add another drop of chocolate sauce. Swirl with a knife or toothpick. Fill with another 2 tablespoons of filling. Divide the filling equally between the paper cups. Will make 8-10 popsicles depending on how full you make the cups.
Prepare the crust by combining Nilla Wafer crumbs with unsalted butter in a microwave-safe bowl. Microwave 30-60 seconds until butter is melted. Stir until crumbs are well coated.
Divide crumbs between the paper cups and gently press into the top of the popsicle.
Freeze for one hour and then insert wooden popsicle stick. Continuing freezing for another 3-4 hours until firm.
To serve, cut a slit in the paper cup and peel away the cup.
Visit Beyond Frosting's profile on Pinterest.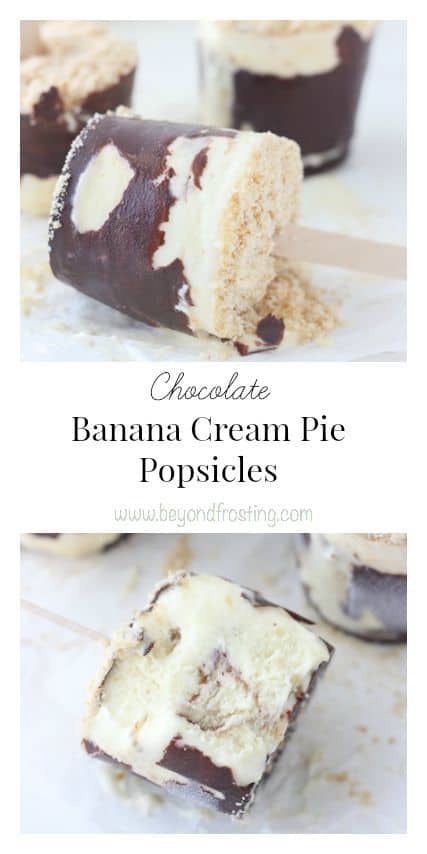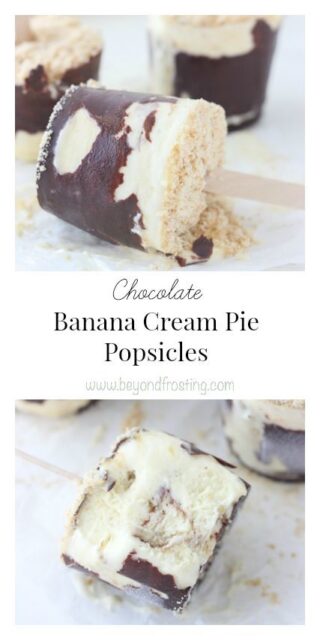 Other recipes you might like:
Strawberry Marshmallow Popsicles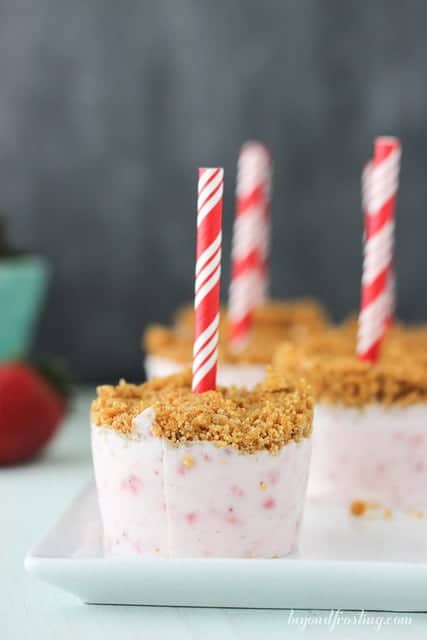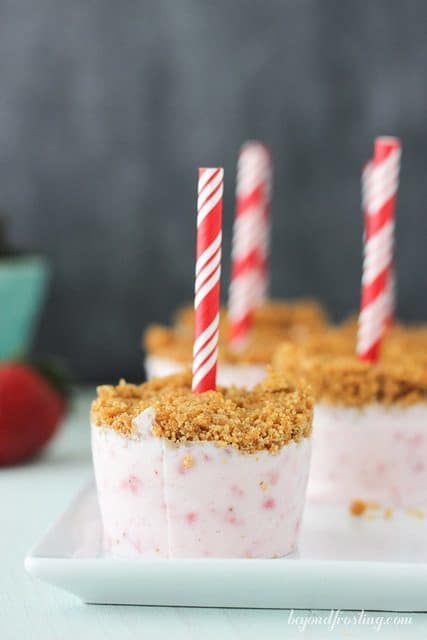 Pumpkin Cheesecake Pudding Popsicles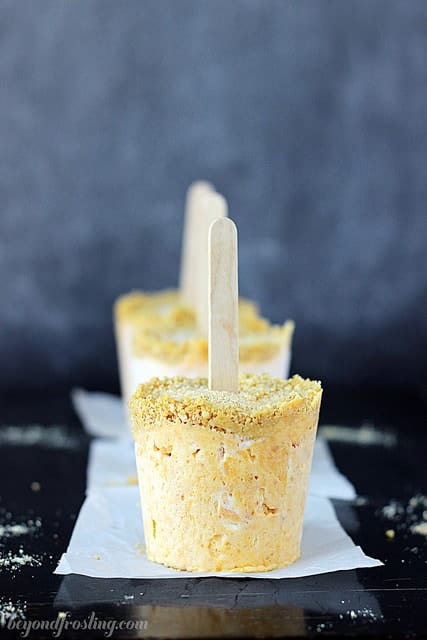 Butterfinger Pudding Pops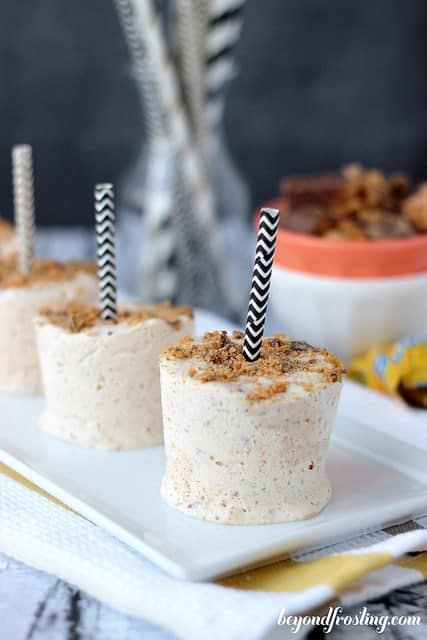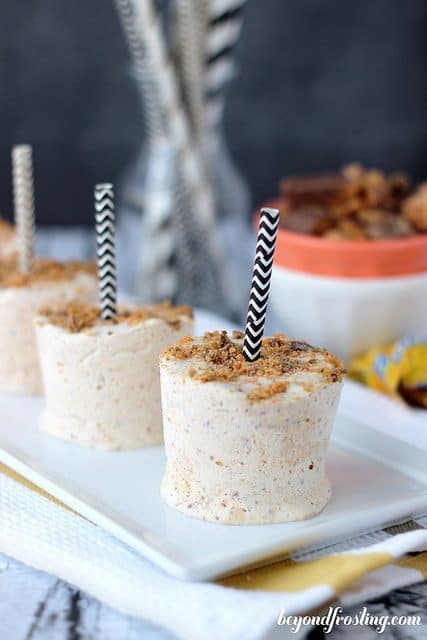 Recipes from my friends:
Banana Cream Bars from The First Year Blog
Banana Coconut Cream Popsicles from Spoonful of Flavor
Banana Pudding Cake Roll from Will Cook for Smiles
Banana Pudding Icebox Cake from Life Love and Sugar