This post may contain affiliate sales links. Please see my full disclosure policy for details
Creamy, chocolaty frosting loaded with Butterfinger candy bars.
I am not even sure when I started to fall in love with Butterfinger candy bars. My favorite way to eat them is in the bite-sized bars or the "bites" which are completely poppable from your hand right into your mouth.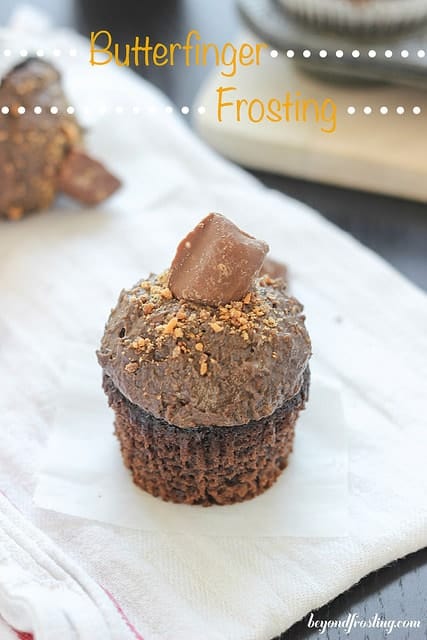 I am a huge fan of frostings mash ups. I've done things like Circus Animal Frosting, Oatmeal Cream Pie, Cadbury Cream Egg, Milky Way, Peppermint Patty, Reese's Peanut Butter Cup and Rice Krispie Treat Frosting.
Today it's time for another candy bar frosting- Chocolate Butterfinger Frosting. This frosting is rich and a little bit crunchy because it is LOADED with Butterfingers.
I am in charge of making cupcakes for all of the birthdays at my office. It is a blessing and a curse. It allows me to try out new cupcake flavors and get feedback on things I am working on. But it also requires a lot of creativity some months when there are 3 or 4 birthdays. I can't bring the same thing twice in one month!
My default flavors are anything with chocolate of funfetti, but it is so fun to mix it up a little bit. Today there is another birthday at the office. Earlier this week a couple of my coworkers came up to me and asked me why I had not brought in any desserts lately. I guess I have spoiled them. It true, I have not done any baking for the blog since New Years! It's time to get back at it.
So this frosting is made with an unsweetened cocoa powder. I always suggest to sift the cocoa powder so it turns into a fine dust instead of clumpy chunks as it tends to be in the container.
I offset some of the sweetness of this frosting with the heavy cream. Before you add the candy bars, whip the frosting on high for a couple minutes and allow the whipping cream to do it's thing. It helps make a smooth texture and add some air into the frosting as well.
You should use a food processor to grind up the candy bars into a fine crumb. You don't really want to have any large chunks. I suggest to save a little bit of the crumbs for dusting the top of the cupcakes and you can even garnish with a piece of the candy bar like I have done here.
Instead of using a piping bag, I used a large cookie scoop to plop the frosting on top. Take your cupcake and give it a couple gentle taps on the counter so the frosting will settle. Easy right?
Keep up with all the happenings. Follow Beyond Frosting:
Facebook | Twitter | Pinterest | Instagram |
Print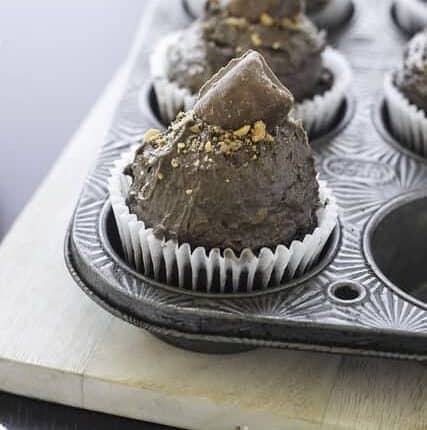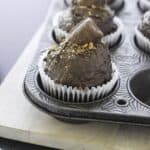 Chocolate Butterfinger Frosting
Author:

Prep Time:

15 mins

Total Time:

15 minutes

Yield:

5 cups
Description
Creamy, chocolaty frosting loaded with Butterfinger candy bars.
Ingredients
1 1/2

C Unsalted butter

3 tbsp

Cocoa powder

5

–

6

C Powdered sugar

2 tsp

Pure vanilla extract

2

–

3

tbsp Heavy whipping cream or milk

15 oz

Butterfinger candy bars, chopped
Instructions
Butter should be at room temperature or slightly firmer, not melted. Beat on medium speed until butter is light and fluffy.
Sift cocoa powder through a fine sieve. Slowly add cocoa butter and beat into butter. Adding the vanilla extract at this stage will allow the mix to be smoother before adding the powdered sugar.
Add powered sugar one cup at a time, beating on medium-low speed. The frosting will become quite thick.
Add heavy whipped cream and increase speed to medium high. Beat for a couple minutes. This will help the frosting to be smoother and creamier.
Use a food processor to grind the Butterfingers into small pieces. Add to frosting and mix to incorporate.
Scoop onto cooled cupcakes or eat with a spoon.
Recipes from my friends:
Butterfinger Ooey Gooey Bars by The Gunny Sack
Butterfinger Rice Crispy Treats by Your Cup of Cake
Butterfinger Popcorn by Six Sisters Stuff
Other recipes from Beyond Frosting
Reese's Peanut Butter Cup Frosting