This Chocolate Cherry Cheesecake Poke Cake is a chocolate cake soaked in sweetened condensed milk, cherry pie filling and a cheesecake whipped cream.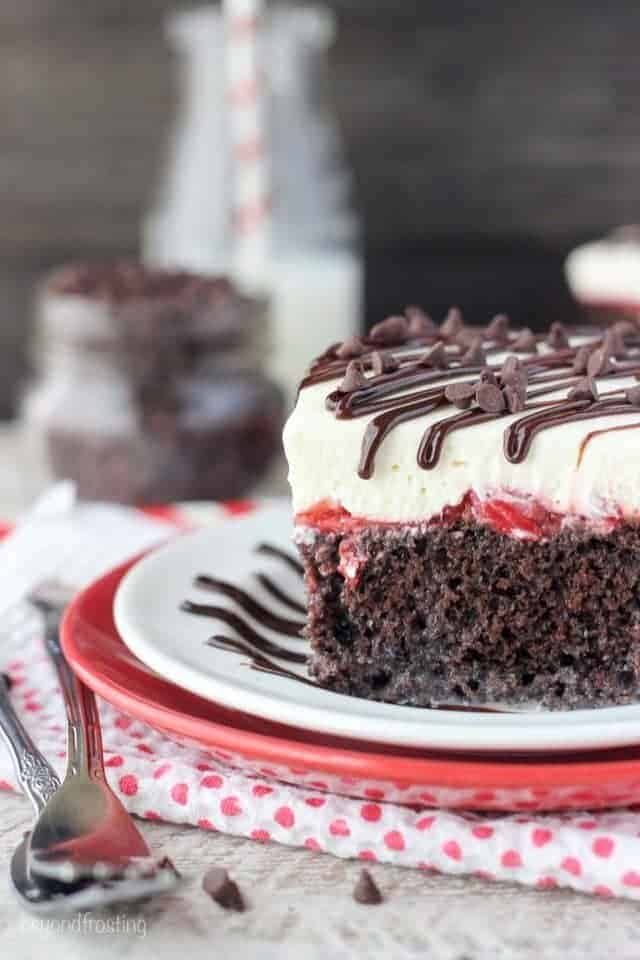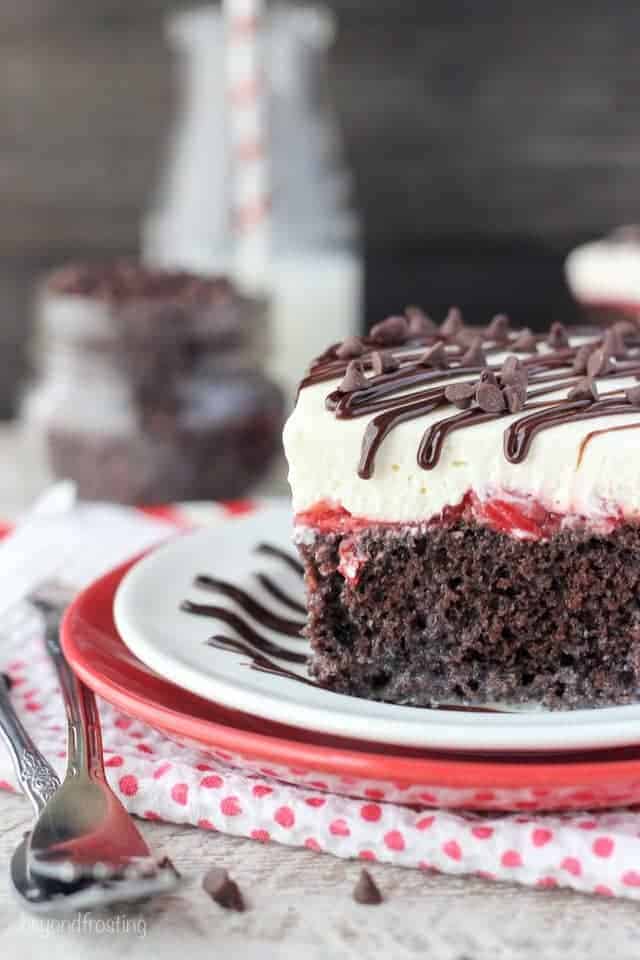 This is my first summer in Portland with my fiancé by my side. Last summer we were still living long distance and I spent lots of time traveling back and forth, so I didn't really get to explore much. I am really looking forward to seeing what this city has to offer, and as long as it stays under 80 degrees, you'll find me outside. Ha! I never was a fan of the heat and I was quite surprised at how warm the summers are here.
It's all well and good until you need to turn on the oven to make dinner or better yet, a cake. As much as I like to stick to no-bake desserts in the summer time, certain things requires cakes, cupcakes, cookies or pies. Hence why I am sharing a new poke cake with you today!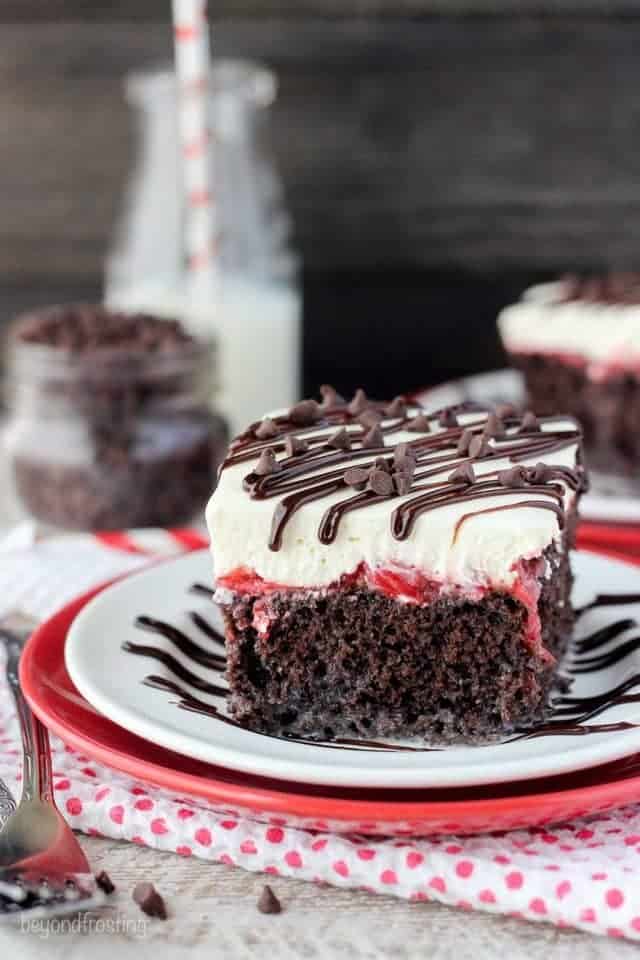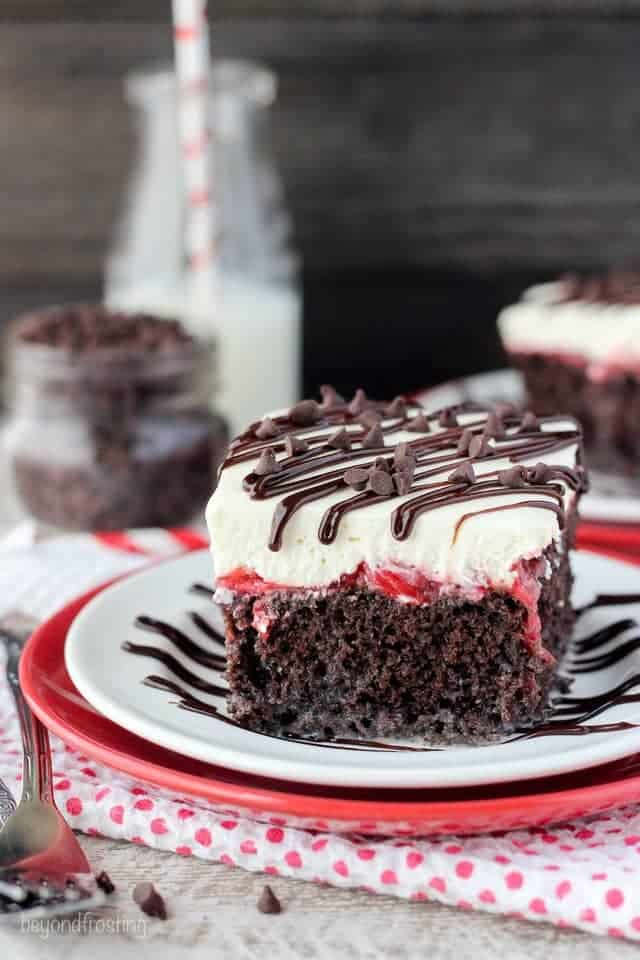 Cherry Cheesecake Poke Cake is a new version of my cheesecake poke cake, as previously there have been a strawberry and a blueberry version.
Let me break it down for you: the cake is soaked in sweetened condensed milk, which makes it extra moist. It's got a layer of cherry pie filling (I used Lucky Leaf) and it's topped with a cream cheese whipped cream, hence the cheesecake. For the cake, you can use your favorite homemade chocolate cake or you can stick to a cake mix. Sometimes I think it's just quicker and easier to go that route.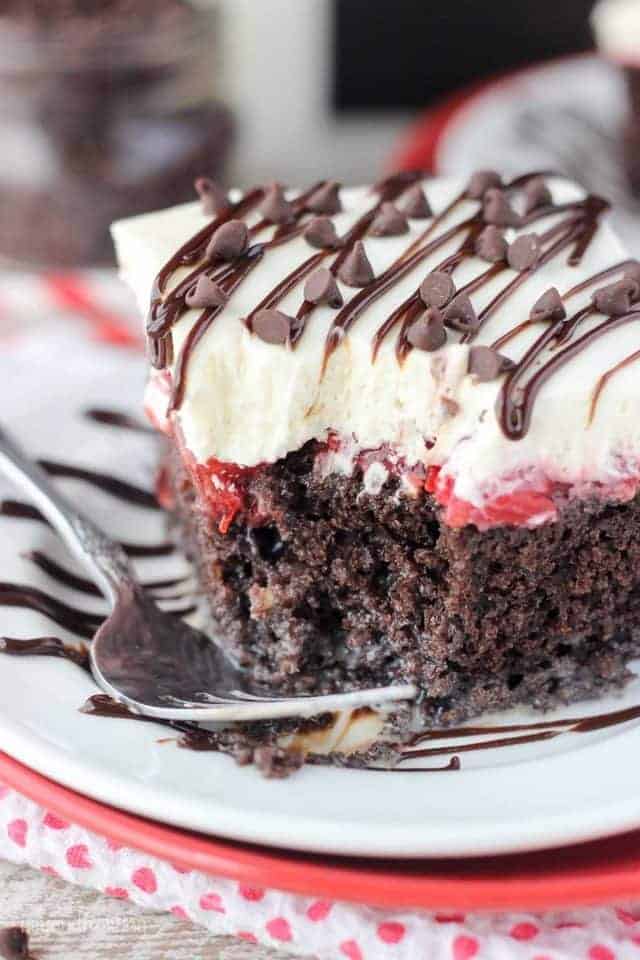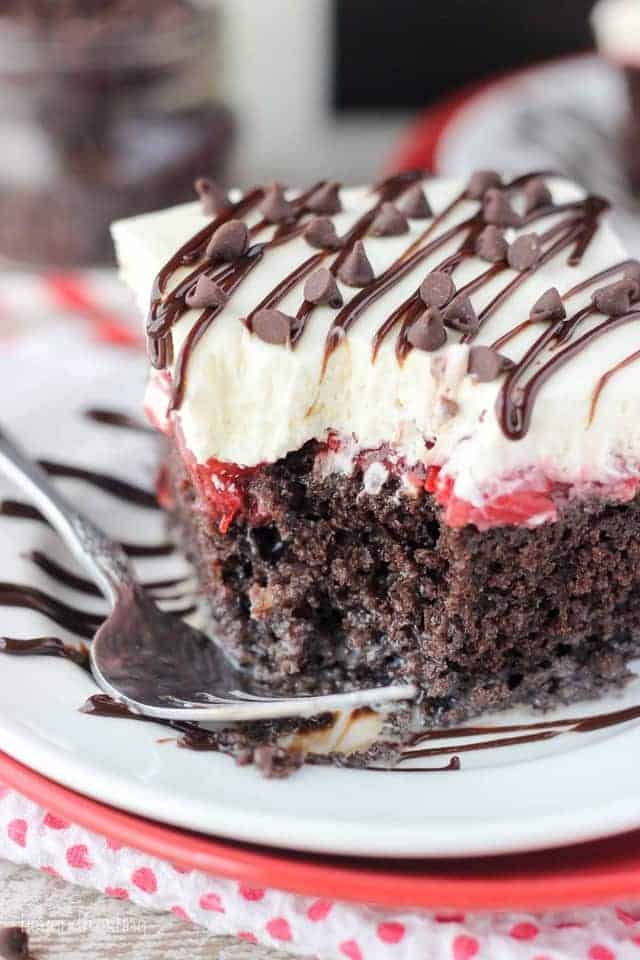 The secret to the cream cheese whipped cream is to make sure the cream cheese is softened before you start to whip it. Then slowly add the heavy cream until the cream cheese reaches more of a liquid consistency. This will help eliminate any lumps in the whipped cream.
The problem with this Cherry Cheesecake Poke Cake is that I can't help but get myself a second slice. No matter how much I try to resist, I am a sucker for chocolate cake and cream cheese whipped cream. The fruit topping in between is a definite bonus.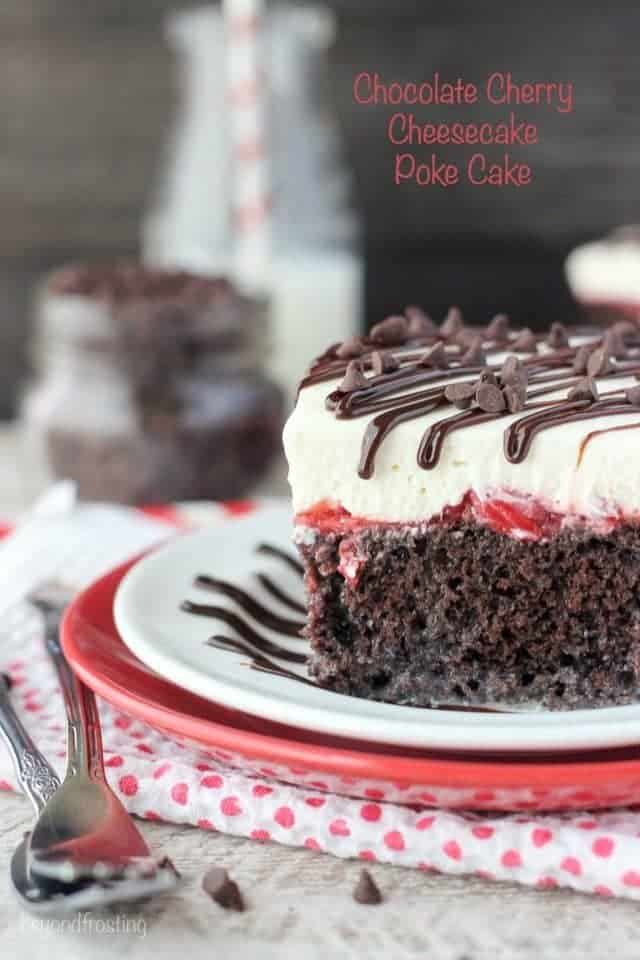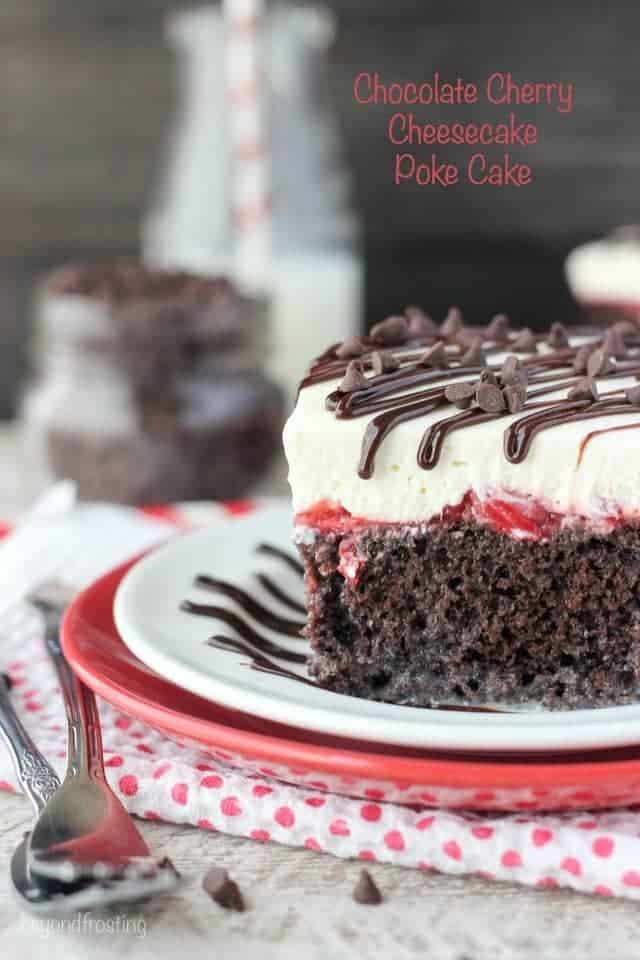 Follow Beyond Frosting:
Facebook | Twitter | Pinterest | Instagram
If you love no-bake recipes, be sure to check out my cookbook, No-Bake Treats!
You might also like:
Strawberry Cheesecake Poke Cake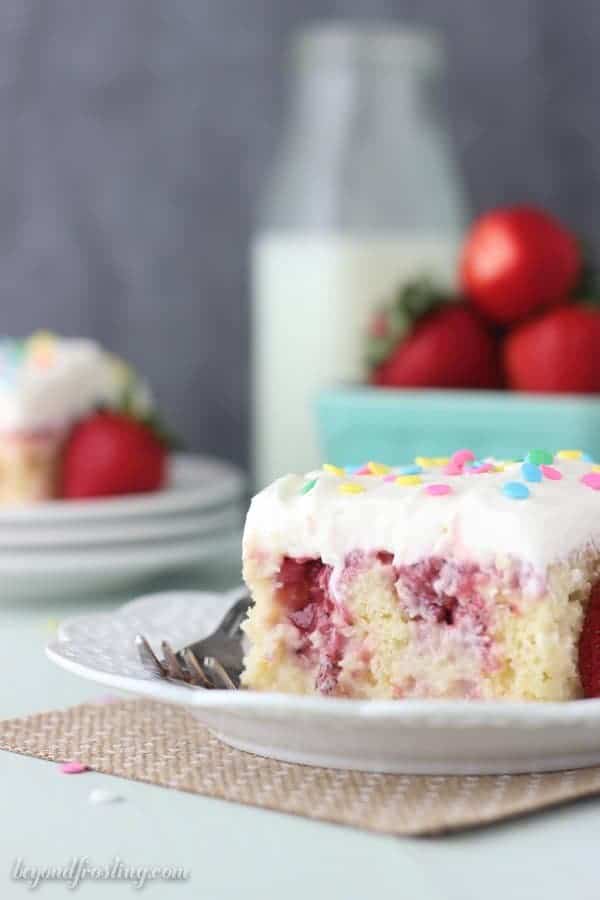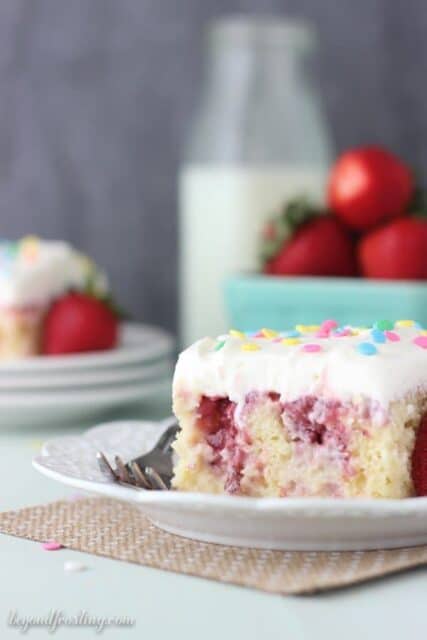 Blueberry Cheesecake Poke Cake