This post may contain affiliate sales links. Please see my full disclosure policy for details
These Chocolate Cream Puffs are super simple to make. They are filled with a chocolate whipped cream and topped withe chocolate ganache.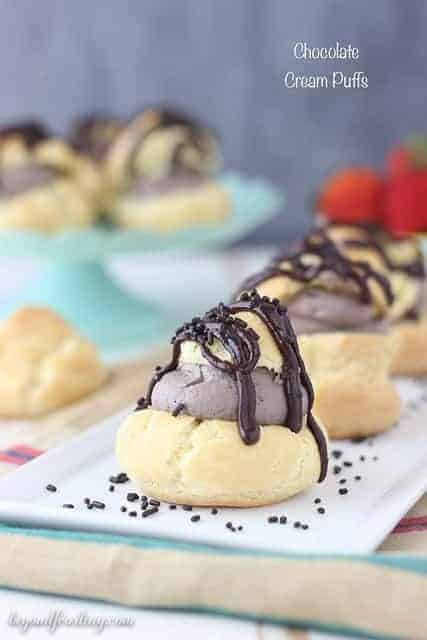 Lets talk about a little conversation I had with my mother last weekend when she was visiting. We were sitting around the dinner table after enjoying a couple glasses of wine and she said, "I can't believe you are going to be 28 next week."
"You mean 29?" I responded.
"No, you are going to be 28", she said.
"Mom, I am 28 now. Do you math. I was born in '86."
She laughs. "Oh, I have been telling everyone that you were turning 28 this year."
Sooooo, let's just go with the fact that today I am turning 28 and not 29. And next year, on this day, we will also pretend that I am not turning 30.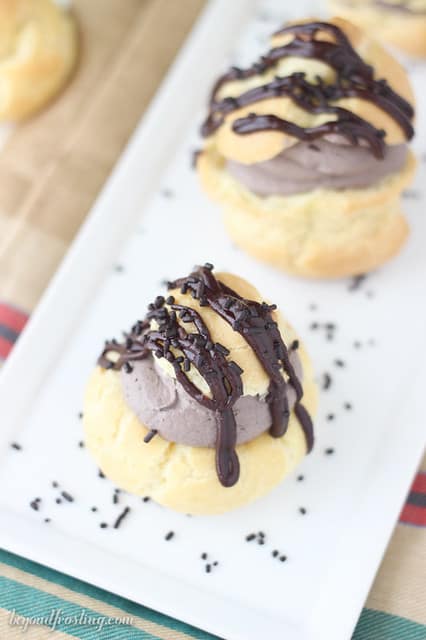 In celebration of my birthday, we are having Chocolate Cream Puffs in this month's edition of my Baking Bucket List. Cream Puffs were always a part of our holidays growing up, but I am pretty sure the cream puffs we ate were from the frozen aisle, which was totally okay by me.
I just remember being at my Aunt Cheryl's house sneaking into the kitchen to grab a cream puff before dessert, and maybe sticking a couple in my pocket for later. As an adult, I still crave a good cream puff.
This dessert is kinda tricky though. Most cream puffs are dry and lack flavor after sitting in the pastry case for an extended amount of time. Major letdown.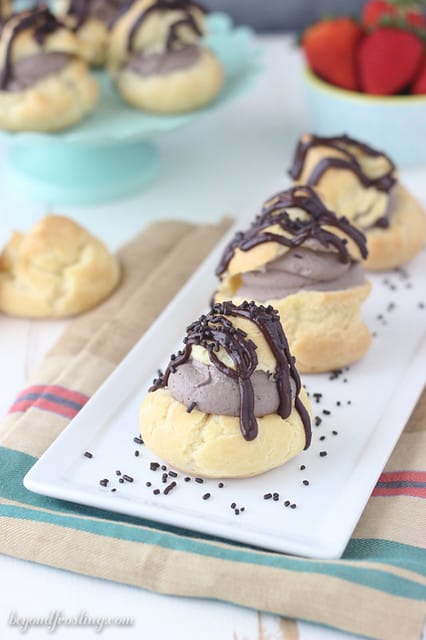 I have been eager to make my own cream puffs at home, but I have been seriously intimidated by the thought of making the dough. I had no idea what was involved, but it just LOOKS intimidating, right?
Finally this past weekend, I decided to open up my trusted King Arthur Flour Baker's Companion and see what I needed to do to make my own cream puffs. I read through the direction and thought, "gee, these would be easy enough!" Guess what? I was right! They were SUPER easy.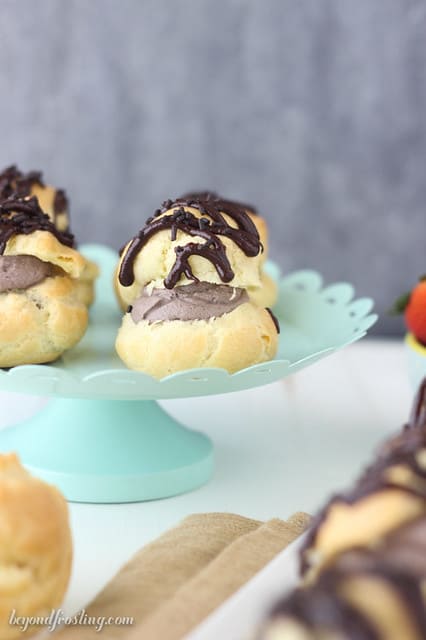 First up, you boil some water, butter and salt. Once it starts to gently boil, you stir in the flour and then return to the heat and continue to stir until a ball of dough forms. This happens relatively quickly. Then you just have to let it cool, and put it in your mixing bowl. The next step is to add four eggs, one at a time, and beat them into the dough. This creates a relatively thick dough.
To bake the dough, you can either spoon it onto your sheet pan or you can pipe it with a piping bag; which is what I did. It really didn't make a difference. When I piped these, they had a very defined tip, which I pressed down with my spoon because I didn't want my cream puffs to look like little things of poop. Sorry I just said poop.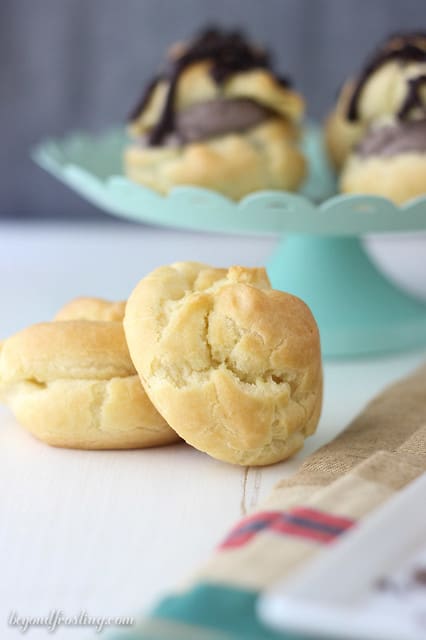 The one thing I learned is that the cream puffs rise and expand more than you think. I mean duh, why didn't I think about that? So, don't worry to much about the size. I started off small and then made them bigger. I was thinking to myself, gee, I want a much bigger cream puff. The bigger ones turned out to be a little TOO big. I would say the perfect size is about two tablespoons.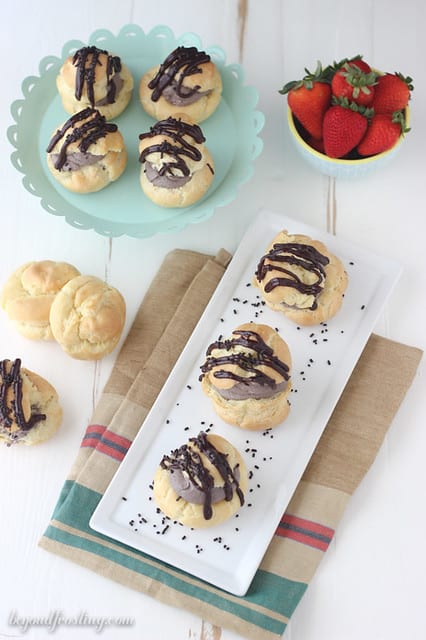 The instructions call for this to be baked at a high temperature for the first 15 minutes and then the temperature is reduced on the oven for the remaining 15 minutes. I know it sounds weird, but it works, so just follow the directions. Just don't open the oven or you will let out all the hot air!
The recipe also calls for you to open the oven door after 30 minutes and turn off the oven. This allows the cream puffs cool in the warm oven. I thought this was so weird, and I didn't really understand it. Then I saw why. The cream puffs are not fully baked through during the 30 minutes. They finish their baking while the oven is cooling.
The last tip I have it that if you see the cream puffs on the top rack getting brown too quickly, just open your oven and swap it with the pan on the lower rack, but do it quickly!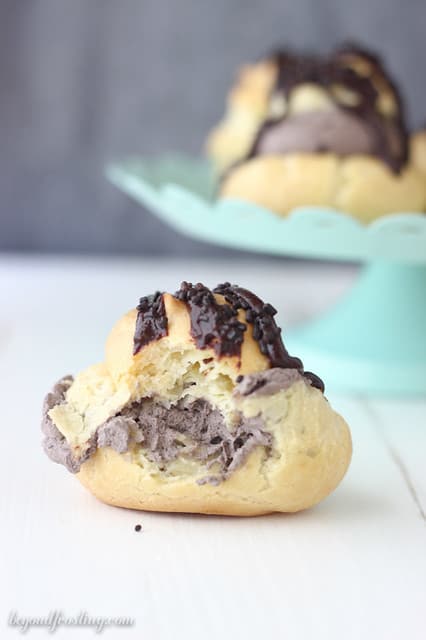 For the filling, I decided not to go with a traditional whipped cream. I made a chocolate whipped cream. I love the filling, I ate the leftover filling right from the piping bag. You can use a sweetened or unsweetened cocoa powder. Better yet, you can even make my Hot Chocolate Whipped Cream! I topped these off with some chocolate ganache and sprinkle .
You guys, I am SO happy to finally have tackled this! I see many éclairs or cream puffs varieties in my future. For now, I am going to go celebrate turning 28 again with a giant margarita.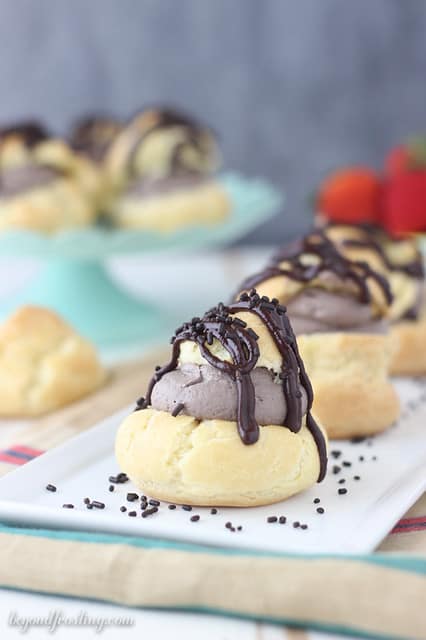 One last thing! Today I am also guest posting on my BBF Lindsay's Blog Life Love and Sugar. Lindsay has been traveling through South Africa for the past ten days, and I am super jealous! Be sure to check out my Mint Hi-Hat Cookies!
Keep up with all the happenings. Follow Beyond Frosting:
Facebook | Twitter | Pinterest | Instagram
Print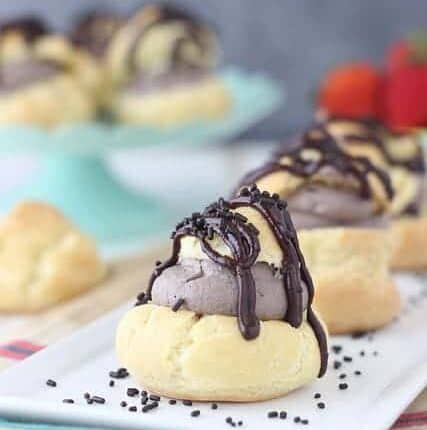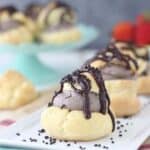 Chocolate Cream Puffs- Baking Bucket List
Author:

Prep Time:

20 mins

Cook Time:

30 mins

Total Time:

50 minutes

Yield:

15-18
Ingredients
For the pastry:

1

C Water

½

C (1 stick) Unsalted butter

¼ tsp

Salt

1 ¾

C All-purpose Flour

4

Large eggs
For the filling:

1

C Heavy whipping cream

2 tbsp

Powdered sugar

2 tbsp

Dark chocolate sweetened cocoa powder

1 tbsp

Dark chocolate

2 tsp

Heavy whipping cream
Instructions
Preheat oven to 425° F. Line a sheet pan with a baking mat or parchment paper.
Combine water, unsalted butter and salt in a medium saucepan. Bring to a light boil over medium heat.
Remove from heat and quickly stir in flour until flour is well coated. Return to heat and continue to stir until a ball of dough forms. This will happen very quickly.
Remove saucepan from the heat and allow to cool for 10-15 minutes. The original recipe calls for this to be 140° or until you can rest your finger in the dough without it burning.
Pour the dough in your mixing bowl and beat eggs into dough one at a time. Mix each egg thoroughly. After the last egg is added, beat dough for another two minutes.
Use spoons or a piping bag to form the dough into your desired shape on your sheet pan.
Bake for 15 minutes at 425° and then reduce heat to 375°. Try not to open your oven. Bake for another 15 minutes. If you see the cream puffs on the top rack getting brown too quickly, just open your oven and swap it with the pan on the lower rack, but do it quickly!
After the 30 minute baking time, turn off your oven and open the oven door slightly. Leave the pastry inside the oven while the oven cools for about 30 more minutes. This will ensure the pastry is baked all the way through.
Remove from the oven and cool completely.
To prepare the filling
Place metal bowl and whisk in freezer for about 15 minutes so they are good and cold. Pour heavy whipping cream into mixing bowl and beat on high for 2 minutes. Add powdered sugar and cocoa powder and continue to beat until stiff peaks form. Keep Refrigerated.
To prepare the chocolate ganache, combine dark chocolate chips and heavy whipping cream in a microwave-safe cup and microwave for 30-60 seconds. Stir until completely smooth. Drizzle over top of cream puffs and top with sprinkles.
To full the pastry, gently cut in half with a knife and spoon or pipe chocolate whipped cream inside. Drizzle with ganache.
You can customize with berries or your favorite candy bar.
Notes
Cream Puff recipe from King Arthur Flour Baker's Companion. Note: I made these a day in advance and stored the cooled pastry in a Ziploc bag until I was ready to serve. This helped to keep them moist and soft. Just the way they were meant to be!
Recipes from my friends:
Chocolate Cream Puffs with Honey Whipped Cream from Melanie Makes
Cream Puff Bar from Baking A Moment
Easy Cream Puffs from Something Swanky
Other recipes you might like from Beyond Frosting:
Chocolate Cream Pie Cookie Cups