This post may contain affiliate sales links. Please see my full disclosure policy for details
These Ghirardelli Chocolate Milkshake Cupcakes are a topped with a dark chocolate malt frosting!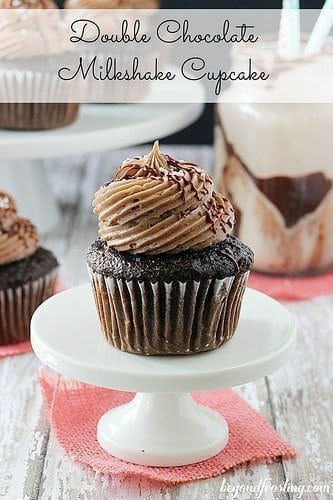 Disclaimer: Ghirardelli sent me product for review, but all opinions included here are my own. I was not compensated for this review.
Chocolate chocolate and more chocolate coming your way with week. Why? Well beside my obvious love for chocolate, I have been baking away with some new Ghirardelli products! I practically fell off my chair when I got an email from Ghirardelli asking me if I was interested in reviewing their new line of baking products. Umm yes please! We are huge fans of Ghirardelli, especially the milk chocolate chips. I can barley keep an open bag in the freezer because SOMEONE eats them all and it's not me. Anyone remember my random road trip stop to their factory outlet? I practically can't wait to go back to Tahoe so we can stop for another hot fudge sundae.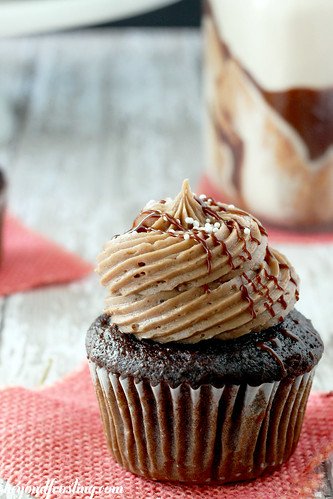 Ghirardelli's new line of baking products includes Premium Ground Cocoa, Premium Hot Cocoa flavors and Candy Dipping Wafers. Each different product offers the amazing chocolate flavor you would expect from Ghirardelli. Over the next couple weeks, I will be sharing some recipes using the various Ghirardelli baking products.
I only recently found out that Ghirardelli offered Ground Cocoa in both Unsweetened and Sweet Ground Cocoa. The Ground Cocoa is the perfect chocolate flavor for cooking, brownies and even frosting. Today, I am using the Sweet Ground Cocoa for this Chocolate Milkshake Frosting. It's chocolatety, a little griddy (like Cocoa) and slightly malted. I added some vanilla malt powder to the frosting for the added "milkshake" taste. I also tend to use heavy whipping cream in my frostings which add a smooth and creamy texture. I also whip it at high speeds for 30 seconds at a time to introduce some air into the frosting.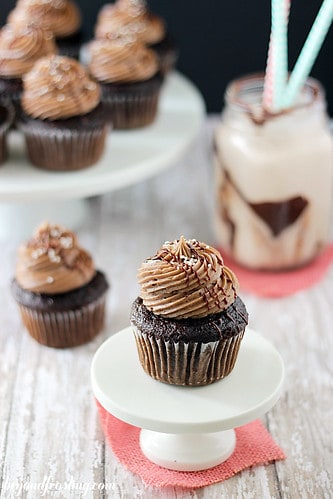 Usually I recommend sifting any cocoa powder before adding it to anything, because most cocoa powder comes in a hard container. However, the resalable bag of Ghirardelli Cocoa are soft and flexible, so you it can help break up any clumps that might have formed. So I did not have to sift the Ground Cocoa before I added it to my frosting. Anything that can help me save time is much appreciated! Now let's get to work and make some frosting!
Keep up with all the happenings. Follow Beyond Frosting:
Facebook | Twitter | Pinterest | Instagram |
Print
Double Chocolate Milkshake Cupcakes
Ingredients
1

batch of cupcakes, baked and cooled

3

sticks Unsalted butter- at room temperature

1/4

C Ghirardelli Sweet Ground Cocoa (a heaping

1/4 cup

)

2 tbsp

Malted milk powder

4

C Powdered sugar

3 tbsp

Heavy whipping cream
Hot fudge sauce for drizzling
Instructions
Butter should be at room temperature or slightly firmer, not melted. Beat on medium speed until butter is light and fluffy.
Reduce speed and slowly add Ground Cocoa butter and malted milk powder and beat into butter. Beat until Ground Cocoa is incorporated into butter.
Add powered sugar one cup at a time, beating on medium-low speed. The frosting will become quite thick.
Add heavy whipped cream and increase speed to medium high. Beat at high speeds in 30-second increments until frosting becomes fluffy, maybe two minutes.
Frost cupcakes once cooled.
I used some hot fudge sauce to drizzle over the top of my cupcakes. I microwaved it slightly just until warm and runny but not overly hot.
Notes
You can add additional Ground Cocoa for a more intense chocolate flavor. You can use your favorite chocolate cupcake recipe!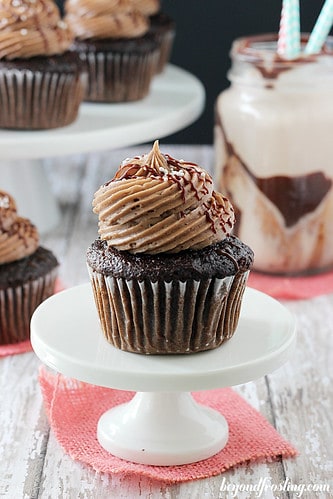 You might also like:
Skinny Chocolate Pudding Cupcakes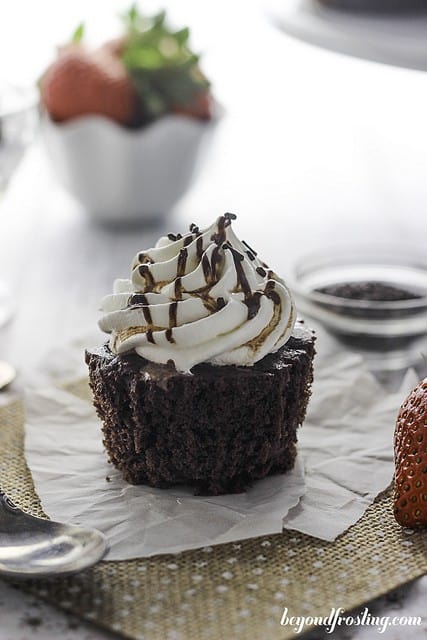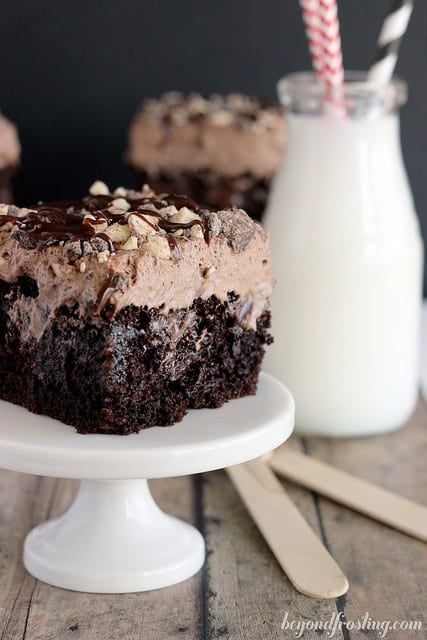 Did you know I have 30 other cupcake and frosting recipes? Check them all out here.