This post may contain affiliate sales links. Please see my full disclosure policy for details
These chocolate cheesecake cupcakes are easy to make with a cream cheese layer baked right in. Topped with a fresh strawberry buttercream.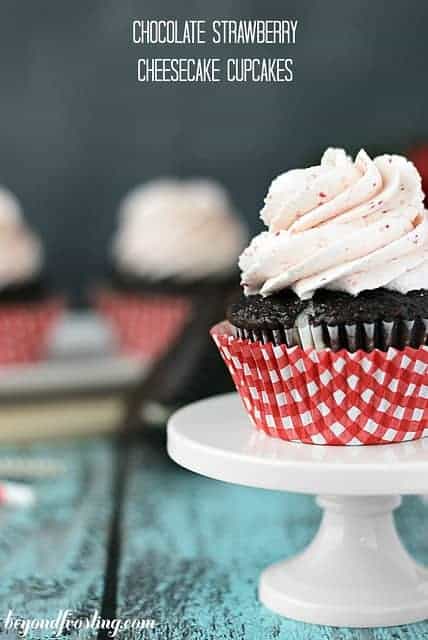 I have been working on trying to find a better balance between work and relaxing. I struggle to take the time my body need to rest and recharge. I just keep going and going, not unlike the energizer bunny, minus the energy. Here is my problem. Once I start something, I have to finish it, or I have to maintain the same level of quality. I tend to over commit and have a hard time saying no. This weekend, I slept in until 11am both days. I treated myself to a manicure followed by happy hour and even took a nap Sunday afternoon. Sometimes it's important to take a step back and allow yourself the time to relax. If I can do it, you can too!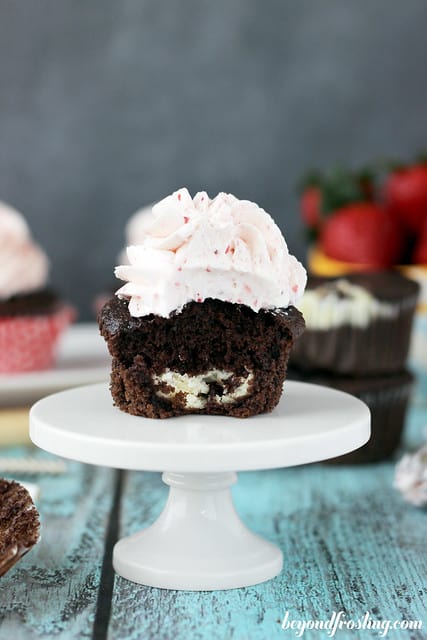 I can't believe how long it's been since I shared a cupcake recipe! I mean seriously. These Chocolate Strawberry Cheesecake Cupcakes are a combination of a couple recipes on my blog. The chocolate cheesecake cupcakes are a recipe my boyfriend made, and one of his favorites. The strawberry Swiss meringue buttercream is one of my favorite summer frostings.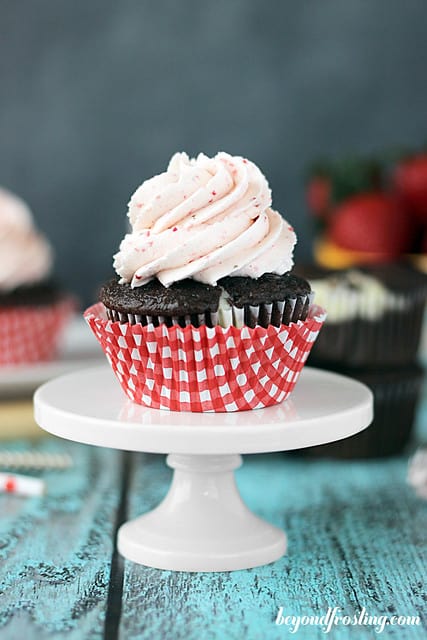 The strawberry buttercream is extremely versatile. It can be paired with pound cake, lemon cupcakes or even coconut cupcakes. This is the second time I have made it with chocolate cupcakes.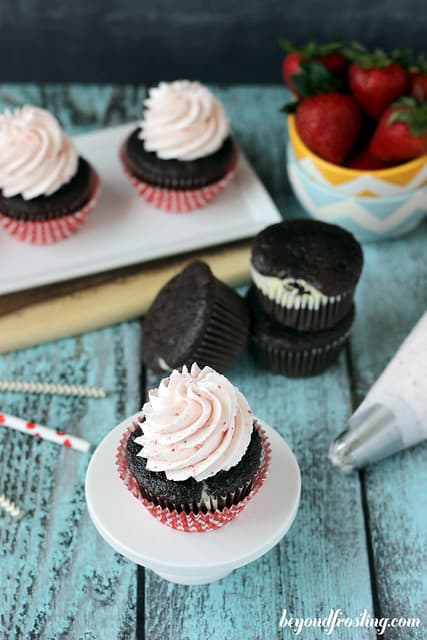 For the chocolate cupcakes, you can use your favorite recipe, whether it is from scratch or from a box. You just need to add the cheesecake layer. It is a combination of cream cheese, an eggs, sugar and a handful of mini chocolate chips. You drop a spoonful of it on top of the cupcake and it bakes into the middle of the cupcake.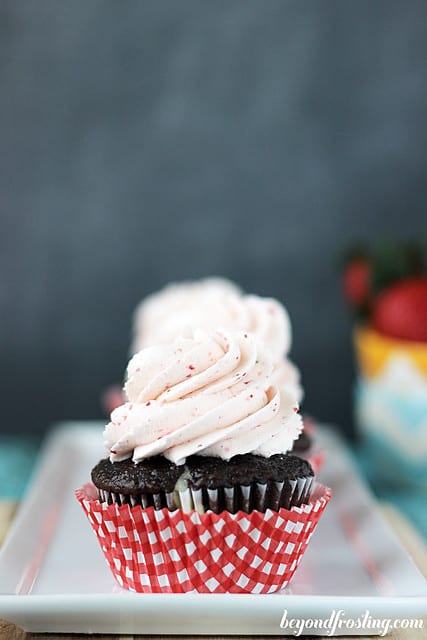 To make the Swiss meringue buttercream, it takes a bit of patience. I would suggest to read my tutorial first. Since it uses egg whites as the base, it is really important that you follow a few basic steps. Like using grease-free tools. I included a couple of photos of the frosting so you can see what it looks like when it's ready to go. Don't be afraid to make this frosting! It's really much easier than you think. Just read this tutorial on how to make Swiss Meringue Buttercream before you begin!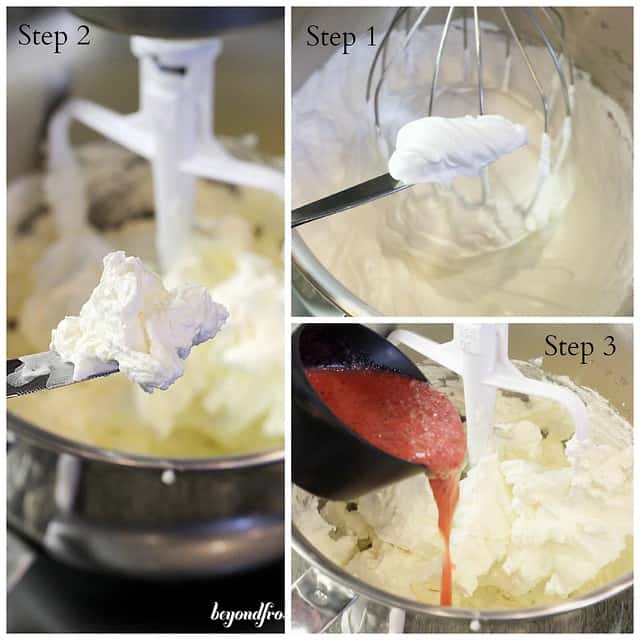 After the egg whites and sugar are heated to 160° F, it is whipped to the consistency of a marshmallow fluff. After you add the butter, you need to beat it until it looks like whipped cream. Then you add the strawberry puree and continue to beat until well mixed.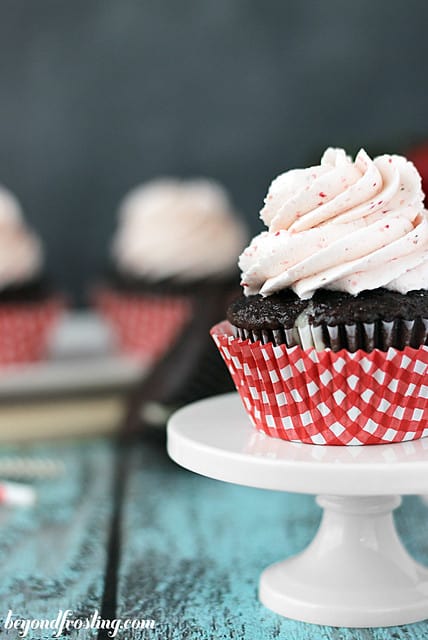 These cupcake could be served with a drizzle of chocolate or even a strawberry on top.
Follow Beyond Frosting:
Facebook | Twitter | Pinterest | Instagram
If you love no-bake recipes, be sure to check out my cookbook, No-Bake Treats!
Print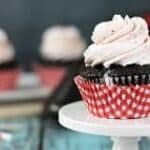 Chocolate Strawberry Cheesecake Cupcake
Prep Time:

15 minutes

Cook Time:

18 minutes

Total Time:

33 minutes

Yield:

24 Cupcakes
Description
These chocolate cheesecake cupcakes are easy to make with a cream cheese layer baked right in. Topped with a fresh strawberry buttercream.
Ingredients
1

Box Chocolate cake mix plus ingredients listed on the box

1

Package cream cheese (

8 oz

– softened)

1

Large egg

1/3

C Sugar

6 oz

Chocolate chips
For the frosting
1

lb (4 sticks) Unsalted butter at room temperature

5

large eggs whites

1

C plus 2 tbsp Granulated sugar

3/4

C Strawberry Puree
Instructions
Pre-heat oven to 350°
Mix cake mix with required ingredients listed on the back of the box. Fill your lined cupcake pan 2/3 full.
Mix together softened cream cheese, sugar and egg and beat until smooth. Fold in chocolate chips.
To add the cream cheese mixture to the cupcakes, use a spoon to drop into each liner. The original recipe calls for 1 tsp of the cream cheese mix, but we did about 2 tsp per cupcake and it worked out great. Liners will be very full.
Bake for 18-20 minutes. Use a toothpick to check the doneness of your cupcake. Insert the toothpick and if it comes out clean, your cupcakes are done. Allow cupcakes to cool for a couple minutes before transferring to a wire rack.
For the frosting
Puree strawberries using a food processor. Set aside.
Temper egg whites and sugar in a heat-proof bowl over a pot of simmering water on medium heat. You need just enough water to cover the bottom of the pot, about 1 inch. Heat the egg whites and sugar to 150°F, ensure the sugar as dissolved. Make sure to stir constantly to avoid cooking the egg whites.
Using a wire whisk on your stand mixer, beat on medium-high for 8-10 minutes until the egg whites form soft peaks
Reduce mixer speed to low and add butter 1 tbsp at a time, ensuring each addition is well mixed.
After all the butter has been added, change to paddle attachment and continue beating on medium to allow all the air bubbles to escape. In about 3-5 minutes until the frosting is smooth.
Add pureed strawberries and mix until combined, careful not to over mix.
Serve the same day or you can refrigerate in an air-tight container for up to 3 days. If refrigerated, you will need to bring it to room temperature (about 4 hours) and remix using the paddle attachment for about 5 minutes.
Recipes from my friends:
Fresh Strawberry Cupcakes from Life Love and Sugar
Sunrise Cupcakes from Lemon Tree Dweling
Vanilla Bean Cake with Strawberry Buttercream from Spoonful of Flavor
Other recipes you might like: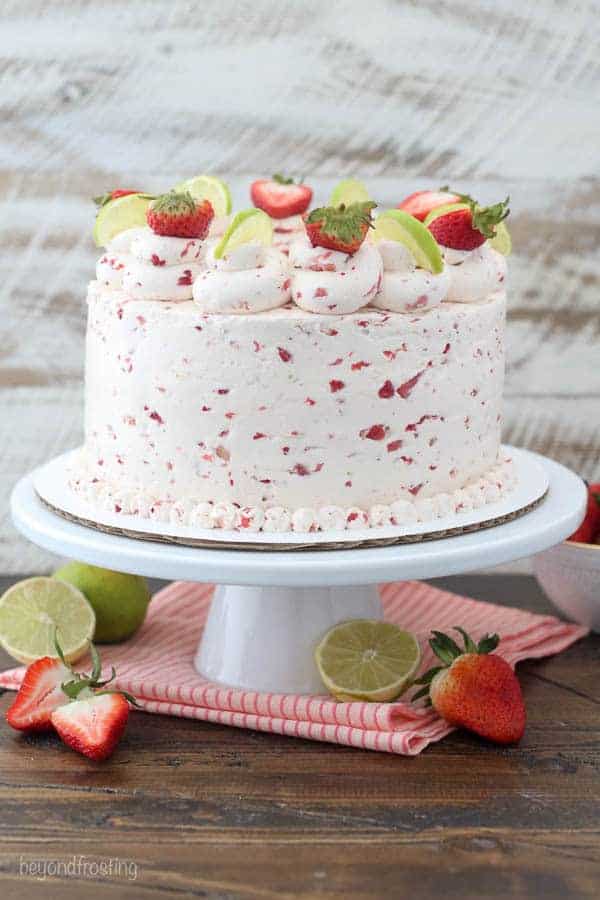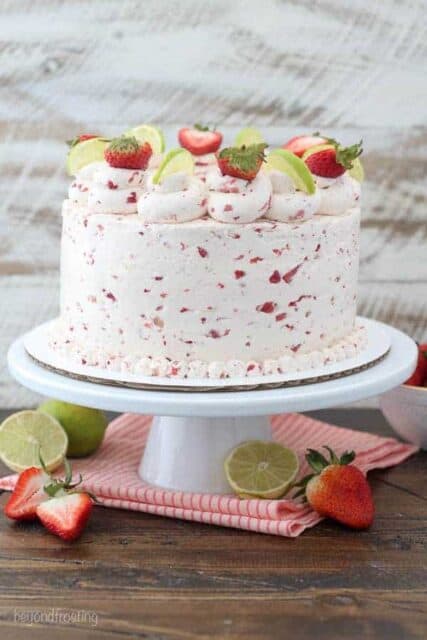 Strawberry Pound Cake Cupcakes
Ghirardelli Chocolate and Strawberry Cupcakes