This post may contain affiliate sales links. Please see my full disclosure policy for details
These adorable cupcakes are topped with a marshmallow frosting and dipped in green candy melts, decorated like a Christmas tree.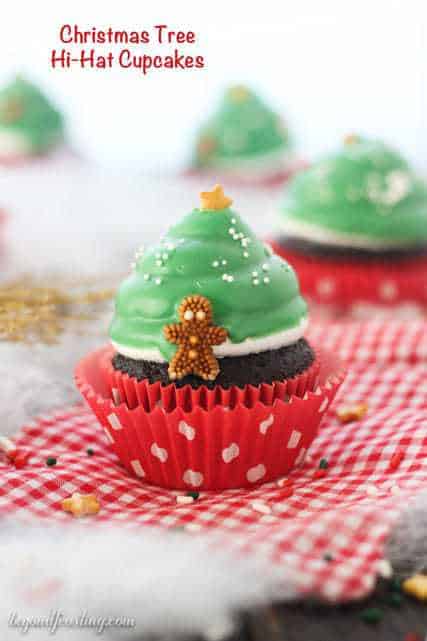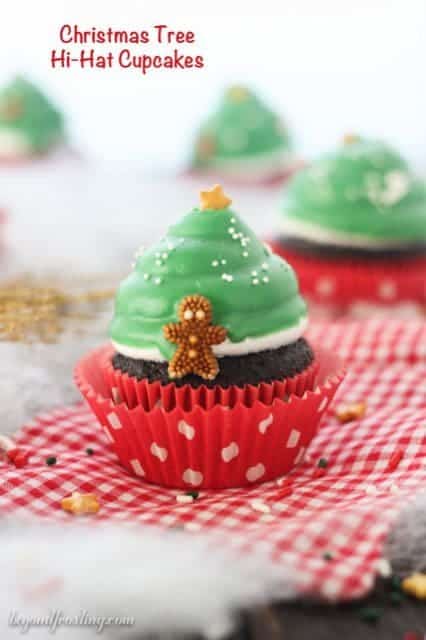 We got our Christmas tree up! It's like a Christmas miracle. We typically are scrounging for a tree the week before Christmas, and it's slim pickings at that point. Well this year we were in and out in less than 10 minutes because there was still lots of trees to pick from. We have to get a small tree, under 5 feet tall just so we can get it in and out of the house easily.
There is something about a lit up Christmas tree that bring me joy. The only problem is, I was so distracted with everything going on, I forgot to water the dang thing! Thankfully, the next morning, my boyfriend asked me if I watered the tree, I am not even sure how he thought about it but thank goodness he did!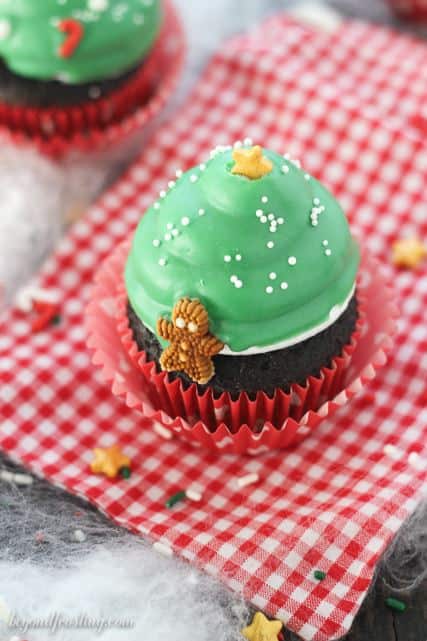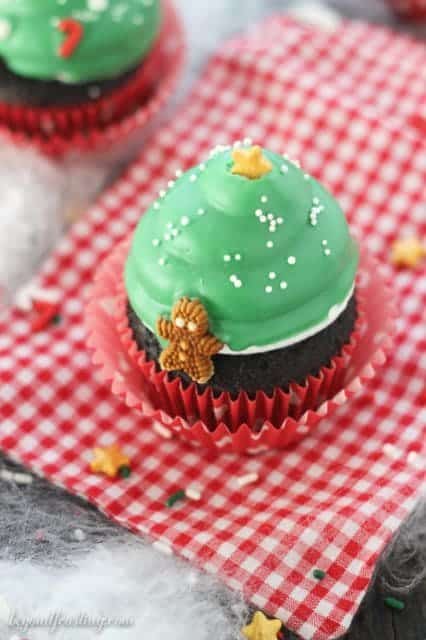 It's was perfect timing really, because today I am sharing these Christmas Tree Hi Hat Cupcakes. I kind of adore hi hat treats. I've made Red Velvet Hi Hat Cookies before and even some Pumpkin Spice Hi Hat Cupcakes!
These Christmas tree cupcakes can be done in two different ways. You can make a seven layer frosting (marshmallow) or with a vanilla buttercream. I have used both methods. With the vanilla buttercream, you need to be sure the buttercream is cold and somewhat stiff, so that when you turn the cupcake upside down, it won't fall off.
Marshmallow frosting is nice because it is very light. However, you need to tap the cupcake on the counter after you frost it to help adhere the frosting to the top of the cupcake. Regardless of the frosting that you use, you will need to dip the cupcakes very quickly and flip them back upright.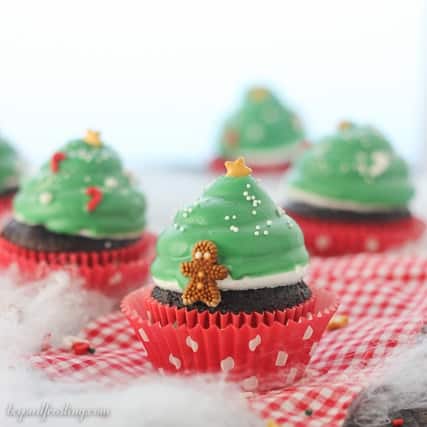 The Wilton Candy Melts are just perfect for these cupcakes. I used about a bag and a half for these. You will have a lot of leftoverse, but it is better to have a deeper pool of chocolate to dip into. If it is too shallow, you can ruin the shape of your frosting, or risk hitting the bottom of the bowl.
Sometimes I use a deep glass, but this time I used my melting pot. This is the first time I have used the new melting pot, and the clean up was a breeze. I let the leftover candy melts harden and then I just popped it out and washed the bowl.
Whenever I work with candy melts, I add Crisco or vegetable oil to help make it thinner. The thinner the chocolate is, the lighter it will be and the quicker it will dry. Sometime you need 3 or more tablespoons in order to make it thin enough. You want to get a very steady stream of chocolate dripping off the end of your spatula and be sure all the oil is well mixed into the chocolate.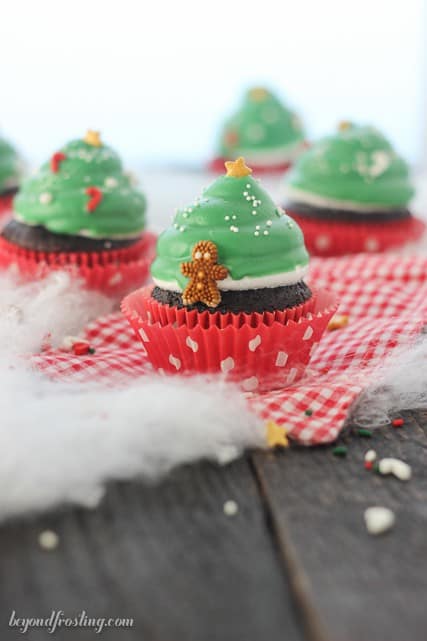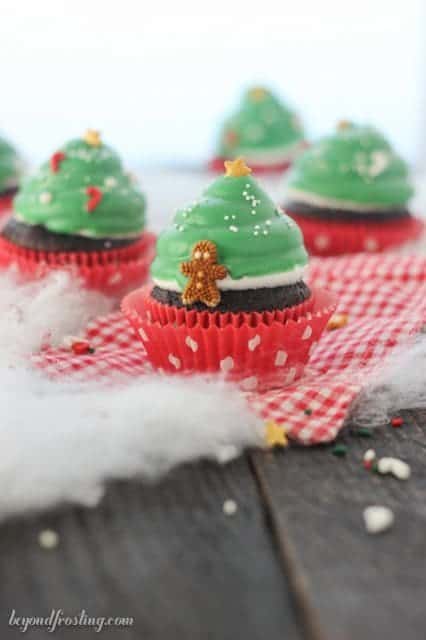 Once you dip the cupcake, wait several minutes to add your decorations. If the chocolate is too soft, your decorations might slip off. For the decorations, I used Wilton Candy Cane Sprinkles, sugar pearls, star sprinkles and mini gingerbread men icing decorations. These are so easy to decorate these!
It is best to let the chocolate harden before serving and you can of course put it in the refrigerator if you need to. I love biting through that chocolate shell to a fluffy frosting. Just be sure to allow yourself enough time to make these!
This post is sponsored by Wilton. All options are my own. Thank you for supporting the brands I love!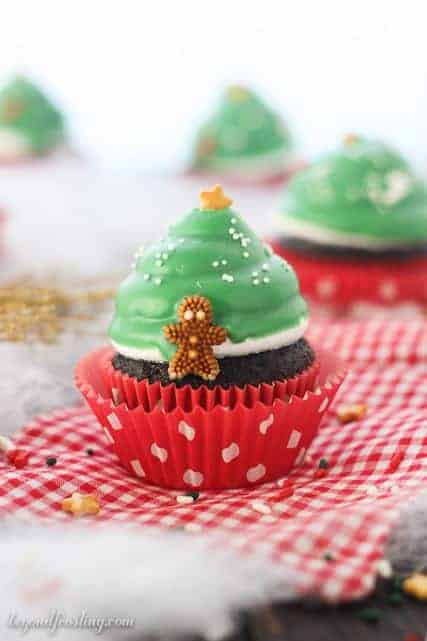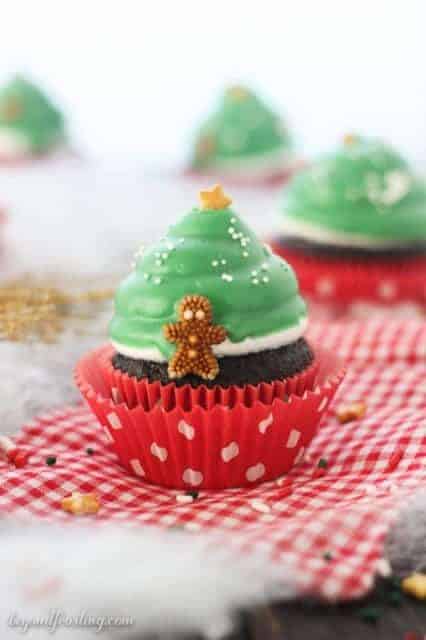 Keep up with all the happenings. Follow Beyond Frosting:
Facebook | Twitter | Pinterest | Instagram
Print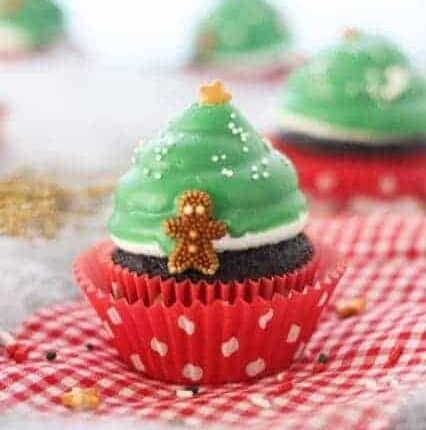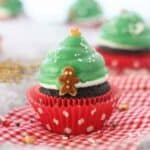 Christmas Tree Hi Hat Cupcakes
Author:

Prep Time:

40 mins

Total Time:

40 minutes

Yield:

24 cupcakes
Description
These adorable cupcakes are topped with a marshmallow frosting and dipped in green candy melts, decorated like a Christmas tree.
Ingredients
24

chocolate cupcakes, cooled

1

recipe Perfect Vanilla Frosting

1 1/2

bags Wilton Green Candy Melts

3

–

4

tablespoons Vegetable oil
Decoration
Instructions
Prepare cupcake according to instructions and after baked, allow to cool completely.
Prepare a batch of frosting (either a vanilla buttercream or a seven minute frosting).
If using buttercream, pipe cupcakes and refrigerate for 30 minutes to allow frosting to harden.
For the magic shell, combine candy melts and 3 tablespoons vegetable oil in a tall, microwave safe dish or cup. Melt for 45 seconds, stir until smooth. If not completely melted, microwave for another 15 seconds. Magic shell should be completely smooth. Add additional vegetable oil if necessary.
Dip cupcakes in magic shell and tap off excess chocolate. Flip cupcakes upright and allow chocolate to start to firm up, about 10 minutes or so. Add icing decorations.
Notes
Instead of vanilla buttercream, you can use a seven minute frosting
Visit Beyond Frosting's profile on Pinterest.
You might also like:
Tips and Tricks for Perfect Sugar Cookies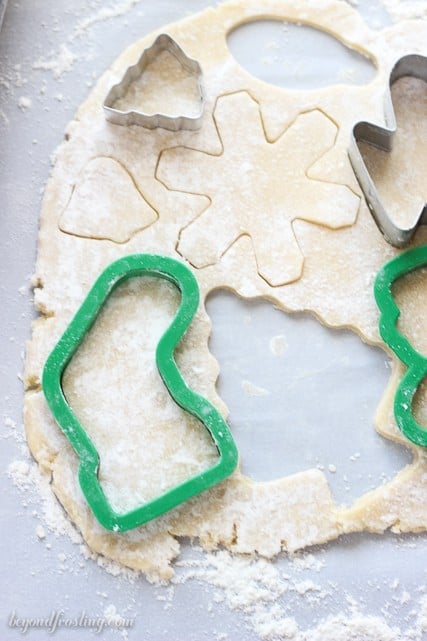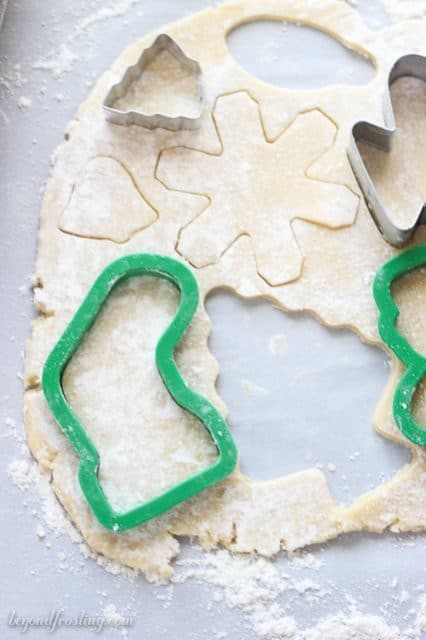 Tips for Decorating with Buttercream