This post may contain affiliate sales links. Please see my full disclosure policy for details
Start your morning off with a stack of this Cinnamon Pecan Waffles. They are perfect for a cozy fall breakfast.
Hi, everyone! I'm back today with a warm and cozy waffle recipe for you guys. Fall is my absolute favorite season. School is back in session, college football is upon us, fall flavors are popping up everywhere, and hopefully the weather will start getting cooler. Although that last one probably won't happen here in the South for another couple of months. I'm still excited for it though!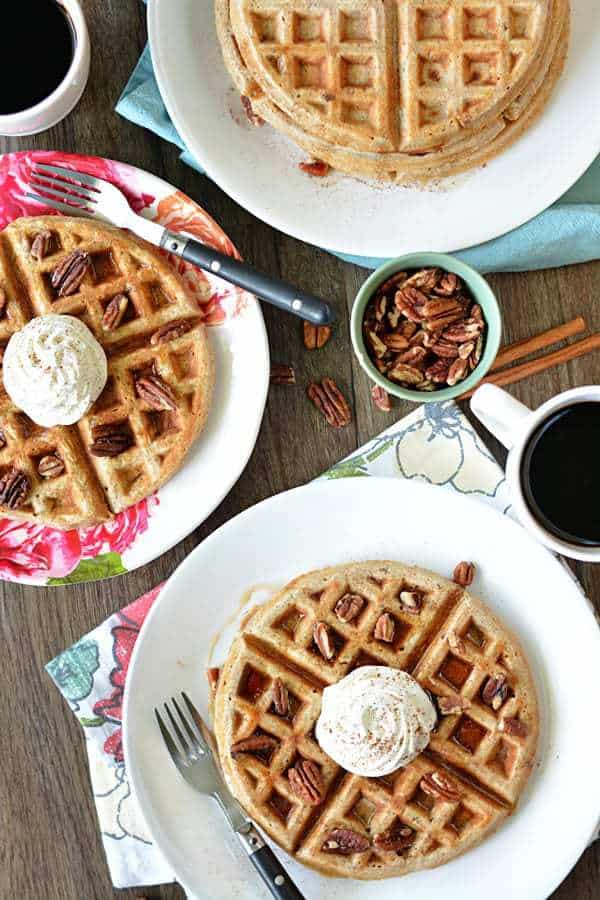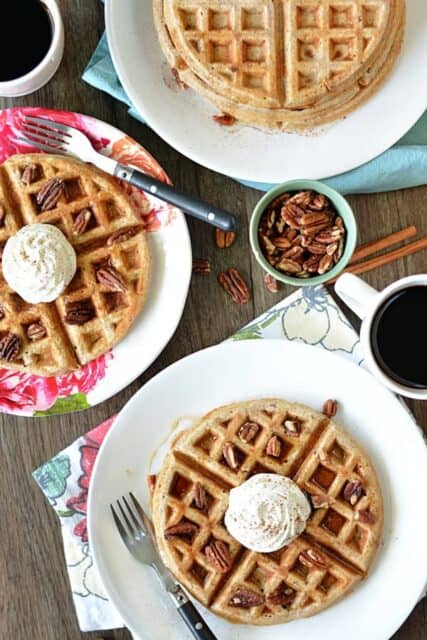 Fall flavors are my absolute favorite. I love caramel apple, cinnamon on everything, lattes, big sweaters, and comfy boots. So today I'm bringing you these Cinnamon Pecan Waffles, which make me want to curl up on a couch with a cozy blanket and a cup of coffee.
Growing up in my family, my dad always made pancakes for breakfast on Saturday mornings. It was totally his thing, and I looked forward to it every weekend. I'm pretty sure he still does it even now! But that's sort of how I see pancakes and waffles–as a treat for the weekend.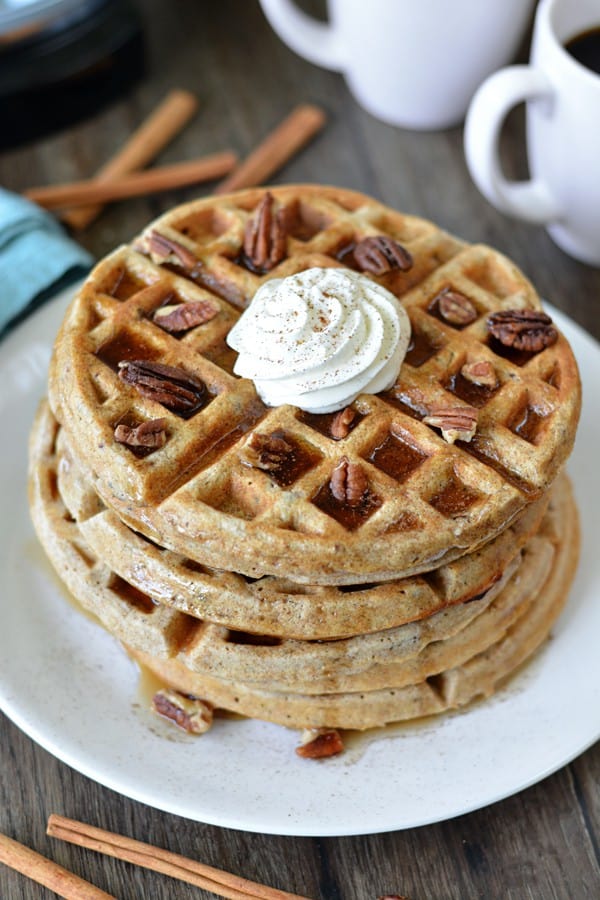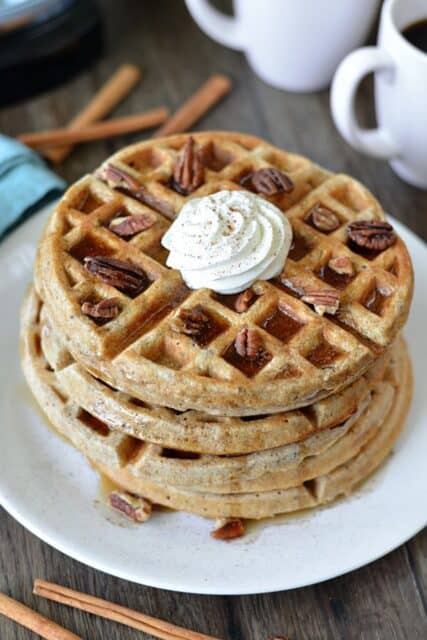 I recently bought a waffle maker and I think I've used it every weekend since I got it. I have at least three zip-loc bags full of waffles in my freezer, which is one of the many great things about waffles. If you're having a rough or slow morning during the middle of week, or you just need a mid-week pick-me-up to start your day, you can just slip one out of the freezer and toast it.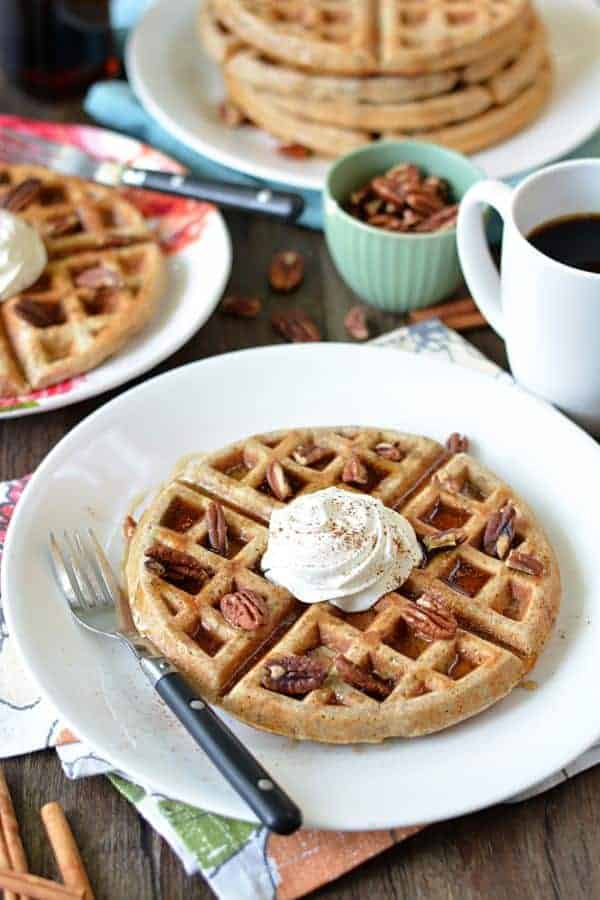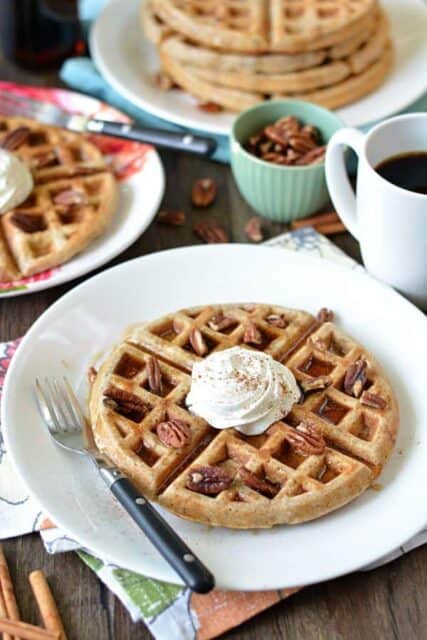 These waffles are super easy to make, and they're nice and fluffy on the inside. I started out with some whole wheat flour, but regular all purpose will work too. The waffles are flavored with some ground cinnamon, chopped pecans, and a bit of vanilla extract. The eggs are separated, so the yolks get mixed in the batter. Then the whites are whipped and folded in at the end, which is what makes the waffles so fluffy.
This recipe made 6 waffles for me, but it will depend a little bit on what kind of waffle maker you have and what shape it is. Definitely consider making them this weekend!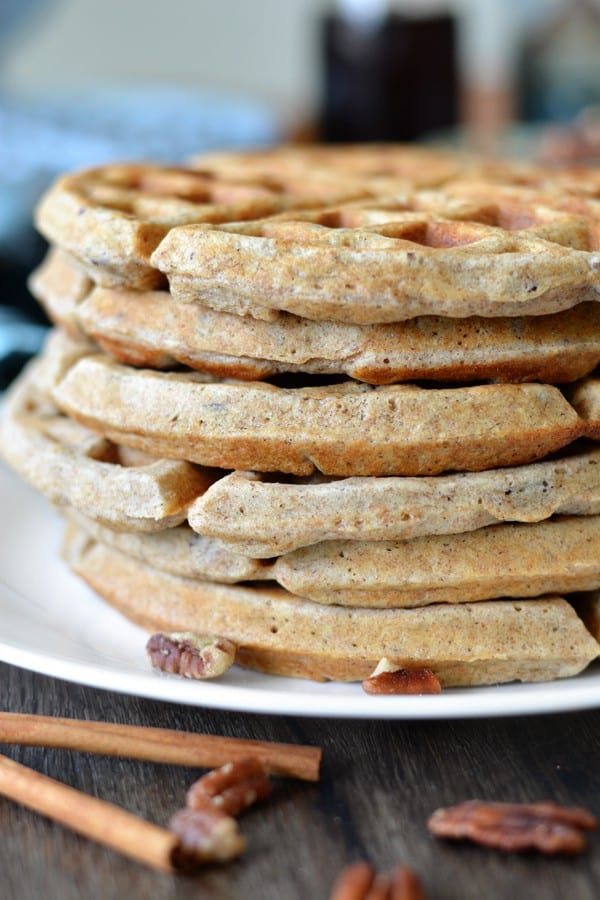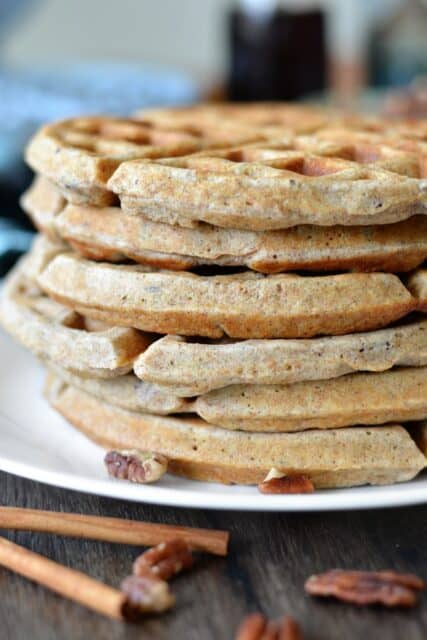 Print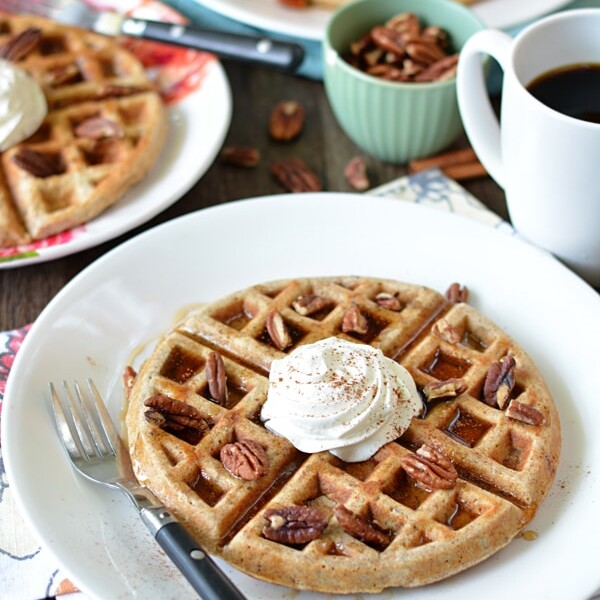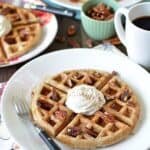 Cinnamon Pecan Waffles
Ingredients
2 cups

all purpose flour

¼ cups

brown sugar

1 tbsp

baking powder

½ tsp

salt

1 tsp

cinnamon

4

eggs, separated

1½ cups

milk

½ cup

butter, melted

1 tsp

vanilla extract

1 cup

finely chopped pecans
Instructions
Whisk together flour, brown sugar, baking powder, and salt. In another bowl, combine egg yolks, milk, butter, and vanilla extract; mix well. Add flour mixture to egg mixture, mix until combined.
Whip the egg whites on medium-high speed until stiff peaks form. Fold the egg whites into the waffle batter. Stir in pecans.
Preheat your waffle iron according to the package instructions and pour about ½ to ⅔ cup batter at a time. Cook until golden brown on both sides. (Exact times and measurements will depend on the size and model of your waffle maker.)
Serve waffles warm with syrup, butter, cinnamon, and more pecans.