This post may contain affiliate sales links. Please see my full disclosure policy for details
I don't have much of an update to give you here other than I am SO GLAD that it's Friday. I need this weekend like it's nobodies business. This was been one long week! Also, be sure to come back tonight for an AMAZING giveaway. There are two major prizes up for grabs and you don't want to miss it.
One thing about food blogging is that we are constantly pushing the flavor envelope. Don't get me wrong, nothing beats a tried and true classic recipe, but everyone likes to have a little fun now and again right? I figure it Hayley can wrap a donut in a cinnamon roll, then I should be able to top an apple pie with one right? These Cinnamon Roll Topped Apple Pies are mini apple pies, but instead of a traditional topping, I used a cinnamon roll. I see recipes for pies that have a cinnamon roll type crust, but I would much prefer to dig into the cinnamon roll first and then make my way down to the apple pie. Plus, these are made in a muffin tin, making them a single serving size and extra cute. The muffin tin happens to fit the cinnamon roll perfectly on top. And, because the glaze is for sure the best part of the cinnamon roll, there is no skimping out on that either.
Make things easy on yourself and use a refrigerated pie crust. I used a Pillsbury pie crust that came with two 9" crusts and I was able to make 8 mini apple pies. This was perfect because the can of cinnamon rolls also had 8 rolls. This does require a little elbow grease, as you will need to keep your scrapes from the pie crust and re-roll them out in order to get 8 mini crusts. I used a circular cookie cutter about 4-4.5″ in diameter. You want to be sure to cut them larger than the muffin tin so you can crease the edges around the cinnamon roll. Also, I always grease my muffins tin with Crisco to help the mini pies slide nicely out of the pan once cooled.
For the actual cinnamon rolls, I used the standard size Pillsbury rolls. I didn't use anything jumbo because I know I was making them in a small pan. And of coarse, I made my own glaze because I can never get enough of that. I filled each muffin tin about 2/3 full and then pressed the cinnamon roll on top. I did also bake these for a little longer to ensure that the cinnamon roll was cooked all the way through.
Lastly, if you want to make this recipe super easy on yourself, you can use a can of apple pie filling. However, I do love myself a good homemade apple pie, you can find my pie filling recipe used here and here. I wrote this recipe to use a pie filling just to make it easier on you, but I jazzed it up with some walnuts and a little bit of caramel sauce. I am also maple syrup crazy (hello, I'm from Vermont), so I love a little maple syrup in my apple pie. The way I see it, cinnamon rolls are for breakfast, and apple pie is good all year round. So go ahead and make this for breakfast or dessert this weekend, I promise it is socially acceptable. An apple a day right?
Keep up with all the happenings. Follow Beyond Frosting
Facebook | Twitter | Pinterest | Instagram |
Print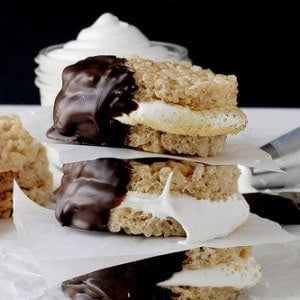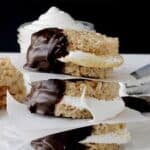 Cinnamon Roll Topped Apple Pie
Prep Time:

20 minutes

Cook Time:

18 minutes

Total Time:

38 minutes

Yield:

8 Mini Pies
Description
Mini apple pies topped with a cinnamon roll.
Ingredients
1

box Pillsbury Pie Crust (2-9" crusts)

1

Can Apple Pie filling (Lucky Leaf or other)

2/3

C Walnuts- chopped (optional)

1 tbsp

Caramel or maple syrup (optional)

1/2 tsp

Cinnamon

1

pk Pillsbury Cinnamon Rolls (8pk regular size)
For the glaze
1 1/2

C Powdered Sugar (sifted)

2

–

3

tbsp Milk

1/2 tsp

Pure vanilla extract
Squeeze of lemon juice (optional)
Instructions
Preheat oven to 350° F.
Grease a muffin pan with Crisco or a light cooking spray (I prefer Crisco).
Remove pie crust from package and roll out flat. Cut smaller crusts, at least 4-4.5" in diameter. Cut one and fit to the size of your pan to determine what works best with you pan. Once that is determined, cut out 8 mini crusts. You may need to combine and re-roll dough in order to achieve 8 crusts.
Take mini crust and gently press into the sides of the muffin pan. Allow excess dough to hand over the edge.
In a separate bowl, combine apple pie filling with walnuts and caramel (both of which are optional) and cinnamon. This just add a little personal touch to the filling. Or you can make your own.
Fill each pie crust about 2/3 full.
Remove cinnamon roll from the package. Gently press a roll onto the top of each mini pie. Carefully pinch and fold the edges of the pie crust around the cinnamon roll.
Bake at 350° for 15-18 minutes on a middle rack of the oven. You may need to test the centers of the cinnamon roll to see if it needs additional time, maybe 2-5 minutes depending on your oven.
Allow mini pies to cool for at least 30 minutes before attempting to remove from the pan.
For the glaze
Sift powdered sugar in order to achieve a smooth glaze. This step is optional, but I always sift my powdered sugar.
Combine powdered sugar with milk and vanilla extract. Whisk until desired consistency. For a thinner glaze, add additional milk. For a thicker glaze, add additional powdered sugar.
In order to cut the sweetness, squeeze it a little hint of lemon juice into the glaze (this step is optional).
Drizzle glaze over mini pies.
Notes
Pie can be heated in the microwave for 60-90 seconds. Watch carefully.
Recipe Card powered by