This post may contain affiliate sales links. Please see my full disclosure policy for details
For years I have been making sweet potato chips. Sweet potatoes are a staple in my diet, but I have to find different ways to enjoy them, and to enjoy them in moderation. I could just eat these Cinnamon Sugar Sweet Potato Chips all in one sitting.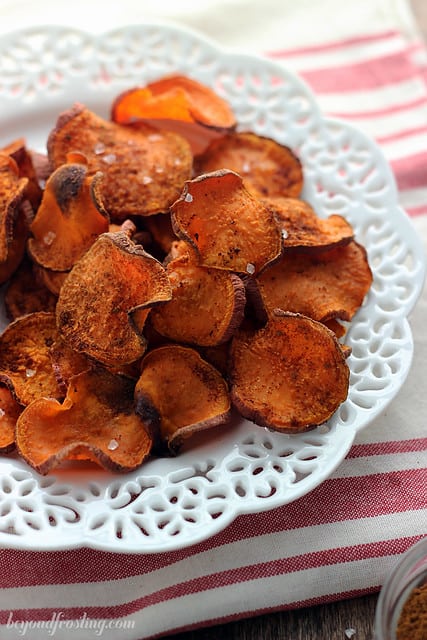 Homemade sweet potato chips are usually baked, although they certainly can be fried, but that would defeat the healthy factor. The best part is, these so super easy and relatively quick to make! It's hardly a recipe but it definitely a snack!
All you need is one sweet potato, some cinnamon sugar and a pinch of sea salt. You just need to cut the sweet potatoes as thinly as possible and give them a gentle coating of cooking spray before you sprinkle on the cinnamon sugar.
Now in order to keep these healthier, the coating is about 3 to1 cinnamon to sugar, but you can certainly adjust those ratios to your liking. I will usually combine my cinnamon and sugar together and then sprinkle it over the chips, but other times, I have shaken them together in a Ziploc bag. I also sprinkle some coarse sea salt on top right before I bake them. I like the little bit of salty flavor.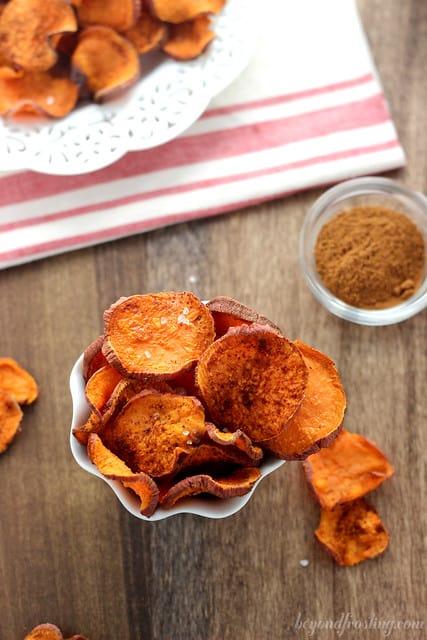 All you need to do is bake them on a sheet pan until they are crisp. The thinner the chips, the faster they will cook and the crispier they will get. After about 15 minutes, you need to keep an eye on the smaller ones because they will cook faster. Sometimes I remove them from the pan while the other pieces continue to bake.
I prefer to eat these right away, but quite frankly they are hard to save for later! Trust me!
It's that time again for a monthly update on my weight loss plan for the year! If you have been around here recently, you might remember I wrote about my 100 lbs weight loss story . As I started 2015, 30 lbs heavier than my lowest weight, I have been balancing a more healthy lifestyle with a dessert blog and lots of overtime at work.
I last checked in at the end of January (in my Pumpkin Banana Smoothie post) when I was down 4 pounds. I am happy to report I am down another 3 pounds for the month of February! This means that I have officially achieved my first goal, which was to be at 150 lbs before heading to Florida this week for Food Blog Forum.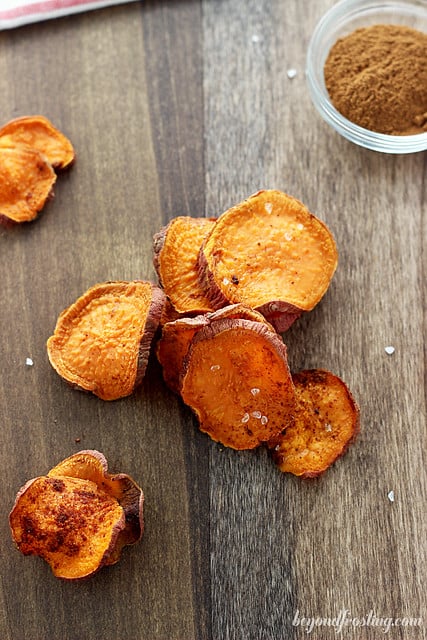 The good news is, I actually reached this goal earlier in the month. I was quite pleased and expected to actually lose a couple more pounds before my trip. It's been a bit of a tough month, and I am happy that I have been able to maintain. After a couple weeks of long days at work, I had let my workout routine slip and I was also not doing as great job with planning my meals.
In my last post I talked about how important it was to stay with your routine. I wrote all about tips and tricks to doing that, but then a week later I found myself falling off track. It happens. This past week I was able to get back on track and made my workouts a priority.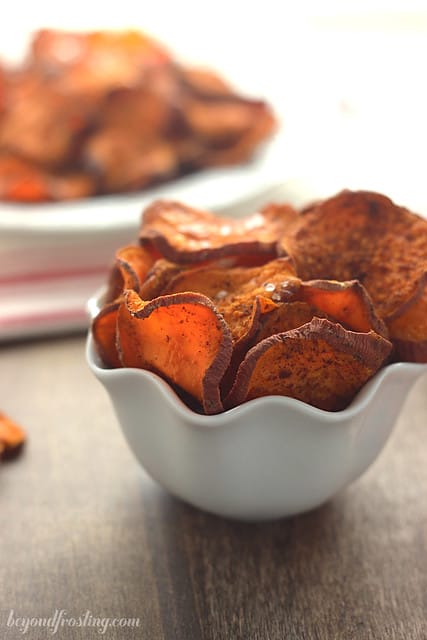 Overall, I feel SO good. I am not discouraged by the fact that I am still 25 pounds heavier than I was three and half years ago when I was at my smallest. I am really excited to know that I have dropped 7 lbs since Christmas. My body is stronger, my workouts and stamina is improving and I actually feel good when I was working out (most days).
My body shape has also changed. I can see the places where I have started to slim out again. I can see the muscles shaping in my arms, and I can see the muscle definition in my back. All of these things are part of the process and little reminders to keep going. It's a slow and steady process, and that's so important to keep in mind.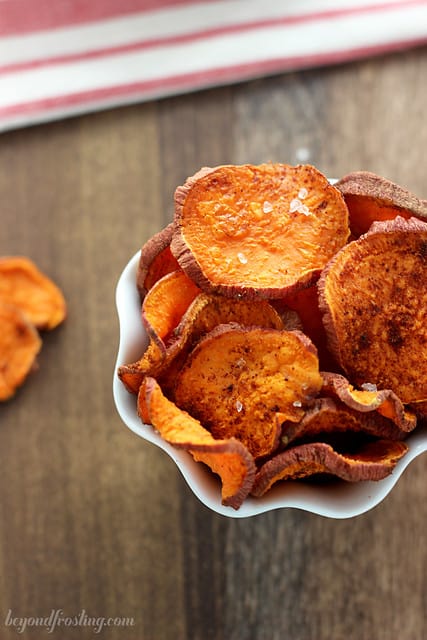 This week I am heading to Disney World for a blogging conference. I know how difficult it will be to stay with my diet. I also know I am going to want to eat ALL THE THINGS! I am hoping to show some self-control and also offset my food intake with added exercise.
One thing I like to do when I am traveling is walk around the airport while I am waiting for my flight. Serious steps can be done. It's really difficult to get up early and workouted before my events, but I am going to bring my shoes and workout clothes and try to sneak in an extra walk if I can. The most important thing will be "detoxing" when I get home! I am challenging myself to get 20K steps in one day, we will see what I can do!
Keep up with all the happenings. Follow Beyond Frosting:
Facebook | Twitter | Pinterest | Instagram |
Print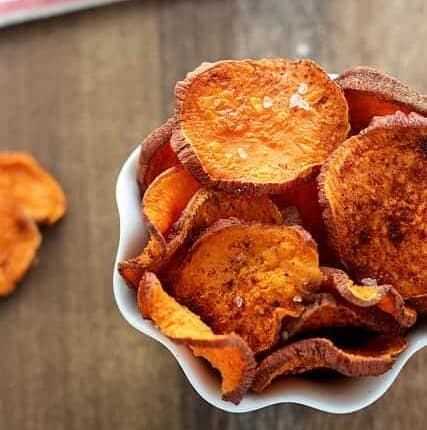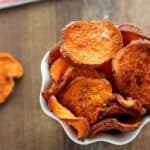 Cinnamon Sugar Sweet Potato Chips and a Weight Loss Update
Author:

Prep Time:

25 mins

Cook Time:

20 mins

Total Time:

45 minutes
Description
These baked chips are healthy, crispy, and so easy to make!
Ingredients
Cinnamon Sugar Sweet Potato Chips

1

–

2

Medium sweet potatoes

3 tsp

cinnamon

1 tsp

Sugar
Coarse sea salt (optional)
Instructions
Preheat oven to 400°F.
Slice sweet potatoes as thin as possible. Lay out on a baking sheet lined with parchment paper or a baking mat. Gently spray with cooking spray.
Combine cinnamon and sugar and sprinkle over sweet potatoes. Top with a sprinkle of coarse sea salt.
Bake at 400°F for 15-20 minutes. Flip over with a spatula halfway through. Remove any chips that are baking faster than the others.
Chips should be slightly crispy. Serve warm.
Category:

Snack

Method:

Baked

Cuisine:

American
Keywords: sweet potato chips