This post may contain affiliate sales links. Please see my full disclosure policy for details
Coconut Cream Pie Cookie Cups are just like your favorite Coconut Cream Pie but in a cookie form. These cookies are made with coconut pudding filling and topped with whipped cream. You won't be able to stop at just one!
Looking for more cookie cup recipe inspiration? Try my Banana Cream Pie Cookie Cups or these Samoa Cream Pie Cookie Cups!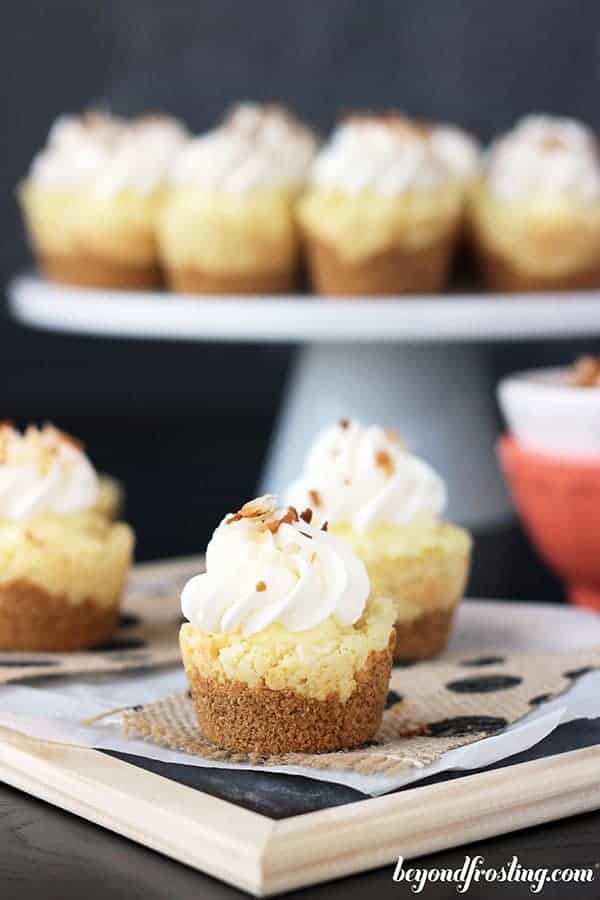 I know I have been all about the no-bake recipes lately, but I decided it was time to turn on the oven to make these cookies. Let me tell you, it is totally worth it. I make a lot of recipes with Cool Whip, but I know that everyone isn't a huge fan. So I decided that I would try making this recipe without Cool Whip, and instead, I made my own whipped cream. What a difference it makes!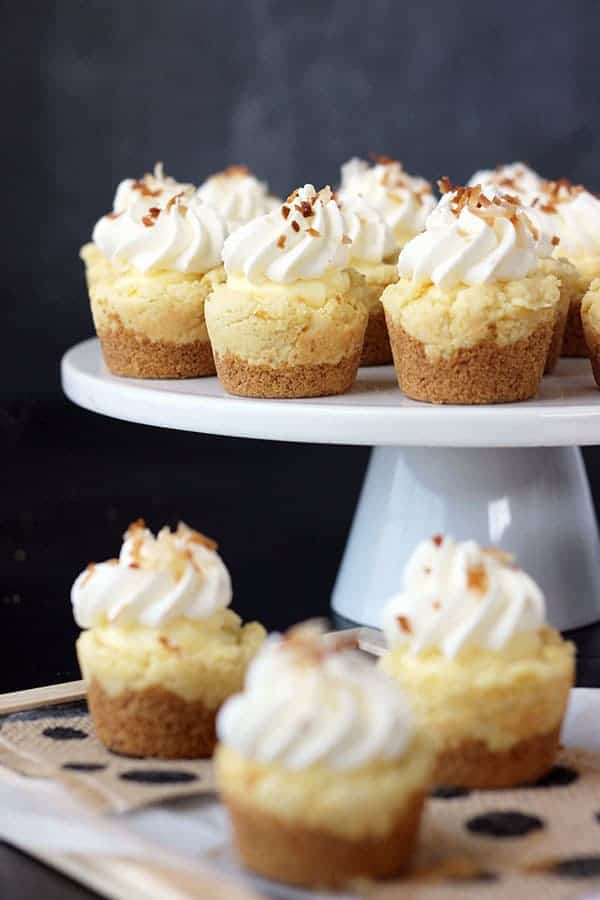 These Coconut Cream Pie Cookies are crazy addicting. I can't say that I have had many coconut cream pies in my life, but I have decided that I have to try it ASAP, this might be a new addiction.
These cookies have a buttery graham cracker crust and a coconut pudding cookie filled with a coconut mousse and topped with fresh whipped cream. Plus, there is a little bonus toasted coconut on top. Since I originally wrote this recipe, I've become quite obsessed with cookie cups.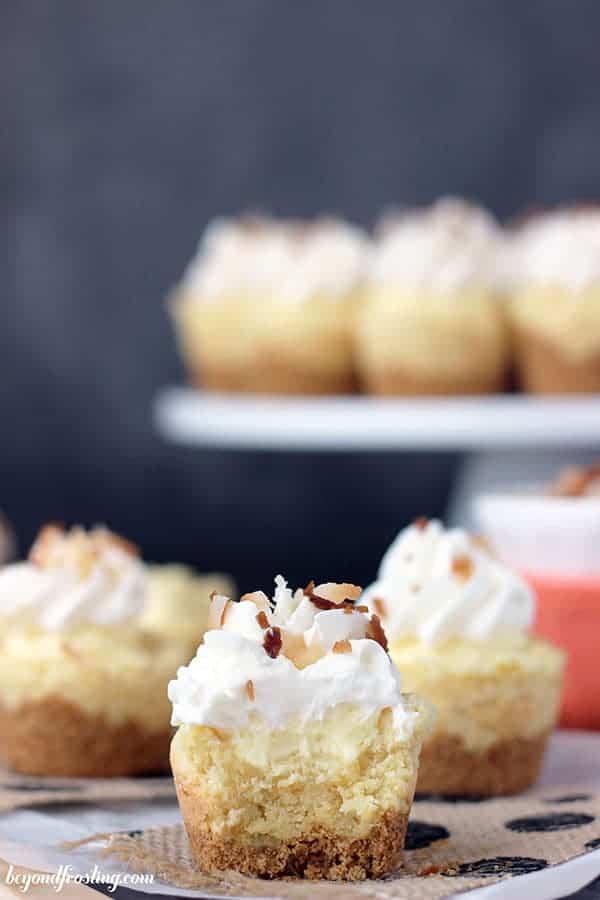 I read through a ton of different recipes to find out what makes a coconut cream pie what it is. There are so many variations out there that I can't say I know. So I decided to take a shot at it and see what I could come up with.
Let's talk about the cookies first. These are pudding cookies are pretty much the most awesome cookies on the face of the earth. The flavor usually comes from the pudding mix which also helps to keep the cookies super soft. For this recipe, the cookies are baked into the graham cracker crust.
What If I Can't Find Instant Coconut Cream Pudding Mix?
This cookie calls for instant coconut cream pudding. I have only ever seen this at Walmart. So if you can't find it, I would use vanilla pudding, and double the amount of coconut extract. And because I love coconut, I added some shredded coconut to the cookie dough just for fun.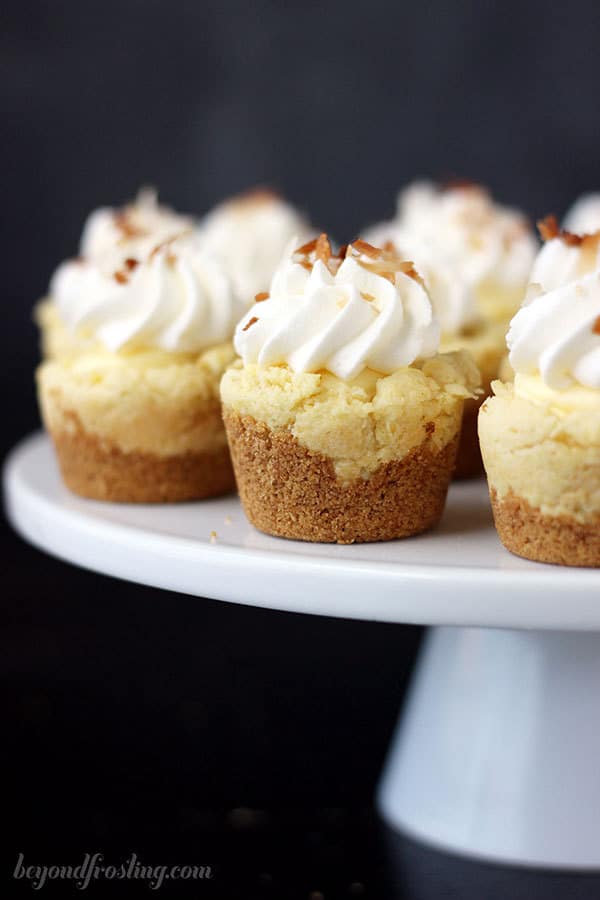 How To Make The Homemade Coconut Mousse
The next layer is the coconut mousse. This is OH MY GAWD delicious. To say that I licked the bowl clean would be an under statement. The mousse starts with pudding. I used a package of instant vanilla pudding mix and reduced the milk that was called out for on the package. I also added a touch of coconut extract. Once this is set (firm) you mix it with your homemade whipped cream and it creates a nice, thick mousse.
I mentioned above that I made homemade whipped cream. It's seriously SO easy, and I do prefer the taste to Cool Whip. I have nothing against Cool Whip and it is my go-to, but sometime I am just craving fresh Whipped Cream. I know not everyone is inclined to make homemade whipped cream, you so can substitute Cool Whip if you prefer.
This recipe calls for a double batch of whipped cream since half of it is mixed into the mousse. The other half is to pipe on top of the cookies. So if you choose to use Cool Whip, you should plan to purchase 2 containers.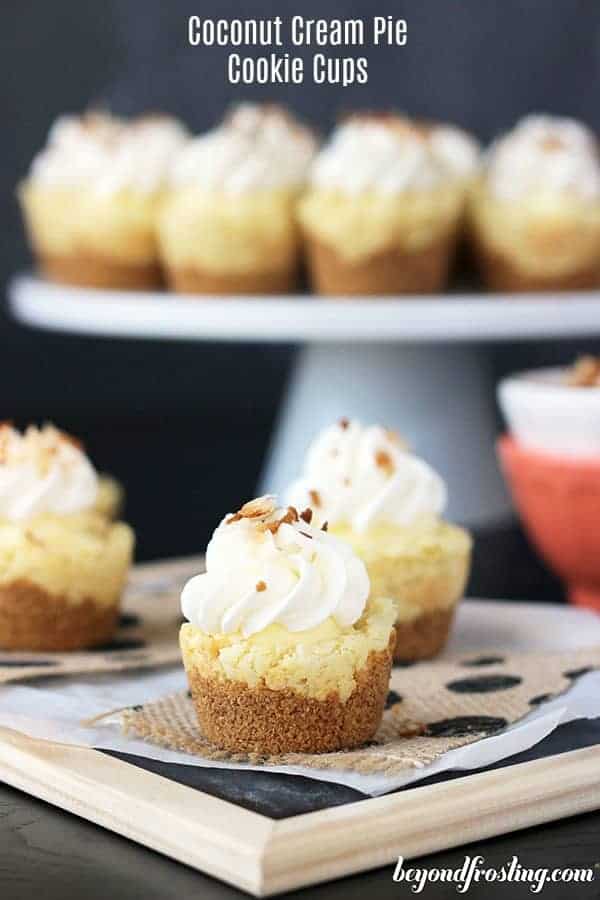 The only thing about these cookies is that they have to be kept refrigerated after you add the mousse and whipped cream. The cookies have to be completely cooled before you add the mousse. I think that the cookies dry out if kept in the refrigerator too long, so I prefer to add the mousse as close to the time that I am serving them.
This cookie is absolute worth turning on the oven for! If nothing else, make yourself a big bowl of coconut mousse.
Follow Beyond Frosting:
Facebook | Twitter | Pinterest | Instagram
If you love no-bake recipes, be sure to check out my cookbook, No-Bake Treats!
Print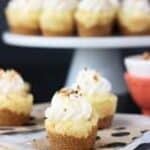 Author:

Prep Time:

20 mins

Cook Time:

12 mins

Total Time:

32 minutes

Yield:

22-24 Cookies
Description
A buttery coconut cookie on a graham cracker crust. Filled with coconut mousse and topped with whipped cream and toasted coconut.
Ingredients
For the crust
1 3/4

C Graham cracker crumbs

6 tbsp

Unsalted butter
For the cookie
1/2

C Unsalted butter, softened

3/4

C Sugar

2

Large eggs

1 tsp

Coconut extract

2 1/4

C Flour

1

pkg Instant coconut cream pudding (

3.4 oz

)

1 tsp

Baking powder

1 tsp

Salt

1/2

C Coconut
For the mousse
2

C Heavy whipping cream

1

C Powdered sugar

1

pkg Instant vanilla pudding mix (

3.4 oz

)

3/4

C Milk

1/2 tsp

Coconut extract
Instructions
Preheat oven to 350° F. Grease a mini muffin pan with cookie spray or Crisco.
Use a food processor to grind graham crackers into a fine crumb.
Melt butter in a microwave-safe bowl until melted. Combine melted butter with graham cracker crumbs and stir until there are no dry crumbs lefts.
Spoon 1 tablespoon of graham crackers into the bottom of the mini muffin pan. Press down with a spoon or tart shaper.
Allow butter to come to room temperature for about 30 minutes. Combine butter and sugar in your stand mixer and beat on medium speed until light and fluffy.
Add egg and coconut extract. Beat into butter and sugar until thoroughly mixed.
In a medium sized bowl, combine flour, dry pudding mix, baking powder and salt. Stir to combine. Set aside.
Slowly add dry ingredients into batter, and shredded coconut and beat on a low speed until dough starts to form. If dough is a little dry, add 1 tablespoon of milk. Set dough aside.
Drop 1-1.5 tablespoons of dough into the greased mini muffin pan on top of the graham crackers. Bake at 350°F for 12-14 minutes.
Toast coconut while the cookies are baking. Use a baking sheet lined with parchment paper or a baking mat. Toast until coconut starts to turn light brown.
Remove cookies from oven and allow to cool for at least 5 minutes. Use a tart shaper or the back of a spoon to gently push down the middle of the cookies. Allow to cool completely in the pan. You may need to run a knife around the edge of the cookies to help release them from the pan.
Put bowl and whisk in the freezer for 15 minutes until completely cold. Whip heavy cream on medium high speed for several minutes until bubbly.
Add powdered sugar and beat on medium high until stiff peaks form. Refrigerate whipped cream.
Combine instant vanilla pudding mix with milk and coconut extract. Whisk until powder dissolves. Refrigerate until pudding is firm.
Take 1 cup of the whipped cream and fold into pudding until mixed. Do not mix vigorously as it will deflate the whipped cream. Refrigerate until you are ready to assemble cookies.
To assemble the cookies, put coconut mouse in a Ziploc bag. Cut the tip off the end of the bag and gently fill the middle of the cookie cup with coconut mousse. Divide between cookie cups.
Top mousse with a dollop of the leftover whipped cream and sprinkle toasted coconut on top.
Cookies must be refrigerated in an air tight container after the mousse has been added.
Notes
Cookies must be refrigerated after mousse is added.
If you can't find coconut cream pie cookies. I would use vanilla pudding, and double the amount of coconut extract. And because I love coconut, I would maybe add some shredded coconut to the cookie dough.
My preferred mini muffin pan is from Calphalon. It is deeper than a traditional mini muffin pan, allowing you to create slightly larger cookie cups.
Category:

Cookies

Method:

Bake

Cuisine:

American
Keywords: pudding cookies, pudding cookies recipe, cookie cup recipe, homemade cookies, coconut cookie recipe, recipe for coconut cookies, coconut dessert
More Cookie Cup Recipes You Might Like: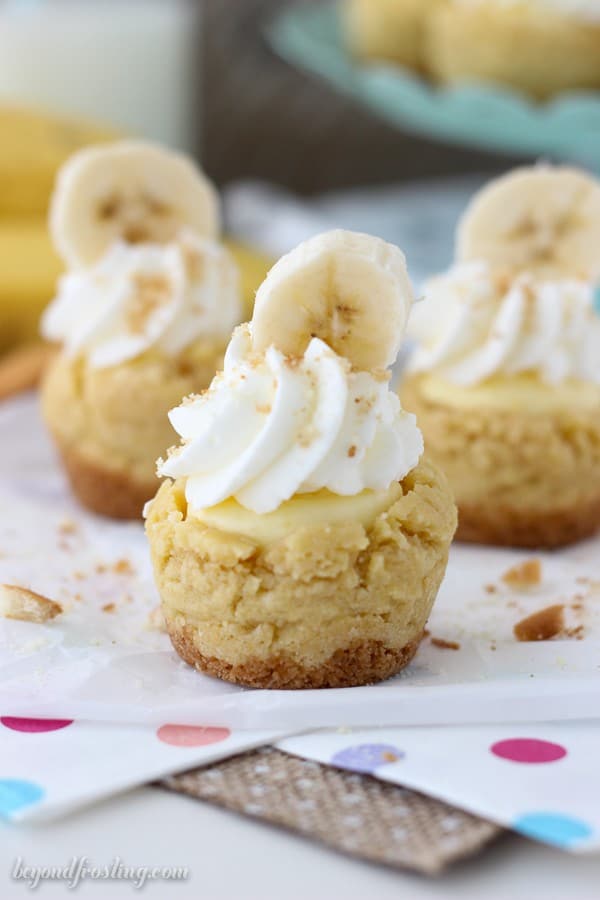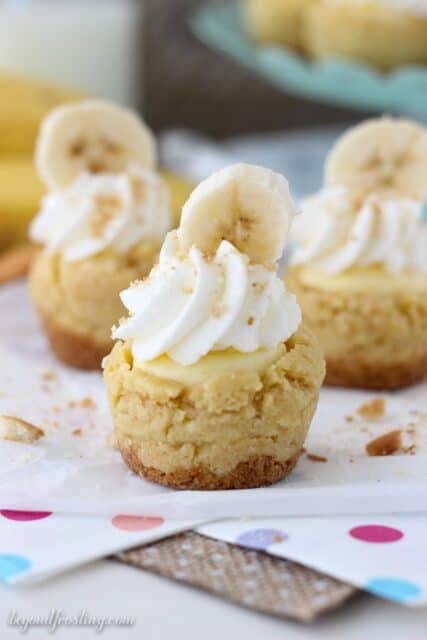 Chocolate Cream Pie Cookie Cups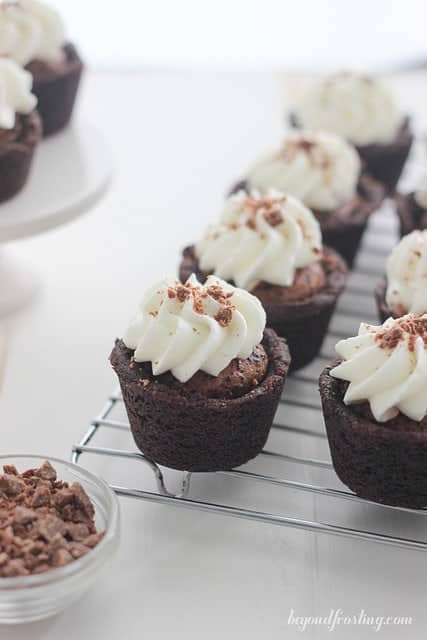 25 Creative Cookie Cups Recipes