This post may contain affiliate sales links. Please see my full disclosure policy for details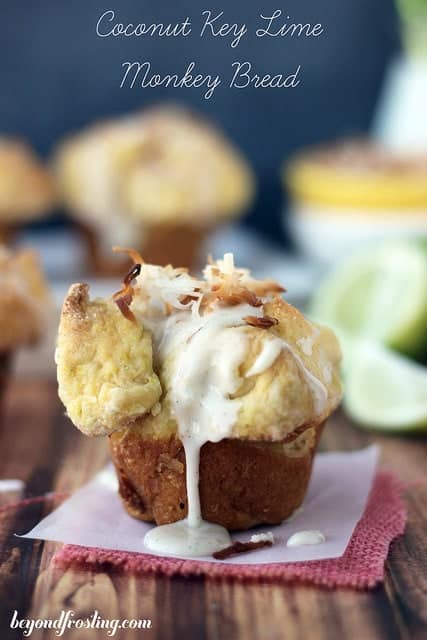 I am so happy it's Wednesday and this week is flying by. Mostly because I am going to see my MOMMY this weekend. I'm not thirty yet, so I can totally still call her my mommy. I actually think that given the fact we live on opposite coasts, we see each other several times a year, but each time is special none the less. Hurry up Friday!
Remember how I told you guys my taste buds were turning all "adult" with my new found love of lemon desserts? Well I would totally associate Key Lime Pie in that adult dessert category. So it came as a bit of a surprise to myself when I started brain storming things I could do with Key Lime Pie.
Much to my delight, I decided on Coconut Key Lime Monkey Bread. I have been dying to make monkey bread since I first saw it a couple years ago. Yes, in Vermont, I was living under a rock and just recently discovered monkey bread. I just love the concept a muffin or bread that requires you to use your fingers to pull it apart. This recipe was part of my marathon 10-recipes in one weekend. I dropped off the leftovers to my local Starbucks crew and it got rave reviews!
This Coconut Key Lime Monkey Bread is so incredibly easy to make! All you need is two packages of Pillsbury Grands Biscuits, a box of Pillsbury Key Lime Pie cake mix, some sugar, coconut and limes. I also dropped some white chocolate chips inside these muffins for a little added sweetness.
The key lime flavor comes from the cake mix and the lime zest. I had no idea that you could use a cake mix to flavor something in this way. I found the Pillsbury dry cake mix at my local Walmart, but I am sure you can find them in the Easter section of your store! Now you only need a cup of the cake mix for this recipe, but do not throw out the rest! I have a great cookie recipe coming for you next week!
With this recipe, I made 12 giant pull apart muffins. Each one was layered with toasted coconut and lime, then topped with a vanilla bean lime glaze. The biscuits poof up a bite, but bake together holding their shape. I think these are best served warm, but you should allow them to cool for at least 30 minutes before removing them from the pan. Once you top them with the glaze, sprinkle some more toasted coconut on top! I just love the shape when you take them out of the pan! How about you, have you ever made monkey bread?
Keep up with all the happenings. Follow Beyond Frosting:
Facebook | Twitter | Pinterest | Instagram |
Don't forget to save your favorite recipes to your recipe box with the

button! You can create a meal plan and a shopping list all in the same place!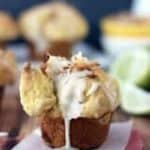 Coconut Key Lime Monkey Bread
Prep Time:

15 minutes

Cook Time:

15 minutes

Total Time:

30 minutes

Yield:

12 large muffins
Description
A key lime coated bread with a vanilla bean glaze.
Ingredients
1/2

C Shredded coconut, toasted

2

pkg Pillsbury Grand Homestyle Biscuits

1/4

C Unsalted butter, melted

1

C Pillsbury Key Lime Cake Mix (dry)

1/2

C Granulated sugar

1/4

C White chocolate chips

1/4

C Shredded coconut
Lime Zest (2)
For the glaze
1 1/4

C Powdered sugar

1 tsp

Vanilla bean paste

1

–

2

tbsp Milk
Lime zest (optional)
Instructions
Pre-heat oven to 350° F. Grease a muffin pan with Crisco or cooking spray. Make sure to get the top of the pan as well.
Line a baking sheet with parchment paper or baking mat. Bake coconut until it start to turn light brown. Remove from oven and allow to cool. Save until muffins are glazed.
Remove biscuits from container and cut into quarters. Place in a large Ziploc bag.
Melt butter in a microwave safe bowl, about 30 seconds. Pour melted butter in Ziploc bag and shake to coat the biscuits in butter.
Pour dry key lime cake mix and granulated sugar into the bag. Seal and shake vigorously to coat the biscuit dough with the dry ingredients.
Place 3 pieces of biscuit dough in the bottom of each muffin pan to form the base.
Sprinkle some coconut and white chocolate chips on top of the dough. Zest a little bit of lime into the middle of each muffin.
Place another 2-4 pieces of dough on top of each base and gently squish with your finger. Use up all remaining dough. Top with additional sprinkle of coconut
Bake at 350° F for 15-20 minutes until the tops are golden brown. Remove from oven and allow to cool for 15 minutes.
For the glaze
Combine powdered sugar, vanilla bean paste and 1 tablespoon of milk in a small bowl. Whisk until smooth. To make glaze thinner, add additional milk. To make glaze thicker, add additional powdered sugar. Glaze warm muffins.
Top with toasted coconut and zest of lime.
Notes
These are best served warm but will keep for 2 days.
Recipe Card powered by
Recipes from my friends

Key Lime Cheescakes from Life Love and Sugar
Key Lime Popsicles from Spoonful of Flavor
Key Lime Pie Cookie Cups from Grandbaby Cakes
Other recipes from Beyond Frosting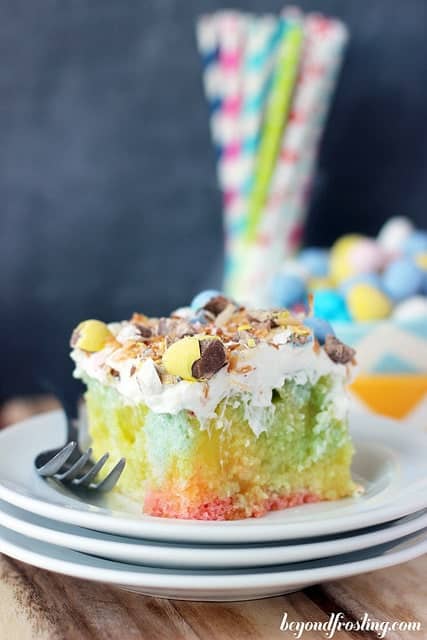 Lemon Raspberry Almond Muffins