This post may contain affiliate sales links. Please see my full disclosure policy for details
This overnight French toast is a combination of dried cranberries and walnuts soaked in an egg wash that is infused with oranges. Once baked, you get a crispy bread on one side and a punch of sweetness on the other.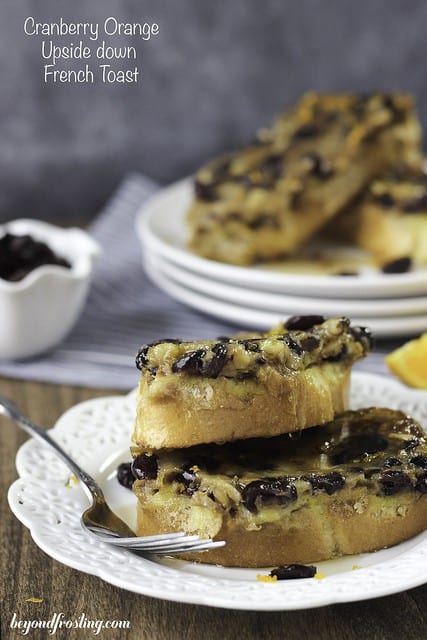 I wish breakfast could be every meal of the day. I LOVE breakfast. When we do breakfast for dinner, I am most excited. Of course, I could make myself an egg white omelet for dinner and be perfectly fine. But no, the boyfriend doesn't eat eggs and needs a "real" dinner. One breakfast-for-dinner meal we agree on is pancakes or waffles. I am on team pancake and he is on team waffle.
We can always agree on French toast. When I told him about the upside down French toast I wanted to make, he wasn't entirely on board.
What do you mean you leave it overnight?
Why is it upside down?
Why can't we just have regular French toast?
Sigh.
This Cranberry Orange Upside Down French Toast will leave you licking your plate clean. It is a thick cut slices of French bread on top of cranberries and walnuts that have sat in butter and sugar overnight. It's finished off in a bath of eggs and fresh orange juice. This is definitely not a healthy French toast, but then again, is there such a thing?
This was my first time making an overnight French toast. I really didn't understand the concept. Why wouldn't you just make it fresh in the morning?
Well in this case, you bake it so that all the good stuff on the bottom of the pan bakes together with the eggs as a bidning agent. Once you take it out of the oven, take a sheet pan and cover the top. Then hold the sheet pan tight to your baking dish and flip it over. Out comes this gorgeous block of French toast goodness.
I would actually recommend cutting around each slice of toast before you invert it. It makes it easier to slice that way.
For this recipe, I used a 9" by 13" pan for the French toast. I prepared the toppings by melting the butter and combining it with my cranberries and walnuts. Then you lay the bread over top and pour your egg mixture on top of that. It should refrigerate overnight, and when you are ready to bake it, remove it from the refrigerator about 30 minutes prior.
I saw this recipe in a Taste of Home Maganzie and I pulled it out so I could try making it some time. I have slightly adapted their recipe for this post.
I tried my hardest to resist eating a whole plate of this. Instead, I just kept coming back for more small bites until I eventually polished off a whole slice. I had to throw out the rest just to keep myself from eating it!
The walnuts for this recipe were provided by NUTS.com. I do like NUTS.com for buying baking items in bulk. Items such as sprinkles and chocolate chips can be bought in bulk for a great price! Although I have received product free of charge, my opinions are all my own.
Keep up with all the happenings. Follow Beyond Frosting:
Facebook | Twitter | Pinterest | Instagram |
Print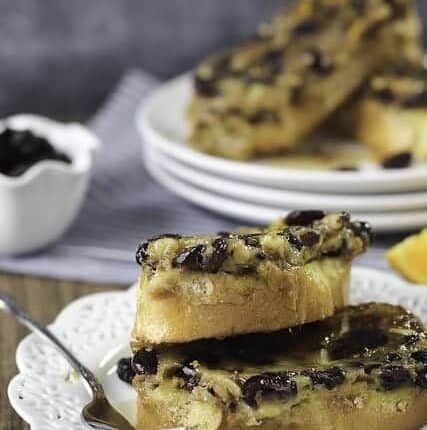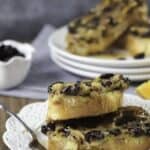 Cranberry Orange Upside Down French Toast
Author:

Prep Time:

45 mins

Cook Time:

25 mins

Total Time:

1 hour 10 minutes

Yield:

9 Slices
Description
This overnight French toast is a combination of dried cranberries and walnuts soaked in an egg wash that is infused with oranges. Once baked, you get crispy on one side and a punch of sweetness on the other.
Ingredients
1/2

C Butter, melted

1/2

C Granulated sugar

1/2

C Walnuts, chopped

1/2

C Dried cranberries
Zest of

one

large orange

9

Slices French bread, 3/4″ thick

8

Large eggs

1/2

C Heavy cream or milk
Juice of

one

large orange

1 tsp

Vanilla extract

1 tsp

Nutmeg
Instructions
Melt butter in a microwave-safe dish and spread evenly over the bottom of a 9″by13″ pan. Add sugar to melted butter and stir.
Sprinkle cranberries and walnuts over the melted butter. Zest orange over top.
Slice French bread 3/4″ thick. You will need 9 slices. Lay French bread over top of the cranberries and walnuts.
In a separate bowl, whisk eggs and milk, juice from one large orange, vanilla extract and nutmeg. Pour over French bread.
Cover and refrigerate overnight.
Remove from the refrigerator 30 minutes before baking. Preheat oven to 325°F. Bake uncovered for 25-30 minutes. Toast will brown slightly on top.
Allow to set for 5-10 minutes. Cut around slices of bread. Take a sheet pan and place on top of the 9″x13″ pan. Hold the edges of the sheet pan tightly to the baking pan and invert it. Shake gently or tap the bottom of the baking pan to release the French toast.
Notes
This recipe needs to be prepared and refrigerated overnight.
Recipe Card powered by
Recipes from my friends:
Coconut Whipped Cream Brioche French Toast from Food Faith Fitness
Tres Leches French Toast from Climbing Grier Mountain
Espresso Chip Pancakes from Dessert for Two
Other recipes you might like:
Healthier Peanut Butter Pancakes