This post may contain affiliate sales links. Please see my full disclosure policy for details
Whew! This weekend flew by!! I spent all day Saturday baking 170 cupcakes for the 2nd Annual Cupcake Camp Conejo Valley hosted by Cupcakes for Cancer. The event was held at the Westlake Village Inn in Westlake, California. This was my first year participating, and as such, my level of excitement was competing with my level of nerves.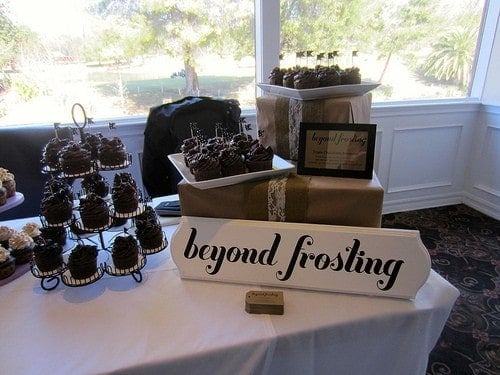 It took me several weeks of baking to determine which cupcake I wanted to make, and this would be the largest batch of baking I have ever done. I decided on Triple Chocolate Brownie Cupcakes! They were a HUGE hit and I got rid of every last one (if you include the 6 I gave to my neighbor because she was so awesome)! Be sure to come back tomorrow, I am going to share the recipe with you!
I was instantly overwhelmed by the numbers of cupcakes, variety of flavors and level of effort put into the event. I am not sure how it breaks down, but I was told there were 60 bakers showcasing their creations including professionals, amateurs and youth bakers. I estimated there was at least 1000 people in attendance, but I am sure there were more!
A huge thank you to Blakely and her mother, Stephanie for organizing such a massive event! I would also like to thank all my friends and my boyfriend and his family who helped me prepare for the event and to those who came out to the event to taste some cupcakes! For me, this was my first public appearance since I started Beyond Frosting.
I had so much fun getting to meet the other bakers in my area, tasting new flavors and seeing all the smiling faces in the room. I am hoping there will be another Cupcake Camp somewhere that I can participate in. Enough of my rambling, take a look at the photos from the event!
I will start with the professional bakers. My favorite display was from Dreamy Creations. They had a Crème Brulee, Campfire, Dark Chocolate Mint and Fruity Pebbles. I tasted both the Crème Brulee and the Campfire. I must say, the Crème Brulee was my favorite cupcake of the day! The Bakery is located in Northridge and it's going on the list of must-visits.
I also tasted a mini cheesecake from The Cupcake Garden. Their display was adorable, I love the cupcake liners! They also had a Vermont Maple, so yeah, winning.
Perfect Pair was my next faovirte. I had their "Candied Piggy" which was a Yellow Cake with Maple Frosting topped with Candied Bacon. There were maple bacon cupcakes everywhere, but the giant piece of bacon caught my eye. The milk and cookies were so cute and they had an "At the Fair" cupcake which was: White Cake with Vanilla Frosting and Cotton Candy Topping.
Cassie's Candies has the most wonderful Vanilla Chai Cupcakes. I am in love and I need to make one!
There were really some amazing vendors there and I can't list them all! Here are a few more vendors from the day!
I absolutely want to highlight some amazing amateur bakers as well. I was blown away by the dedication and excitement from everyone. There was some very creative creations. I have to say, the Avocado Cupcake with Avocado Lime Cream Cheese was probably the most unique cupcake I saw.
This non-profit organization was started by Blakely Colvin at the young age of 13. Blakely is a chemotherapy survivor and now at the age of 18 is cancer free and continuing to donate thousands of dollars each year to numerous non-profit organizations around the country. Blakely started out selling cupcakes for $1 at local sporting events to raise money for a child in her town who was diagnosed with cancer. It was so successful that in the first six weekends, they raised $5,000. I encourage you to take a look at the Cupcake for Cancer website to find out more about Blakely, her mission, and how to host an event in your town.