This post may contain affiliate sales links. Please see my full disclosure policy for details
A deep dish coconut cookie cake topped with a cream cheese whipped cream pineapple frosting. This Pina Colada Cookie Cake will knock your socks off.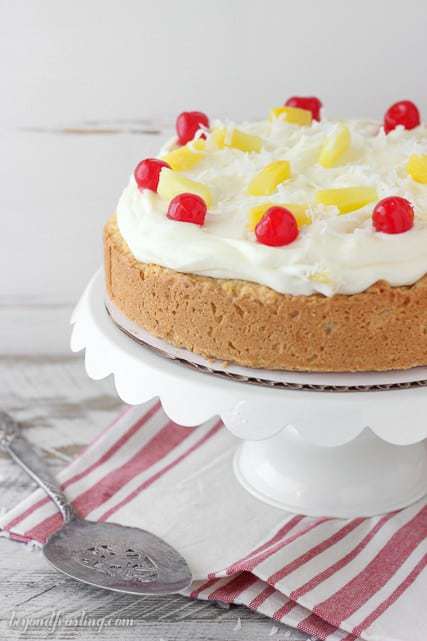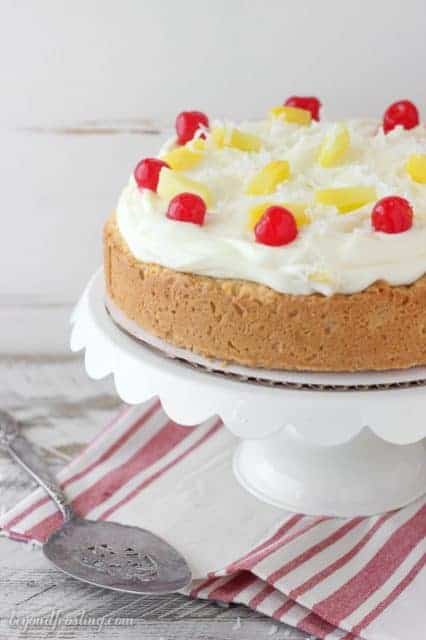 Well I survived my whirlwind weekend in New York. I am pretty sure my body clock officially hates me. Red eyes, time zones and all nighters in the city don't fare well with me these days. I actually barley made it home, but don't even get me started on that. After storms in Denver, we had to reroute for fuel and 3 hours later I was running to catch my connecting flight which was thankfully also delayed. I got home in the middle of the night, hence why this post is a day late! I might need a week to recover from my vacation.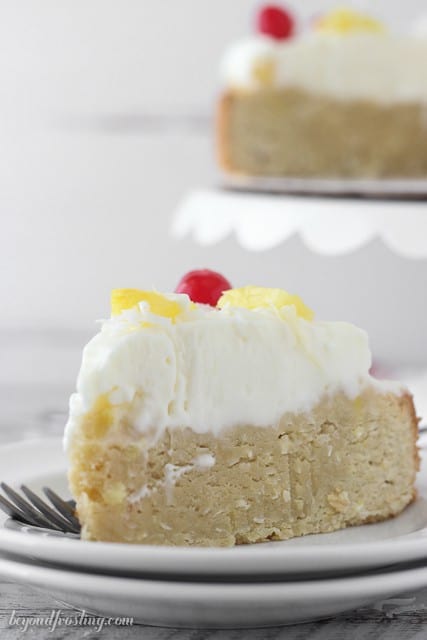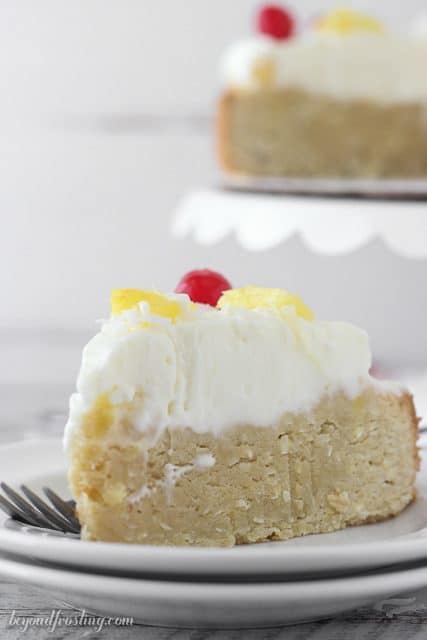 I will start my recovery with a slice of this Deep Dish Pina Colada Cookie Cake. This is a deep-dish coconut filled cookie cake with a pineapple cream cheese frosting. After I made my Pina Colada Poke Cake, I've had pineapple on the brain. I was constantly thinking up different desserts I could make without overwhelming you guys with my boozy dessert obsession. Luckily, this cake is alcohol optional.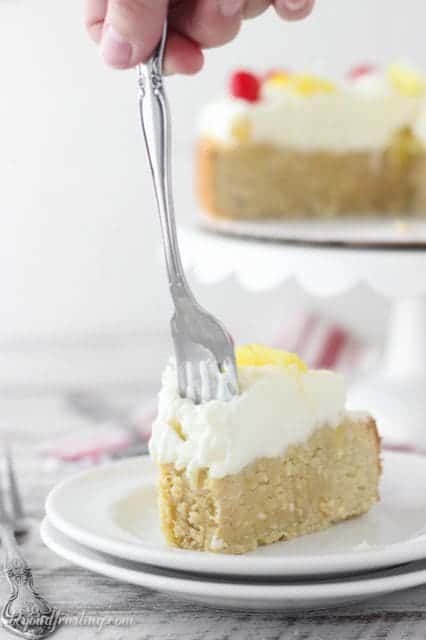 My intentions with this cookie cake originally started out to be a cookie cup, but then I thought I might switch it up on you guys. It's been quite some time since I shared a cookie cake with you. I am so happy I went with it. Since this cookie was so massive, I decided to use a spring form pan so it was easier to remove from the pan.
If you don't have a spring form pan, don't freak out. You can just line a round pan with tin foil, and then use the tin foil it lift it up and out from the pan once it has cool completely. If you have a 3-inch deep pan, that would be best. This cookie is slightly under baked in the center, making it soft and chewy, even after bring in the refrigerator.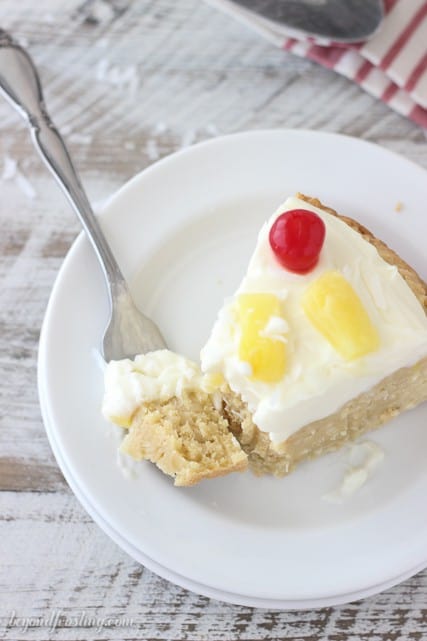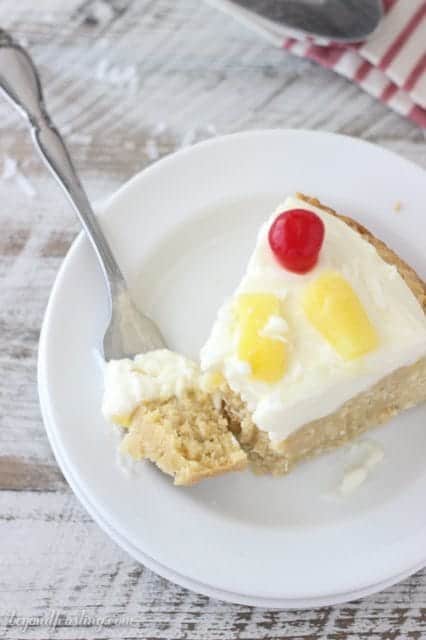 For the frosting, I made a simple cream cheese whipped cream frosting and added some fresh-diced pineapple. If you don't hace access to fresh pineapple, no problem! You can used canned pineapple and just make sure you drain the liquid before adding it to the frosting. The combination of the tangy frosting and fresh pineapple on top of this cookie makes every bite just as good as the next.
Since this cookie is deep dish, the baking time can be quite long. I believe I baked this for almost 40 minutes. You could easily split this dough in half and make a much thinner cookie cake, which will be equally as good, but you will need to adjust the baking time accordingly. I always set my timer for 20 minutes and check it at that point. You could also cut the cookie recipe in half and end up with a much thinner cookie. In that case, I would also cut the frosting in half. Whichever way you slice it, this cookie cake it totally necessary.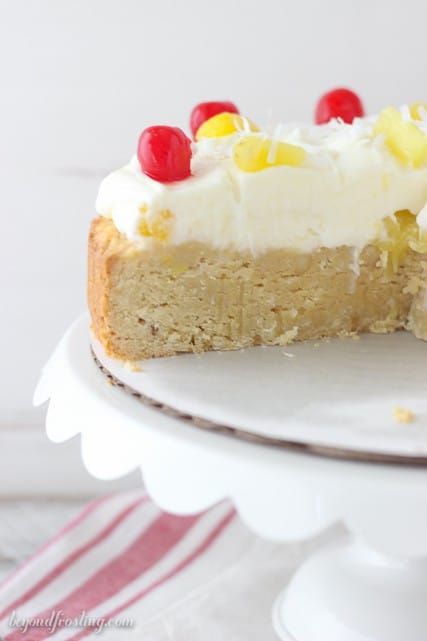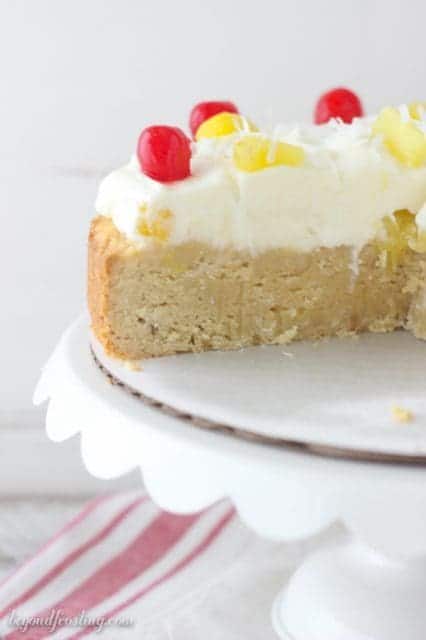 Keep up with all the happenings. Follow Beyond Frosting:
Facebook | Twitter | Pinterest | Instagram
Print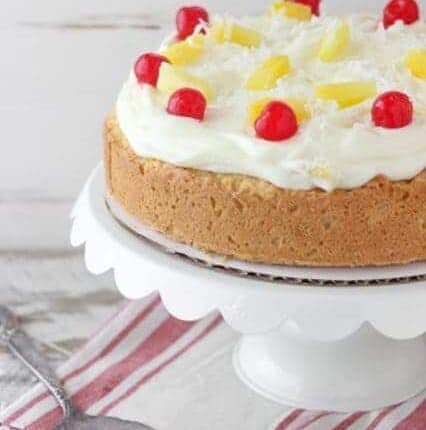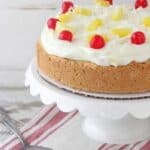 Deep Dish Pina Colada Cookie Cake
Author:

Prep Time:

30 mins

Cook Time:

35 mins

Total Time:

1 hour 5 minutes

Yield:

1-9" cake
Ingredients
1

C Unsalted butter, softened

1

C Sugar

½

C Light brown sugar

3

Large eggs

1 tsp

Coconut extract

4

C Flour

1

pkg Instant coconut cream pudding (

3.4 oz

)

2 tsp

Baking powder

1 tsp

Salt

1

C Coconut, shredded

¾

C Macadamia nuts, crushed

2 tbsp

Rum (optional)
For the topping:

1 ½

C Pineapple chunks, drained

1

pkg Cream cheese (

8 oz

)

1 pint

Heavy whipped cream (

16 oz

)

2

C Powdered sugar
Instructions
Preheat oven to 350°F. Line the bottom of a 9-inch spring form pan with parchment paper. Set aside.
Soften cold butter in the microwave for 15 seconds. Combine butter and sugars in your stand mixer and beat on medium speed until light and fluffy. Scrape down the sides of the bowl.
Add eggs, one at a time and coconut extract. Beat into butter and sugar until thoroughly mixed.
In a medium sized bowl, combine flour, dry pudding mix, baking powder and salt. Stir to combine. Set aside.
Slowly add dry ingredients into batter and beat on a low speed until dough starts to form. Add shredded coconut, macadamia nuts and rum and beat on low speed until it is combined into cookie dough.
Empty dough into spring form pan and gently press into the pan, trying to spread as evenly as possible. Bake at 350°F for 35-40 minutes. Check the middle of the cookie for doneness by inserting a toothpick into the center, it should come out clean. Cookie with be very slightly under baked in the very center. Cool cookie completely. You can also refrigerate to help speed up the cooling process.
For the topping
Cut fresh pineapple or drain canned pineapple to help eliminate excess water.
Remove the cream cheese from the refrigerator 15-20 minutes before preparing the whipped topping. At the same time, put your mixing bowl and wire whisk in the freezer to help it get very cold. This is optional, but something I usually do.
Beat cream cheese on medium-high speed for 2-3 minutes until cream cheese is smooth and free of lumps. Scrape down the sides of the bowl occasionally.
Add 3 tablespoons of heavy whipping cream. Beat into cream cheese until cream cheese resembles a liquid mixture.
Add remaining heavy whipping cream and beat on medium-high speed. Slowly added remaining powdered sugar and beat until still peaks form. Fold in pineapple. Spread over cooled cake. This cake must be refrigerated.
Topped with leftover pineapple or cherries and sprinkle with additional coconut.
Notes
Optional- you can make this cookie thinner by adjusting the recipe. Follow the cookie dough recipe from my Coconut Cream Pie Cookie Cups. Keep a close eye on the baking time, set for 20 minutes and check thereafter.
Recipe Card powered by
Visit Beyond Frosting's profile on Pinterest.
Other recipes you might like from Beyond Frosting: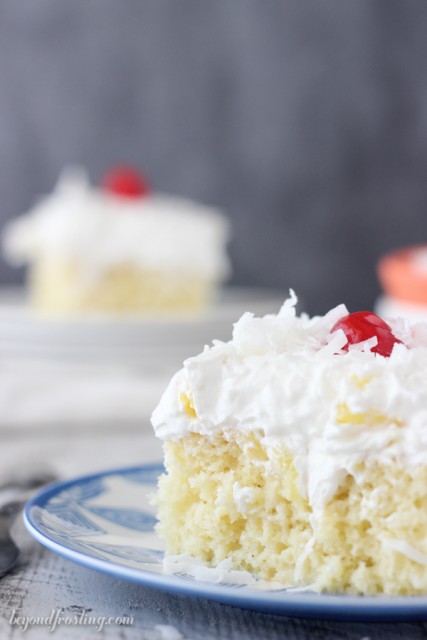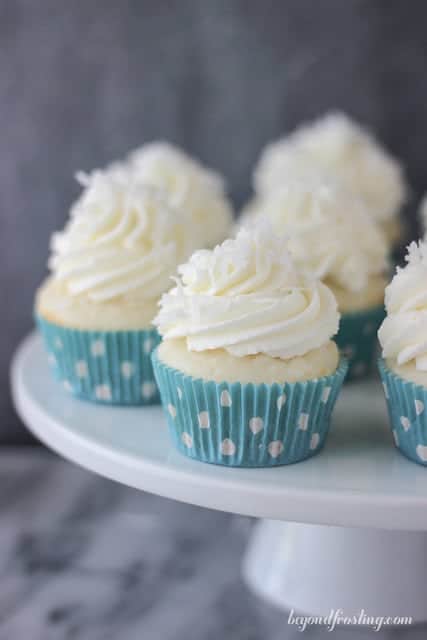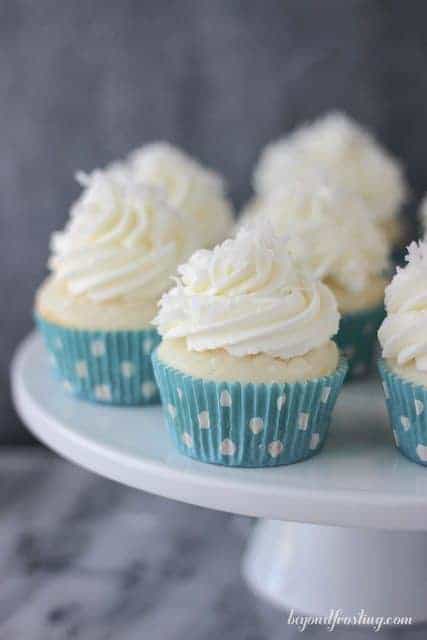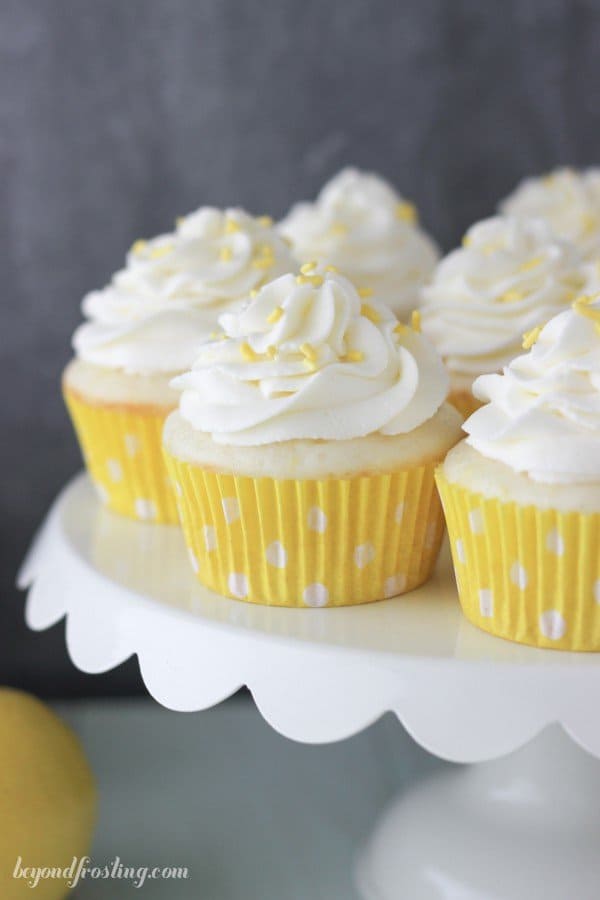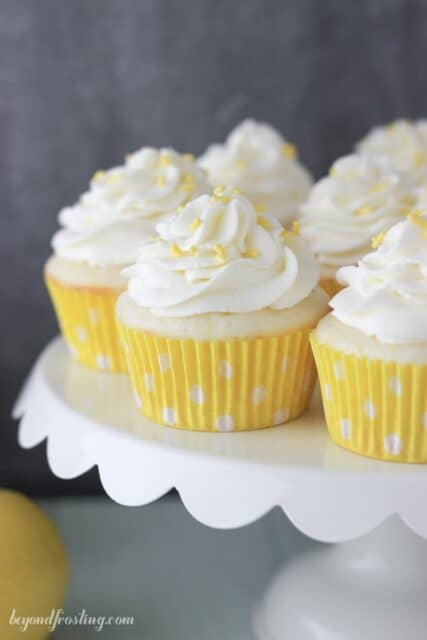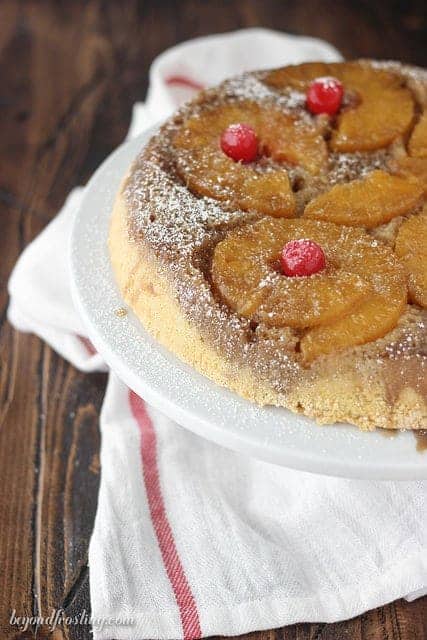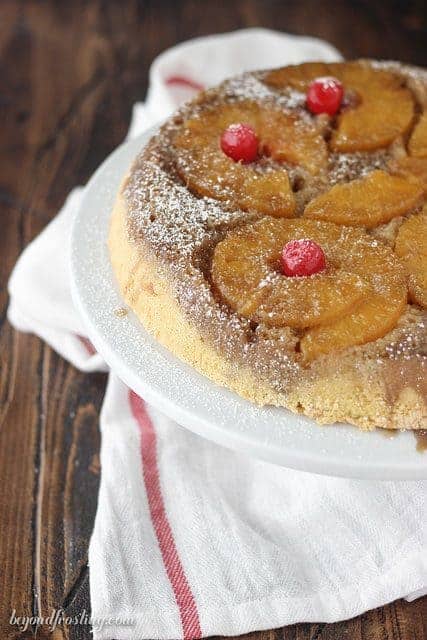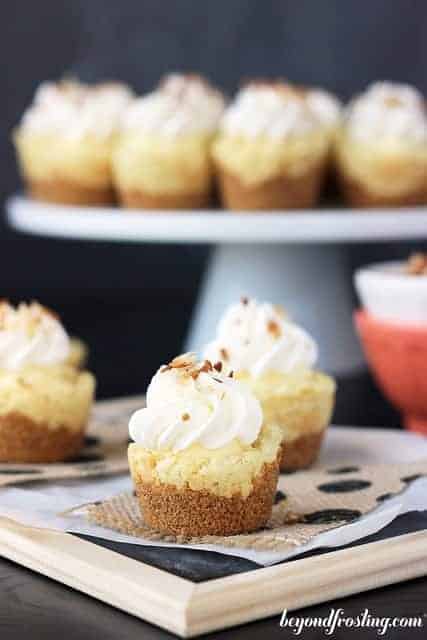 Recipe from my friends:
Pina Colada Cheesecake from Will Cook For Smiles
Pina Colada Bundt Cake from Inside Brucrew Life
Pineapple Cream Cupcakes from Your Cup of Cake