This post may contain affiliate sales links. Please see my full disclosure policy for details
After months and months of planning the wedding is finally over. I have been kinds of obsessing about this since my friend Leigh Ann asked me to make the cupcakes for her wedding. We did several rounds of tastings, built a Pinterest board and spent several months deciding on the menu.
Additional photos provided by wedding photographer.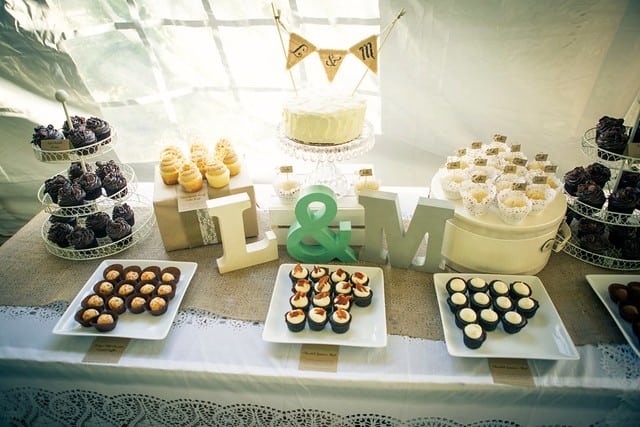 The wedding presented me with a few challenges. First of all, it was 6 hours away from my house, it was an outdoor wedding and there were going to be upwards of 300 guests. I was trying to design the dessert table on a budget. For my first wedding project, it was a big one. Staying organized and planning ahead was key.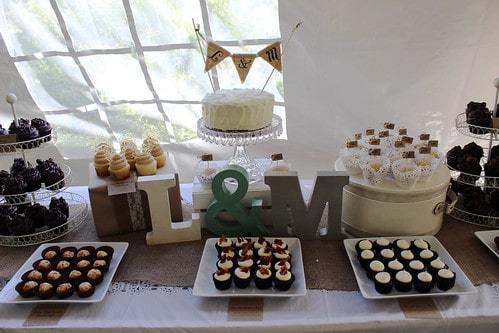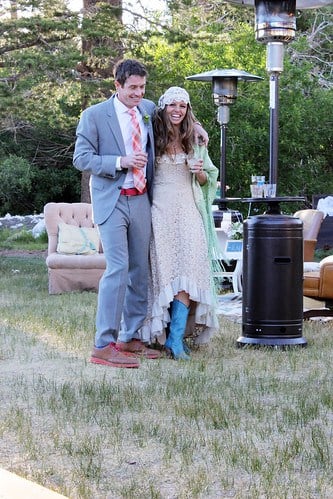 Leigh Ann chose four cupcake favors, two flavors of truffles, and a small gluten free cake. I first started by making a very simple cost sheet in excel where I detailed out my ingredients to determine the cost of each cupcake and what I needed to charge her in order to cover miscellaneous expenses.
I saved costs by designing cupcakes that shared ingredients I could buy in bulk. I did a lot of shopping around to compare prices and took advantage of sales on ingredients that wouldn't spoil in advance. I wrote a very detailed shopping plan.
I needed a lot of cupcake boxes of this event. The best deal I found was from here. For the cupcake liners, I also purchased them in bulk from Baker's Stock.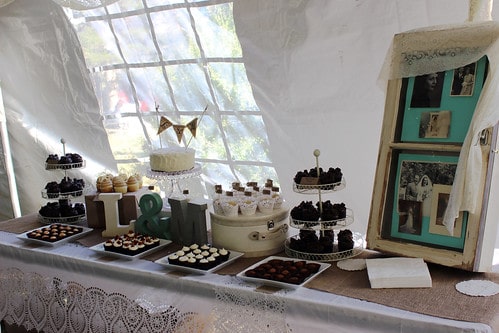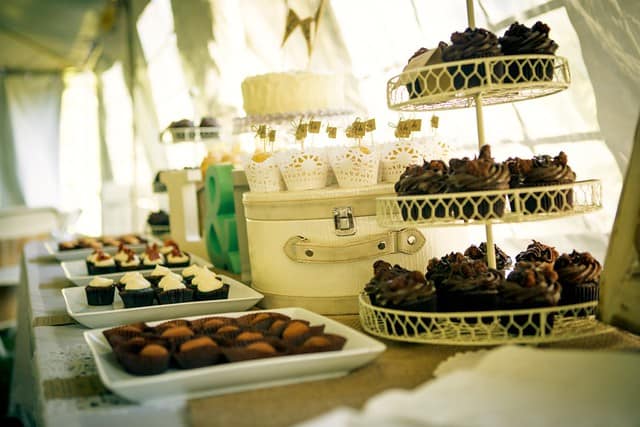 The Table scape
For the actual dessert table I tried to design a vintage/antique looking display. I was fortunate enough to find two antique white cupcake stands at world market for $20 each and they are by far my favorite piece I own. They are also neutral so I can reuse them!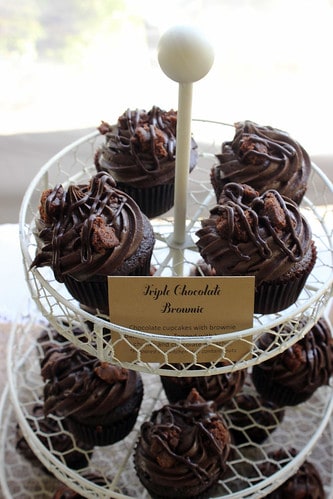 I used an antique glass cake stand that's belong to my great grandmother (from the early 1900s!), which is sitting on a wooden box I purchased at Miachel's for $5. I did a white wash paint on the wood box. See below for the cake topper tutorial.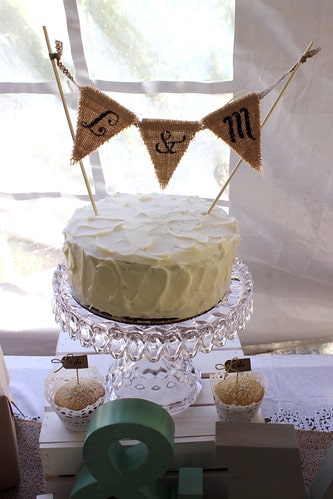 The square plates are from my kitchen but also available at World Market. Last, and probably the most affordable display I used, is a shipping box, which I wrapped in brown craft paper with a burlap and lace ribbon around it. This is my go to form of display because I can wrap any size box and with any color of fabric to match the event. I did the same for the last event I did.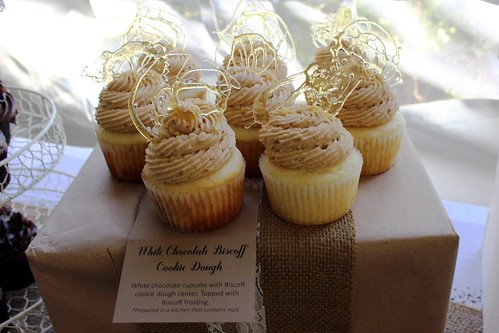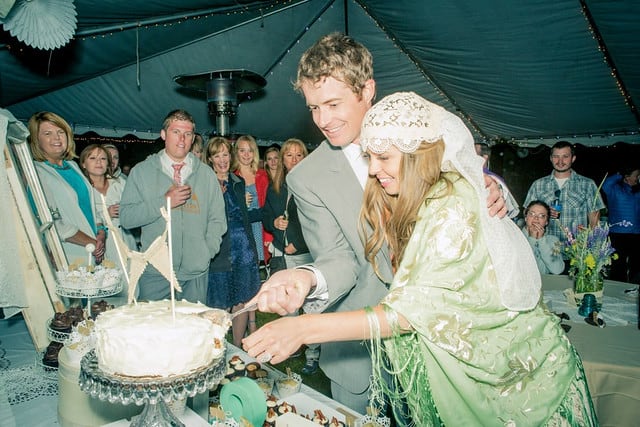 The white linens were provided by the bride. I covered it with a burlap table runner which I purchased at Michaels for $15. The letters "L&M" we're provided by the bride. It was important me for to have the table layout done ahead of time so I could visualize the displays I needed and where everything was going to go.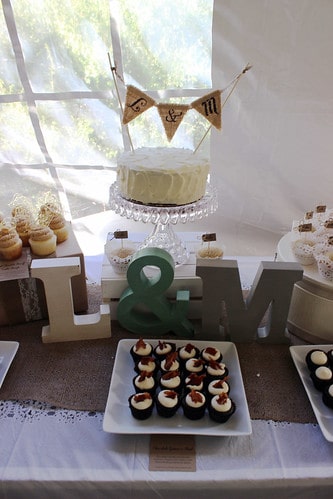 The last piece on the table was a vintage glass window box, which I purchased as the wedding gift for Leigh Ann. She chose to put family photos of their parents and grandparents weddings on the inside.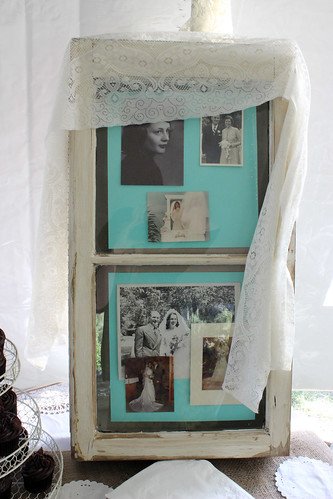 The Baking
The actual baking of the cupcakes was done the day prior to the event. I baked from 9am until 2pm. I had to hurry and clean up, pack the car and hit the road to beat traffic leaving the city. I had a very organized plan for baking. I Learned from a pervious large event that staying organized and planning out the baking was going to save a lot of time.
Two of the flavors I made were Triple Chocolate Brownie, Cookie Butter Filled Cupcakes. I also made a Gluten-free Carrot Cake.
I alternated my baking with two different cupcakes at a time since one of the favors was minis and the other was not. This allowed me to ensure that my oven was in constant rotation. Soon as I removed one batch, I already had the next one staged to go right in the oven.
One thing I did learn was that the mini cupcake liners I bought online were larger than my mini muffin pan. I was able to adapt but this I have since found my favorite mini muffin pan from Calphalon, it deeper than your traditional mini muffin pan
TIP: Make sure that you bake cupcakes that require a lower baking temperature FIRST.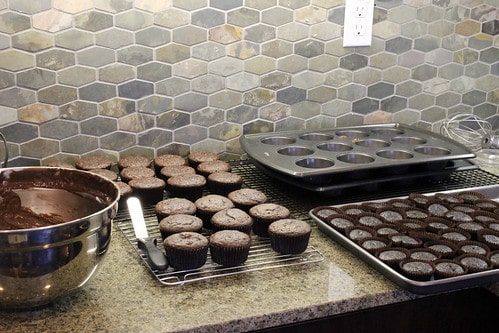 I folded all my boxes in the days prior to the baking. You would not believe how much time that saved me. I also have several large plastic storage bins that I use to transport cupcake. They are made by Really Useful. I have the 11L size, which is perfect for cupcakes with frosting! Amazon seems to only have the 11L xL boxes, but Staples has them as well. These boxes are PERFECT! They stack nicely, they aren't quite airtight but they are the best option for storing frosted and unfrosted cupcakes, it fits about 24 cupcakes.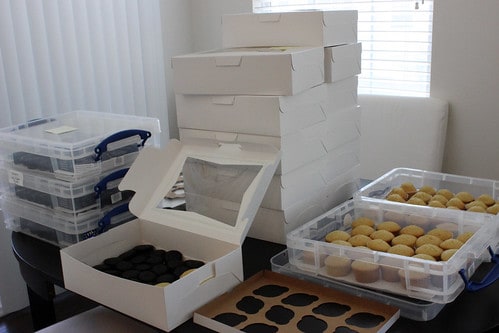 I prepared myself in the days prior to baking by measuring out my dry ingredients into large bags. When it came time to add the dry ingredients, all I had to do was dump the bag into the mixer. HUGE time saver. I do the same for frosting which requires sifting.
Washing dishes slows me down. So I double up my batches, which meant less measuring ingredient, less washing and quicker turn around time in and out of the oven. When you do this, it is important to remix the batter half way through baking to ensure the oils didn't separate.
TIP: buy large disposable pastry bags.
The less you have to fill piping bags the better. It gets messy! My piping actually improved once I started using larger bags. I use these 18" ones, they are heavy duty, just be sure not to overfill too much or it becomes hard to pipe the cupcakes. Sometimes I fill seperate piping bags and then keep on with just the tip in is, so I can swap them out and keep frosting without having to refill the bag.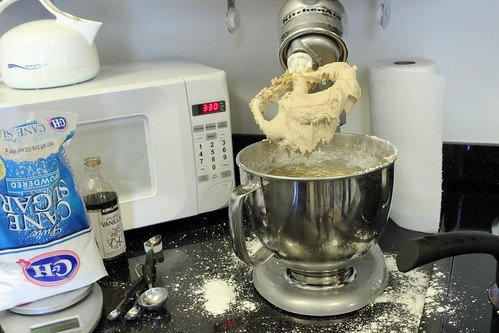 I transported the cupcake unfrosted. Although I made one of the frostings ahead of time, a majority of it was done the day of the wedding, which meant I had to bring my Kitchen Aid mixer, along with about half of my kitchen tools that I would need.
Certain frostings lend themselves to being made ahead of time but others don't. If you refrigerate a frosting, you have to account for the time the frosting takes to soften again before you can use it.
I also had a helping hand. My boyfriend was there with me to run last minute errands, do dishes or help put the finishing touches on at the last minute. Having a helper is key. He made sure I ate and stayed hydrated, and took a break every now and then. I think I planned my time pretty well. I even got to shower before the ceremony!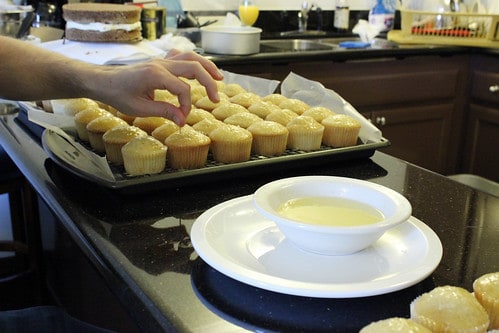 The Decorations
Being that there was a budget for the cupcakes, I tried to be creative with the toppers. I didn't buy any fancy cupcake liners or wrappers because they can really drive up the cost.
I made some hard sugar toppers with this recipe . The recipe says to serve immediately, but I stored in an air tight container for 2 days and it was fine. I put them on my cupcake at the very last minute I could. The sugar may not keep well in high temperatures or humidity.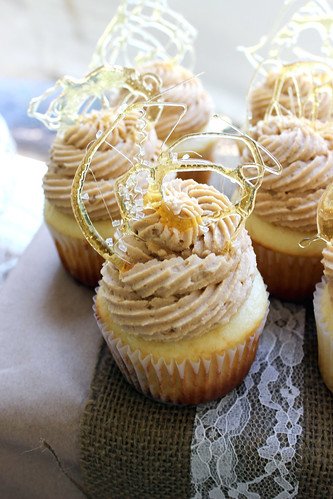 I made the " I DO" toppers myself. I happen to own a silhouette cameo machine, but you can certainly purchase a similar type of tag at a craft store, and use stamps for the text. I used some twine to make the bows.
For the liners on these, I used paper doilies and cut them out by hand with this template . You can cut a few at a time, it was way easier than I thought it would be. These types of project can be done in advance of the event. You don't want to be worrying about the little details when you are trying to bake! I printed the display cards on brown paper and cut them out by hand.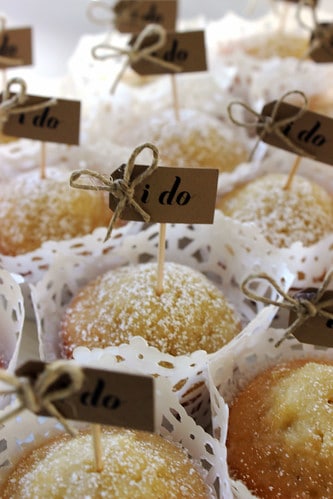 The cake topper I made myself. I found the burlap squares at hobby lobby, as well as the antique fabric ribbon. I used my silhouette to cut out the stencil I used to paint on the letter. You could do this yourself with a piece a paper and scissors. I used two BBQ scewers on the sides. In all, the cake topper was less than $5.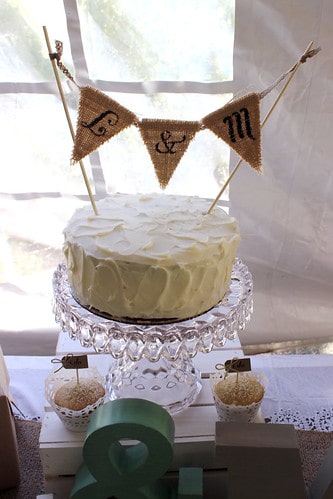 Overall I am so happy with how everything turned out. Gladly, I don't have a disaster story for you. I was pretty sure that something was going to go seriously wrong, or I would forget my mixer attachments. However, I think it will be awhile before I can do that much baking again in one day! A special thanks to you boyfriend husband/editor/sous chef/date who put up with my craziness preparing for the wedding!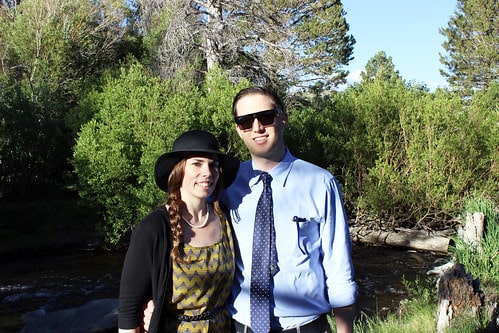 Here are a few of my other favorite pieces from the wedding