This post may contain affiliate sales links. Please see my full disclosure policy for details
These No-Bake White Chocolate Cranberry Granola Bars are an easy back to school snack or no bake holiday treat! The perfect on the go snack for the kids as things get a little more hectic!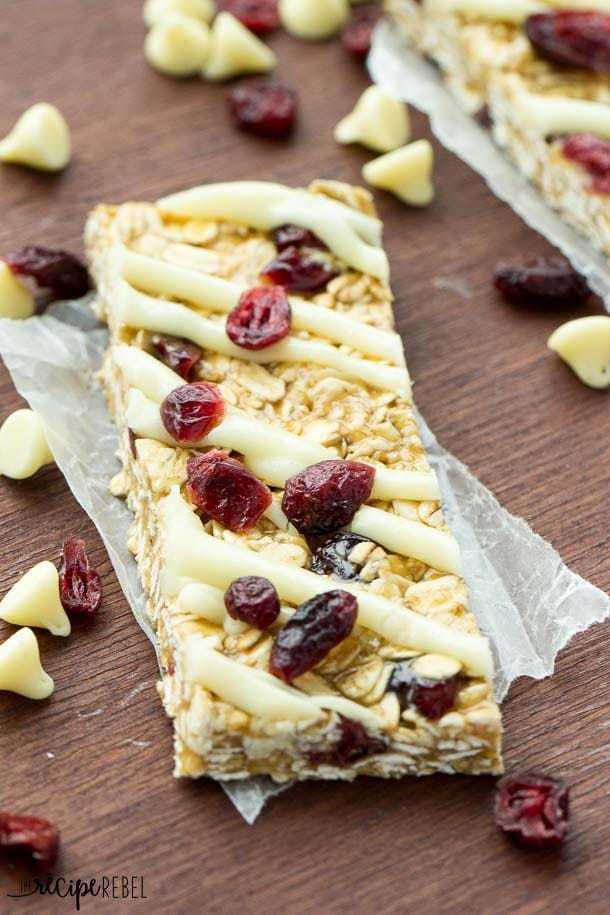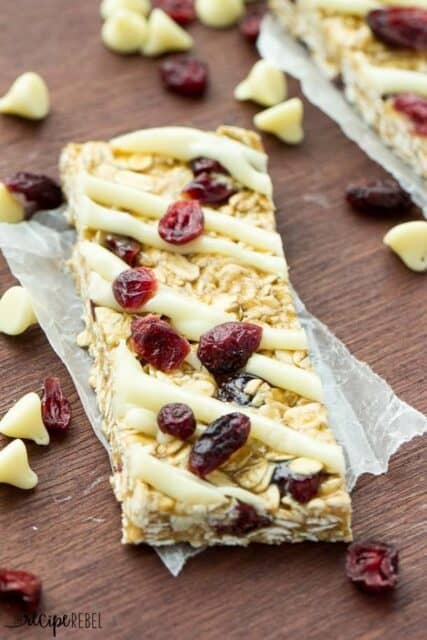 Hi friends! I'm Ashley from The Recipe Rebel and I'm bringing one more great back to school treat to the lovely readers of Beyond Frosting!
Do you guys ever have one of those days where you decide you're going to make something, so you throw a bunch of stuff in a bowl, and it actually works? I love those days.
It doesn't even matter how easy the idea was in the first place, you still feel like a winner. And I needed a win today.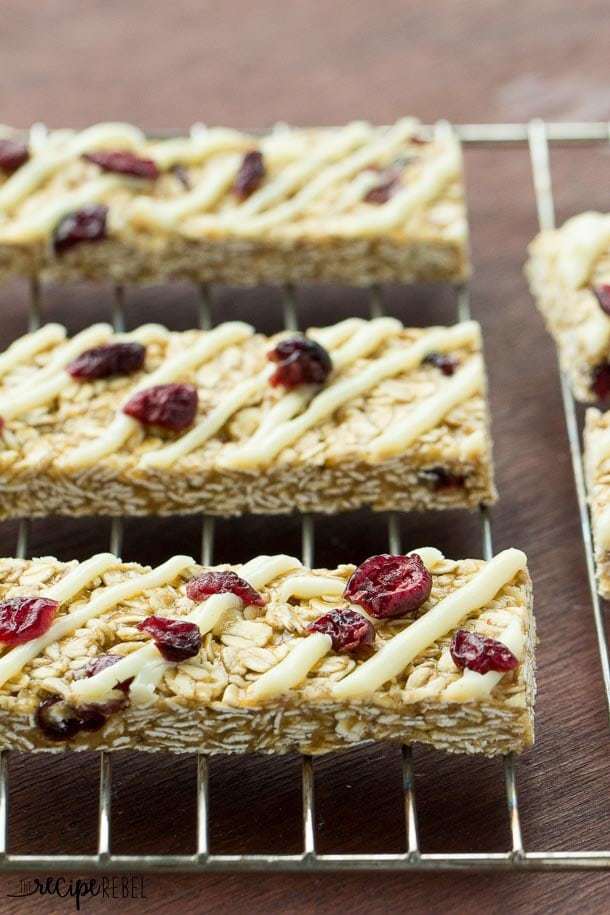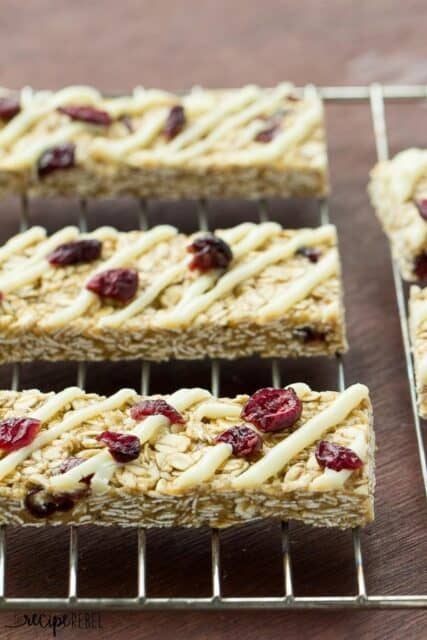 And when you're making a no bake treat or dessert, all you really need is the right combination of wet and dry to make it work. For that reason, you could totally customize these if you wanted!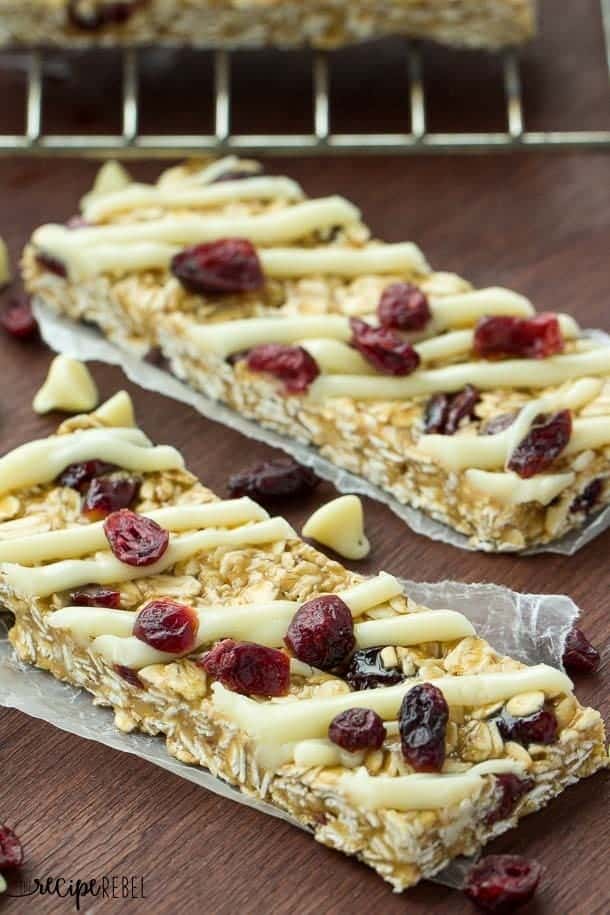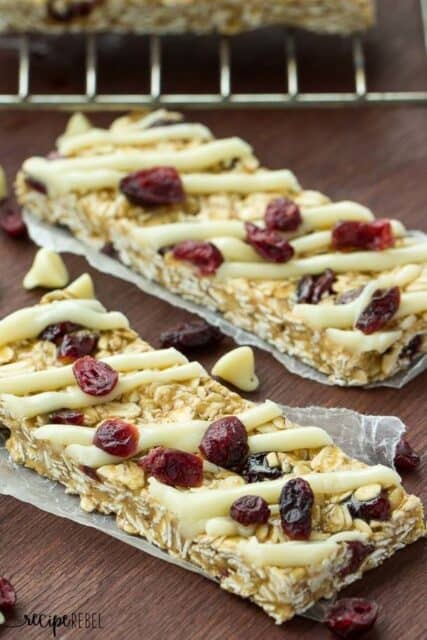 Here are some ideas of ways you can make them your own:
Swap out some of the oats for Rice Krispies, crushed Corn Flakes, coconut, etc.
Swap out the dried cranberries for other dried fruit
Swap out the white chocolate for dark chocolate
Swap out the peanut butter for any other nut butter similar in consistency
I made mine in a 9×13" pan, so they're thinner. But if you like them thicker you could make them in a 9×9" pan!
When I'm cooking from someone else's recipe, I find it really hard to stick to it exactly. So I love giving people ideas for ways to change up recipes to customize them to their tastes!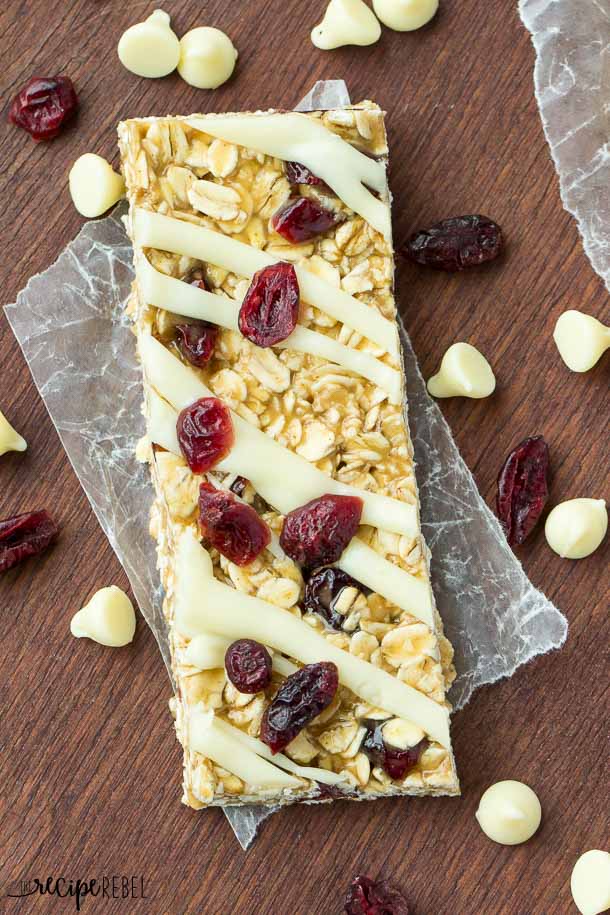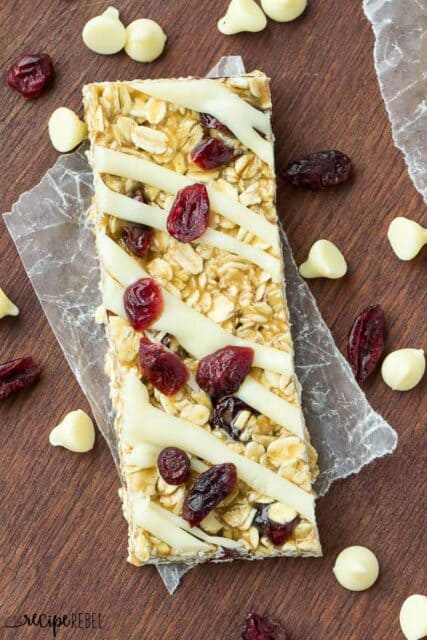 This recipe is such a great snack for back to school! It's full of protein from the oats and peanut butter, and lasts forever at room temperature.
When I make granola bars for our family, I slice them and wrap each individual bar in some plastic wrap and leave them in the cupboard – they can last forever this way! There's nothing perishable in them so they don't have to be refrigerated at all (though they certainly could be, or could even be frozen if you want to keep them longer than a few weeks)!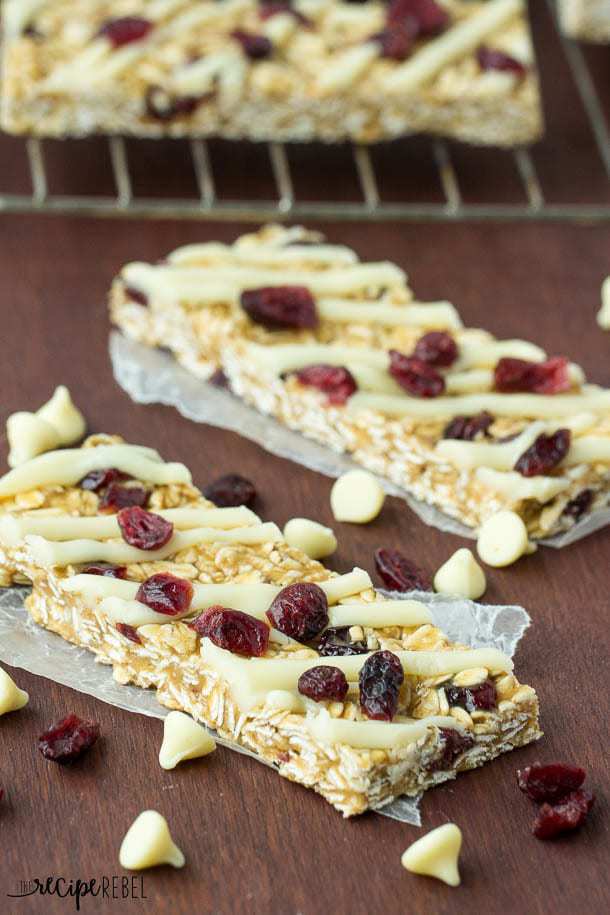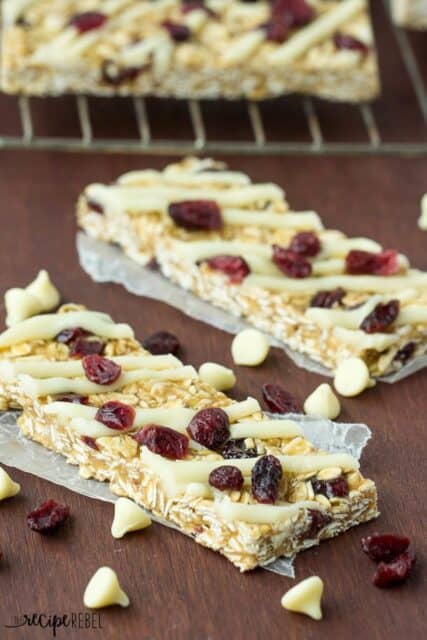 Connect with Ashley
Facebook | Pinterest | Instagram | Twitter | Google +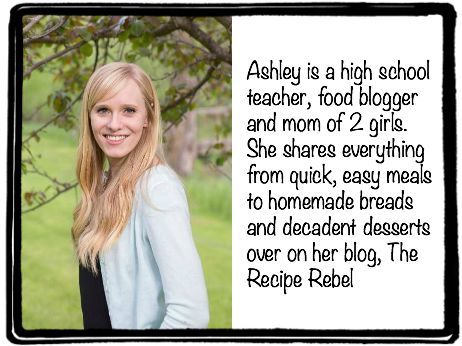 Print
Easy No Bake White Chocolate Cranberry Granola Bars
Ingredients
½ cup

smooth peanut butter

½ cup

honey

¼ cup

plus ½ cup white chocolate, chips or chopped

3 cups

large oats

¾ cup

plus ¼ cup dried cranberries

1 tbsp

butter

1 tbsp

milk or cream
Instructions
Line a 9×13" pan (or a 9×9" pan if you want them thicker than what is shown) with tin foil and give a light coat of non-stick spray. Set aside.
In a large bowl, combine peanut butter, honey and ¼ cup white chocolate. Heat in the microwave at 20-30 seconds increments, stirring each time, until white chocolate is melted. Stir until completely combined.
Add oats and ¾ cup dried cranberries and stir until combined. Spread into your prepared pans using wet hands (wetting your hands will make this so much easier! If the granola bars start to stick, just run your hands under the tap again). Press down firmly (this will keep them from falling apart!).
Melt ½ cup white chocolate with 1 tbsp butter and 1 tbsp milk in the microwave in 15-20 second increments, stirring each time, until melted. Pour into a plastic sandwich bag, snip the end and drizzle over granola bars. Sprinkle with remaining cranberries.
Chill for 1-2 hours or until cooled and set (you just need to make sure that the chocolate has set and the peanut butter and honey mixture has cooled so that they hold together). Cut into bars.


Other recipes from Ashley you might like:
White Chocolate Lucky Charm Cookies