This post may contain affiliate sales links. Please see my full disclosure policy for details
There are certain Saturdays that I just couldn't be more thankful for. This is one of them. I am enjoying the next two months of weekends at home. Once snowboarding starts, we are on the road every weekend. Don't get me wrong, we are itching for some snowboarding. As a matter of fact, we are heading to Big Bear next weekend for the Annual Hot Dawgz and Handrails early season rail jam. It is a super fun event to kick off the season, despite the hot weather! Anyway, back to Saturday, this post really isn't about snowboarding, it's more about Saturdays and food and sleeping, oh and the FoodSaver Vacuum Sealer! I love to sleep in, like really love it. Plus the weekend is the time when I can catch up on more of my blogging responsibilities, play around with some recipes and plan out our meals for the upcoming week.
With our demanding work schedules, we aren't always eating dinner at home, or by the time we get home, we don't feel like cooking. Since I have been using the FoodSaver Vacuum Sealer it has really preventing me from having to throw out unused foods because we are simply just too busy to use it. When I first heard about the Sunday Saver program, I was surprised to learn how much I could shave off my grocery bills. Who doesn't like the idea of saving money? You can head over to FoodSaver's Facebook page to learn more about their Sunday Saver program. For my first review of the FoodSaver V4865, please visit this post.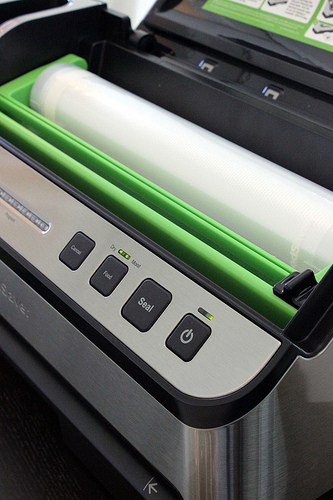 Wanna hear how I save money? For instance, I buy a ton of fruit for juicing. Sometimes we don't always get around to using it, so I have been freezing and vacuum sealing my fruits and veggies for later use. I love putting frozen bananas in my smoothies because it makes them thicker. I no longer have to worry about eating all my bananas before they turn two brown (I really hate brown bananas!). The perforated individually serving size bags (which you can cut to be as long or short as you want) are perfect for smoothie fruits. I love that these bananas are still as fresh as they were the day I froze them!
These Oreos were some of the first "desserts" that I used my vacuum sealer for. I left them in the bag for more than 2 weeks. When I was ready to crack the bag back open, the Oreos were still crunchy on the outside and soft in the middle. I was shocked that they still tasted like they did when I first bought them.
Did you see my Oatmeal Apple Pie Bars yesterday? Well I mentioned that I packed those up and shipped them to my cousins in New York. I froze these bars for a couple hours before vacuum sealing them (to prevent them from crushing) and shipped them off for them to enjoy. I felt confident knowing that when she opened the package, she would be enjoying the same freshness of the bars as they would if they were here with me. I am already thinking how much this is going to come in handy when I start baking for Christmas! Just imagine if I can get all my baking out of the way and freeze my cookies without the freezer burn! I even recently baked some zucchini breads and vacuum sealed them to enjoy later this winter.
Speaking of baking, I have really been enjoying my vacuum sealer for my bulk melting chocolates. Sometimes I burn through ingredients so fast that I can't stand to make another trip to the grocery store. Other times, these ingredients goes unused for periods of time, but I certainly do not want to waste it. Melting chocolate is one of those items. What I do is cut myself an extra long bag, and then I can cut it open and reseal it as needed; I don't have to worry about the chocolate going bad if I don't use it up right away.
Do you recall in my last post that I mentioned I often freeze leftover cupcake for cake pops or other desserts. Well I had a bag of extra lemon cupcake crumbs that I froze with a Ziploc bag, and I had the leftover chocolate cupcakes which I sealed with a FoodSaver vacuum bag. You can see from the below picture that my lemon cupcake are pretty unusable due to the freezer burn, whereas my chocolate cupcakes are still in the same condition as they were when I froze them in. They are a little frosty because I had just taken them our of the bag.
I feel confident knowing that I can continue to use the Vacuum FoodSaver for my various baking projects, preserving my weekly fruits and vegetables and finding new thing around the house to seal! In the meantime, I decided that I need to get some of the FoodSaver storage canisters. I will admit that I am still trying to get the hang of feeding the bag correctly so that it seals right away. One you find the spot, it is super quick and easy!
I use the FoodSaver V4865. Disclaimer: FoodSaver sent me this product for review but all opinions are my own.