This post may contain affiliate sales links. Please see my full disclosure policy for details
This Funfetti dessert pizza is a giant sprinkle cookie pizza with a marshmallow buttercream and topped with sprinkles and fruit.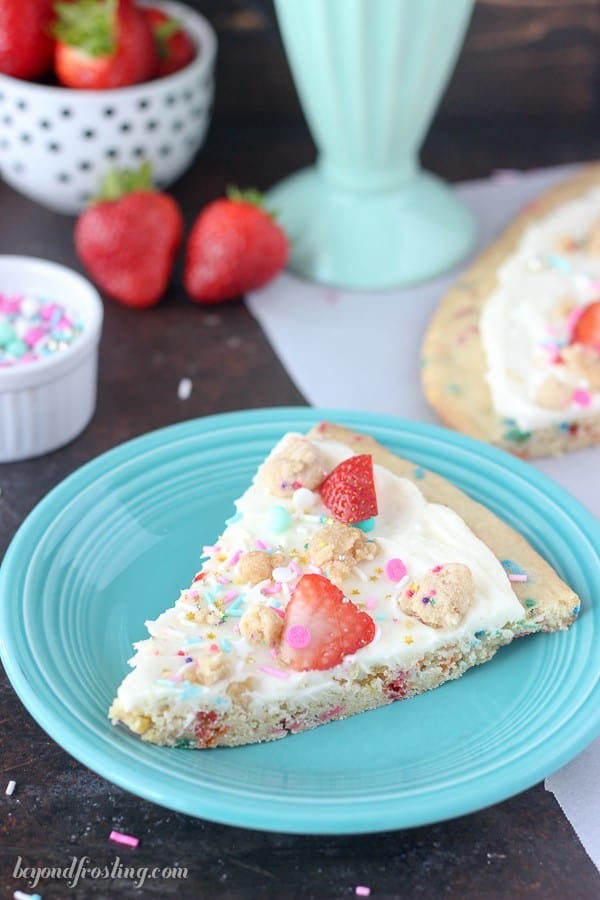 Before we get into this ridiculously necessary desert, let's talk pop culture for a minute. Or you can just skip to the recipe.
I might be the last person on the planet to see Beyonce's VAM performance but the queen doesn't disappoint. That might also be the longest VMA performance I've ever seen. I don't have it in me to watch the rest of the show, so it will probably just sit on my DVR for the next 6 months.
Did you SEE who is the new Bachelor?? I guess my stint with that show if officially done. I refuse to engage. But don't hold me to that. Just in case.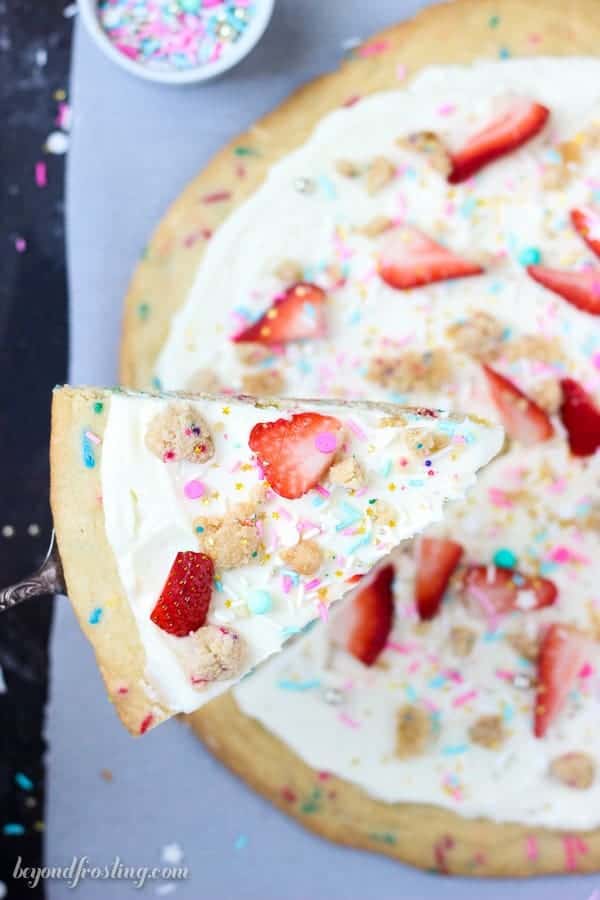 Nothing goes better with reality TV than a side of dessert like Funfetti Dessert Pizza.
I've been seeing way too many amazing desserts pizzas lately and I want in on that party! This is a giant funfetti cookie "crust" with a marshmallow buttercream and fresh berries. Just like any pizza, you can top this with your favorite toppings.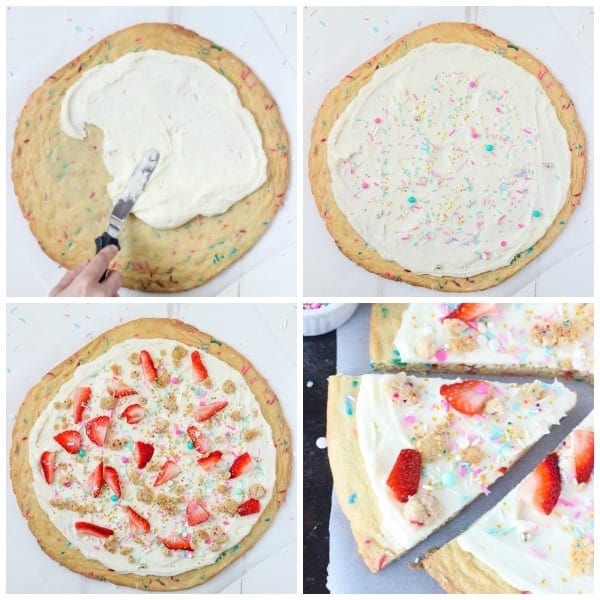 I tested the crust recipe a couple different ways. You definitely want to refrigerate the dough before baking. If you don't refrigerate the dough, then the edges will bake a lot faster and I don't think the cookie rises as much. If you refrigerate it first, it results is a bit of a loftier cookie and it ends up being softer.
When I rolled out the dough, I lightly floured it and placed it between two sheets of parchment paper. The helps prevent the dough from stick to the rolling pin. It's also helpful if you are rolling it out on the counter, because you can flip it onto a baking sheet. I don't own a round baking sheet, so I just used my sheet pan instead. Let the cookie cool completely on the baking sheet so it doesn't break apart.
Don't forget the sprinkles! You'll need plenty of those.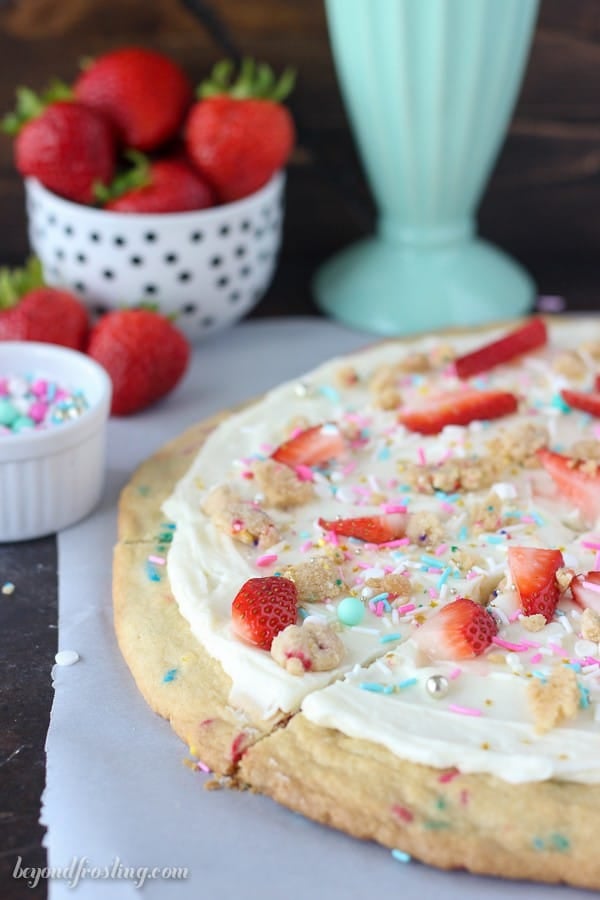 For the frosting, you can make a small batch of my perfect vanilla buttercream, but I decided to add a little marshmallow cream for sweetness. It's best if the butter is soft before adding the marshmallow crème so they mix together easier.
For the toppings, I added more sprinkles (duh!), some fresh strawberries and come crumbled cookies, which is optional. You can break off enough dough for a large cookie, bake it together with the pizza cookie and then crumble it on top of the pizza. It just add some more texture to the top of the cookie.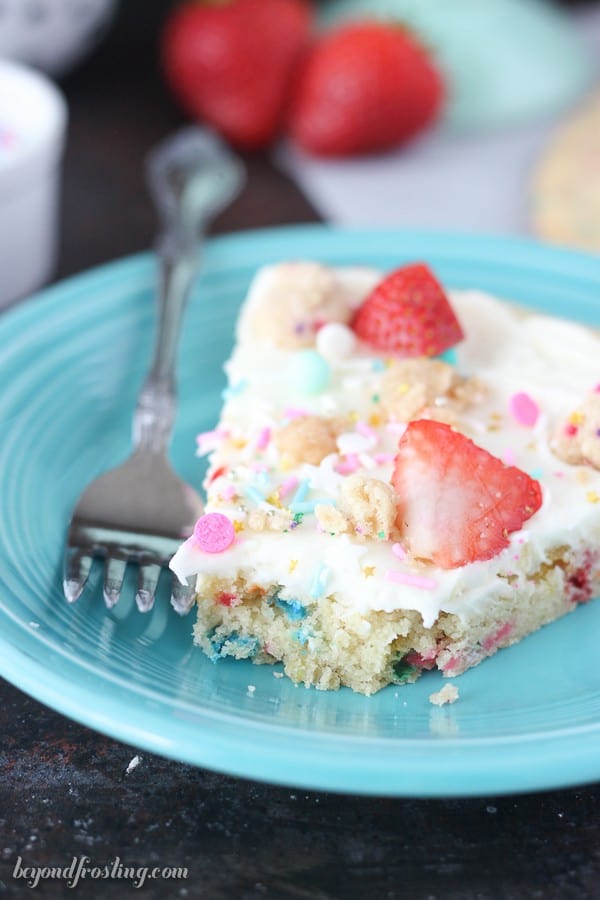 I will tell you that the berries should be added right before serving and they should be completely dry, otherwise the water from the berries will run over the frosting.
If you need another reason to make this dessert, it's a heck of a lot quicker than making single cookies. So there's that.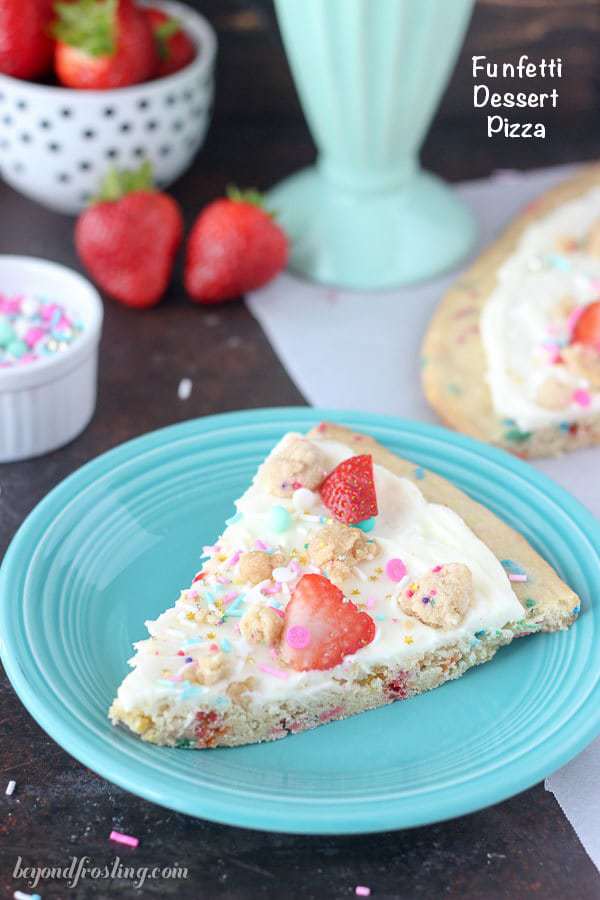 Facebook | Twitter | Pinterest | Instagram
If you love no-bake recipes, be sure to check out my cookbook, No-Bake Treats!
Print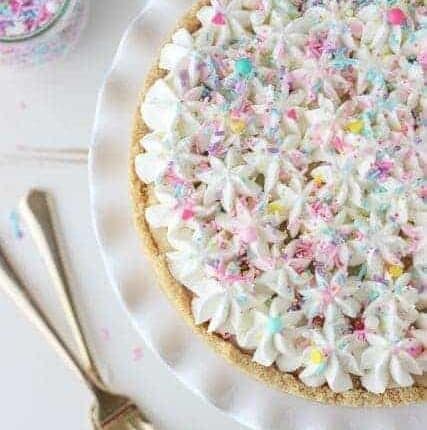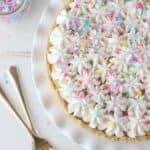 Funfetti Dessert Pizza
Author:

Prep Time:

1 hour

Cook Time:

15 mins

Total Time:

1 hour 15 minutes

Yield:

1 large cookie
Description
A giant sprinkle cookie pizza with a marshmallow buttercream and topped with sprinkles and fruit.
Ingredients
For the Cookie:
½ cup

(

1

stick) unsalted butter

1 cup

granulated Sugar

1

large eggs

½ teaspoons

vanilla extract

1 ½ cups

all-purpose flour

¼ teaspoon

baking soda

¼ teaspoon

cream of tarter

½ cup

sprinkles
For the Frosting:
½

c (1 stick) unsalted butter

4 oz

marshmallow cream

3 cups

powdered sugar

2 tablespoons

heavy whipping cream

2 teaspoons

clear vanilla
For Toppings:
Instructions
For the Cookie:
Combine butter with sugar and beat on medium speed until well creamed together.
Add the egg, and vanilla extract. Mix into butter and sugar until egg is well beaten.
In a separate bowl, combine flour, baking soda and cream of tartar. Slowly add the dry ingredients into the batter and beat on medium low speed until well combined and dough forms. Add the sprinkles last and continue beating until the sprinkles are incorporated.
Refrigerate dough for a minimum of 30 minutes and up to 1 hour.
Preheat the oven to 350°F
Roll out the cookie dough onto a lightly floured surface. It's helpful to use parchment paper on the top and bottom so the dough does not stick. Roll the dough into a circle until it's about a ¼" thick.
Bake at 350°F for 15 to 18 minutes until the edges just start to turn golden brown. The center will still be a little bit soft but that's okay.
Allow the cookie to cool completely.
For the Frosting:
Allow the butter to come to room temperature so it is soft but not melted. Beat butter in mixer on medium speed until smooth and creamy.
Add the marshmallow creme and containing mixing for another 2 minutes.
Slowly add powdered sugar 1 cup at a time while continuing to beat on medium speed and then add the heavy whipping cream and clear vanilla extract. Beat until all ingredients are well combined.
Spread the frosting over the cookie, leave about 1-inch around the outside edge. You may have a little leftover frosting.
Top the pizza with sprinkles and strawberries and your toppings of choice. If you choose to add berries, you should add just before serving and they should be completely dry. I also had some leftover cookies, which I sprinkled on top.
Category:

Dessert

Method:

Baked

Cuisine:

American
Keywords: dessert pizza, cookie pizza, fruit pizza
Visit Beyond Frosting's profile on Pinterest
You might also like:
No-Bake Funfetti Pudding Pie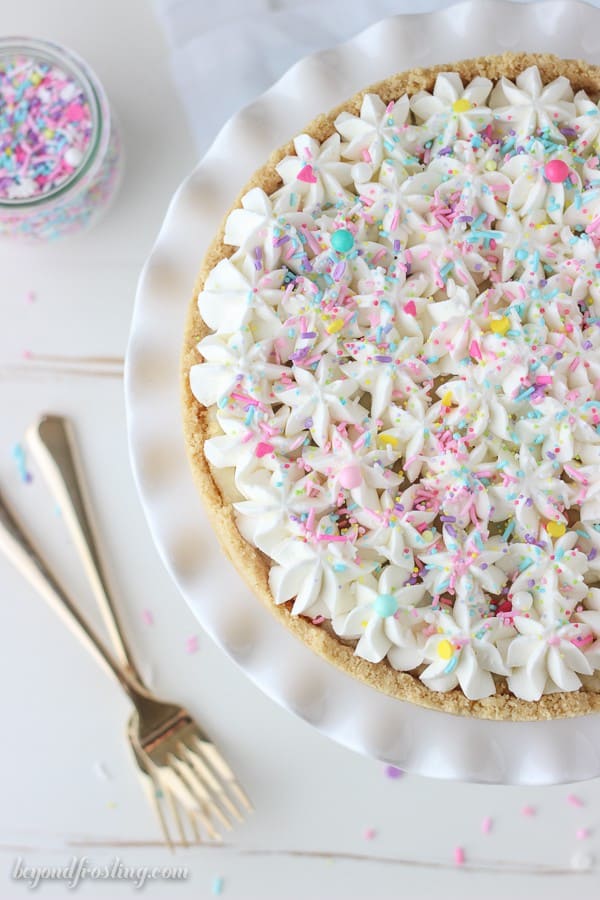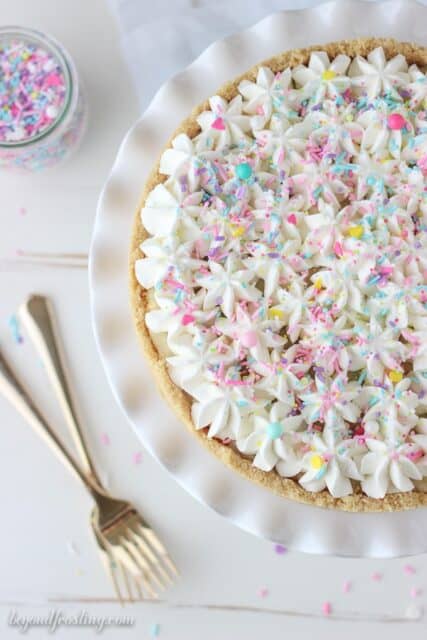 No-Bake Oreo Funfetti Icebox Cake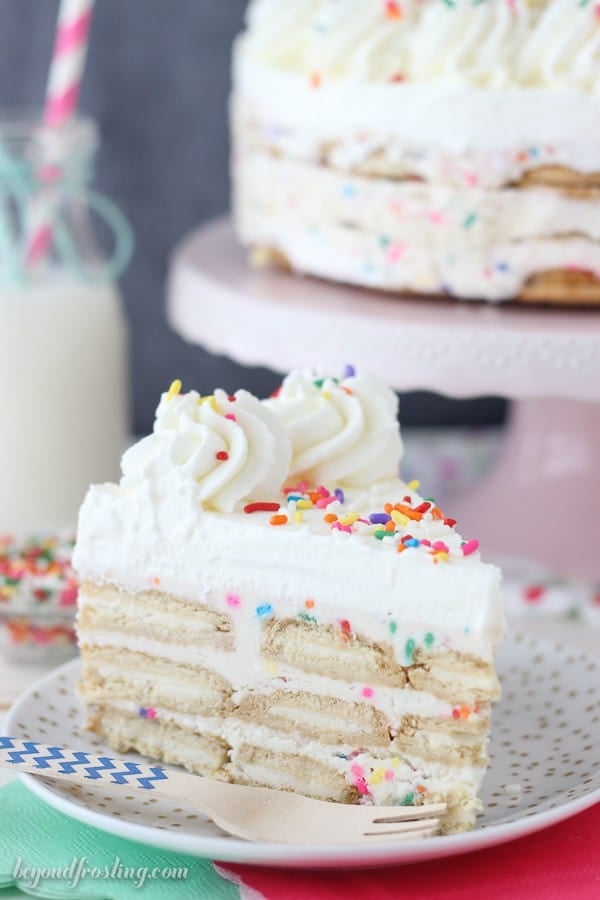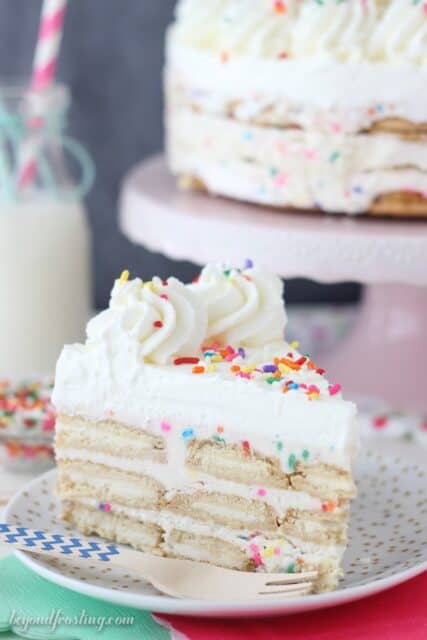 Cake Batter Monster Cookie Sandwich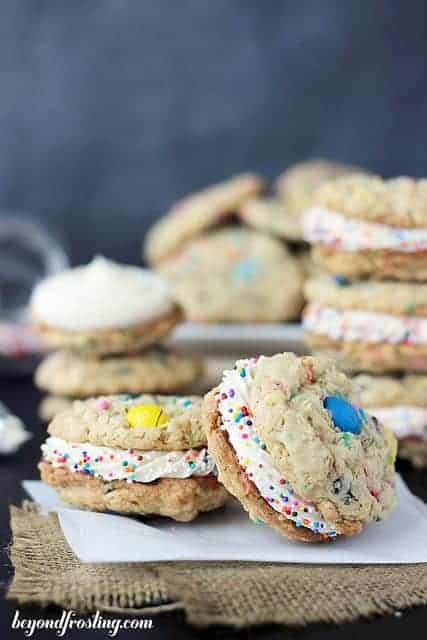 Funfetti Cream Pie Cookie Cups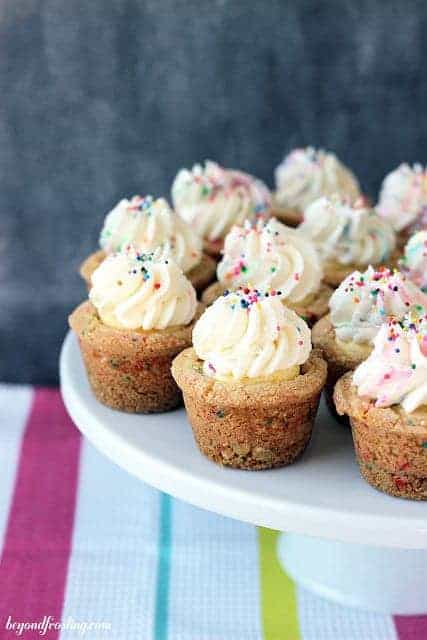 Dessert pizzas from my friends: