This post may contain affiliate sales links. Please see my full disclosure policy for details
Homemade Snickers Cookie Cups are chocolate cookies filled with soft caramel and salty peanuts. Serve with a swirl of chocolate buttercream!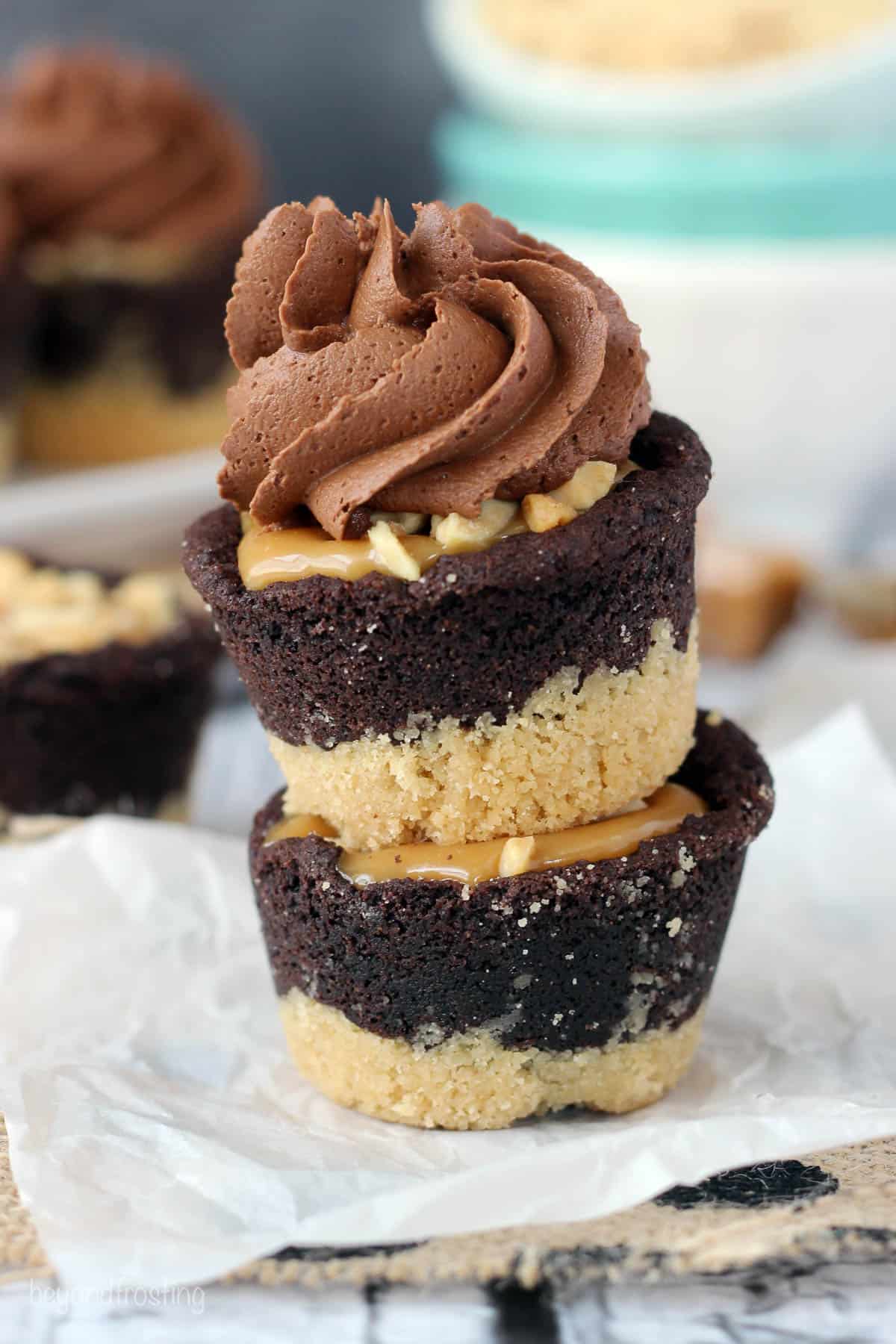 I've been thinking, wouldn't it be fun to have a dessert party that featured just cookie cups?! Ever since I got my beloved Calphalon deep dish mini muffin pan, I've been making cookie cups non-stop. These Homemade Snickers Cookie Cups were inspired by one of my favorite candy bars; Snickers of course!
I examined what I love about the Snickers bar. I think it is the sweet and salty flavors from the peanuts and caramel surrounded by the smooth chocolate coating. When I was brainstorming these cookie cups, it was important I make sure to get every layer of the Snickers bar in the mix!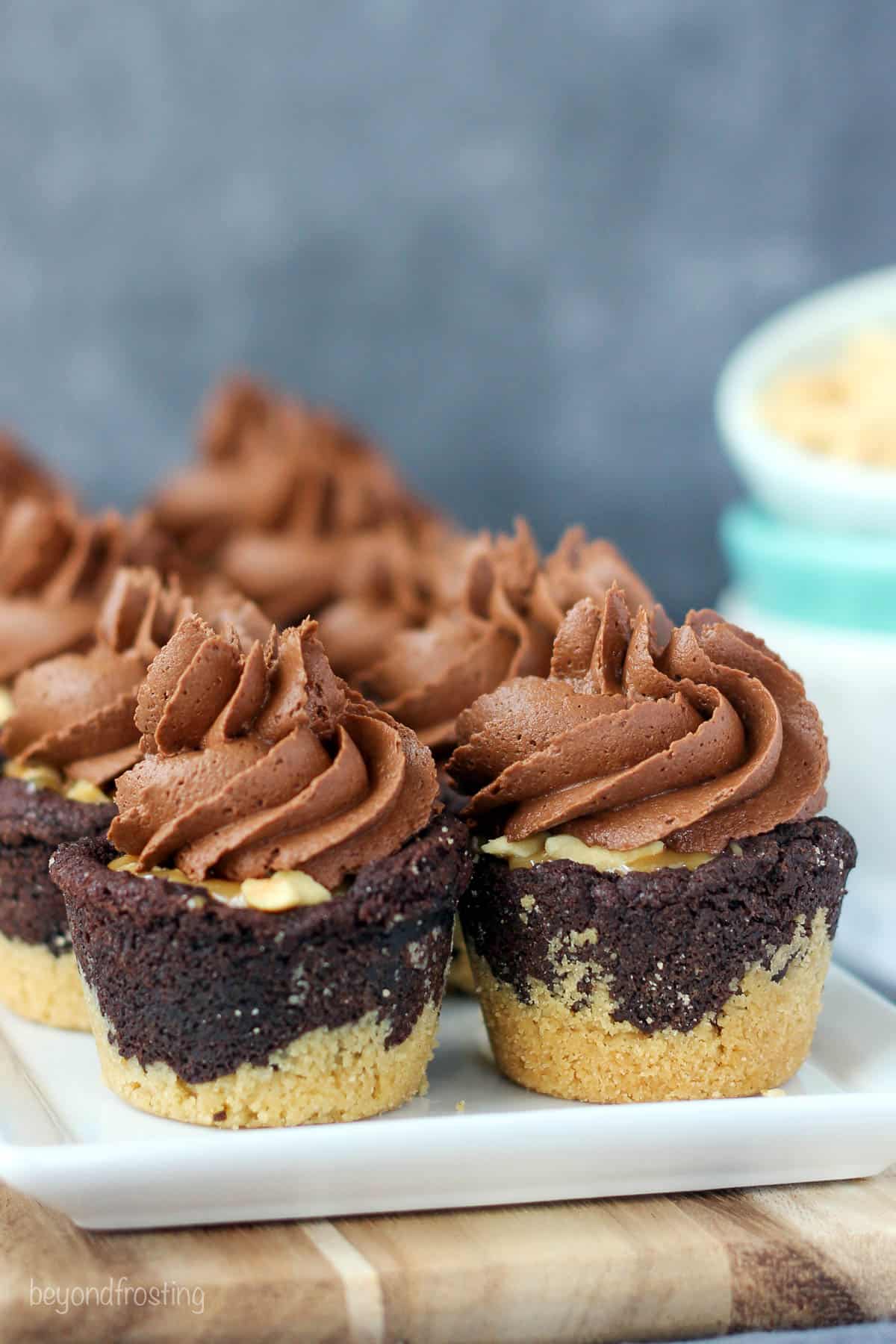 Since I couldn't really replicate the nougat center, I decided on a shortbread cookie crust. Since shortbread cookies are so buttery, you don't need as much butter to hold together the crust. The crust is pressed into the bottom of the mini muffin pan, and then topped with the cookie dough. As the cookie dough bakes, the two layers merge together to form the perfect cookie cup!
Once these come out of the oven, I let them cool a bit, then I use my Tart shaper to punch down the middle and create the crater. If you don't have a tart shaper, you can use the back of a spoon, or even a melon baller. Anything that is round and small enough to get inside the cookie is just fine.
Then for the filling, oh the filling! It is melted Caramels in the middle topped with salty peanuts. I have learned that if you melt the caramel in the microwave with a little bit of milk, it prevents it from getting too hard as it softens. It actually stays soft, but not melted, so it's perfect for these cookie cups!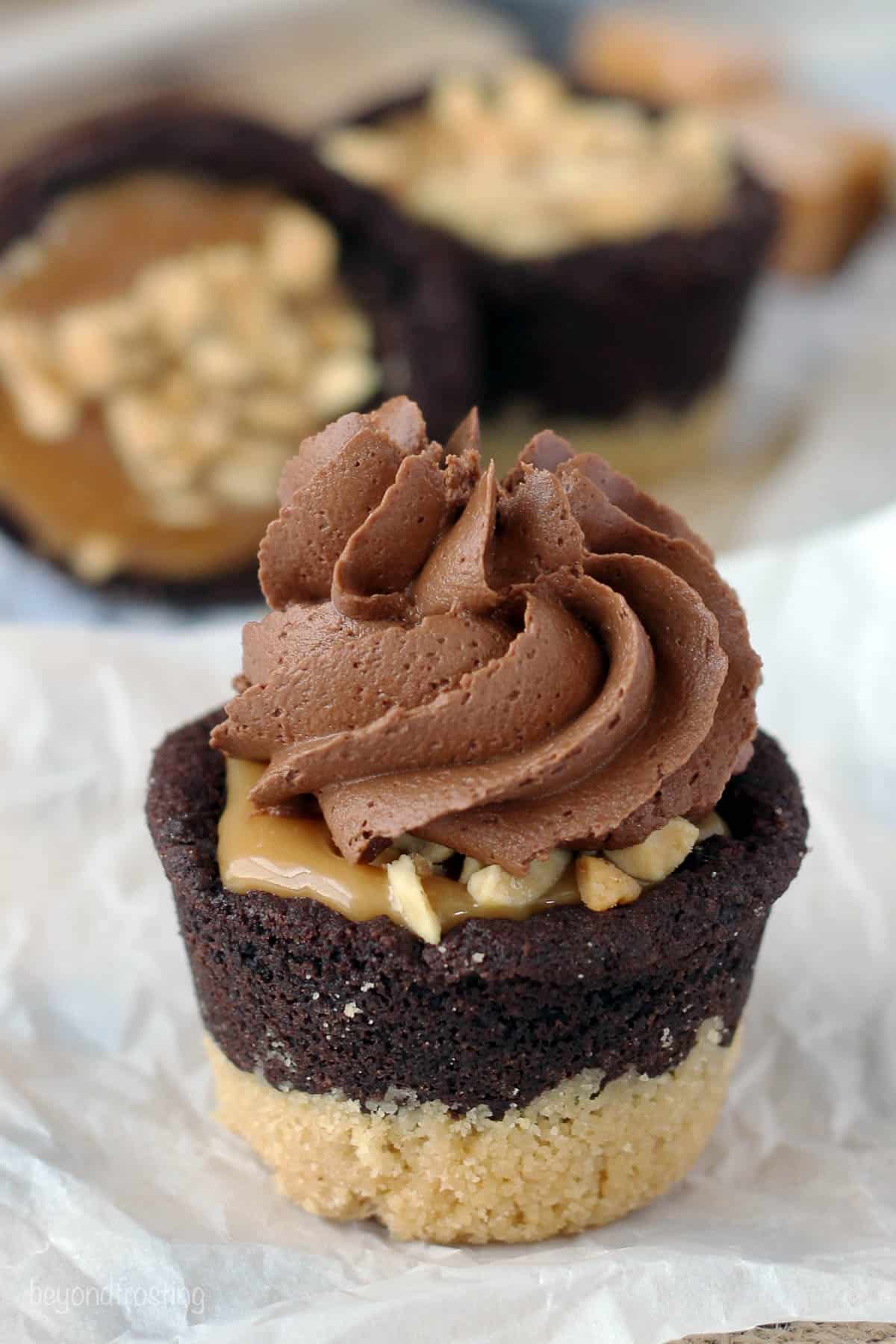 Since no cookie cup is complete without a frosting, I made a batch of my Perfect Chocolate Frosting for these. You probably don't need quite such a large batch, so I have reduced the original recipe for these cookie cups. But let me tell you, that I like a very healthy topping of frosting, so I used quite a bit for these cookie cups.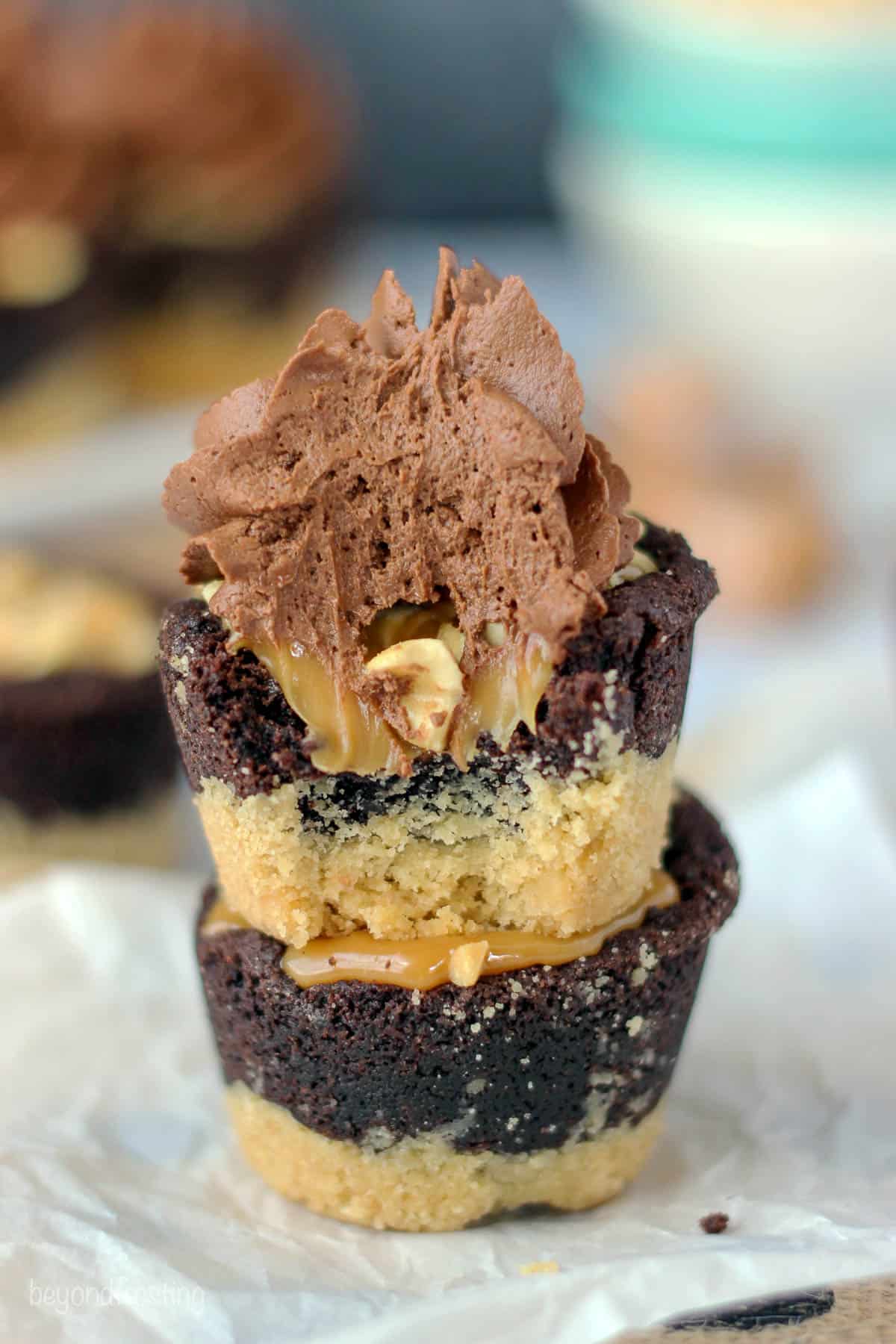 Your friends are sure to be surprised with all the little delights I have packed into these cookie cups! Since I have a deeper dish mini muffin pan than what they sell at most stores, I will give you a couple of suggestions to adapt this recipe to the standard size. You should reduce the amount of shortbread in the bottom of the pan and also reduce the amount of cookie dough as well. You will end up with more than 24 cookie cups, but that's not a bad thing, right?
Print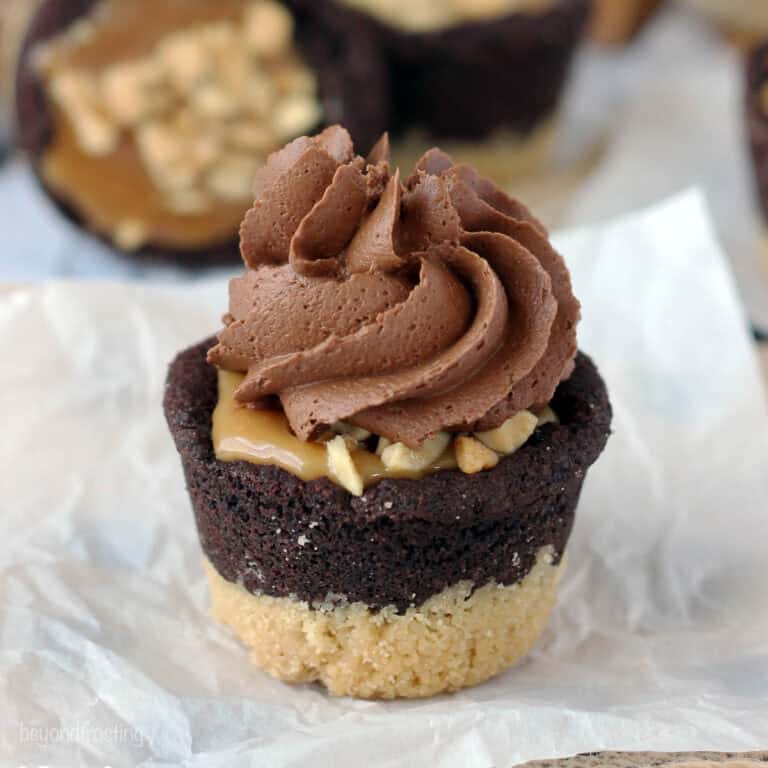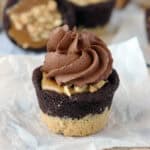 Homemade Snickers Cookie Cups
Author:

Prep Time:

20 minutes

Cook Time:

14 minutes

Total Time:

34 minutes

Yield:

24 Cookie Cups
Description
A shortbread crust layered with a rich chocolate cookie which is filled with soft caramel and sprinkled with salty peanuts. All topped off with a creamy chocolate buttercream.
Ingredients
For the Cookies:
1

C (2 sticks) Unsalted butter

1

C Sugar

3/4

C Brown sugar

2

Large eggs

2 tsp

Vanilla extract

1

pk Chocolate pudding mix (

3.4oz

)

1/4

C Dark chocolate cocoa powder

2 1/4

C Flour

1 tsp

Baking soda

1/2 tsp

Salt

2 tbsp

Milk

2

C Shortbread cookie crumbs

3 tbsp

Unsalted butter, melted
For the Filling:
48

Caramels

2 tbsp

Milk

1 tsp

Sea salt (coarse)

½

C Peanuts, chopped
For the Frosting:
1

C (2 sticks) Unsalted butter

3/4

C Cocoa powder

4

C Powdered sugar

2 tsp

Vanilla extract

2 tbsp

Heavy cream
Instructions
For the Cookies:
Preheat oven to 350° F. Grease a mini muffin pan with cookie spray or Crisco.
Allow butter to come to room temperature for about 30 minutes. Combine butter and sugars in your stand mixer and beat on medium speed until light and fluffy.
Add eggs and vanilla extract. Beat into butter and sugar until thoroughly mixed.
In a medium sized bowl, combine flour, cocoa powder, dry pudding mix, baking soda and salt. Stir to combine. Set aside.
Slowly add dry ingredients into batter and beat on a low speed until dough starts to form. If dough is a little dry, add 1 tablespoon of milk. Set dough aside.
Use a food processor to grind shortbread cookies into a fine crumb.
Melt butter in a microwave-safe bowl until melted. Combine melted butter with shortbread cookie crumbs and stir until there are no dry crumbs left.
Spoon 1 tablespoon of shortbread cookie crumbs into the bottom of the mini muffin pan. Press down with a spoon or tart shaper.
Drop 1-1.5 tablespoons of dough into the greased mini muffin pan on top of the shortbread crumbs. Bake at 350°F for 12-15 minutes.
Remove cookies from oven and allow to cool for at least 5 minutes. Use a tart shaper or the back of a spoon to gently push down the middle of the cookies. Allow to cool for another 30 minutes in the pan. You may need to run a knife around the edge of the cookies to help release them from the pan. Cool completely.
For the Filling:
Unwrap caramels and place in a microwave-safe bowl. Pour milk over caramels. Microwave in 30 second increments to prevent caramel from burning. Once caramels start to melt, stir vigorously with a spoon until smooth. Use caution, caramels will be extremely hot! Pour melted caramel into the cookie cups.
Use a food processor to chop up peanuts and sprinkle on top of caramel. You may need to slightly press into the caramel as it cools.
Allow caramel to set while you are preparing the frosting.
For the Frosting:
Cut butter into pieces. Using the paddle attachment, whip butter for 5-7 minutes, scraping down the bowl occasionally. Beat until butter looks light in color.
Sift cocoa powder into mixing bowl. Turn mixer on slow speed and beat until cocoa power is mixed into butter.
Add 2 C powdered sugar and mix on low speed until incorporated into butter.
Add vanilla extract and 2 tbsp of heavy whipping cream and mix to combine.
Add additional 2 C powdered sugar and beat on low speed until sugar is incorporated. Increase speed to medium-high and beat for 3 minutes.
Add last 1 C powdered sugar along with 2 tbsp heavy whipping cream. Beat on low until ingredients start to mix together. Increase speed to medium-high and beat for another 3-5 minutes to whip additional air into the frosting.
Notes
I have a deep dish mini muffins pan, so my cookie cups hold more than the average dish. If you have a regular size mini muffin pan, I suggest to reduce the amount of shortbread cookie and cookie dough used for this recipe. Original chocolate cookie recipe is slightly adapted from Something Swanky.
Category:

Dessert

Method:

Baked

Cuisine:

American
Keywords: cookie cups, caramel cookies, frosted cookies