This post may contain affiliate sales links. Please see my full disclosure policy for details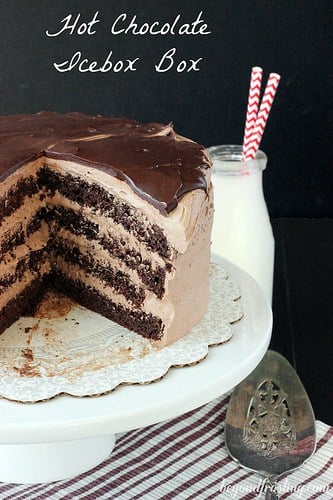 Disclaimer: Ghirardelli sent me product for review, but all opinions included here are my own. I was not compensated for this review.
Confession time, I truly dislike layer cakes. I actually don't mind the baking part at all, I have had relatively good luck with the baking part. I always grease my pans with Crisco and generously flour them. I use a parchment paper circle at the bottom of my cake pans to prevent them from sticking and I use the Wilton Bake Even strips to prevent my cakes from doming too much in the middle. I use a cake leveler and some other special tools to help assemble my cakes. However, when it comes to frosting cakes, I just can NEVER get them to look as nice and smooth as I want and I pull out all the stops. I put on the crumb coat, I freeze it before I frost and I have turntables and different kinds of knives for smoothing. Whatever layer cakes, I will conquer you one day.
I am bringing you another Ghirardelli recipe this week! Earlier this week, I shared my Double Chocolate Milkshake Cupcake. Well when I was asked to review some of Ghirardelli's new Hot Chocolate mixes, I knew I would be making some more Hot Chocolate Whipped Cream. I made this recipe on a whim last Christmas and it was my first post that "went viral" on Pinterest. I could not believe that such a simple recipe was so widely popular, and still is! It is my #2 most viewed recipe on my blog! So this year, I am baking a few desserts with Hot Chocolate Whipped Cream, starting with this layer cake, which I call Hot Chocolate Icebox Cake.
This cake is super easy to put together, but takes a little time for everything to come together. First you have to bake the cake and let it cool. Once cooled, I cut it in half and freeze the layers for a bit. I prepared the whipped cream and let it sit in the fridge until the cake is ready for frosting. You have to quickly frost the cake and then re-freeze it. Since this recipe uses whipped cream as the frosting, you have to frost it quickly so the layers don't shift to one side or the other. Before serving, it is best to let the cake sit out for 20 or so minutes, it makes it easier to cut into! However, the ingredients are simple and it tastes delicious!
Print
Hot Chocolate Icebox Cake
Prep Time:

20 minutes

Cook Time:

30 minutes

Total Time:

50 minutes

Yield:

12-15 slices
Ingredients
For the cake
1

Box Chocolate Cake Mix

1/2

C Ghirardelli Double Chocolate Hot Chocolate

1

C Milk

3

Large eggs

1/2

C Vegetable oil

3/4

C Sour cream

2 tsp

Pure vanilla extract
For the Hot Chocolate Whipped Cream
3 1/2

C Heavy whipping cream

1 1/2

C Ghirardelli Double Chocolate Hot Chocolate
For the Ganache
3 oz

Dark chocolate chips

1/4

C Heavy whipping cream

2 tbsp

Corn syrup
Instructions
For the Cake: Preheat oven to 350° F. Grease and flour two 8" round pans.
Prepare the cake batter first. Mix together cake mix and hot chocolate.
Add milk ,eggs, oil, sour cream and vanilla. Beat on medium speed until well combined.
Divide batter evenly between each pan. Bake at 350° F for about 30-35 minutes.
Check for doneness by inserting a toothpick in the middle of the cake. If the toothpick comes out clean, your cupcakes are done. Allow to cool completely.
Once cooled, cut off the top dome of each layer so you are left with a flat top. Then cut each layer in half.
Freeze cake layer for at least thirty minutes.
For the Whipped Cream Frosting: Freeze mixing bowl and wire whisk for 15 minutes.
Pour heavy whipping cream in chilled bowl and beat on medium speed for several minutes until cream starts to thicken.
Add hot chocolate to whipped cream mixture, continue to beat on medium for a couple minutes and increase speed to high until stiff peaks form. Refrigerate until cake is ready to frost.
Prepare the ganache. Combine dark chocolate chips and heavy whipping cream in a microwave safe bowl. Microwave in 30 second increments until chocolate starts to melt slightly. Stir vigorously until smooth.
Add corn syrup to melted chocolate and whisk to incorporate. Allow ganache to cool but not harden. If necessary, you can reheat in the microwave in 20 second increments until slightly melted again.
To Frost: Put a spoon full of whipped cream on your plate to help seal the bottom layer to the pan and prevent from moving.
Alternate layers of cake and whipped cream. You don't need to overfill each layer. Smooth over the top layer of whipped cream and poor cooled ganache over the top of smooth with a knife.
Return cake to freezer and allow to freeze completely. Remove for 15-20 minutes before serving so cake is easier to cut into.
Nutrition Information:
1- 8" layer cake, serves 8-10
Category:

Cake

Method:

Baked

Cuisine:

American